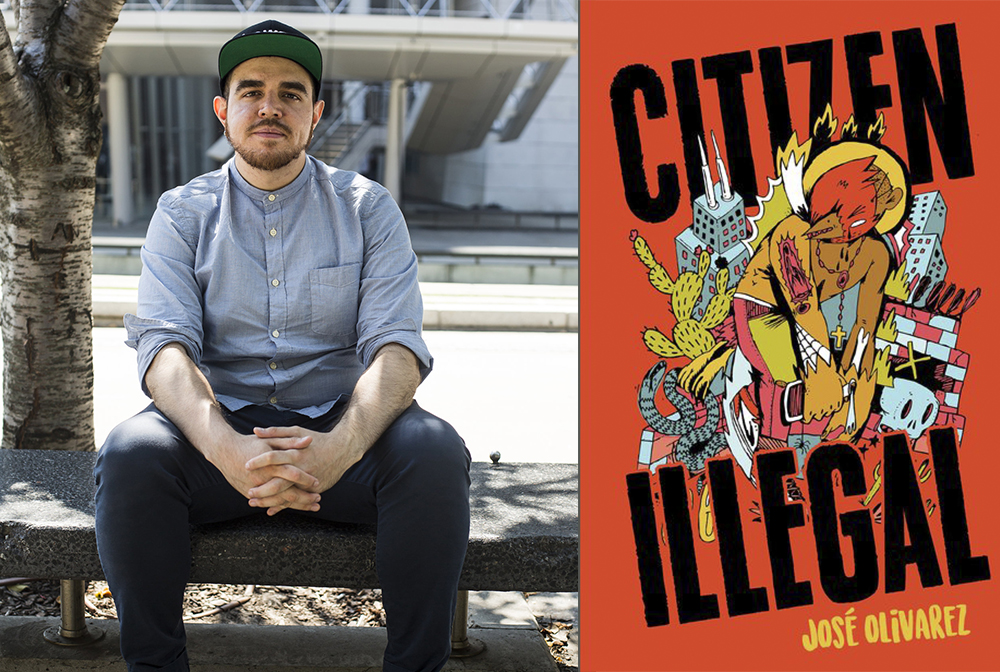 The first poem I encountered from José Olivarez's forthcoming book, Citizen Illegal, was "A Mexican Dreams of Heaven" at The Adroit Journal. When I read it, I started cracking up in the living room. I read it out loud to my partner, who was in the bedroom, and she also cracked up. The poem elicits the painful laughter that comes with so much truth:
there are white people in heaven, too.
they build condos across the street
& ask the Mexicans to speak English.
i'm just kidding.
there are no white people in heaven.
Olivarez's poems span gentrification, gentefication (which Olivarez defines in this interview as the returning of a neighborhood to the communities who are being displaced), migration, anger, love, cheese fries, family, loss, therapy, white America's engagement with immigrants and people of color, futures (including defecating donkeys), pasts (including a very sweet imagined recollection of his mother out dancing), more love, tough love, generous love, and, of course, as a Chicago poet, The Bulls.
I met Olivarez for a coffee in Chicago to speak about the book. He was coming from a Teaching Artistry workshop at the Poetry Incubator, a conference for poets who integrate activism and community engagement into their creative practice. I already knew of José—he used to work for the same organization, DreamYard, that I work for in The Bronx. He has since worked for Urban Word, and now is at Young Chicago Authors, all organizations centered on building with youth through poetry. His workshop at the Incubator focused on the transformative possibilities of poetry and the imagination. These possibilities are at play in his own work. In "A Mexican Dreams of Heaven" he shifts the power balance and makeup of what heaven is, who gets to go to heaven, what it's like. I suspect these visionary reversals derive partly from his work with kids, with the desire to imagine a future for them, to start imagining one with them.
INTERVIEWER
What scares you the most about this book?
OLIVAREZ
I wanted to make a book of poems that the people I love will be proud of. A lot of the poems are about my family, my experience as a first generation Mexican-American Chicano, and I wanted to write poems that were not shameful, not ashamed. I wanted them to be poems that my brother wouldn't be embarrassed to show his co-workers, that my mom could share with the family, with her co-workers, that my students would want to give to their friends. I didn't want them to look at the poems and think wow, José is so ashamed of us, or, José is so sad to be a part of us. I am very proud of my people, where I come from, and my community. 
INTERVIEWER
I definitely see joy and pride in this book. And—something your students might especially get a kick out of—humor!
OLIVAREZ
Absolutely. I was trying to write poems the way I feel, which on any given day is going to move from very sad to very happy, then back to sad, then to confused. I wanted to write a book that reflected the totality of that experience, and wasn't just zeroing in on any one emotion. I wanted, as much as possible, to try to open myself up to everything.
INTERVIEWER
I feel like the poems hit that range stylistically as well as emotionally. They hop from hyperbole to specific narrative experience, as in "I Walk Into Every Room and Yell Where the Mexicans At". This happens even in the jump between the title and the poem itself.
OLIVAREZ
When you see that title, there is a difference between the expectation and what the poem delivers, which is a somber account of walking into a room and immediately feeling isolated. Some people really don't like titling their poems, but I really enjoy trying to stretch, sometimes toward absurdity. The titles add flavor to the poem, they are a way to give the poem different meanings. I mean there's another way in which I walk into a room and yell that out of desperation, not just out of joy, but out of isolation, and so it gives that poem a second feeling underneath the first one.
INTERVIEWER
The isolation in this poem hurts so much, with a whole people hidden in plain sight. The speaker of the poem is dumbfounded by a white woman at a fancy party who says that "she doesn't meet too many mexicans in this part of new york city" as "a waiter pushes his brown self through the kitchen door," and you can hear Selena singing on the kitchen radio.
OLIVAREZ
What I like about that poem is that it doesn't necessarily explain the interactions with the white woman: whether it's one interaction or multiple interactions, whether it's the same white woman, or another white woman. The poem leaves it to the reader to pull apart the images and decide what feels true to them. When I was living in New York people assumed that it must feel very lonely as a Mexican, because there isn't a very public Mexican community there. And yet I would go into these places, fancy literary events or restaurants, and I would always meet Mexicans. It felt to me like there were Mexicans everywhere, it's just that you wouldn't see them if you weren't paying attention to your wait staff or who was making your food. It was this profound feeling of like, "What are you talking about? Are you aware that the majority of the people in this room are Mexican? You're only thinking about paying customers."
INTERVIEWER
While we're thinking about this use of absurdity, or even just about titling, who are poets who have opened up your own poems, whether stylistically or in their content?
OLIVAREZ
Chen Chen, whose book When I Grow Up I Want to Be a List of Further Possibilities is really incredible. When I read it, it felt like Chen Chen was also talking about my experience. He was able to investigate and subvert the expectations about what immigrant children should be or aspire to. Its use of humor felt very much in step with what I wanted to do, and it helped me rewrite a lot of the poems that I already had but were not moving in the way that I wanted them to. Natalie Scenters-Zapico's The Verging Cities is a beautiful book of poems. That book taught me how to extend an image. There's one poem in particular that I taught, and I don't know if Natalie would agree, but it's a love poem—the speaker is observing their partner watching HGTV or some show on a Sunday, and in that moment of observation, you see a tree basically grow from this person, and because the tree grows, it invites all of the birds that normally live in that tree to come.
INTERVIEWER
I see a lot of that kind of physical manifestation of metaphor in your book. Lines like "all my people fold into a 2$ crunchwrap supreme", and "if the man in green opens the trunk,/ the road folds back. this moment & everything/ that follows disappears into the ink of a police report."
OLIVAREZ
Reading Natalie's book made me think about how I could make my own images more surreal, and how if I planted something in my poem, then it was also an invitation to everything else that lives in that world to enter into the poem. I also want to shout out Nate Marshall, who's one of my close friends, and whose book Wild Hundreds is for real one of my favorite books. Even if Nate and I weren't really tight, that would still be true. His book, and the way he structured it, was really helpful in figuring out how to organize my own book. He kind of executive produced my book—he was the last person to sit with me and spread out the poems and help me move the poems into an order. I could give shout outs all day.
INTERVIEWER
That's just what I was hoping for! I know that community is important for you, both as an educator and as a poet. I've been thinking a lot lately about how much the poets around us, before us, and with us, help make up who we are. You just spoke in your workshop in the Incubator about transformation and using the imagination to imagine a different world—are there poets who speak specifically toward that type of imagination for you?
OLIVAREZ
Absolutely. Eve L. Ewing's Electric Arches, for sure, particularly the series of re-telling poems. They provided a reminder that just because the fact of the story ends there, the telling of the story doesn't have to end there.
INTERVIEWER
One of my favorite poems in this book is "Gentefication." It's an imagined world where Gwendolyn Brooks smells tamales and comes back down to earth, but it also has holds in this one, as with the image of Nate Marshall running a poetry workshop in the grass.
An aside, for readers, the first third of "Gentefication":
i plant a grain of sand in the new organic-juice spot
en el barrio, soon, donkeys shit big stinky shits
on carrot containers. our tíos y tías smoking cigarettes
& taking up all the plugs. the grain of sand grows
into a cactus & mi Abuelita Jacinta is back
with the living. she's kicking the juicers out
of her kitchen & making masa. the whole block
heard what's happening, & outside the hydrants
open and flood the streets. the bad news is
the property value is going down again.
the bad news is white people are taking kale
with them. the good news is my boy Nate
is teaching poetry workshops in the shade.
Gwendolyn Brooks smelled the tamales & came
down to write. rejoice in the good news.
What are the starting points for this poem?
OLIVAREZ
This poem comes from a number of places. One beginning was Nate Marshall and me hanging out at some party on the North Side. Nate, at some point, after a few drinks of some kind, pulled me to the side and was like, Yo, José we are gentefying, like, if this bar is the site of gentrification, then me and you are gentefying the bar. Another beginning comes from Natalie Scenters-Zapico's work—I start with one seed of a desert (a piece of sand) and see what else will come from that. And, also, so much of the narrative around gentrification feels kind of unstoppable. In real life, it is so challenging and all-consuming, and I was thinking about how we can do more than accept gentrification as an end process. I know that there can be more than just the story ending at gentrification, so I wanted to write a poem that imagined a different possibility.
INTERVIEWER
Is gente, the Spanish word for the people, in gentefication?
OLIVAREZ
Yes, absolutely.
INTERVIEWER
I still get a red squiggle on Microsoft Word when I type that word, so I want to make sure we've got it clear.
OLIVAREZ
Shout out to the red squiggle, forever. I should say that gentefication is a contested term, because in Los Angeles it means something completely different. It means gentrification by upwardly mobile Latinx people, but for me I was thinking about how maybe there's also a possibility to return a place to the gente, to give it back to us.
INTERVIEWER
I love the way the poem opens up space for so much. Within its anti-colonial bent, it also has an anti-capitalist bent, where "we trade tortillas for haircuts, nopales for healthcare,/ poems for groceries," which could sound absurd, but could almost be literal.
OLIVAREZ
Our neighborhoods and our societies are run on implicit agreements. We agree that this paper means this thing. Just because this is the way we've constructed our society, that doesn't mean that we can't use our powers of imagination to construct it in other ways. And if we do construct it in other ways, then how do we do it, and how do we do it in a way that is not just a replacing of one hierarchy with another one. How do we imagine a world that is truly more liberating for everyone.
INTERVIEWER
I also love the joy in your poetry, particularly the joy of the cheese fries poem, where you say that even if the cheese isn't real, the hell with it. What's bringing you joy this summer?
OLIVAREZ
This is a hard question for me. The number one answer used to be riding my bike, but I got into a small bike accident. I didn't even fall down, but it completely messed up my old used bike. For a month before this accident, I was absolutely enthralled by riding my bike down Lake Michigan to get to work every day. It had been years since I had ridden a bike, and I was thrilled at how strong my body could be. There's a moment, riding North on Lake Shore Drive from South Shore, where you turn the corner and suddenly it feels like you're face to face with the entire skyline. The first time I turned that corner, I yelled out. I was riding my bike with Nate and we both stopped. Nate allowed me to be kind of ridiculous as I yelled about how close we were to the skyline. So that brought me joy.
INTERVIEWER
And sadness! Nostalgia, already!
OLIVAREZ
As things usually go.
INTERVIEWER
Last question: You work a lot with youth—what's one way they're involved in the book?
OLIVAREZ
Two young poets who were very important to my process, Luis Carranza and Vicky Peralta, wrote blurbs for the book. The blurb process felt icky to me, and I wanted to use that space for the people I ultimately wanted to give the book to. I wrote the poems for young people, for young Latinx people in Chicago, so to have words from these poets featured on the book felt really important to me.
To end, from one of the aforementioned blurbs:
"I cried of joy, of sadness, of just seeing and feeling the printed celebration and exploration of what it means to be a first-generation Mexican-American. If and when I need to be reminded of the love I have for being a first generation Mexican-American, I am able to turn to these moments in this collection: a neighborhood in which we can be as open and loud and soft as we want to be. In this neighborhood, I can also find all the deafening shame and heartbreaking fear my family and I have tried to hide. José pulls this love and this family and these secrets onto a platform we, as a community, can celebrate, acknowledge, laugh, and cry juntitos. Muchísimas gracias a José por siendo tan valiente y integro. Llevaré estas poemas conmigo por siempre." — Victoria Chávez Peralta, poet & member of Young Chicago Authors 2017 Bomb Squad
Andy Powell has poems out or forthcoming with Winter Tangerine Review, Voicemail Poems, and Bad Pony Mag. He is a Teaching Artist for DreamYard in The Bronx.