In Valerie Stivers's Eat Your Words series, she cooks up recipes drawn from the works of various writers.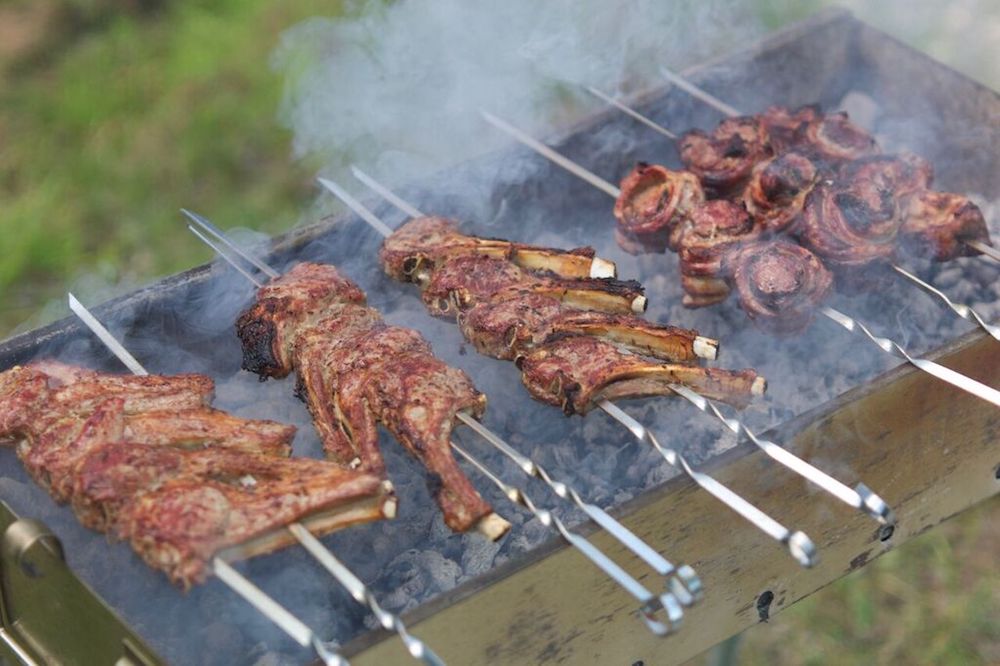 I've been reading the Iliad recently, the world's first war classic, concurrently with Jonathan Shay's Achilles in Vietnam, which uses the epic poem's central plot line to cast light on modern war trauma. (We will get to why this makes sense for grilling, I promise.) The Iliad, attributed to Homer (seventh or eighth century B.C., possibly), tells of a dispute during the Trojan War between Agamemnon, the commander of the Greek forces, and Achilles, his star warrior. The fight is ostensibly over a girl, but really, Shay says, is over Achilles's sense of being sold out by the top brass. The terrifying killing rampage that Achilles subsequently goes on, in which he breaks all of his culture's social and moral rules, is, Shay says, our first recorded instance of war crimes. Shay is a psychologist who works with veterans, and it's partially his project to explore how ordinary men, even good men, can commit atrocities, how, as he puts it, "war can destroy the social contract binding soldiers to each other, to their commanders, and to the society that raised them." Shay says that the Iliad's great tragedy is not the one the marauding Greeks inflict on the Trojans but is the undoing of human character, the destruction of a person's social ties.
The book is also then—in the way that all great art contains its opposite—a testimony on the importance of human community and ritual. Simone Weil, in a famous essay titled "The Iliad or the Poem of Force," wrote that violence is the poem's central character, but that "Justice and love … bathe the work in their light without ever becoming noticeable themselves, except as a kind of accent." The destruction, in other words, only underlines the importance of what is being lost. And those slow parts where Homer enumerates the Greeks' ships, what they cost and who sent them, or names the dead and how they died, become not so slow when you realize that in the book's logic it matters—every death, every person. A central lesson of the Iliad is the terrifying fragility of the things that bring us together, and the importance of safeguarding them.
In that spirit, it becomes a wonderful book to cook from, and turns out to be full of scenes of communality where the Greek troops mark events of social and religious significance with feasting and drinking wine. Homer even includes quite a bit of technical detail on what cuts of meat they're using and how they're preparing them. Lamb meat "from the thighbones" is "wrapped … in fat" assembled as "a double fold sliced clean and topped with strips of flesh." "Quarters" of lamb are marinaded in "glistening wine." Skewers are made on "five-pronged forks." Pieces "pierced with spits" are "roasted … to a turn and pulled … over the fire." In one fabulous scene, Achilles himself "put down a heavy chopping black in the firelight / and across it laid a sheep's chine, a fat goat's / and the long back cut of a full-grown pig / marbled with lard." These meats are roasted on spits, then salted and served with bread. (A chine, I discovered, is a desirable cut containing part of the animal's backbone).
I tried to invent a Homeric grilling-and-skewering technique with "meat from the thighbone … wrapped in fat"—in my case a boneless leg of lamb, wrapped in pork belly. I poured "glistening wine" over it for the marinade, using a thirteen dollar supermarket bottle of Tempranillo Garnacha, which had the right spicy-bright-cherry flavors to stand up to the lamb. I also made grilled lamb ribs in my go-to marinade, which is adapted from one published by Stalik Khankishiev, a cult Uzbek food blogger, and thus somewhat regionally appropriate to the Greeks' location sitting outside the walls of Troy (in modern-day Turkey). I served the meats with a vegetable plate and tzatziki, a classic Greek side. For dessert I made a fig tart with caramel honey, since both ingredients are mentioned in the book.
There are no eating scenes without drinking in the Iliad. Even despite the camping conditions of the besieging army, a character notes that "your shelters overflow with the wine Achaean ships / bring in from Thrace, daily, down the broad sea's back." Wine is poured out on the ground or thrown on the fire for the gods. It is mixed in bowls, made honeyed or stronger. "Mix stronger wine," Achilles commands at one point, "A cup for the hands of each guest— / here beneath my roof are the men I love the most." There are also specifics about where the wine is coming from, like Thrace, an ancient region with shifting borders which could have included Bulgaria and parts of Eastern Europe, or Lemnos, an island where muscat grapes have been grown for thousands of years.
Through Omega Wines in Astoria, Queens, I found three bottles made in the same places or from the same grapes mentioned by Homer. I also consulted with Patrick Cournot of Ruffian Wine & Food in Manhattan's East Village, which specializes in funky, trendy and organic bottles from cult European vintners, to find contemporary wines that we can surmise would taste like ancient ones thanks to their organic and low-fi production techniques. The ones I tried of the bottles he recommended were startlingly delicious, and went perfectly with my grilled meets.
So, get together with friends this weekend, folks, grill, and drink wine. It's what makes us human. Reading the Iliad out loud is fun but optional.
Wines of the Iliad
Links provided are the closest I could find online for where-to-buy the same or similar bottles.
Patrick Cournot from Ruffian Wine Bar: 
Balla Gaza, Feteasca Neagra, 2015 
A red wine from a small natural winemaker in Romania, close to what red wine from Thrace would have tasted like in The Iliad.
This wine from the Republic of Georgia is aged in clay vessels buried beneath the ground, as wine was in Homer's time. Instead of artificial refrigeration, the Gotsa vineyard uses water flowing from the nearby mountains to create a cooler environment for fermentation, technology that would have been available in antiquity.
An amazing organic orange wine from the Greek island of Cephalonia. An "orange" or "skin-contact" wine is from a white-fleshed grape that's been left in contact with its skin during the fermentation process (reds usually are; whites usually aren't). As a more old-fashioned means of making wine, any orange wine from Greece would be Homer-worthy, and this one is especially delicious, from a cult winemaker.
Koutsoyannopoulos Asyrtiko "Nikteri" 
Another trendy Greek white using old-fashioned technology. The grapes for this wine from the island of Santorini are picked and pressed at night, when colder temperatures protect acidity and reduce oxidation. The juice is removed from the skins quickly to creating a "faintly orange, fairly fresh" wine using no modern technology, Cournot says.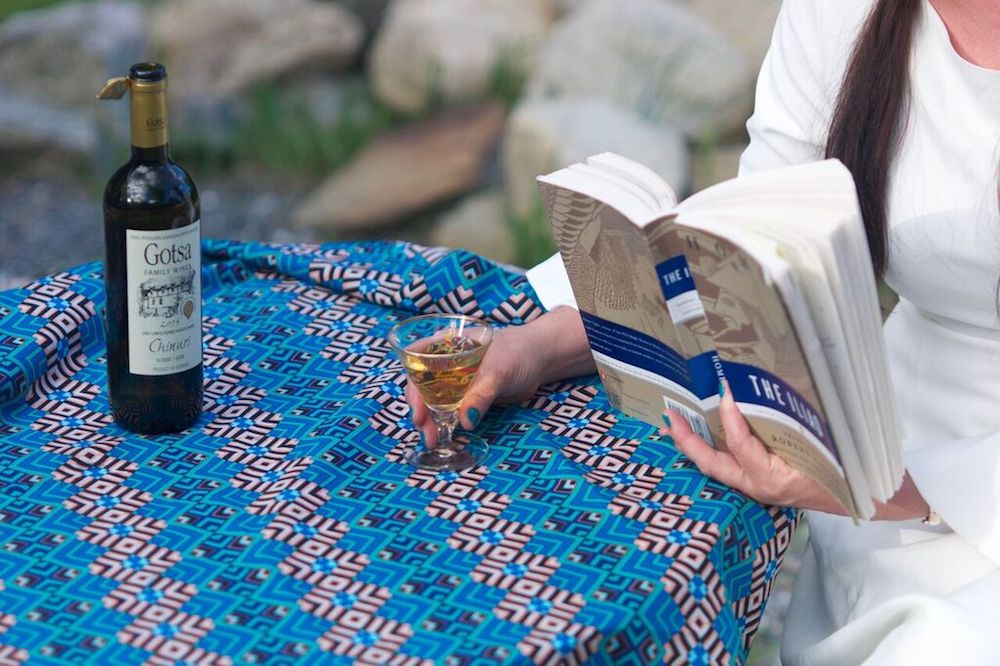 From Omega Wines and Spirits:
Achaia Clauss, Muscat of Patras 
"They slew oxen beside the tents and took their meal. / And the ships pulled in from Lemnos, bringing wine …" Lemnos at the time was known for muscat grapes. This bottle is a Greek muscat from a nearby island.
The go-to red wine if you ask Greek wine-sellers about Homer, made from Limnio grapes mentioned in the Odyssey.
Mezzek, Mavrud 2014, Katarzyna Vineyards 
A contemporary Bulgarian wine, made from a grape indigenous to Thrace, from where wines in the Iliad came "daily, down the broad sea's back."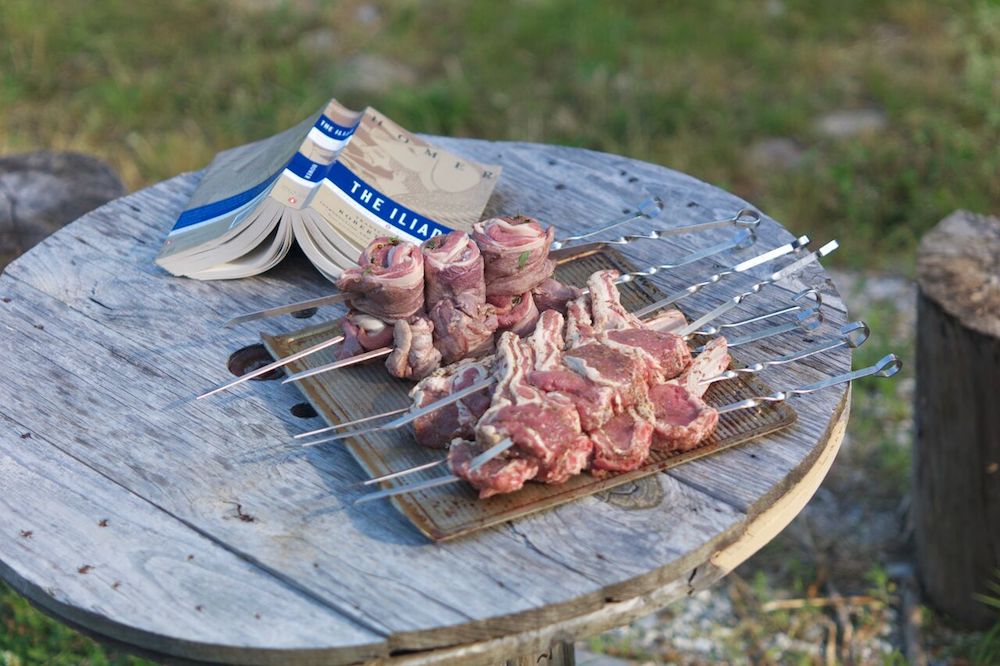 Notes on Grilling:
Grilling technique adapted from the accumulated wisdom of Stalik Khankishiev.
The following recipes use skewers over an open-faced, Russian/Caucasian style, 14-inch x 30-inch grill. The total poundage of meat we cooked was about 6 lbs, which we believe is enough for generous portions for four adults at a meal that includes sides. To cook this quantity of meat, you need 1 large chimney of coals. When the chimney is completely alight, dump it out and add another layer of coals on top. It takes about 90 minutes to develop the coal bed to the point where the heat is adequate to cook the meat without burning the fat. The coal is at the right temperature when you can hold your hand about 10 inches from the flames for 3 seconds. You can test the heat for readiness by putting down a skewer; if the meat browns very rapidly or the fat dripping on the coals immediately catches fire, the coals are still too hot. During cooking, we stand by the grill and flip regularly to keep the meat from burning. Ideally you want to fan the meat. For a fatty meat like lamb, we consider our skewers done when the fat is crispy and mostly rendered, which takes 20 to 30 minutes.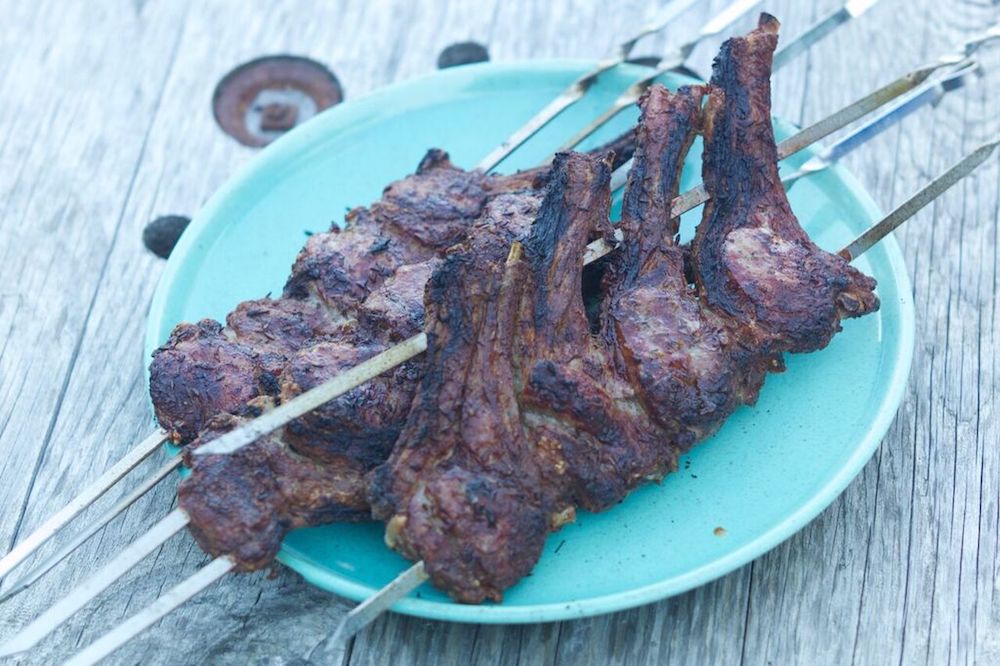 Cumin Crusted Lamb Ribs
Adapted from Stalik Khankishiev.
2 racks of lamb ribs
1 bottle of Pellegrino or other sparkling water
1 tsp of freshly ground black pepper
2 tbsp kosher salt
2 tbsp cumin seeds, lightly crushed
Separate the lamb ribs by cutting as close as possible to the bone.
Place them in a large bowl and pour over the bottle of Pellegrino. Let marinade for 40 minutes. Don't let sit for longer or the ribs may over-tenderize.
Drain the ribs. Add salt, pepper, and cumin seeds and marinade for an hour longer.
Skewer using two skewers for each stack of ribs, making sure that the skewer goes through close to the bone, on the side where there is the most meat. Grill according to the technique above.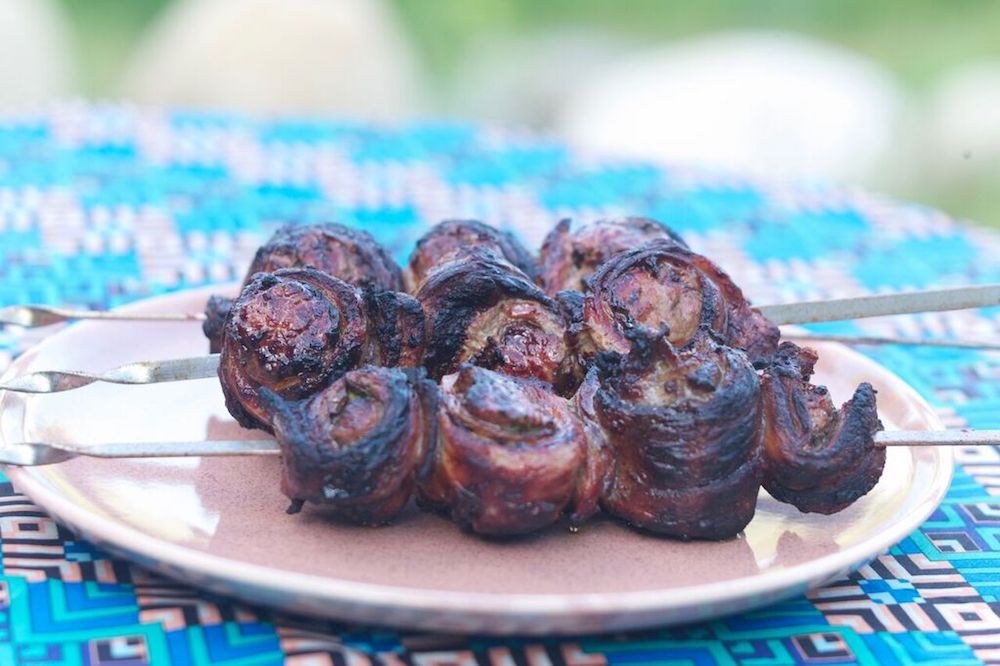 Souvlaki-Style "Moscow Ring"
Adapted from Stalik Khankishiev.
2 1.5-inch by 6-inch strips of leg of lamb, about 1/2 lb
1 quantity lamb belly, about 2 lbs,
4 onions, sliced about 3/8 inch thick, separated, and halved
2 tbsp kosher salt
1 tsp freshly ground black pepper
1 cup red wine
3 tbsp fresh oregano leaves
1 tbsp fresh thyme leaves
1/2 tsp paprika
Place the chopped onions in a large bowl and mash them up a little bit to release the juices, add the salt.
Make sure the lamb belly is clean and ready to serve, with all connective tissue and any chewy bits removed. Cut it into 2 pieces, about 9 inches by 6 inches.
Add the prepared meat to the onions, toss with your hands to combine, add the pepper, pour over the wine, and let marinade for 2 to 5 hours.
When you're ready to assemble the rolls, lay out the two squares of pork belly, place the strips of leg of lamb on one end, sprinkle with the herbs, the paprika and a little extra salt and pepper. Roll up, then slice into rings, about 3 inches thick. Skewer 1/2 inch away from the end of the roll so it doesn't unravel.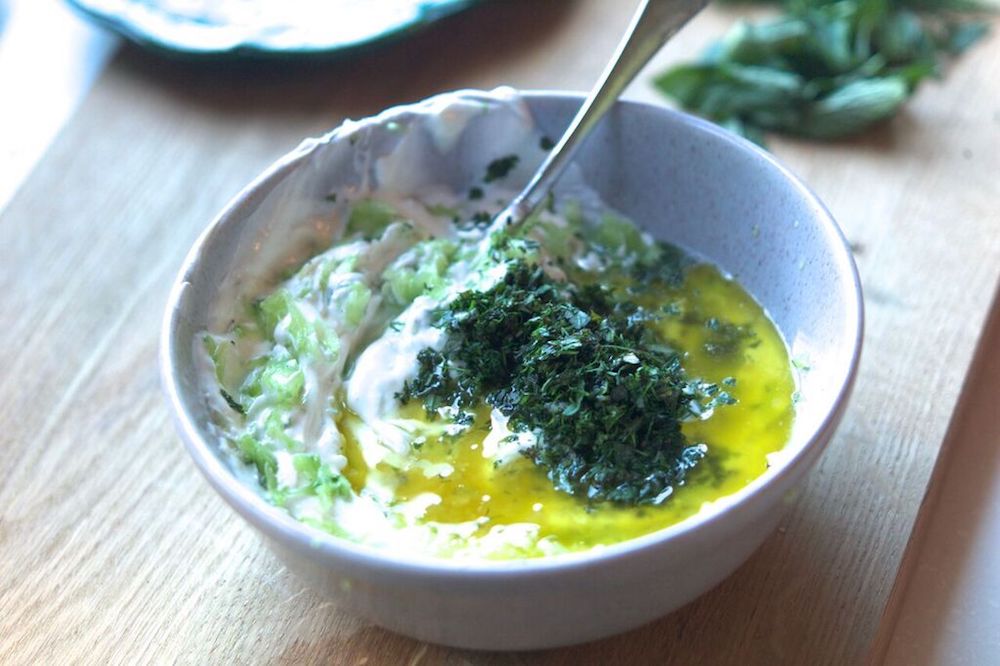 Siege of Troy Vegetable Plate with Tzatziki
1 clove garlic, chopped
2 tbs olive oil
2 medium cucumbers
2 cups of plain, whole-fat Greek yogurt
handful of mint leaves, chopped
handful of fresh dill, chopped
2 tbsp lemon juice
1/2 tsp large flake salt, pepper to taste
1 red pepper
2 medium tomatoes, sliced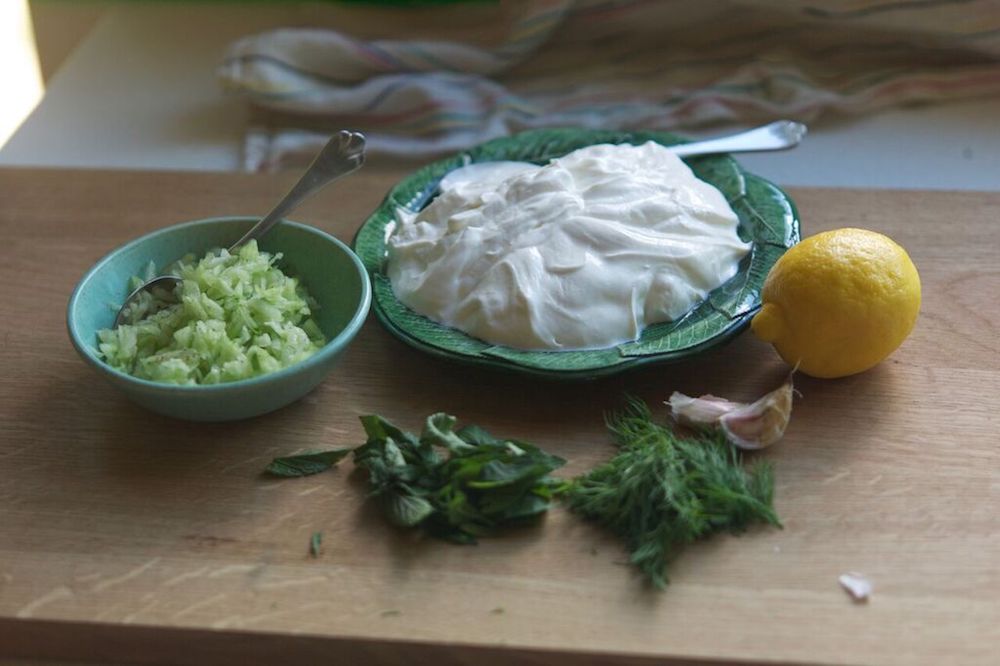 In a mortar and pestle, pound the garlic and olive oil together to make a paste.
Peel, deseed, and grate one of the cucumbers. Put the grated cucumber in a small bowl and season with salt and pepper. Let sit for 10 minutes, allowing it to release some of its liquid, then squeeze out with your hands.
Mix the yogurt, the garlic paste, the cucumber, dill, salt, and lemon juice together in a medium bowl. Season with fresh black pepper to taste. Serve with the tomatoes, pepper, and remaining cucumber, sliced for dipping.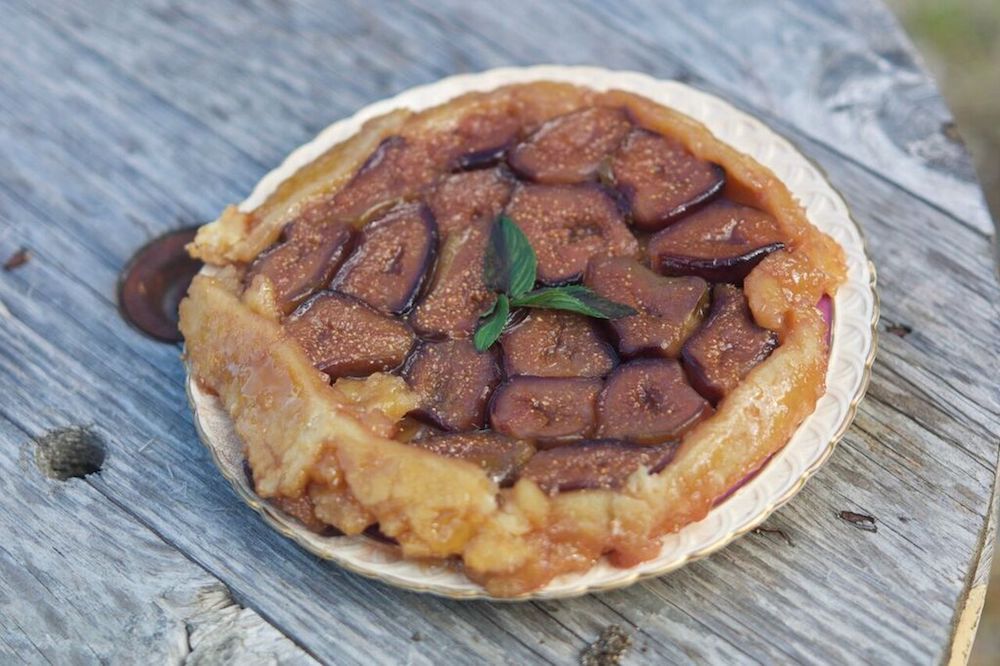 Fig Tart with Honey Caramel
This recipe is adapted from goodtoknow.co.uk
For the crust:
1 stick plus two tbs cold unsalted butter (5 oz), cut into cubes and chilled in the freezer
1 tbs sugar
1/2 tsp salt
1 1/2 cups flour
3 to 6 tablespoons ice water
For the filling:
10 to 12 figs, ripe but not overly so, halved
7 tbs salted butter
1/4 cup honey
2 tbs Metaxa or lemon juice
1/8 tsp large flake salt
Plain, whole-fat Greek yogurt to serve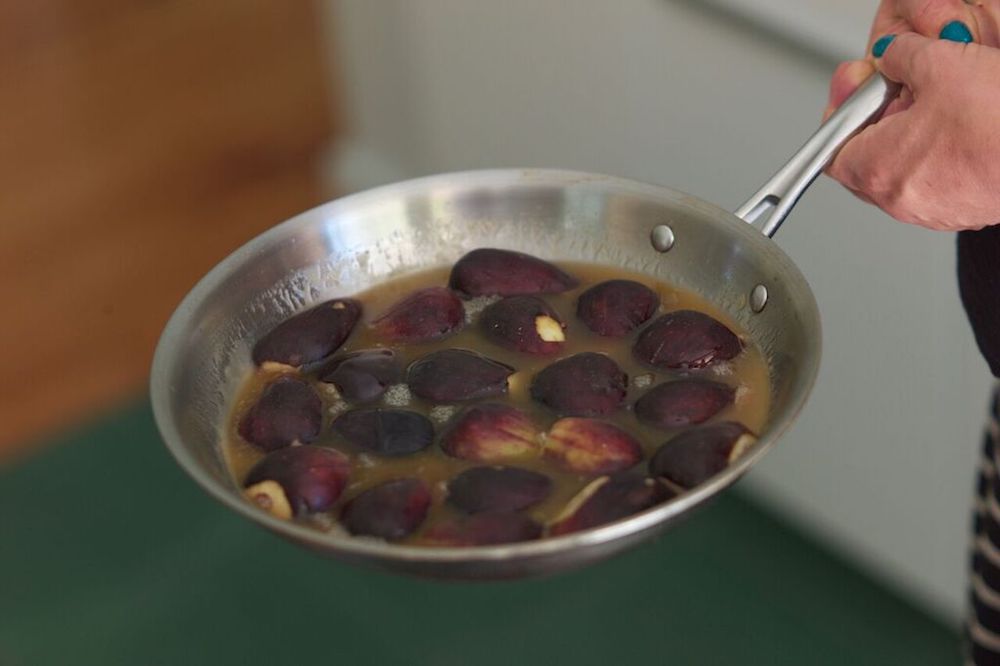 First make the crust. Combine the sugar, flour, and salt in a large bowl. Drop in the chilled butter and cut it in with a pastry cutter until the clumps of butter are pea-size or smaller. Working quickly and keeping your ingredients cold, add three tbsp ice water and stir, adding more water as necessary until the dough comes together when crunched with your hands. Chill for at least 2 hours and ideally overnight.
When the dough is chilled and you're ready to make the tart, first preheat the oven to 400 F.
Next, make the filling. Melt the butter in a 9-inch saucepan, then add the honey and let it bubble for 5 minutes or longer, until the caramel is sticky and amber colored. Add the salt and Metaxa or lemon juice and stir. Continue cooking until liquid has reduced and caramel is thick. Then add the figs, cut-side down, and let cook for 3 minutes more.
Remove the skillet from the heat and let the filling cool while you roll out the crust. Then, take a plate that's the same size as the bottom of the skillet and, using it to measure, cut a round circle of tart dough, 1 inch larger than the plate. (Slip the circle of dough onto the plate and rechill for a few minutes in the freezer if the dough at this point is too soft to handle.)
Place the circle of dough on top of the cooled fig mixture and tuck the edges under. (Yes, you're basically sticking your fingers beneath the fig-caramel mixture at this point. The finished look is rustic and it's ok if the tucking is messy.)
Bake for 25 to 30 minutes, until the dough is golden. Remove the tart from the oven and let it cool slightly. Run a knife around the edges to loosen, then invert a plate onto the bottom crust and flip.  If any figs stick to the pan, you should be able to scrape them off with a knife and carefully replace them on the tart. Serve with a scoop of Greek yogurt.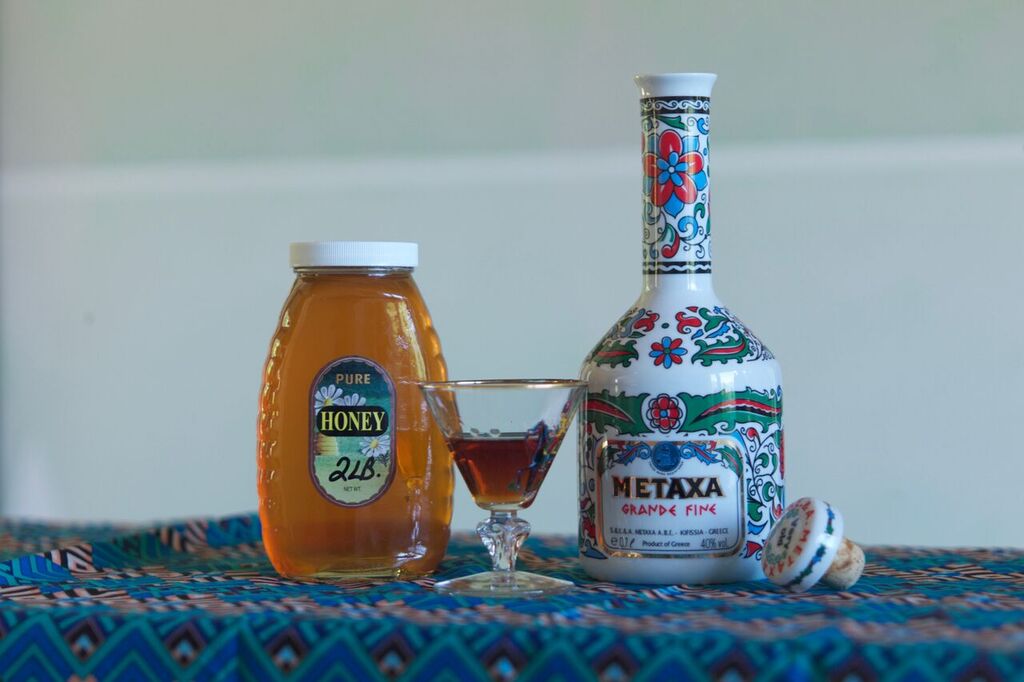 Valerie Stivers is a writer based in New York.
Read earlier installments of Eat Your Words here.