In Valerie Stivers's Eat Your Words series, she cooks up recipes drawn from the works of various writers.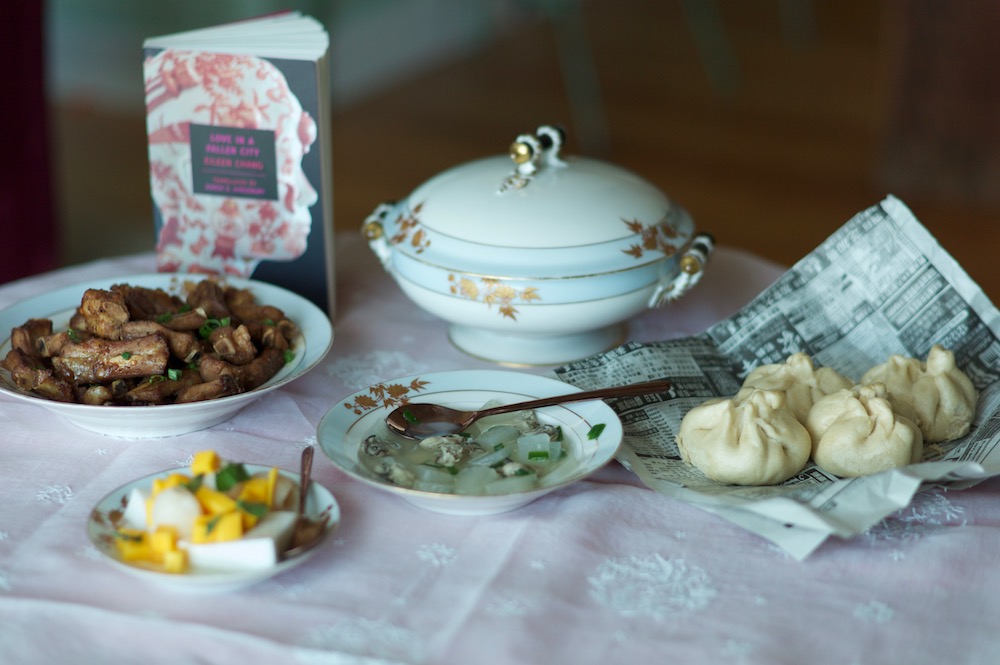 The 1940s wartime Shanghai in Love in a Fallen City, a book of short stories by Eileen Chang (1920–1995), is a bitter and glamorous world of cruel relatives, opium addicts, poor and angry students, Japanese invaders, and young women discreetly selling themselves in "jaunty, clopping" wooden clogs and beautiful clothes. These stories were written when Chang was enjoying a burst of literary stardom in her twenties and are considered to be some of her best. But even at the time, the world they captured was "being pushed onward … breaking apart already, with greater destruction still coming," as Chang writes in the introduction to the book's second edition.
And of course it was wholly destroyed. The Communist revolution followed the war, and there was no place in Chinese letters for Chang, who was an impoverished daughter of the Chinese elite. She immigrated to Hong Kong in 1952, and though she never stopped writing, she died in obscurity in Los Angeles in 1995.
In China, Chang's work has been resurrected and canonized, mostly posthumously. I found a translation of Love in a Fallen City issued in 2007 by New York Review Books Classics and was struck by the language, which has an extraordinary elegance and a unique way with a rolling metaphor. The translator, Karen Kingsley, says in the book's introduction that this style is to "meld the language and conventions of Qing-dynasty vernacular fiction with the ironic, worldly stance of Edwardian British writers … then project her stories by means of a visual imagination that had absorbed many scenes and techniques from Hollywood films." That sounds right, and the effects are amazing.
Chang also has a biting sense of humor. The narrator of a story about doomed romance observes, "Two leaves skittered by in the wind like ragged shoes not worn by anyone, just walking along by themselves. So many people in the world—but they won't be coming home with you." In a story about a young man driven mad by envy, the narrator says, "But how sweet a fruit the 'suppose' must be, that people will sup and sup on it! A juicy fruit, like a lychee but without the pit, sparkling and light green, a fruit that hides the tart within the sweet."
Cooking from Chang's work required a sense of humor too. Her young women are mostly unconcerned with food except as it appears at fancy parties with "cocktails, snacks and fruit juice on shaky silver trays." And I had the feeling that the writer's own sentiment was expressed by the character who summed up her culinary options as: "Yes, foreign food is more bland, Chinese food is more greasy." Food in the stories appears first as an element on Chang's palette of metaphor. Paint is "chicken-fat yellow." A sunset contains "a layer of red like a watermelon cut open." Girls from Canton and Hunan are "sweet and sour pork bones"—as compared to Shanghai girls, who are "flour-dipped pork dim sum." The character who makes this comparison considers it crude, though.
When the food is eaten, it's usually signifying something ominous or ridiculous or base. Characters eat slices of "cold cow's tongue," crack walnuts, nibble almonds, or spoon up "honeyed preserves," all the while doing cruel or vicious things. The victorious-in-love young woman in the title story serves a hungry rival a scanty oyster soup and "made sure Saheiyini understood that oyster soup was a treat" to discourage her from returning for another dinner. A married man clutching a newspaper-wrapped package of spinach buns on a trolly in "Sealed Off" ("snowy white mounds giving off soft little whiffs of sesame oil") has a brief flirtation with a girl but is never quite detached from the prosaic.
I have some experience cooking other Asian cuisines but none with Chinese, and every one of the dishes I chose from those mentioned above required techniques I don't have mastery of. I shucked oysters for an oyster soup (really easy, even with a screwdriver instead of the special oyster knife) and found it to be the culinary star of the show. I steamed bread for spinach buns, which mostly worked, though I was wimpy about using parchment paper to line the steamer (I worried the steam wouldn't get through), and the buns got stuck to the bottom. I successfully stir-fried ribs the Shanghai way—catching them after just a few minutes, when they're cooked through but still tender—but had to do some tweaking on the recipe's glaze. And I made a coconut-milk pudding for a lychee dessert, which looked fancy but was just like making Jell-O. (The recipe called for canned lychees, which I tried but don't recommend.)
The felicitous surprise, given my inexperience, was how pretty all this food turned out. It had a Japanese kind of minimalist beauty on the plate, and it really upended my Americanized understanding of Chinese food. I think the style-conscious Eileen Chang would have approved.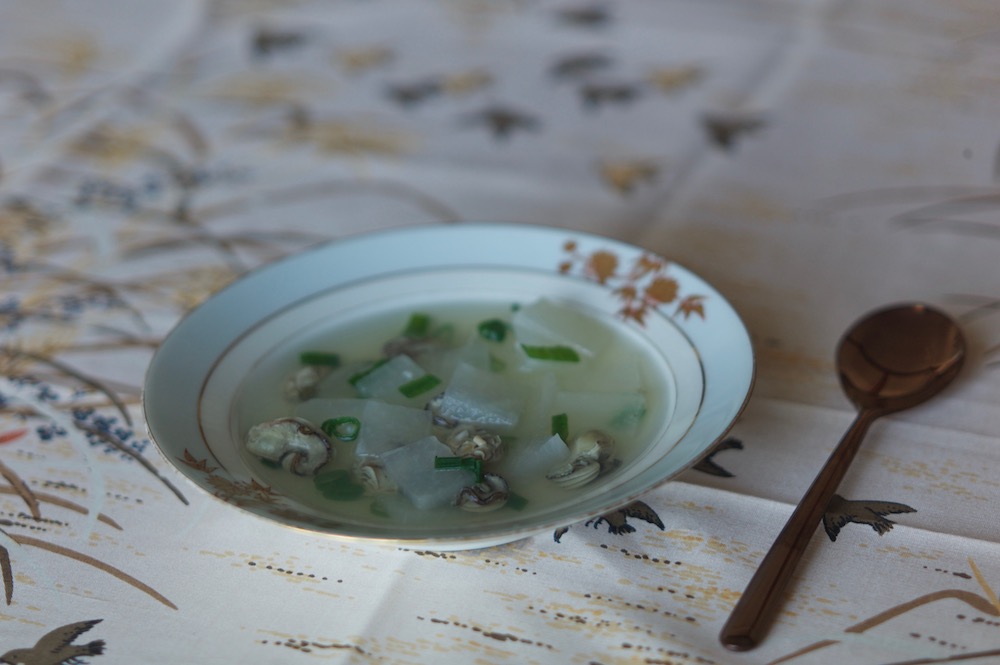 A Mean Oyster Soup
Adapted from the blog Korean Bapsang, A Korean Mom's Home Cooking.
12 oysters
1/2 cup daikon radish, sliced in thin rectangles
1 scallion
6 cups water
1 tsp minced garlic
salt and pepper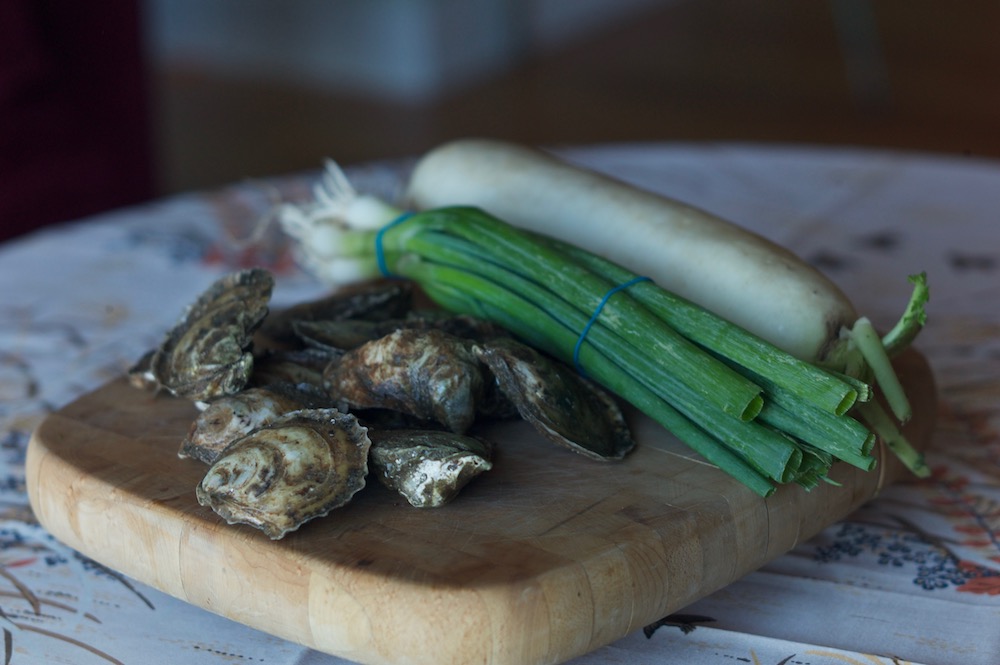 Shuck the oysters, reserving the flesh and as much of the brine as possible.
Put the six cups of water and the radish slices in a pot. Bring to a boil, then turn down to simmer for five minutes or until the radish softens.
Drop the oysters and their liquid in, add the garlic, and cook for a minute more, skimming any scum if necessary.
Drop the scallion in right before turning off the heat. Season with salt and pepper to taste. Serve immediately.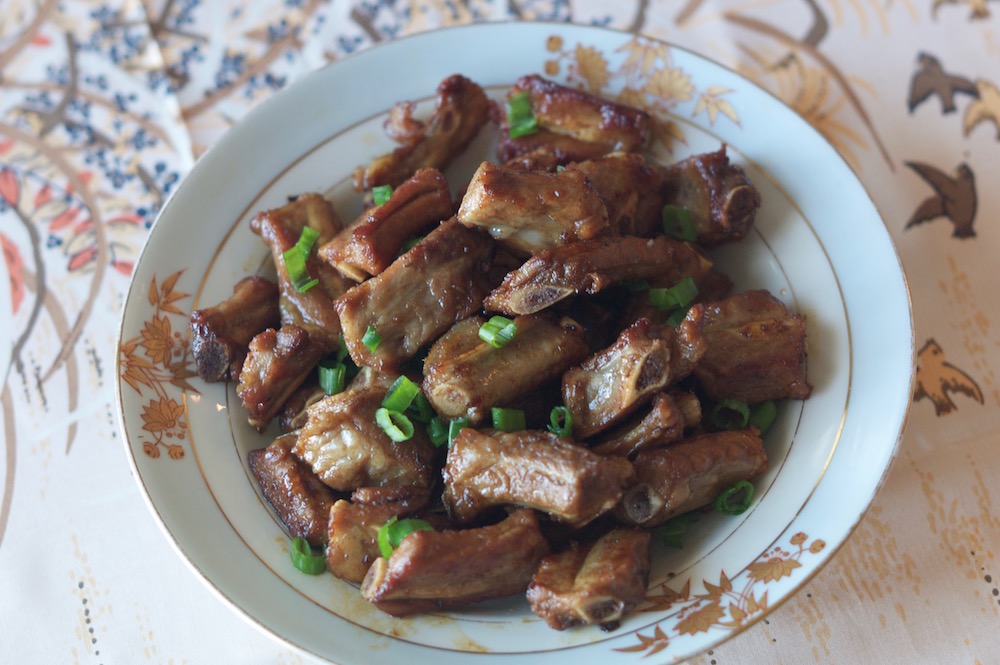 Sweet-and-Sour Pork Bones
This recipe and technique are adapted from The Omnivore's Cookbook.
1 1/2 pounds pork spare ribs, cut into 1 1/2–inch chunks by your butcher
2 tbs Shaoxing wine
1 thumb-size chunk of ginger, sliced
5–6 shallots, white part; save the green part for garnish
1 whole star anise
2 dried red chili peppers
2 tbs black vinegar
2 tsp dark soy sauce
4 tbs peanut oil
3 tbs brown sugar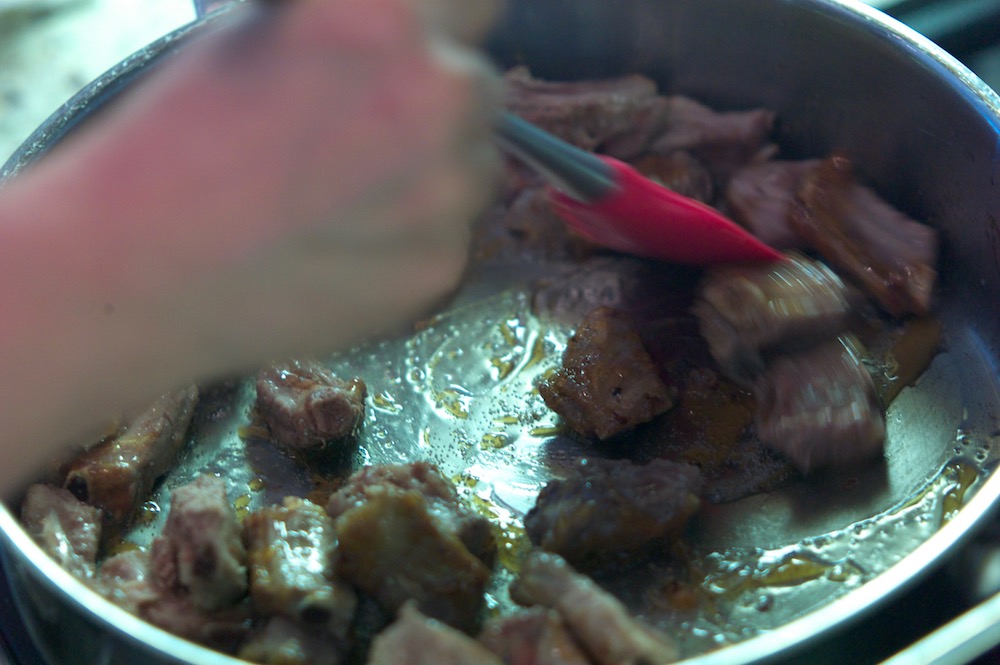 Rinse pork ribs with running water, and transfer to a large pot. Add water to cover the ribs. Add Shaoxing wine, ginger, green onion, star anise, and chili pepper to the pot. Cover and bring to a boil. Uncover and continue to cook for two minutes. Use a ladle to skim the foam from the surface, and discard it. (This step removes the unappetizing raw flavor from the pork.)
Drain the ribs. (You can save the broth and use it to make soup later.) Mix the vinegar and soy sauce together in a small bowl, and set aside. Add peanut oil and sugar to a wok or large skillet, and cook over medium heat. Stir constantly with a spatula to dissolve the sugar slowly.
When the sugar is fully dissolved, use the spatula to scoop some of the liquid mixture and observe its color. When the sugar turns pale-yellow, immediately and carefully add the ribs to the wok. Stir constantly to coat them well with melted sugar. Stir until the ribs turn golden-brown, for just a minute or two, and turn off heat. Overcooking the ribs at this stage will make them chewy, not tender. The goal is to get them glazed with as little time on the heat as possible.
Tilt the wok. Use the spatula to place the ribs on one side of the wok. Use a large spoon to scoop out the extra oil, and transfer it to a small bowl, until there is only about one tablespoon of oil left.
Turn back to medium-high heat. Pour the vinegar-and-soy-sauce mixture over the ribs and quickly stir to mix well. Continue to stir until the sauce has reduced and is thick enough to coat the ribs, just a minute or two. Stop heat immediately and transfer the ribs to a plate. Garnish with chopped green onion and serve warm.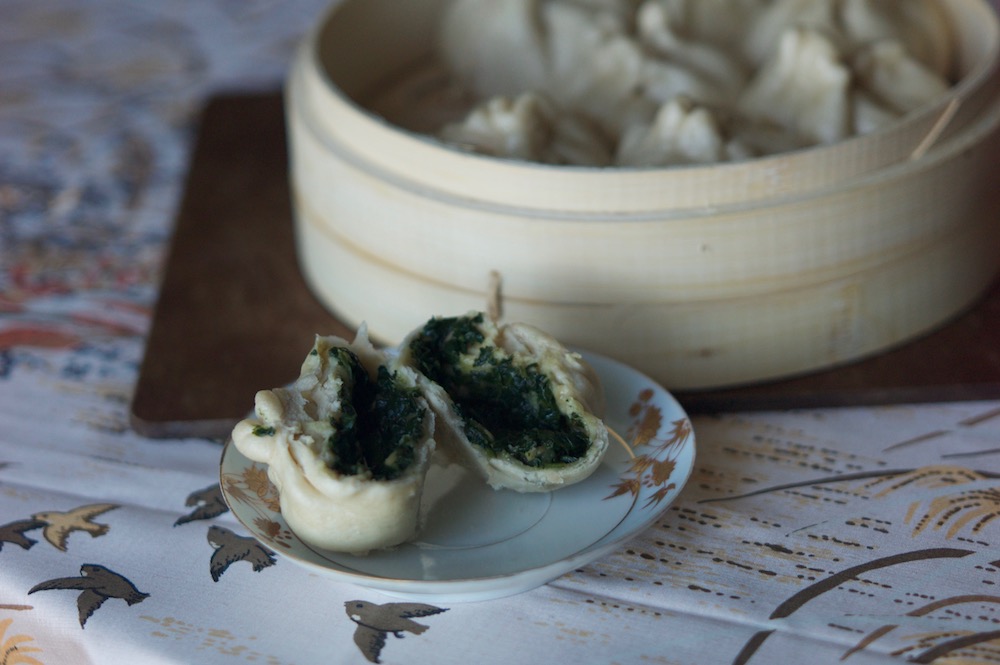 Steamed Spinach Buns  
This recipe and technique are adapted from The Kitchn.
For the dough:
2 cups flour
1 tsp yeast
1 tsp baking powder
4 tbs sugar
1/8 tsp salt
1 tbs sesame oil, plus extra for rolling out dough
1/2 cup lukewarm water
Filling:
2 boxes fresh baby spinach
1 spring onion or green onion, diced fine
2 tbs fresh peeled ginger, minced
1/2 tsp salt
1 tsp sugar
1 tsp oyster sauce
1 tsp soy sauce
1 tsp sesame oil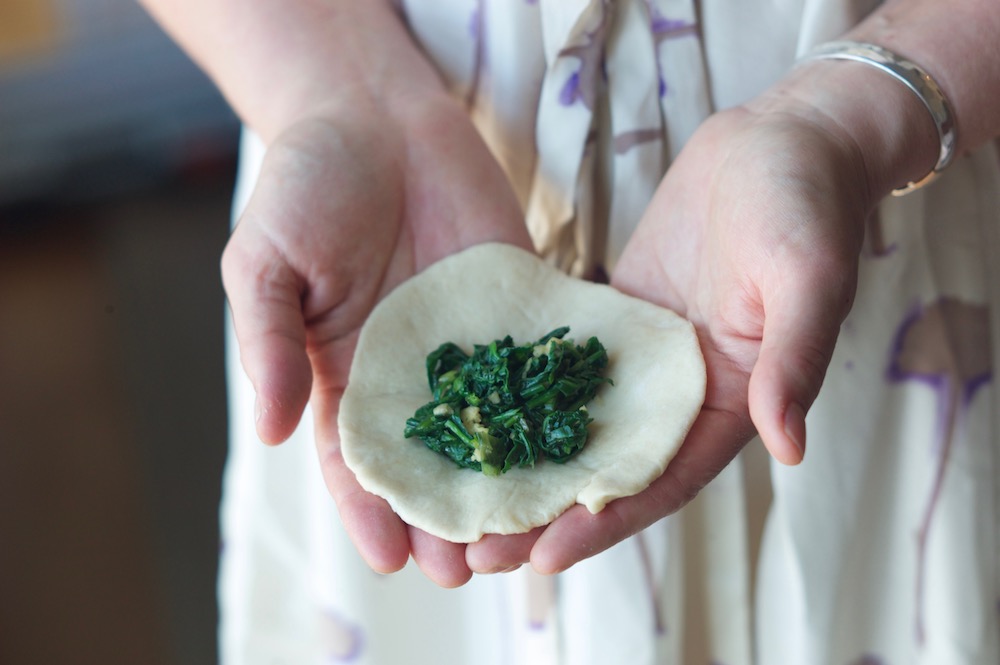 First, proof the yeast by combining it with the half cup of lukewarm water and one teaspoon of sugar in a small bowl.
While you're waiting for the yeast mixture to bubble, mix the flour, baking powder, sugar, and salt in a large bowl. Add the sesame oil and stir lightly, coating the flour evenly with the oil. When the yeast has frothed up, add the yeast mixture to the flour mixture, and stir to combine.
Turn the dough out on a lightly floured, clean work surface, and knead until smooth, about five minutes. Coat another clean, medium-size bowl with sesame oil. Place the dough ball inside, cover with plastic wrap, and let rise for thirty minutes or until dough doubles in size.
While the dough is rising, prepare the filling. Steam the spinach for one minute, then squeeze the water out as best you can. Chop finely. Add the rest of the filling ingredients and mix thoroughly. Set the filling aside.
After thirty minutes or more, the dough should have doubled in volume. Knead the dough lightly to expel any air pockets. Roll into a cylinder on a floured board, and cut into eight equal pieces. For each ball, put a drop or two of sesame oil in your palm to coat your hands. Roll each piece into a ball. Place under a wet kitchen towel and allow to rest for ten minutes. (The dough will rise again.)
Roll out dough into four-inch-diameter circles. Place a small ball of filling in the center. Form pleats in the dough as you seal the buns by twisting. (Make sure they have a nice seal.) Place the finished buns on small circles of baking paper in the steamer.
Place your bamboo steamer atop a large skillet filled with water, and turn on heat high enough to get the water boiling but not so high the flame will scorch the steamer. When the water comes to a boil, let steam for fifteen to twenty minutes. The buns will almost double in size. Serve with soy sauce and/or hot chili sauce.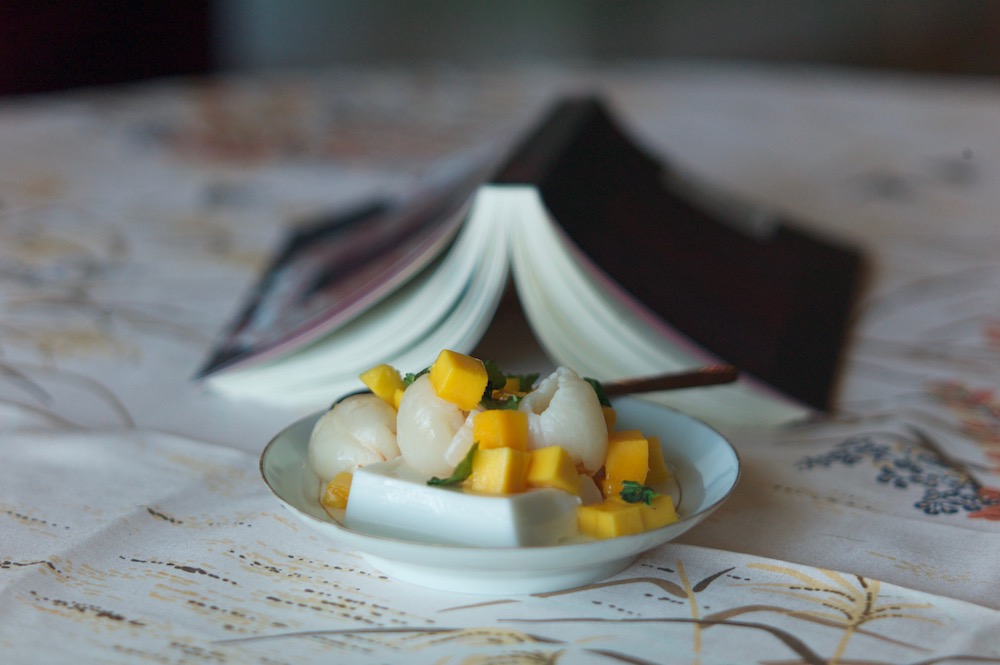 Coconut Pudding with Lychee and Mango
This recipe is adapted from taste.com.au. Serves 6.
1/2 cup sugar; plus 2 tsp sugar
2 tbs powdered gelatin
1 400-ml can coconut milk
1 lb fresh lychees, shelled and pitted
1 small mango, cubed
fresh mint leaves to serve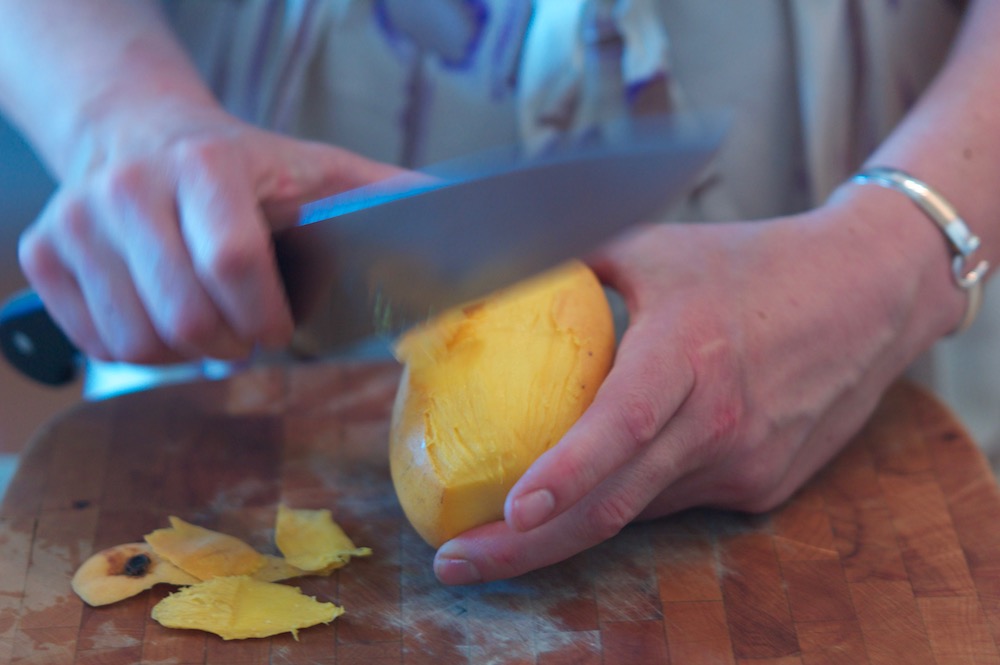 Place a half cup of sugar and one cup of cold water in a saucepan over low heat. Stir for three to four minutes until the sugar dissolves. Remove from heat. Gradually add the gelatin, stirring until combined. Return the pan to low heat. Cook, stirring for one or two minutes more until completely dissolved.
Transfer the mixture to a large heatproof bowl. Stir occasionally until cooled. Pour mixture into a greased square pan and refrigerate until set, about three hours.
Meanwhile, add the two teaspoons of sugar to the lychees, and macerate.
When ready to serve, run a knife around the edge of the firmed coconut pudding, then invert onto a chopping board. Cut into six rectangles. Plate by spooning on the lychee-and-syrup mixture, adding cubed mango, and topping with mint.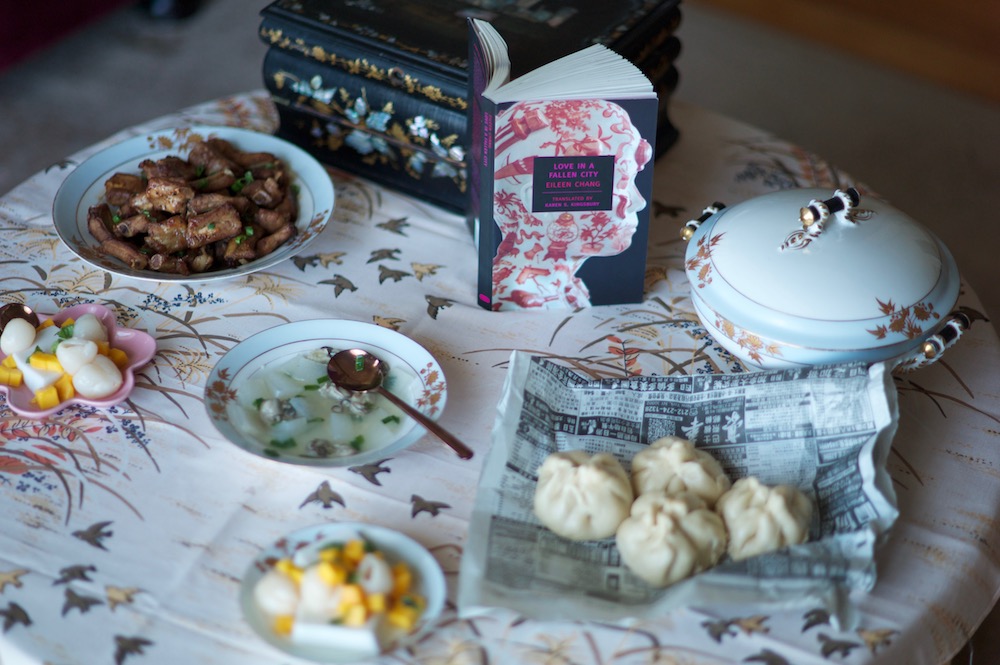 Valerie Stivers is a writer based in New York. Read earlier installments of Eat Your Words here.