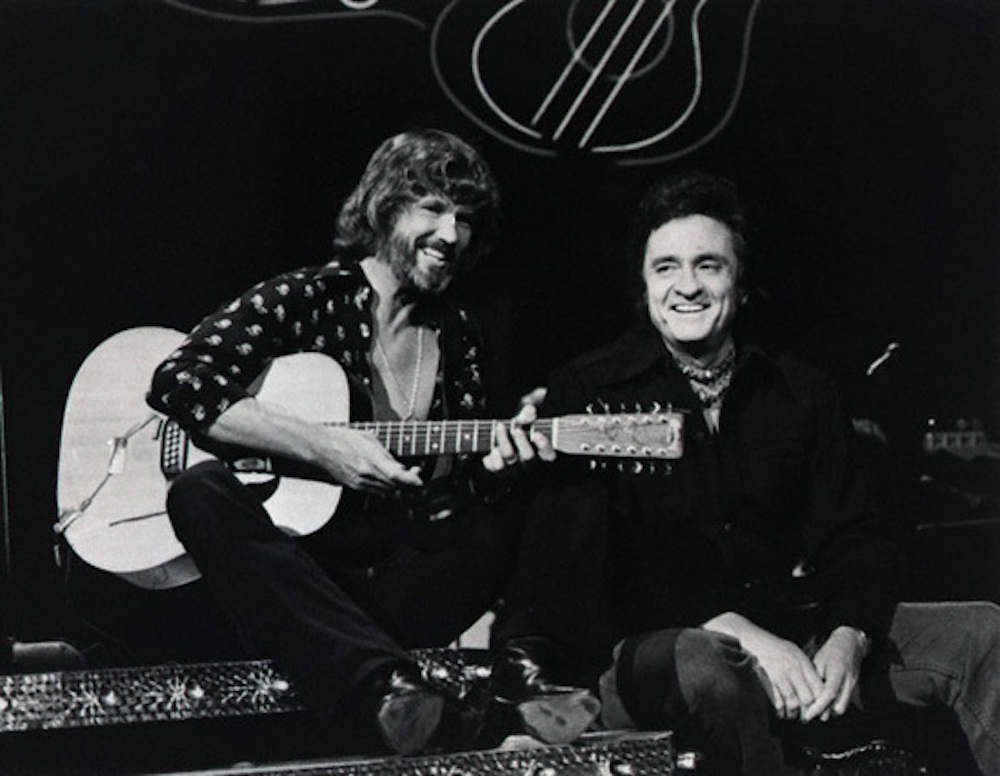 On YouTube exists a rare video of Johnny Cash and Kris Kristofferson performing the song "Sunday Morning Coming Down." The segment, which was taped in Los Angeles as part of a 1978 prime-time special, made for a very public reunion—it had been nine years since Cash first performed Kristofferson's song on The Johnny Cash Show, his short-lived TV variety program featuring rock, blues, and folk singers alongside the Grand Ole Opry crowd.
The original performance had been controversial. Cash's producers, anticipating blowback from the song's references to drug use, had asked him to switch the chorus from "On a Sunday morning sidewalk / I'm wishing, Lord, that I was stoned" to "On a Sunday morning sidewalk / I'm wishing, Lord, that I was home." Cash said he'd give it some thought, but when the time came, he delivered the lines as is, putting the weight of his quavering bass-baritone behind a lyric that was at once a provocation (drugs were a Nashville taboo) and a personal confession (Cash really was hooked on pills). A live recording of the performance was released to country radio and quickly ran up the charts, eventually winning the 1970 CMA Award for Song of the Year.
The success of "Sunday Morning" was a windfall for Kristofferson. An Army helicopter pilot with a degree from Oxford, he had recently resigned from a teaching gig at West Point to hawk country songs in Nashville. To make rent, he took a job as a janitor at Columbia Studios, where Cash had recorded hit after hit: "Ring of Fire," "Understand Your Man," "The Ballad of Ira Hayes."
Cash was only four years older than Kristofferson, only a couple inches taller, yet his fame and panache, paired with the guttural elegance of his pipes, gave him a magnetic otherworldliness. Dressed in black, cocking his six-string like a shotgun, he was part prophet, part phantom, part live wire.
At Cash's memorial concert in 2003, Kristofferson likened him to a panther. "He was dark, dangerous," Kristofferson said, "a force of nature, absolutely electric and absolutely unpredictable." What Kristofferson admired in Cash was a certain strength of character that masqueraded as unconcern. "He's a walking contradiction, partly truth and partly fiction," Kristofferson writes in "The Pilgrim, Chapter 33," "taking every wrong direction on his lonely way back home."
As he swept the floors, Kristofferson studied his hero. He slipped demos to Cash's wife, June Carter, and when that failed, he procured an Army National Guard helicopter and landed it on Cash's riverfront lawn. Such antics might very well have earned him a restraining order were it not for the fact that "Sunday Morning," included on the demo, was tailor-made for Cash.
The song tapped into his outlaw persona while also spotlighting the growing hitch in his strut. It was one of those recordings that felt both surprising and inevitable, as if the last country song you'd expect Johnny Cash to sing was the one country song Cash alone could sell. The conceit is simple enough. A man wakes up late and goes for a trot, not unlike the situation described in the Beatles' "A Day in the Life," released two years prior, in 1967: "Woke up, fell out of bed / Dragged the comb across my head."
But if the Beatles' psychedelic classic satirizes the banality of modern ritual, "Sunday Morning" sets out to revivify the mundane. The movements of the Beatles' character are automatic, the mindless routines of a middling banker or bureaucrat. But there is nothing pat about the actions of Kristofferson's subject. His alarm clock is a hangover headache. He doesn't drink coffee; he sips the hair of the dog. He forgoes a suit and tie for his "cleanest dirty shirt." His morning walk is like a cold shower. His senses sharpen and coruscate. He hears songs issuing from a nearby church, smells fried chicken, sees kids swinging in the park and finds himself transported to "something that he lost somehow, somewhere along the way." The bells ringing in the distance echo like "disappearing dreams." Above all, his jaunt underscores his isolation. "There's something about a Sunday," Kristofferson writes, "that makes a body feel alone."
Like all great writers, Kristofferson was an empath whose access of insight was his own experience. Ostensibly, "Sunday Morning" was about Kristofferson, a struggling upstart who, as the opening verse describes, had "smoked his mind the night before / with cigarettes and songs that I'd been picking." But the scenario he sketches, for all its idiosyncrasy, was pliable enough for Cash, whose struggles had to do with fame instead of obscurity, to fashion into his own image.
Although Cash was a formidable songwriter himself—he penned "Folsom Prison Blues," "I Walk the Line," "Big River," and "Tennessee Flat-Top Box," to name a few—his greatest talent was interpretation. Kristofferson's spare, bluesy version of "Sunday Morning," recorded for his 1970 solo debut, is the dawn-crack moan of a cocksure talent who has failed to catch his big break. Cash speeds up the tempo, adds horns and strings, and in so doing morphs "Sunday Morning" from a song about the loneliness of being on the bottom into a song about the loneliness of being at the top.
In the sixties, Cash had stomped out the lights at the Grand Ole Opry, set fire to a swath of national forest, and been arrested for smuggling painkillers across the Mexican border. His "Sunday Morning" was like the hangover Sabbath it described: visceral, rueful, not quite repentant.
The same year that Cash won the CMA Award for "Sunday Morning," Kristofferson took home the prize for Best Songwriter and hung up the broom. In the months and years that followed, Waylon Jennings, Bobby Bare, Faron Young, Roger Miller, and Janis Joplin cut songs by Kristofferson, who in turn found a larger audience for his own records. Buoyed by the single "Why Me?"—a pseudo spiritual that found Kristofferson reflecting on the unlikeliness of his good fortune—his 1972 album, Jesus Was a Capricorn, went to No. 1.
Next came Hollywood. Kristofferson, who paired flinty good looks with a drifter's devil-may-care, starred with James Coburn and Bob Dylan in Sam Peckinpah's brilliant Pat Garrett and Billy the Kid and won a best actor Golden Globe for his 1976 role alongside Barbra Streisand in A Star Is Born. At the taping of Cash's special, he was in the middle of filming a TV special in Natchez, Mississippi, with Muhammad Ali.
For Cash, however, the seventies became something of a wilderness. The inner conflict teased in "Sunday Morning" intensified. There were rehab stints and relapses. There was an earnest return to Christian faith. His musical output was frequent, if often forgettable. In addition to run-of-the-mill collections of original material, he cut patriotic concept albums, covers of country standards, and regurgitations of old hits. The landmark early albums were decades behind him, and the miraculous final recordings were still decades away. At the airing of the 1978 performance of "Sunday Morning," Kristofferson was forty-two, a still-rising star. Cash, forty-six, was a portrait of the country artist as an aging man.
Still, there is little in the YouTube video to suggest that Kristofferson has outgrown his awe, and even less to suggest that Cash harbors feelings of resentment. He introduces Kristofferson as "one of the biggest stars in the world." Kristofferson's halting entry onstage, however, shows that he is under no delusions about who is standing in whose shadow. Just how indebted he feels to Cash becomes clear in the banter that follows. "I loved it, and I sang it, and I've been singing it ever since," Cash says of "Sunday Morning." "Well, up till now," Kristofferson replies, "that was the proudest moment of my life, so this might just be the proudest."
The whole thing, repartee and all, is over in less than four minutes, and yet the song they sing is really the song of their lives, the song of a friendship as far-fetched as it seemed fated. In the following years, that connection only deepened: they toured the world together as part of the supergroup the Highwaymen and grew closer still in the final months of Cash's life, when Kristofferson called to check on him nearly every day.
In the video, Cash takes the first verse with characteristic authority. Kristofferson takes the second with characteristic insouciance, coming in just late enough to make you wonder if, in his momentary amazement, he has forgotten the words, but not late enough to convince you that he's doing anything other than wheeling free. Their voices alternate, each moving at its own pace, each making its individual stride before falling into loose step at the chorus:
And there's nothing short of dying
That's half as lonesome as the sound
Of a sleeping city sidewalk
And Sunday morning coming down
The wages of freedom are lonesomeness, I see and hear them saying, but being lonesome together is not the same as being alone.
Drew Bratcher is a writer from Nashville.