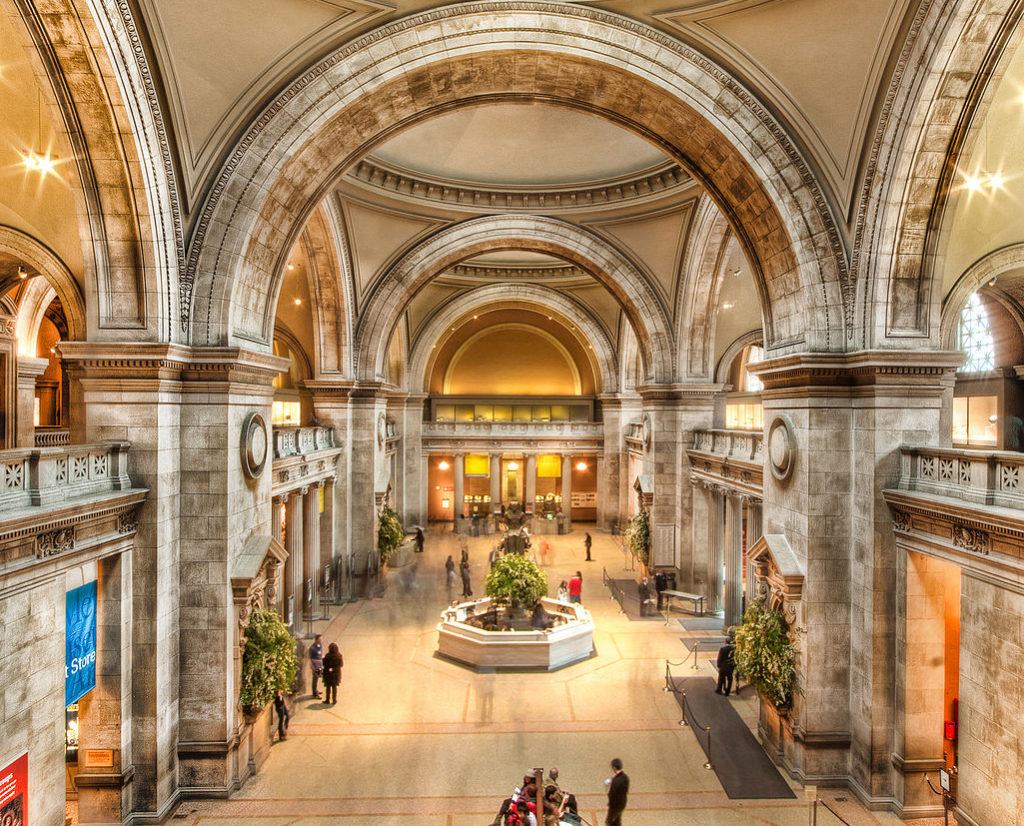 It will soon be three months since the Metropolitan Museum of Art instituted its new admissions policy: pay what you wish for New Yorkers and tristate students, a discount for the elderly and groups, and twenty-five dollars for everybody else. From 1970 to 2018, the Met's policy had been a more beneficent one—admission fees were up to the discretion of each guest, and the museum was, as Alexandra Schwartz recently wrote for The New Yorker, "as open to the public as Central Park."
When the Met announced the new fee, commentators envisioned an apocalypse on Fifth Avenue—"The Met Should Be Open to All. The New Pay Policy Is a Mistake," "The Metropolitan Museum's New Admission Policy Sticks It to Tourists." In its press release, the Met made clear that it "will accept a variety of other documents that demonstrate New York residency," and suggested that virtually no underprivileged guests have actually been turned away. However, this change affects more than just access to the Temple of Dendur. The Metropolitan Museum of Art is arguably the world's most influential museum, with many ambitions besides serving its visitors. It maintains one of the best conservation labs in the world, sponsors architectural excavations, and funds the research of expert scholars. These are all valuable endeavors, yet the Met's decision to curtail pay-what-you-wish signals to museums everywhere that when the budget demands, the public should take a backseat to other priorities and stakeholders. Since its inception, the Met has grappled with how to fulfill its civic and educational missions while catering to wealthy donors and preserving the world's treasures, many of them ill-gotten. Facing a budgetary crisis of its own making, the museum's decision to scrap its most symbolically open-hearted policy once again brings that conflict out of storage and into the light.
The Met's communications office explains their predicament this way: Unlike other New York art and history museums, the Met is a public/private partnership, built on land owned by the city and funded in part by New York taxpayers. This means the museum is compelled to offer discounts to residents. In recent years, however, the Met has come under budgetary pressure, with a shrinking allowance from the mayor's office (down to just 12 percent of its annual budget in 2017), which barely pays for the building's utilities. At the same time, the number of visitors has almost doubled in the past decade, while the rate of individual membership and full-price ticket sales has plummeted. To add an extra ten million dollars in annual revenue, the museum decided to start charging full admission to out-of-towners, who represent 31 percent of the Met's seven million annual visitors. As a consolation, the new ticket also grants admission to the Met's other institutions, the Cloisters and the Met Breuer. "Excellence costs money," says Daniel Weiss, the Met's president and CEO, and given how much tourists spend on other amenities and entertainment experiences in New York, the assumption is that they can afford the new fee.
The Met is quick to point out that its competitors are not shackled in the same way. Either they subsist on state funding and are totally free—like the Smithsonian in Washington, D.C., or the Tate in London—or they charge a king's ransom to see the work on their walls, like the Louvre (seventeen euros) or the Uffizi (twenty Euro). And New York's private museums are comparably expensive: MoMA, the Whitney, and the Guggenheim each charge twenty-five dollars for full-priced admission. Many of these places have free days or evenings; however, research by the museum engagement analyst Colleen Dilenschneider suggests that these strategies don't actually attract underserved visitors but just bring in people who have already been to the museum before, and who are richer and whiter than average museum attendees.
The history of the Met's admissions policies is full of eerily similar conflicts to the ones playing out today. As Sven Beckert points out in the The Monied Metropolis, when the Metropolitan Museum of Art opened its doors in 1880, it was largely the domain of New York's rapidly evolving bourgeoisie. The founders were a combination of the city's mercantile old guard, like William H. Astor, and newcomers who'd made their money in finance and industry, like J. P. Morgan and Cornelius Vanderbilt. They wanted to create an arts institution that would gather their impressive personal collections and rival the museums of Europe. Though the Met was conceived as public, board members often referred to it as "our museum" in correspondence. Though the Met offered free admission on certain weekdays, it was, until 1891, closed on Sundays, the one day a week when working people had the leisure time to spend there.
Only a few years into its operation, the Met faced pushback against its perceived elitism and inaccessibility. In February of 1897, a plumber working in one of the grand mansions on Fifth Avenue decided to look at some art during his lunch hour and was turned away by museum staff for wearing dirty overalls. Local newspapers launched a cavalcade of attacks.
SOBER WORKMAN HAS TO LEAVE ART GALLERIES
ART FOR THE WELL DRESSED
SENSITIVE AND REFINED PLUMBER AFFRONTED
The museum's director, Luigi Palma di Cesnola, responded with a public statement defending the Met's refusal to allow the plumber inside, exacerbating the public relations crisis even further. "We do not want, nor will we permit a person who has been digging in a filthy sewer or working among grease and oil to come in here, and by offensive odors emitted from the dirt on on their apparel, make the surroundings uncomfortable for others," Cesnola told a room full of journalists. Papers like the Brooklyn Daily Eagle and the New York Sun ran follow-ups and op-eds for a month afterward, debating exactly who was fit to enter the Metropolitan's hallowed halls and how exactly the institution could claim to exist for the purpose "of furnishing popular instruction" when it seemed intent on keeping the people out.
In the following decades, the Met added free days and experimented with charging for special exhibitions. From 1941 to 1970, it went completely free, relying on the largesse of its endowment. The trouble with this policy was that benefactors preferred to bequeath collections or pay for new construction (where their legacies would be more visibly preserved) rather than donate to a general fund. This issue persists today. In 2016, the Met received a gift of eighty million dollars from the trustee Florence Irving, earmarked for the acquisition of Asian art; and in 2013, it received sixty-five million dollars from David Koch for the lavish Fifth Avenue facade and plaza renovation. Were such gifts diverted to operating expenses, the museum would likely never have had to charge admission.
Of course, the barriers to entry in cultural institutions have always been about more than just the price of a ticket. Though the midcentury saw the Met become more economically accessible, the museum still took active measures to exclude undesirable guests, especially nonwhite ones. In a letter to the art historian Susan E. Cahan, published in Mounting Frustration: The Art Museum in the Age of Black Power, the former Met director Thomas Hoving recalls "Irish guards at the main entrance actually turned away African Americans and Hispanics, saying the MMA was a private club."
In 1969, the Met faced one of its largest public protests surrounding the exhibition titled "Harlem on My Mind," which curators had hoped would speak to a more diverse audience. The show drew ire for taking an ethnographic approach to representing Harlem by using photographs and mass media, while omitting sculpture and painting. As Aruna D'Souza writes in Whitewalling: Art, Race, and Protest in Three Acts, "In the first-ever exhibition of African American culture at the Metropolitan Museum of Art, no black art was to be included." In the lead-up to the show, the Met had consulted many influential figures in the black community, such as Ed Taylor of the Harlem Cultural Council and the scholar and activist John Henrik Clarke, but largely ignored their advice. Though people of color were theoretically welcome to visit the museum, they had no say in shaping its curatorial priorities. HARLEM ON WHOSE MIND? one protester's sign read.
The pressure from protesters and the mayor's office caused the Met to make some major changes, including loaning out portions of its collection to underserved communities around New York City and helping to found arts institutions in the outer boroughs, such as Snug Harbor in Staten Island, and the Queens Museum. During this same period, the Met was also facing financial troubles. Shortly after the "Harlem on My Mind" disaster, the wealthy financier and museum trustee Henry Ittleson Jr. proposed a pay-what-you-wish admission fee in an effort to make up an annual deficit while still remaining accessible to underserved populations of visitors. The Met's 1970 press release announcing the change described it as a "person by person fund-raising program," which they hoped would become "a hotly defended institution on its own in a town where you usually hear 'pay up, pay plenty, and the public be damned.' "
To fix what many regard as the Met's recent calamitous decision to abandon pay-what-you-wish, one group of artists, called Equitable Met, is proposing that the museum reinstate it with an interesting twist. Instead of framing admission as something guests choose to pay based on how much they value their experience, Equitable Met believes visitors should be asked to pay on a sliding scale according to their income—something like, "From each according to his ability, to each according to his needs." It's not about how much guests wish to pay, but how much they can actually afford. As the cocreator Kevin Wiesner explained, "For sliding scale to be sustainable, it needs to not feel like charity" but instead to feel like a civic obligation. The group estimates that a scale sliding from zero to thirty-five dollars, with prices clearly indexed to self-declared income, would actually generate more revenue—despite moochers—than the current, mandatory-fee structure.
In a sense, the Met's members and full-paying guests had already been using a sort of sliding scale. It used to be that if you were a New Yorker of a certain class, your family had a membership at the Met, Lincoln Center, and one or two other cultural institutions in the city. But as middle-class income and interest in the fine arts dwindled, expectations to maintain such memberships eroded, and a growing number of other cultural institutions are competing for that shrinking pool of donors. And that's if you can get donors off their couches and phones—a 2017 study from Culture Track found that museums are losing eyeballs to the growing variety of digital distractions. The result of these changing economic, technological, and cultural forces is that museums like the Met can no longer rely on unspoken social pressures to secure revenue. Equitable Met argues that the museum must make the financial position of its guests more explicit in order to more fairly serve them all. "We really want people to consider how they fit into the larger economic picture," says the cocreator Lukas Bentel.
The Met has historically catered to its wealthier visitors through its collection priorities, programming, and even through its physical location on the Upper East Side—but through its new Multicultural Audience Development Initiative and successful social-media campaigns, the museum has made strides toward bringing underserved visitors through its doors and engaging them as stakeholders in the institution. Such progress may well be reversed in the coming months and years. Even with its many exceptions and carve outs, Josephine Devanbu, cocreator of Equitable Met and Look at Art Get Paid thinks the Met's new policy will keep some visitors away. A working-class family from Newark, a recent college grad waitressing at night and sleeping on a friend's couch, an undocumented immigrant afraid the museum will ask for his papers. Without public opposition to hold them accountable, Devanbu suspects other cultural institutions will make similar about-faces in their inclusion efforts. "There's a long history of the museum making concessions," she says, "and having that fade away in the decades where there isn't as much pressure."
If the history of the Met is any guide, there have always been scandals and debates over whom the institution actually serves, but the museum rarely addresses those concerns unless its hand is forced. As the memory of pay-what-you-wish fades and the new policy solidifies into "the way things are done," the chances of mustering the necessary pressure will likely fade as well. Other museums facing similar financial ultimatums, such as SFMoMA and the Indianapolis Museum of Art, are already following the Met's lead, either by switching from free to paid admission or raising ticket prices to pay for new construction. Museum administrators will contend that nobody is being excluded by these changes, but it's nearly impossible to measure the continued absence of marginalized visitors, who remain outside the museum's reach and who never attended in the first place. Since its opening, the Metropolitan Museum of Art has been likened to a high temple of art, a bustling civic forum, and an imperious fortress perched on the edge of Central Park. In its 148 years, the institution has vacillated between all three. Only now, its drawbridges seem to be rising over those moatlike fountains, and the public has been left on the other side.
Daniel Penny writes about art and culture at The New Yorker, Boston Review, and elsewhere. He teaches writing and visual culture at Parsons School of Design.