In Valerie Stivers's Eat Your Words series, she cooks up recipes drawn from the works of various writers.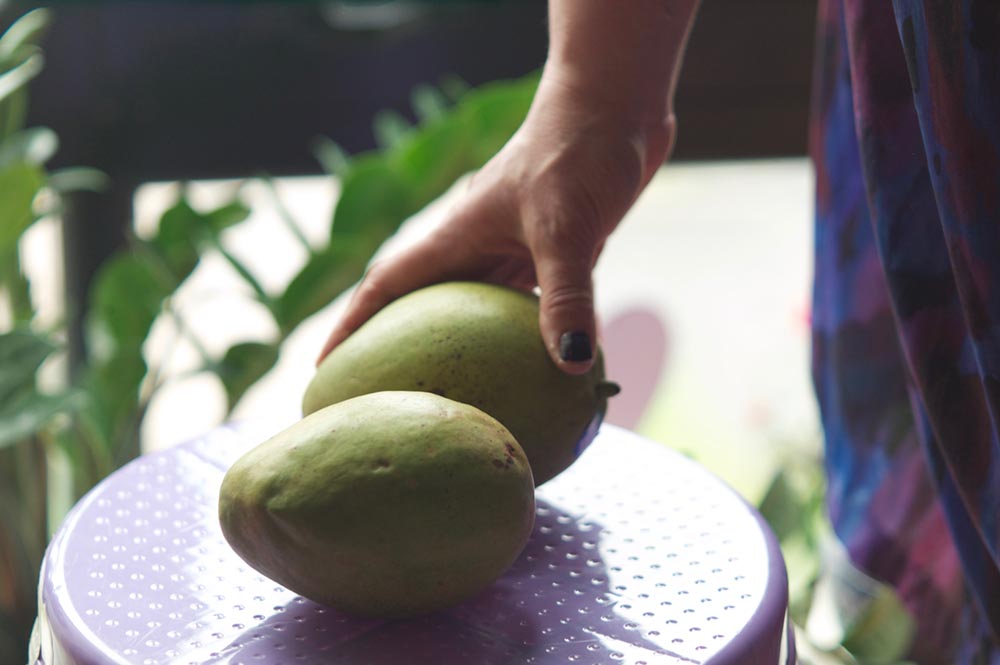 The Bengali novel Pather Panchali, Song of the Road is best known in the West as a Satyajit Ray film but the 1929s classic is also one of the most popular titles from prolific Indian author Bibhutibhushan Bandopadhyay (1894–1950). It chronicles the lives of two poor children in rural India. The great animating spirit of this beloved book is that, despite their poverty, the children's experience is one of abundance. Every path in the village is beloved to Durga, the elder sister, "she had known them all her life, so naturally and intimately that they had become a part of her…they were her own dear friends, her lifelong companions." Though Durga and her brother Opu are often hungry, their lives are a paradise of guava and mangosteen and custard apple trees, simple but delicious dinners made by mummy, and festival treats and feasts. On a day when Durga makes a picnic of dal, rice and eggplant snuck from her mother's stores, Opu reflects, "To think that they were out together sitting under a date-palm tree with leaves from a custard apple tree lying like a carpet all around them, and that it was real rice and real vegetables that they were eating! How wonderful it all was!" Every bite these two take seems to be bursting with flavor, and small things like the quest for ingredients to make "a mango pickle" with oil, salt and chili become major plot points.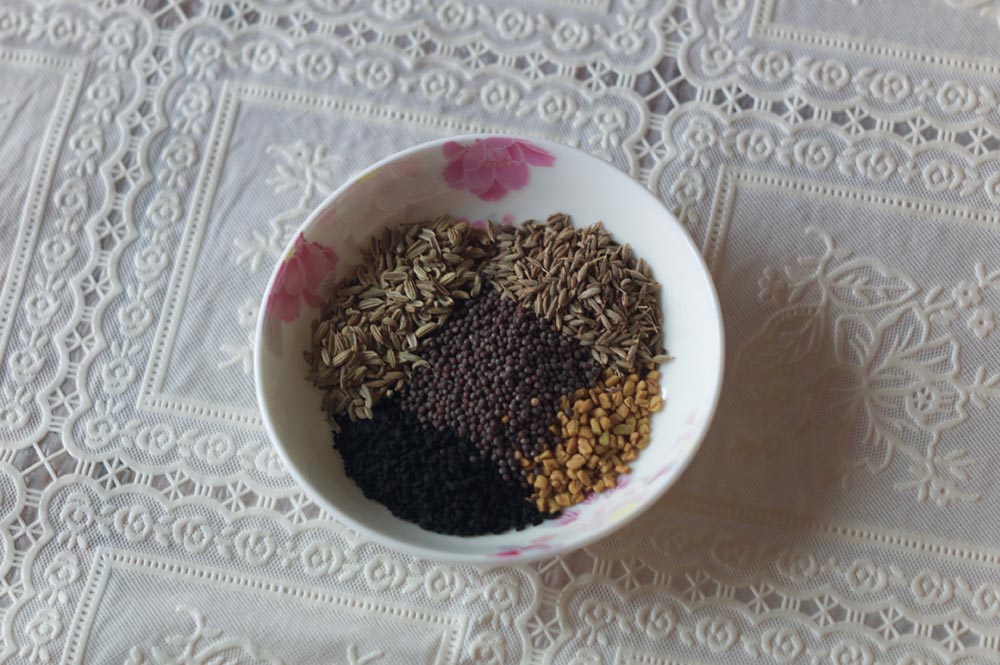 Indian cuisine is one of my favorites to cook at home, and my two cookbooks from Julie Sahni are some of the grimiest and most water-warped on my shelves. (Alas, I am not a neat cook.)  Versions of almost everything the children eat in the novel can be found in Sahni's books, which often specify the regional origins of the recipes, and include many from Bengal. I found a recipe for a Bengali home-made cheese-curd dessert called ras gulla, which was like one Opu covets as an inaccessible treat for rich people. There was also a recipe for the mango pickle, something I would never have tried, but which turned out to be a bright, delicious dish, worth stealing mangoes for, as Durga frequently did. I cook Sahni's dals frequently, so included one for Bengali red dal, and made "velvet" shrimp and eggplant raita, since the children eat those ingredients in the novel. Seafood dishes in general are specialties of Bengal. Even some of Pather Panchali's cooking techniques are endorsed in Sahni's cookbook. Shorbojoya, the mother in the novel, places her spices "within easy reach of her right hand" when cooking—which was just how Sahni instructed me to make the dal's spice-perfumed butter.
Either because of my love of Indian food, or because the children in the book were so desperate for yummy things to eat, I found this menu very difficult to limit, and ended up making six dishes, topping off all of the above with puffy fried poori bread, called luchis in Bengal. Or, as Opu says, "…luchis! Luchis!" Made by "the best cook in the village" in a "huge pan, swimming with butter and filling the air with ambrosial odours of frying luchis!"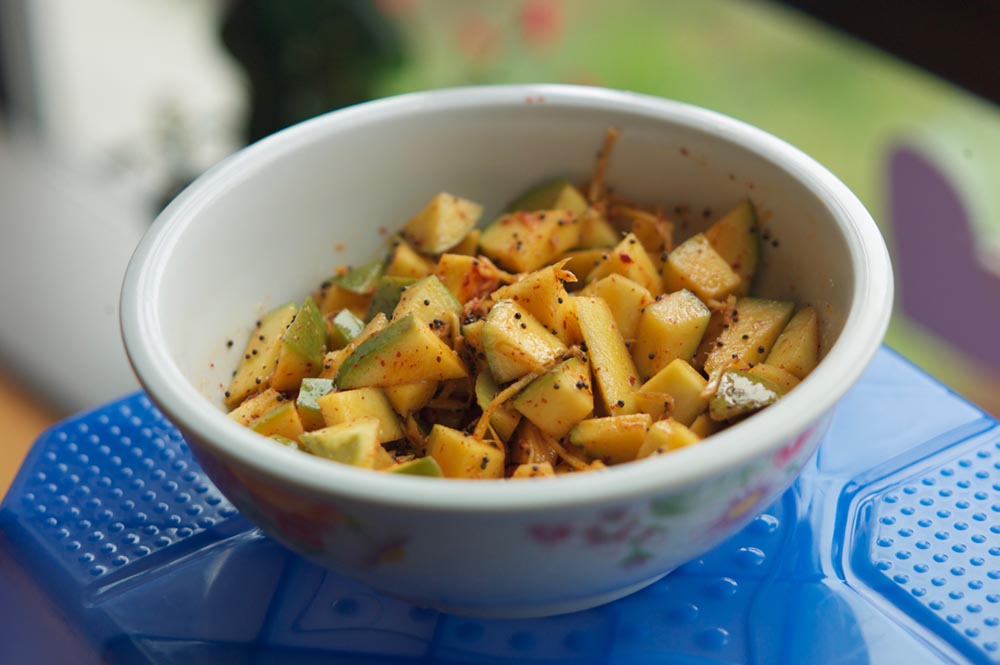 Quick Mango and Shredded Ginger Pickle
Makes 3 cups. From Classic Indian Cooking, by Julie Sahni
2-3  very green raw mangoes
1/3 cup shredded fresh ginger root
1 tbsp Kosher salt
1 1/2 tsp red pepper
3 tbs sesame oil
1 1/2 tsp black mustard seeds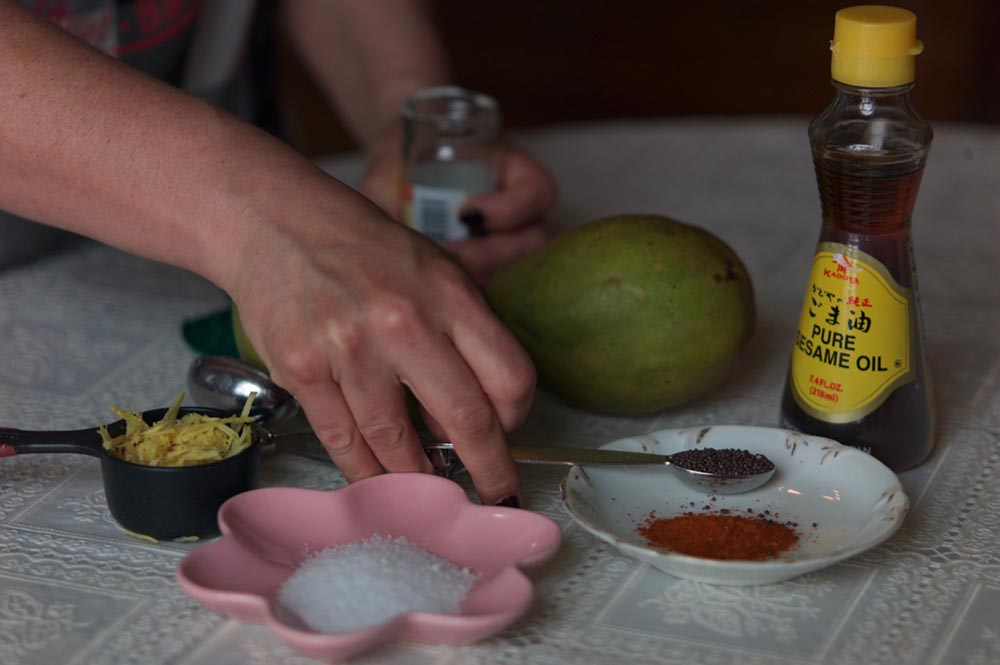 -Wash the mangoes in running water and dry them completely. (If there is moisture on the surface of the mango, the pickle will spoil.)
-Cut the pulp, including the skin, into 1/2 inch cubes, and put in a small bowl. Add the ginger root, salt and red pepper and stir.
-Heat the oil in a small frying pan until very hot, then add the mustard seeds. Keep a pot lid or splatter screen handy. When the seeds are sputtering and turn gray, pour the oil with seeds over the mango pieces. Mix well. Let rest for half an hour before serving.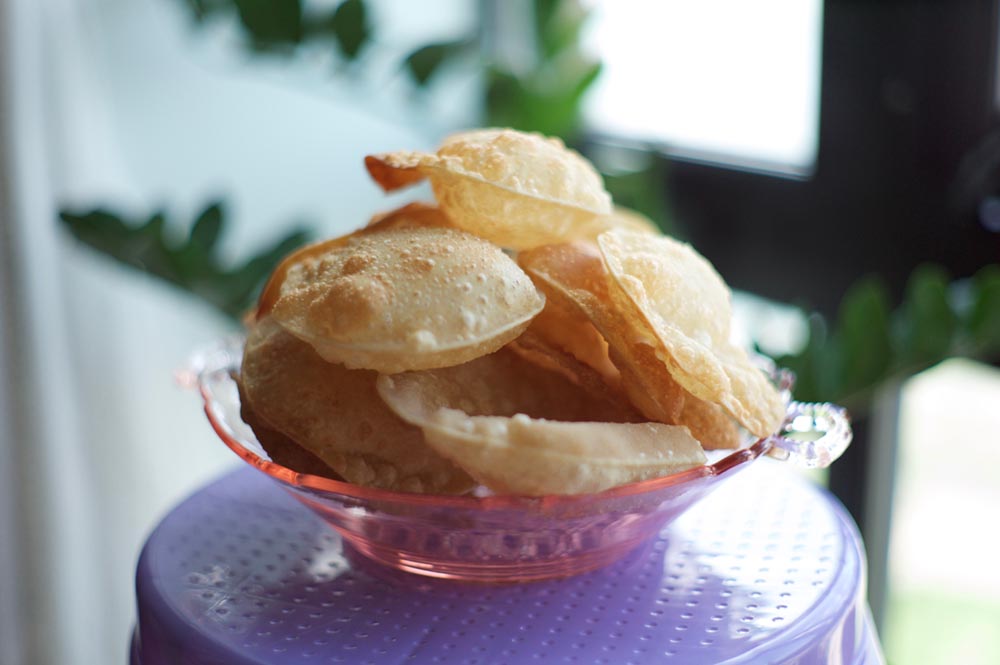 Luchis (Poori, or Deep-fried Puffy Bread) 
From Classic Indian Cooking, by Julie Sahni
1 cup chapati flour plus 1/2 cup all-purpose flour (alternatively, if you don't have chapati flour, use 3/4 cup whole wheat flour plus 3/4 cup all-purpose flour)
1/4 tsp kosher salt
2 tbs plus 1 tsp light vegetable oil
1/2 cup warm water
flour for dusting
peanut or corn oil, enough to fill a fryer to a depth of 3 inches
-Combine the flours and salt in a large bowl. Rub 2 tbsp of oil into the flour, using your fingers, until the flour is evenly coated with oil and free of lumps. Add water, fast at first to moisten the flour so it adheres into a mass; then slowly, little by little, until the dough is formed and can be kneaded.
-Place the dough on the work surface, brush your fingers and knuckles with the remaining oil, and knead for 10 minutes. Cover and let rest for half an hour.
-Knead the dough again briefly on a flour-dusted work surface, then roll into a rope of 16 inches long. Cut into 16 equal pieces, and roll each piece into round, 1-inch balls between your hands. Keep balls covered while you roll them out, one at a time, into 5-inch rounds. Keep covered under plastic wrap or with a moist towel until you are ready to fry.
-Heat the oil in a deep saucepan that can be used as a fryer. When the oil is very hot and begins to smoke, or when it reaches 400 F, drop one bread at a time into the oil. The bread will sink to the bottom. Immediately, hold a slotted spoon flat over the bread, as though to keep it from rising, but without touching it. As the bread begins to sizzle and rise to the surface (in about 3 to 5 seconds) press the bread very gently, for 2-3 seconds. This will puff the bread. Once the bread begins to puff up, be careful not to press too hard or it will break. Let the bread cook until it stops sizzling and the underside is slightly brown. The entire process should take about 15 seconds. Gently flip the bread, and let the other side cook 15 seconds. Take it out and drain it briefly on kitchen towels. Repeat with the rest of the bread. Serve immediately.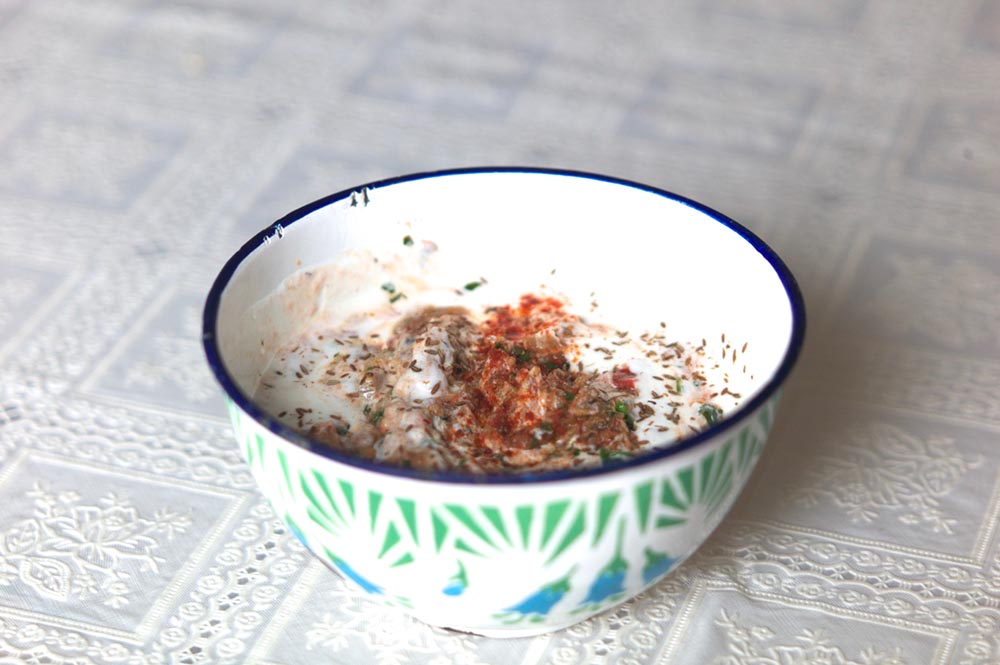 Smoked Eggplant and Yogurt Salad
Adapted from Classic Indian Vegetarian and Grain Cooking, by Julie Sahni. Serves 6–8.
1 large eggplant or 2 small ones
1 large tomato, blanched, peeled, seeded and chopped
1/3 cup finely chopped scallions
1 1/4 cups plain yogurt
1/4 cup sour cream
coarse salt, to taste
3 tbs light vegetable oil
1 tbsp shredded fresh ginger
1/2 tsp or less cayenne pepper
1/3 cup finely chopped fresh coriander
1 1/2 tsp roasted cumin seeds, crushed
paprika or cayenne for garnish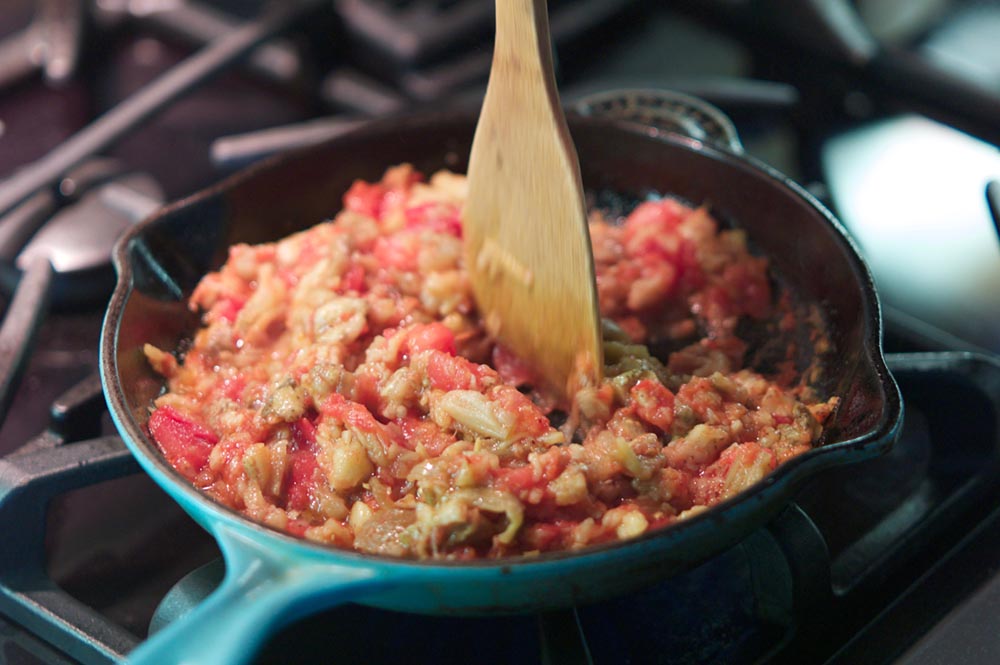 -Cook the eggplant on the grill until very soft. Alternatively, preheat the oven to 500. Wash and wipe the eggplant dry. Roast it on a cookie sheet in the middle of the oven for 20-25 minutes, until very soft.
-When the eggplant is cool enough to handle, peel it and chop the pulp coarsely. Pat the pulp with a paper towel to rid it of excess moisture.
-Toss the eggplant in a bowl together with the tomato and scallions.
-In a separate bowl, blend the yogurt, sour cream and salt. Set aside.
-Heat the oil in a frying pan over medium high heat, until it is very hot. Add the ginger and cayenne pepper and let sizzle for 10 seconds. Increase the heat to high and add the eggplant mixture. Fry, turning and tossing until the tomatoes and scallions look a little bit fried and the eggplant has lost its excess moisture, about 5 minutes.
-Turn off the heat. Fold in the coriander and half the cumin seeds. Let cool.
-Mix together the eggplant mixture and the yogurt mixture. Serve sprinkled with the remaining coriander and cumin, plus paprika or cayenne for garnish.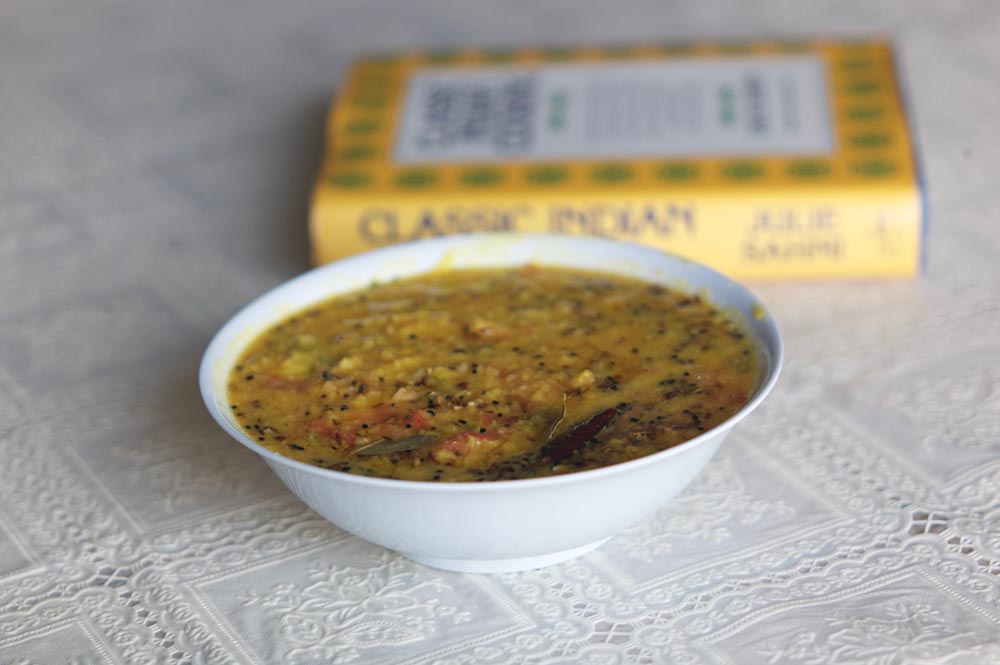 Bengal Red Lentils with Spices
From Classic Indian Vegetarian and Grain Cooking, by Julie Sahni. Serves 6–8.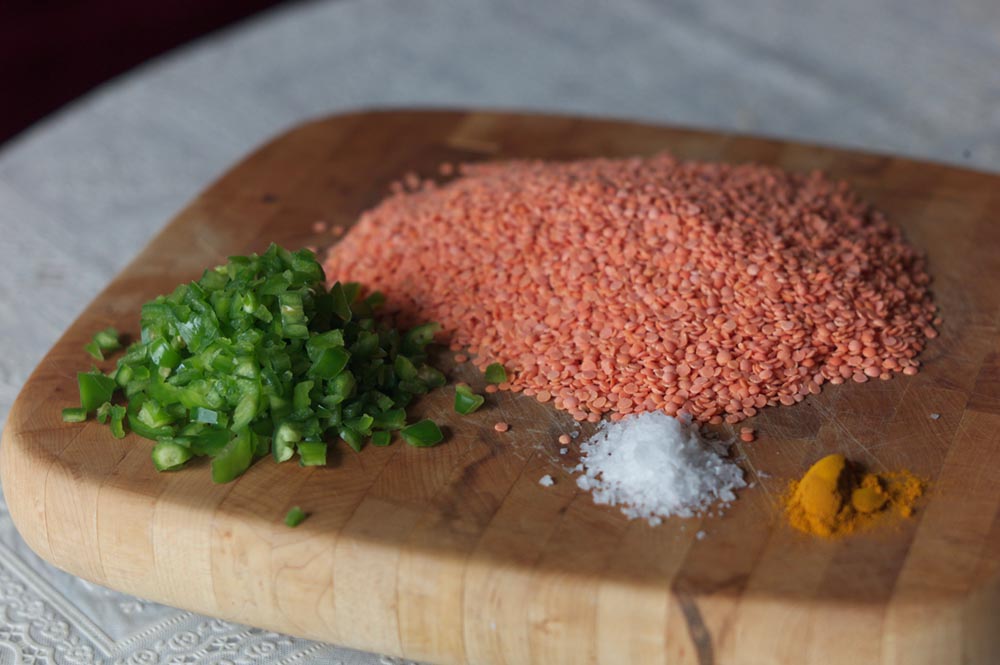 For the dal:
1 1/2 cups red lentils
6 hot green chilis, medium sized
1/2 tsp turmeric
1 1/2 tsp coarse salt
4 1/2 cups water
For flavoring the dal:
4 tbs ghee
1 tbs grated fresh ginger
1 cup finely chopped tomatoes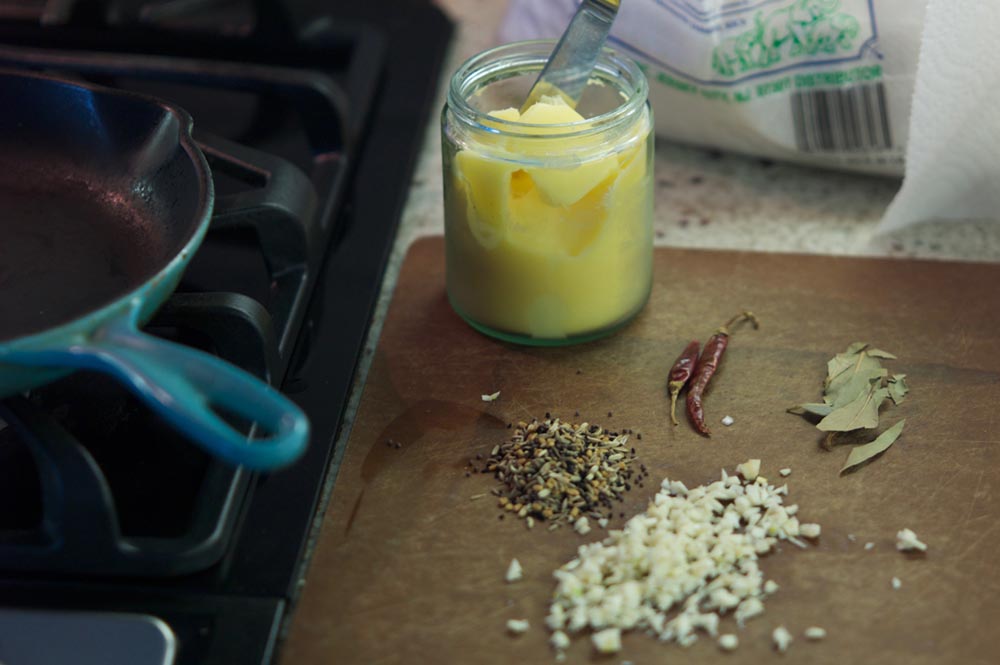 For the spice-perfumed butter:
2 tbsp ghee
2 1/2 tsp panch phoron mix (1/2 tsp each: cumin seeds, fennel seeds, mustard seeds, fenugreek seeds, black onion seeds)
4 bay leaves
4 dry red chili pods
2 tsp minced garlic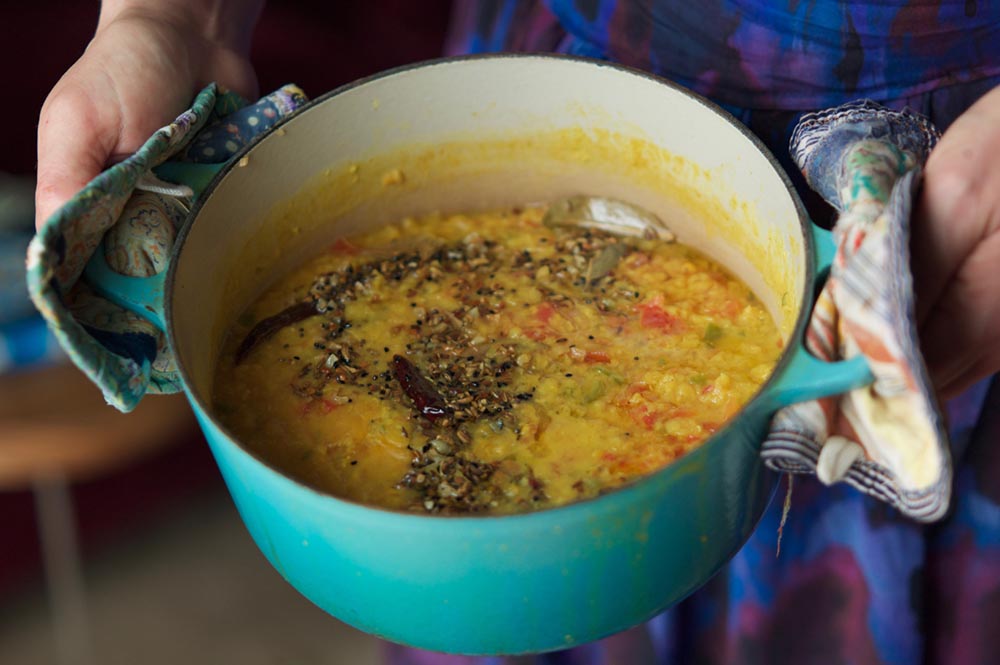 -Wash lentils in several changes of water. Put them in a pot along with the green chilis, turmeric, and salt. Add 4 1/2 cups of water, bring to a boil. Stir often to make sure the lentils do not lump together. Cook over medium heat, partially covered, for 25 minutes or until soft.
-While the lentils are cooking, heat the ghee in a large frying pan over medium heat. When it is hot, add the ginger and tomatoes and fry until the tomatoes are cooked and the contents reduce to a thick pulp, about 8 minutes. Stir constantly to prevent sticking and burning.
-Stir the fried tomato paste into the dal and simmer for 10 to 15 more minutes, until the flavors meld.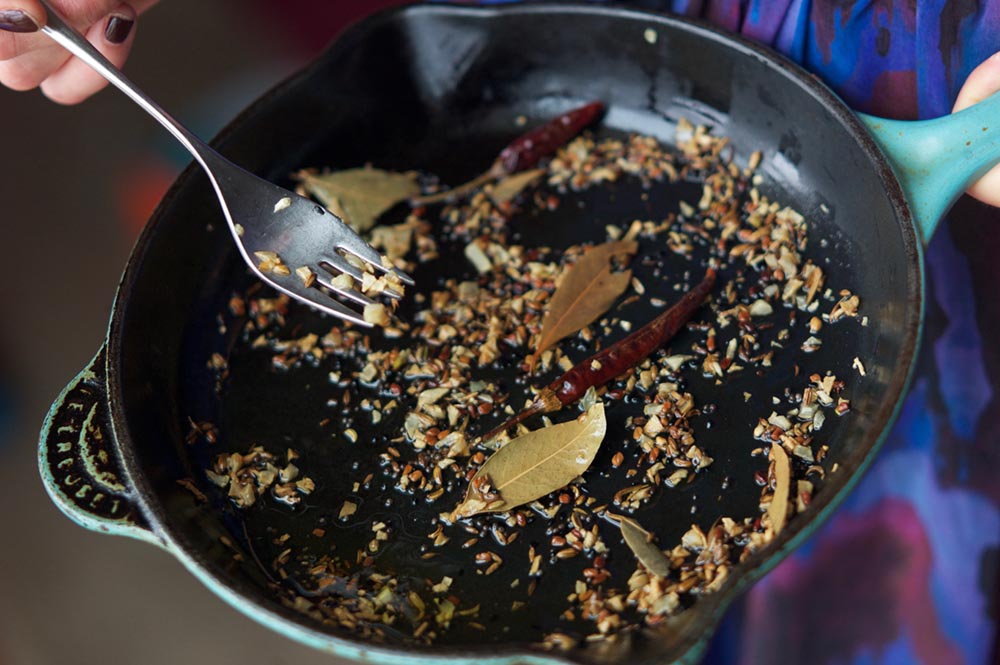 -Meanwhile, make the spice perfumed butter. Measure out the spices and place them next to the stove in separate piles. Heat the ghee in a small frying pan over medium-high heat. When it is hot, add the panch phoron spice blend. When the mustard seeds are spattering and the cumin turns a little darker, add the bay leaves and chili pods. Continue frying until the chili turns dark (15-20 seconds). Turn off the heat, add the garlic and let the mixture fry, sizzling for 25 seconds until it looks light golden. Pour the entire contents of the pan over the dal, mix well, and serve.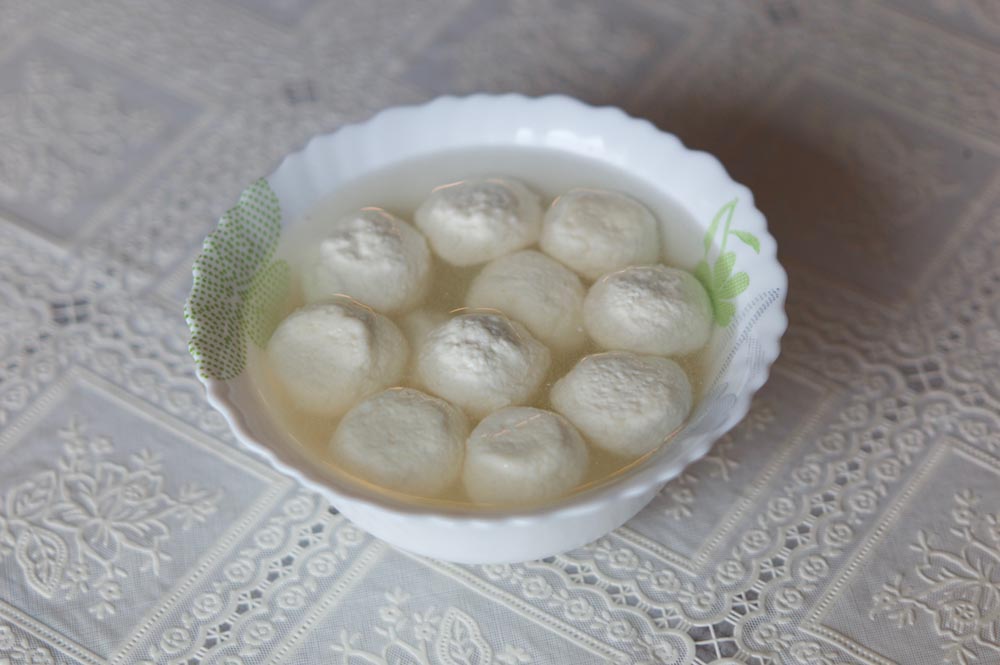 Bengal Cheese Puffs in Fragrant Syrup (Ras Gulla)
From Classic Indian Vegetarian and Grain Cooking, by Julie Sahni. Makes 12 small ras gulla for 4–6 people.) 
4 cups whole milk
1 1/2 tbsp white vinegar mixed with 3 tbsp water
4 cups cold water
2 tsp all-purpose flour mixed with 1/8 tsp baking powder
2 cups sugar
3 cups water
2 tsp cornstarch mixed with 2 tbsp water
2 1/2 cups water
1/2 tsp screw-pine essence (kewra); optional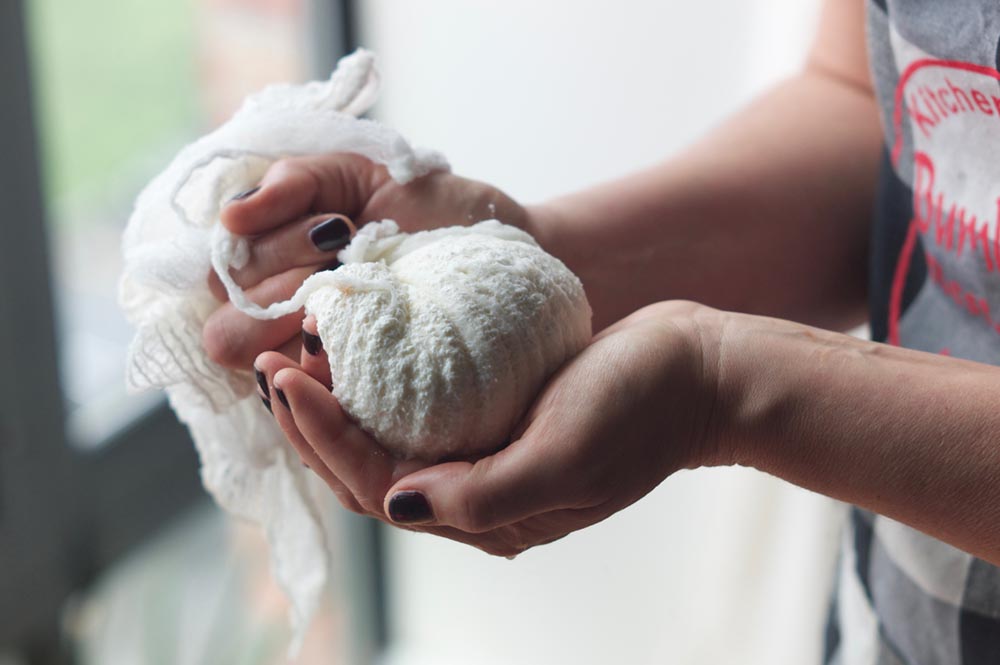 -Bring the milk to a boil in a large, heavy-bottomed pan. Reduce the heat and add the vinegar solution. Stir gently until a white curd forms and separates from the greenish-yellow whey (about 10 seconds). Add 4 cups cold water and turn off heat. Let rest for 1 minute.
-Drain the curd through two or three layers of cheesecloth, placed over a colander in the kitchen sink. Place the contents under the tap and run the cold water for 10 seconds to rinse the curd. Bring the sides of the cheesecloth up and squeeze for a few second to extract excess water. The cheese should be moist but not wet.
-Put the cheese on a clean cutting board and knead for 3 minutes. Sprinkle the flour and baking powder mixture over it and knead to combine. Divide the mixture into 12 equal portions and roll into balls. Set aside, covered, until needed.
-Mix 2 cups of sugar with 3 cups of water in a  saucepan wide enough to accommodate the 12 cheese balls, and bring to a boil. Cook the syrup at a boil for 5 minutes. Stir in the cornstarch mixture and cook for 90 seconds more.
-Lower the heat, add the cheese balls, and bring to a boil again. Cover and let the cheese balls boil for 13 minutes, as follows: Cook undisturbed for the first 5 minutes; then cook 8 minutes more, adding 2 tbsp cold water every 2 minutes. (This keeps the syrup from overheating or over-thickening.) The cheese balls will swell up like dumplings.
-Uncover and, with a ladle, transfer 1 cup of syrup to a serving bowl. Add 2 cups cold water and the dumplings, being careful not to break them. Gently stir in the screw-pine essence. Refrigerate for at least 8 and up to 24 hours before serving.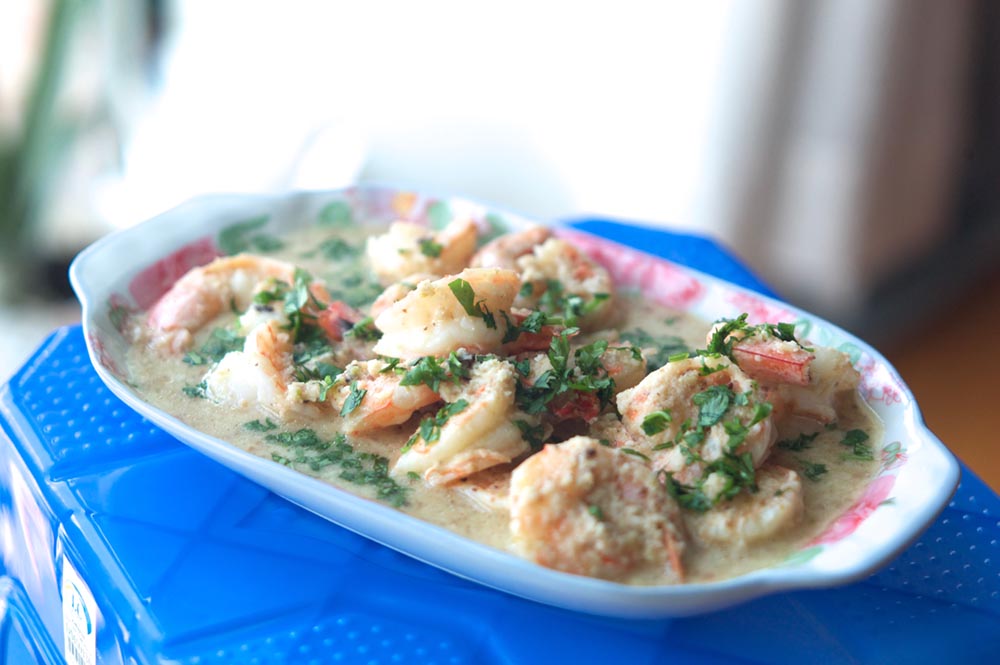 Velvet Creamed Shrimp
From Classic Indian Cooking by Julie Sahni. Serves 6.
1 cup dry flaked unsweetened coconut
3/4 cup plain yogurt
2 tsp garlic, chopped
1 tbsp ginger root, chopped
2 green chilis, seeded and chopped
2 lbs shrimp, peeled and deveined
1/2 cup light vegetable oil
1 stick cinnamon
8 whole cloves
8 green cardamom pods
3 tbs ground blanched almonds
1 1/2 tsp Kosher salt
2 tbsp coriander leaves, finely chopped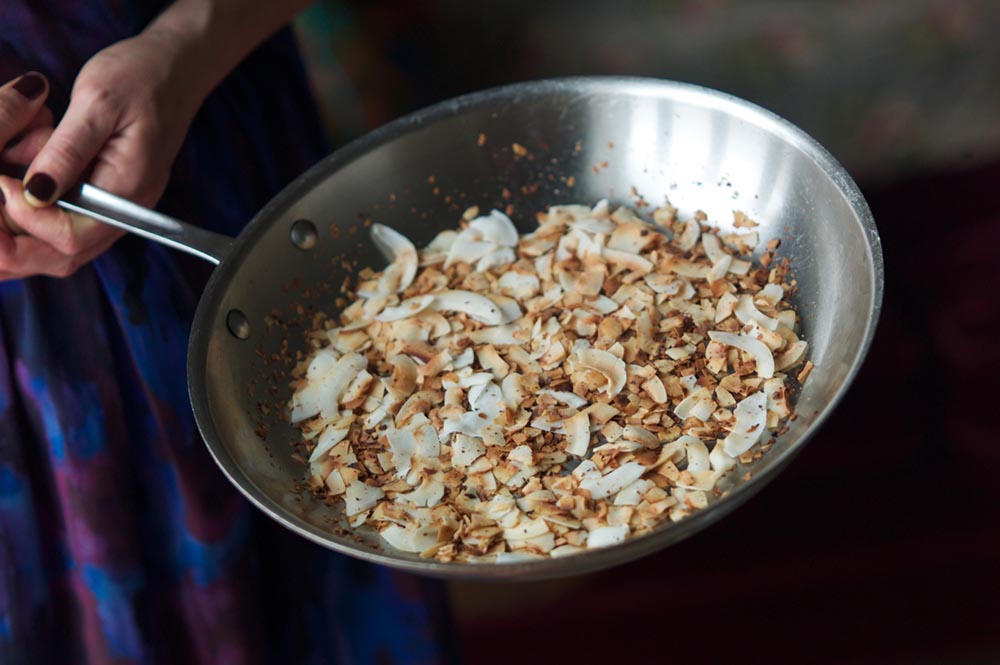 -Place a frying pan over medium heat. When it is hot, add flaked coconut and toast, stirring and tossing, until it turns dark caramel brown, about 5–8 minutes.
-Put the toasted coconut in a blender with the yogurt, garlic, chilis and ginger, and blend.
-In a large frying pan, heat the oil, then add the cinnamon stick, cloves and cardamom pods, and fry until the spices puff up and turn fragrant.
-Add the ground almonds, stir to coat, then add coconut-yogurt mixture and fry until the oil begins to separate, about 3 minutes. Add the hot water and salt, cover and simmer for 5 minutes.
-Add the shrimp, stir to coat, and continue cooking, covered, until they're cooked through but still tender, 3–7 minutes depending on the size of the shrimp. Serve sprinkled with chopped coriander leaves.
Valerie Stivers is a writer based in New York.
Read earlier installments of Eat Your Words here.