In her Eat Your Words series, Valerie Stivers cooks up recipes drawn from the works of various writers.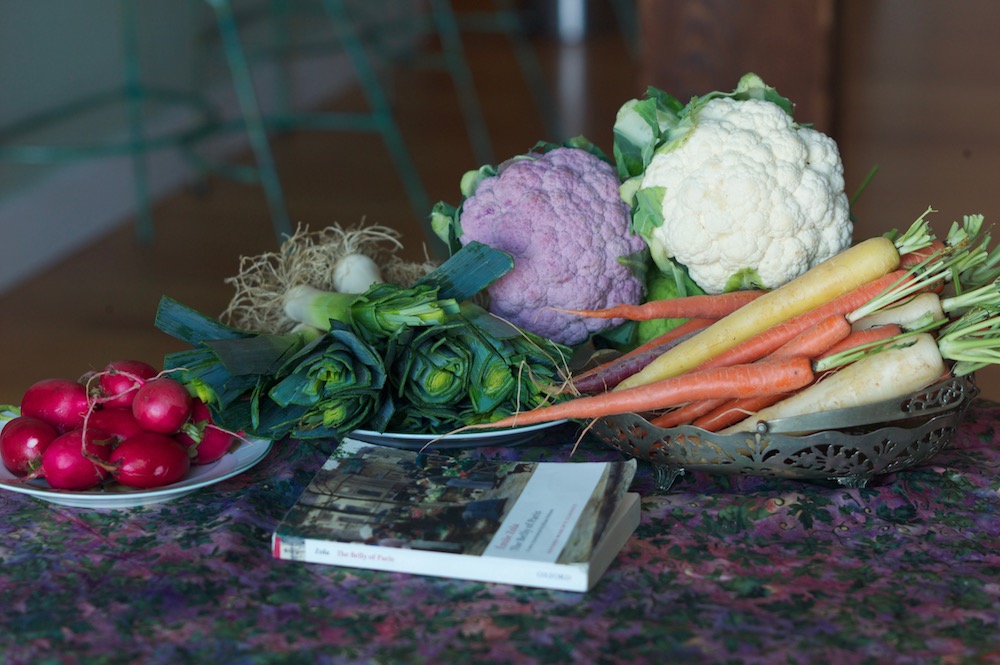 It's finally the season for the farmers market, which inspired me to dig out my copy of The Belly of Paris by Émile Zola (1840–1902), a book whose descriptions of the central Parisian market of Les Halles in its heyday are perhaps literature's greatest market scenes. Zola was friends with Cézanne, and he spends a very many pages in painterly descriptions of Les Halles, where at dawn, for example, "piles of greenery were like waves, a river of green flowing along the roadway" and the light "seemed to transform" cabbages  into "magnificent flowers with the hue of wine-dregs, splashed with crimson and dark purple." Later, "the swelling hearts of the lettuces were ablaze, the various shades of green burst wonderfully into life, the carrots glowed blood-red, the turnips became incandescent in the triumphant radiance of the sun."
In honor of all that amazing produce, I made a mostly vegetarian menu, drawn from two favorite French cookbooks, The Bonne Femme Cookbook, by Wini Moranville, and Lunch in Paris: A Love Story With Recipes, by Elizabeth Bard. Both women are Americans attempting to teach their countrymen how to achieve the casual deliciousness of French home cooking, and both are great sources for easy weeknight meals. I also included my go-to preparations for carrots and cauliflower, which may sound boring but are so good they're often gone before they reach the table. And I made poached salmon with roasted leeks and homemade mayonnaise, riffing on a scene where Zola's hero is given a whole salmon by a woman of ill repute and then has to carry it all over town trying to get someone to cook it for him.
The salmon dilemma reveals some of the irony of cooking from The Belly of Paris. Zola viewed Les Halles as monstrous and its abundance as unappetizing, a sign of  the evils of the bourgeoise and the industrializing world. The nineteenth-century iron-and-glass structure was new in his time, and the book describes it as "some vast modern machine, a steam engine or a cauldron supplying the digestive needs of a whole people." He couldn't have known that Les Halles would be tragically destroyed in the 1970s to build a shopping mall, or that the comparatively local, organic, et cetera conditions of his time would be something we'd later fight to get back to, one Greenmarket at a time.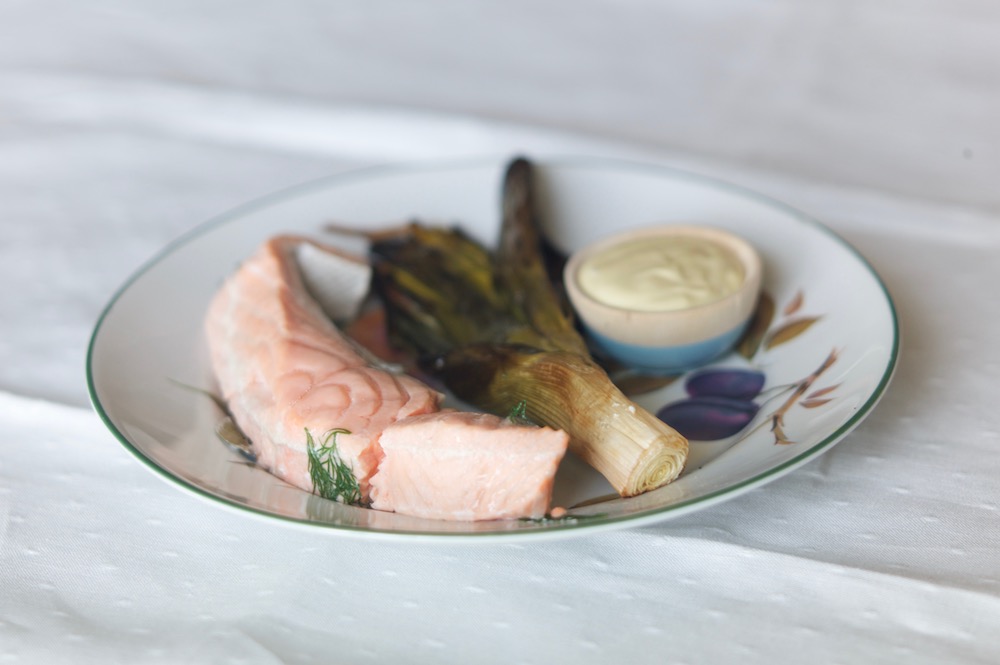 Poached Salmon with Wilted Leeks and Homemade Mayonnaise
Adapted from Lunch in Paris: A Love Story with Recipes, by Elizabeth Bard. Serves 4.
1 bouqet garni (a mixture of fresh herbs, parsley, coriander, bay leaf, thyme, dill—still on the stem and tied with a kitchen string or left loose)
a few black peppercorns
coarse sea salt
1 1/2 lbs boneless salmon fillet, at least 1 inch thick
6 small leeks, the skinnier the better
3 tbs olive oil
coarse sea salt
1 egg yolk
1/4 tsp sea salt
1 tbs dijon mustard
1/2 cup olive oil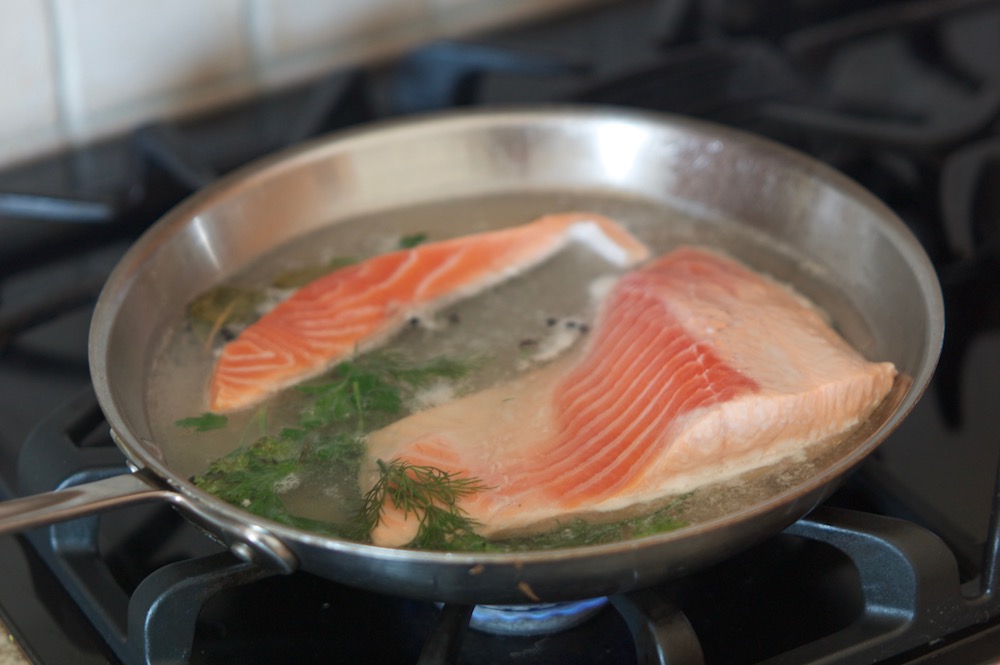 For the fish:
Partially fill a frying pan large enough to comfortably hold the fish fillets with cold water and add the herbs, peppercorns and enough salt so you can taste it. Bring to a boil.
Turn down the heat. Add the fish and simmer until the flesh is firm, about 8 minutes per inch of thickness.
Discard the herbs. Remove the fish with a slotted spoon to a serving platter. Serve warm or at room temperature.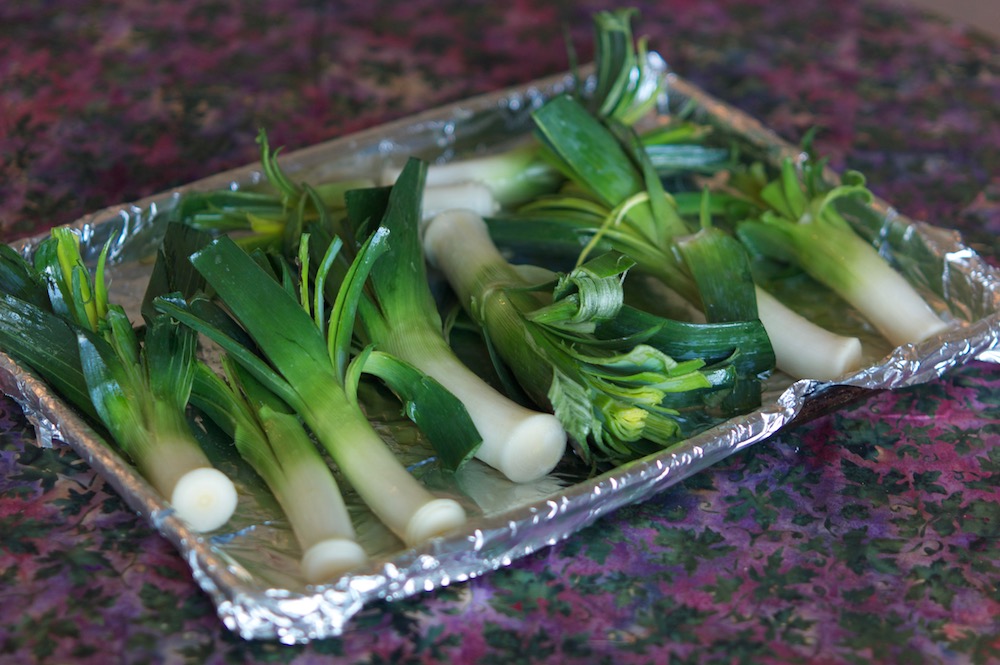 For the leeks:
Preheat the oven to 400.
Trim the hairy roots and cut off the tough, dark-green leaves. You should be left with a white stalk and just a hint of pale green at the top.
Starting a few inches before the top, slice up through the center. Turn the leek ninety degrees and slice again. Separate the inner layers with your fingers and wash thoroughly. The result will look like an oniony feather duster with a solid handle and some stringy fringe.
Line a large baking sheet with aluminum foil and arrange the leeks in a single layer. Drizzle with olive oil, rubbing it around to make sure all the stringy fringe is well coated.
Cook for 30 minutes, until the leeks are tender when pierced with a fork. Sprinkle with sea salt. Serve warm or at room temperature, along with the fish.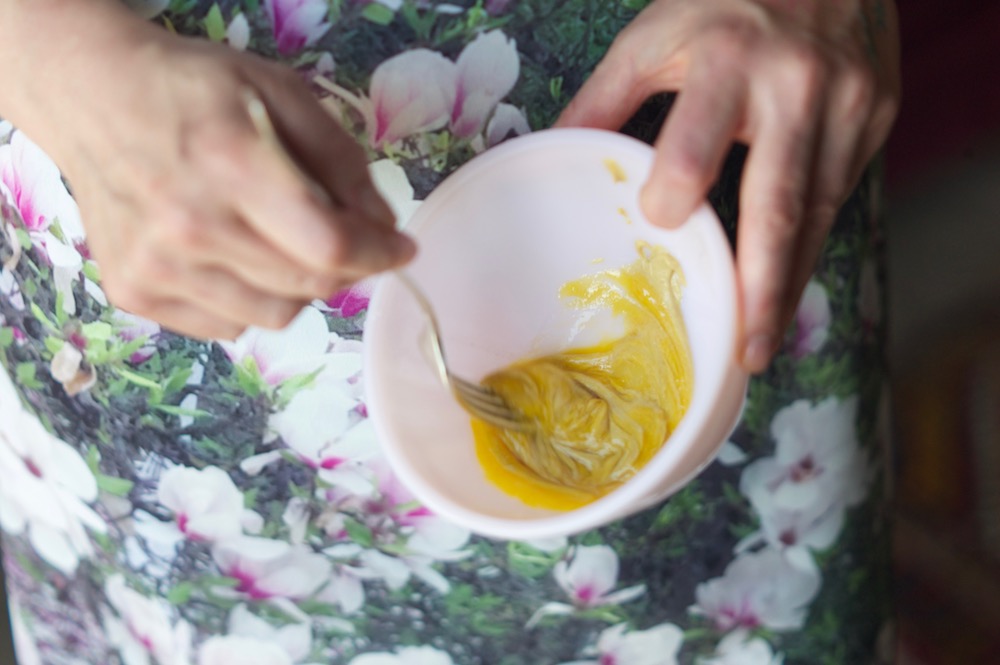 For the mayonnaise:
The recipe calls for an electric eggbeater. I used a blender, which is a riskier method. You can also whisk by hand or with a stand mixer.  
Combine the egg yolk, mustard, and salt in a small mixing bowl (or a blender). Using an electric eggbeater, add the oil, a few drops at a time and blend. When the mixture begins to thicken and set, add the oil faster, at a slow drizzle. The mayonnaise should not take more than a minute or two to puff up.
Serve as a side with the fish.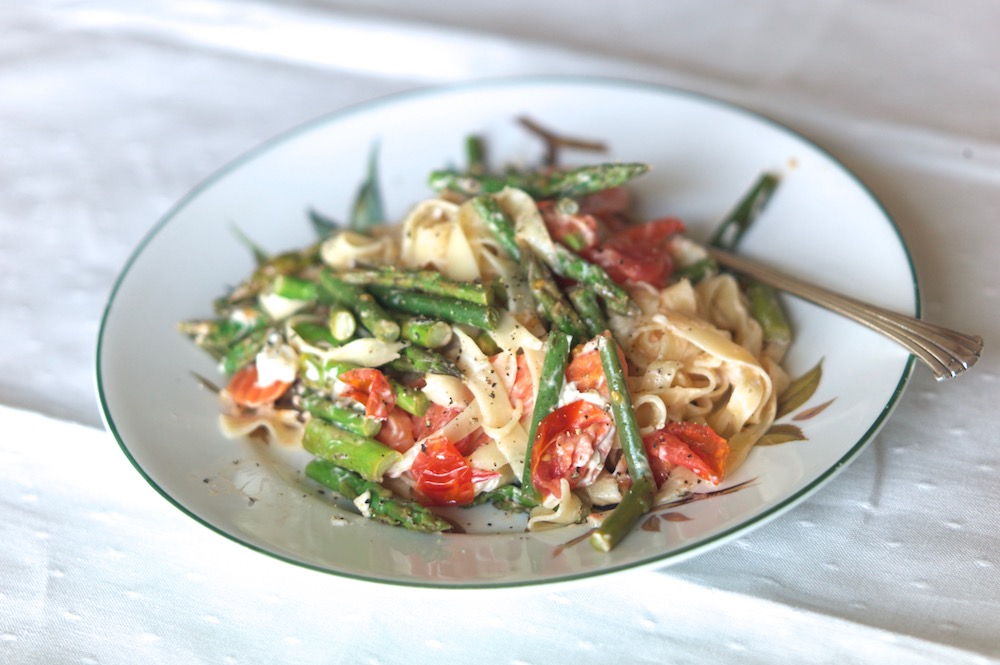 Market-Day Tagliatelle with Goat Cheese
Adapted from, The Bonne Femme Cookbook, by Wini Moranville.
The key to this recipe is to use any combination of market-fresh summer veggies—carrots, asparagus, summer squash, green beans, even ramps (in which case, add them at the end so they just wilt).
8 oz dried tagliatelle or fettucine
2 tbsp olive oil
4 cups fresh vegetables, cut into uniform pieces
1 cup chopped tomato
1/2 cup dry white wine
2 tbsp fresh herbs, parsley, chives, chervil, or any combination
Salt and pepper to taste
2 oz goat cheese, crumbled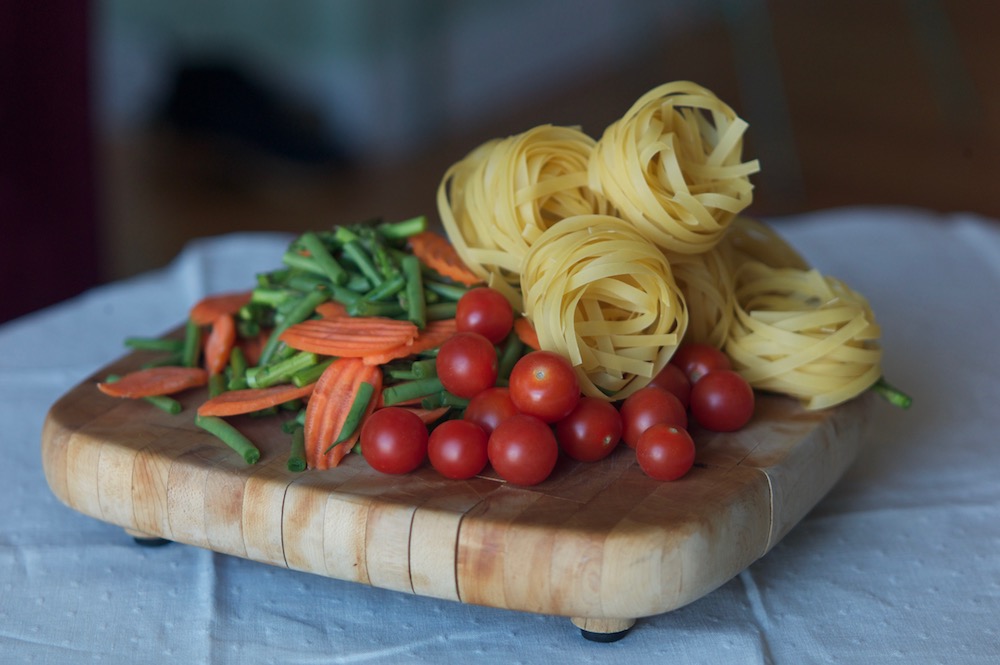 Bring a large pot of water to boil and cook the pasta according to package instructions.
Meanwhile, heat the olive oil in a large skillet over medium heat; add the vegetables and cook until tender yet crisp, about four minutes. Add the tomatoes and wine. Cook at an active simmer until the liquid is nearly evaporated, about 5 minutes. Stir in the fresh herbs. Season with salt and pepper.
Combine the drained pasta, goat cheese, and vegetables into a large bowl. Toss until everything is combined and the cheese partially melts.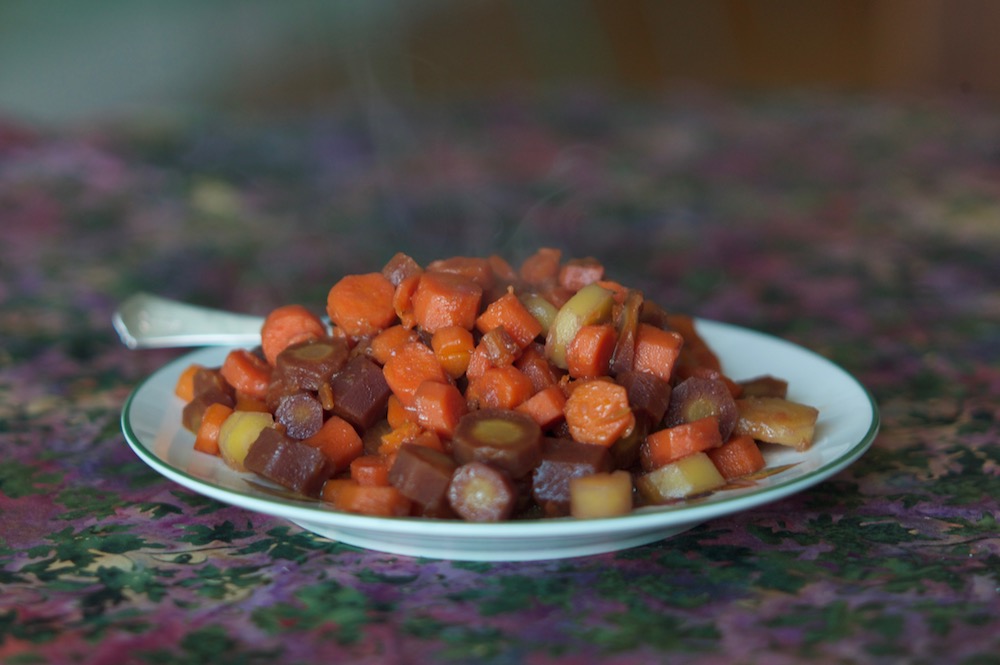 Glazed Carrots
Adapted from, The Bonne Femme Cookbook, by Wini Moranville.
A bunch of carrots, peeled and sliced (2 1/2 to 3 cups)
3/4 cup water
1 tbs sugar
1 tbs unsalted butter
a pinch of salt
Place all the ingredients in a skillet and bring to a boil.
Reduce heat and cook at an active simmer, stirring occasionally, until the water is nearly gone and the carrots are tender and glazed.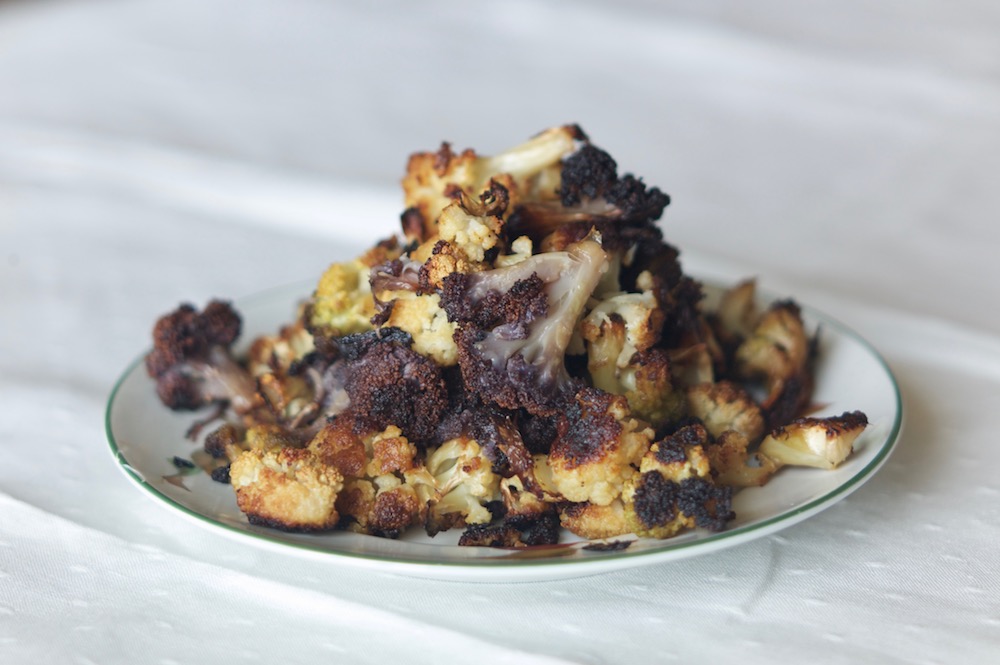 Ninety-Minute Blackened Cauliflower
One large head or two small heads of cauliflower, chopped.
3 tbs olive oil
1/2 tsp salt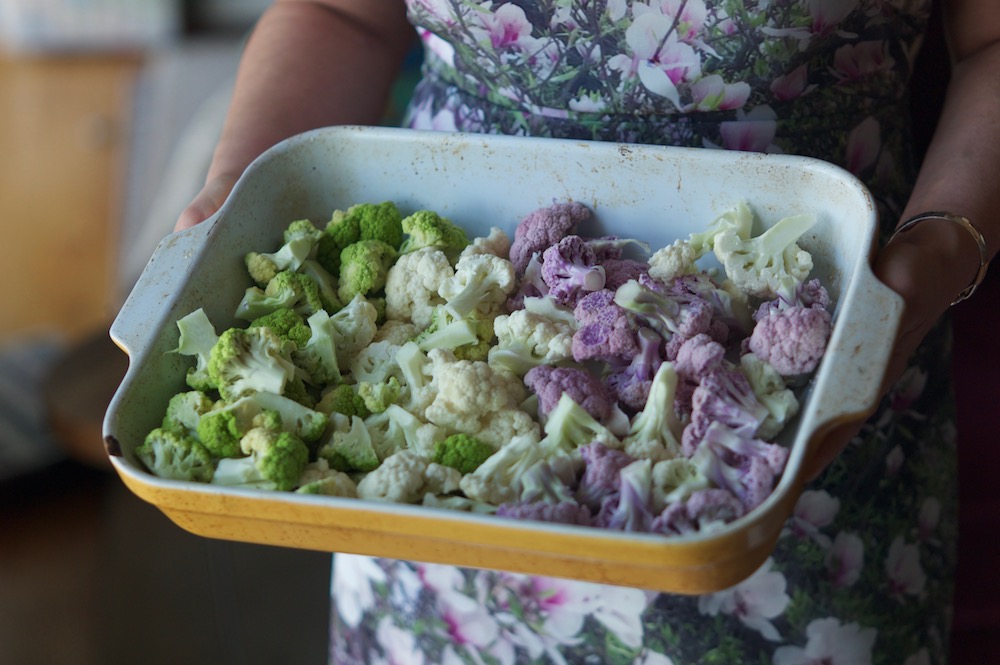 Preheat oven to 400.
Toss the cauliflower with the oil and salt in a shallow baking dish; the florets can be fairly crowded but in a single layer, and roast, stirring once after 30 minutes.
After 1 hour, toss again, then turn the oven off and leave the cauliflower inside for another 30 minutes, to dry out.
The cauliflower will be anywhere from blackened to cinders at this point—and that's just how you want it.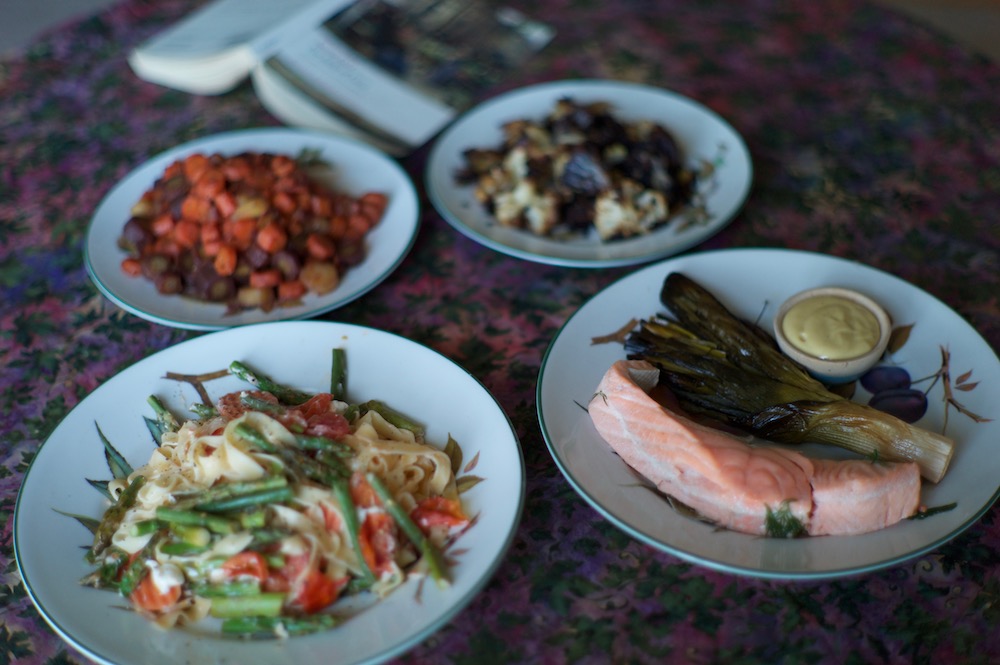 Valerie Stivers is a writer based in New York.
Read earlier installments of Eat Your Words here.