In Valerie Stivers's Eat Your Words series, she cooks up recipes drawn from the works of various writers.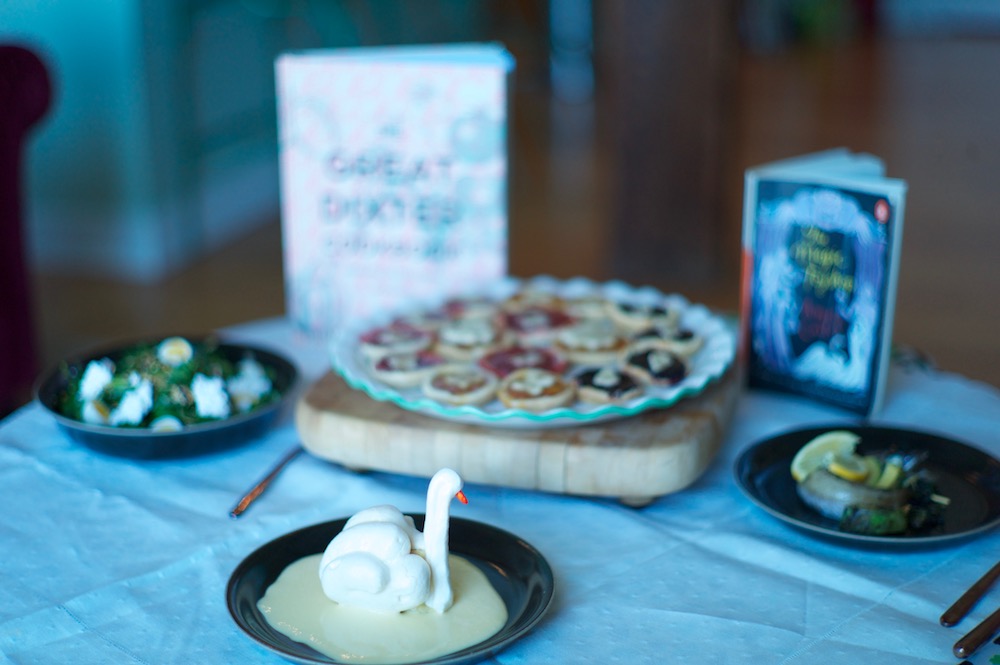 The writer Angela Carter (1940–1992) had many guises as a novelist, fairy-tale writer, and feminist theorist but was always occupied with archetypes of womanhood; her heroines undergo dark, gory, and magical processes of becoming brides or lovers, wolves or girls. I've loved Carter since first encountering her book of cultural theory The Sadeian Woman and the Ideology of Pornography at Brown in the nineties (for a course entitled History 99X: Pornography and the Politics of Culture!). In it, she argues that the work of Marquis de Sade has liberating feminist underpinnings, and in the process takes something dark and frightening, like being a young woman in a world where one's body is a porn object, and molts it into something slightly better, a promise that sexuality can offer freedom too.
Along the same lines, the book I've chosen to cook from this week, Carter's 1967 novel, The Magic Toyshop, is a fable about a girl, Melanie, stepping out of the sane, safe, and sexless world of childhood and into the world of womanhood, which is "as distorted and alien as its miniature in the witch-ball." She ultimately survives this dangerous transformation but only after being mock raped by the patriarchy—represented metaphorically during a puppet show where she plays Leda and her evil uncle controls the puppet strings of a swan described as having an "empty body … white and light as meringue." After this climatic scene, Melanie burns the house down and escapes with her siblings, her lover, her abused aunt, and her self-respect. 
There is plenty of food preparation in the book—a nanny does bread pudding; the aunt makes comfort foods like afternoon tea with "a bowl of mustard and cress" or "jam tarts"—but Carter's richest use of the culinary is through her estranging metaphors. Turkeys in a shop are "mauve-fleshed," artificial daisies are "yellow and white like fried eggs," and Santa Claus masks are "red and white as raw beef." When Finn, Melanie's stepbrother and love interest, sleeps in her bed, he is described as being "curled up succinctly, like a whiting on a plate, served with its tail in its mouth. He should have been garnished with sprigs of parsley and lemon butterflies."
These lovely slippages—of food from its allotted places and young women from theirs—are what make the toyshop magical and life worth living.
I made jam tarts, a whiting curled up on a plate with parsley and lemon, and an updated mustard-and-cress salad. I found the whiting at a specialty fishmonger near me but thought its flavor was fishier than I might have liked. Carter was English, so my cress recipe is adapted from the modern-day London culinary sensation Yotam Ottolenghi.
Lastly, I pushed my own culinary envelope and made that meringue swan, surrounding him with a blood-orange crème anglaise. And then, like a heroine in a fairy tale, I ate him up.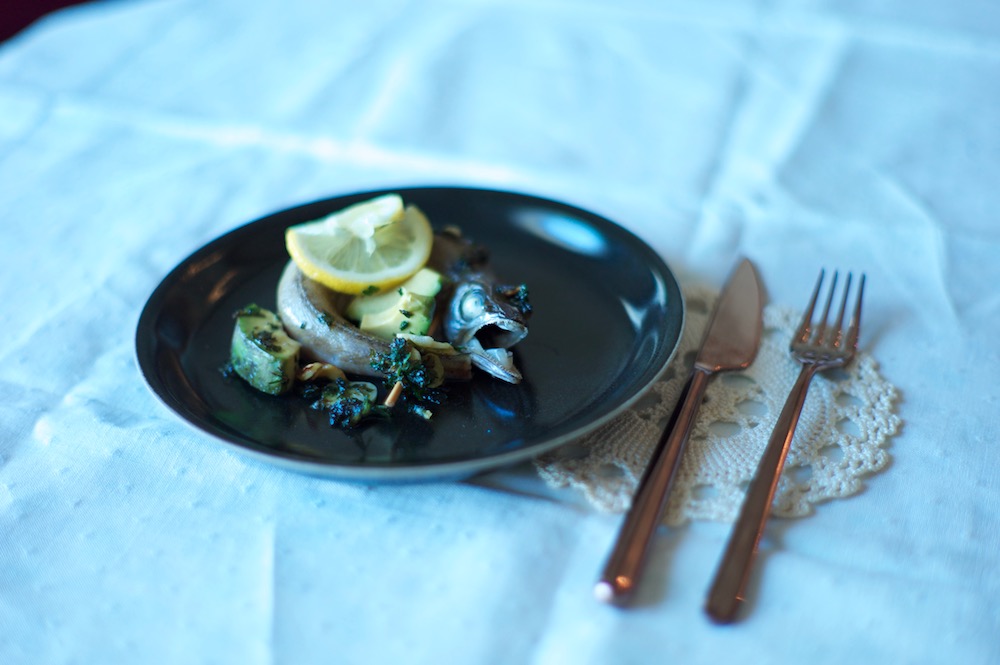 Whole Baked Whiting with Lemon and Parsley
(Adapted from a Good Food recipe)
4 whiting, head on
4 tbs of coconut oil, preferably in solid form
salt and pepper, to taste
4 garlic cloves, thinly sliced
2 tbs parsley
juice of 1/2 lemon
1 avocado, chopped
wooden skewers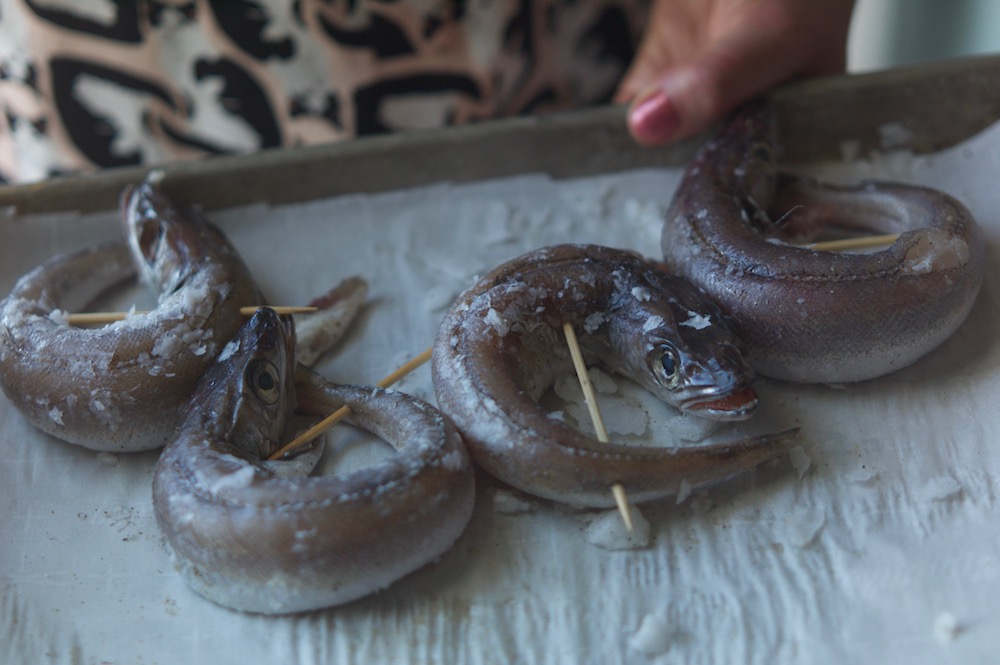 Preheat the oven to 400.
Line a shallow-sided baking tray with baking paper.
Place the whiting on the tray. Rub all over with coconut oil, and season liberally with salt and pepper.
Curl the whiting up "succinctly" so the tail is in the mouth, and skewer in place.
Bake for twelve to fifteen minutes.
While the whiting is baking, sauté the garlic and parsley in oil until the garlic is wilted and beginning to color. Add the lemon juice and stir.
Turn off the heat, add the avocado, toss, and season.
Pour the warm garlic mixture over the baked fish, plate, and serve.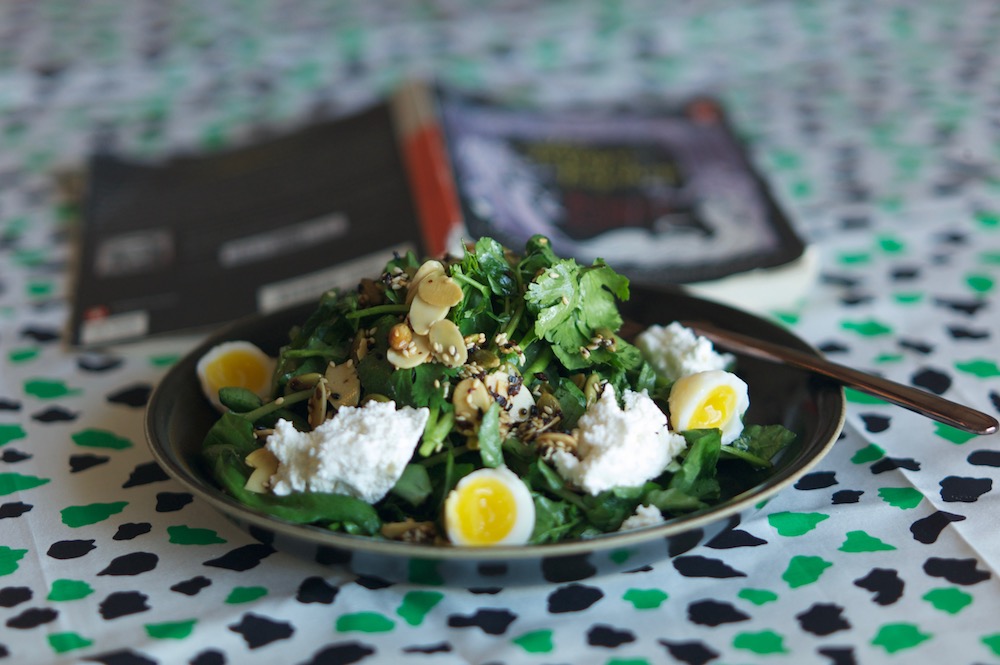 Mustard-and-Cress Salad
(Adapted from Yotam Ottolenghi's recipe for watercress salad with quail's egg, ricotta, and seeds)
For the salad:
4 quail eggs
3/4 cup dill leaves
3/4 cup basil leaves
3/4 cup coriander leaves
2 cups watercress, torn or chopped
3 tbs ricotta cheese
For the seeds:
2 tbs flaked almonds
2 tbs pumpkin seeds
2 tsp sesame seeds
1 tsp black sesame seeds
1 tsp mustard seeds
1 tsp Aleppo pepper
1/2 tsp Maldon salt
2 tbs olive oil
For the dressing:
2 garlic cloves, crushed
1 1/2 tbs lemon juice
3 1/2 tbs olive oil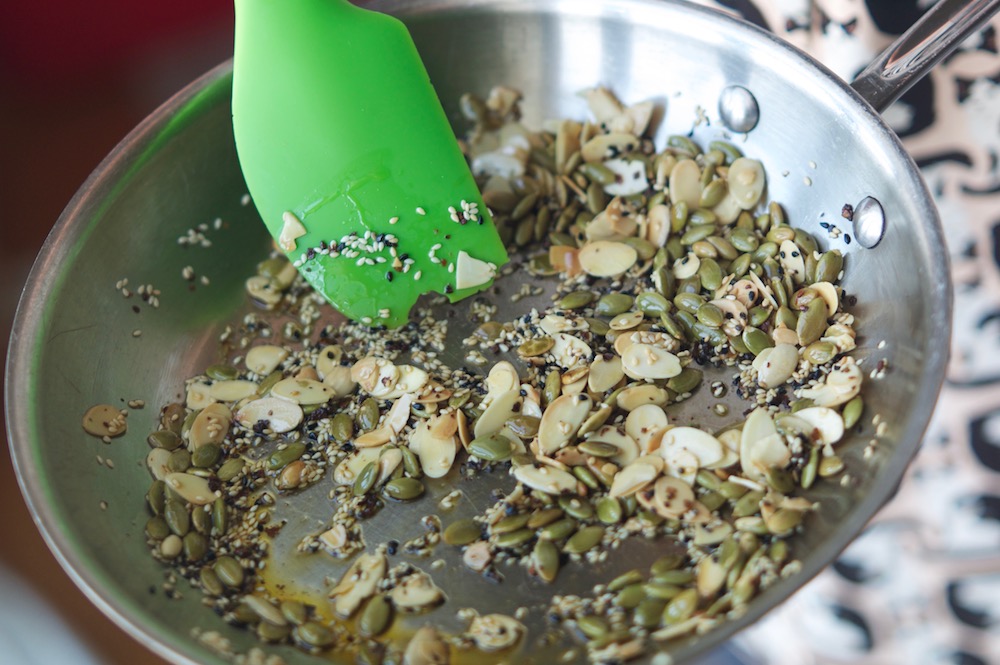 Start with the seeds. Put all the ingredients in a small pan and cook over medium heat until fragrant and lightly browned, about three minutes. Set aside.
Put the quail eggs in a saucepan, cover with cold water, and bring to a boil. Turn down to a simmer, and cook for thirty seconds for semisoft yolks or two minutes for hard-boiled. Refresh in cold water, then peel.
Whisk the olive oil and lemon juice together, add the garlic, and set aside for the flavor to infuse. Remove the large chunks of garlic before serving.
To assemble, toss the greens with the dressing, then add the seeds, the quail eggs (halved), and the ricotta in dollops. Finish with a generous sprinkling of Maldon salt.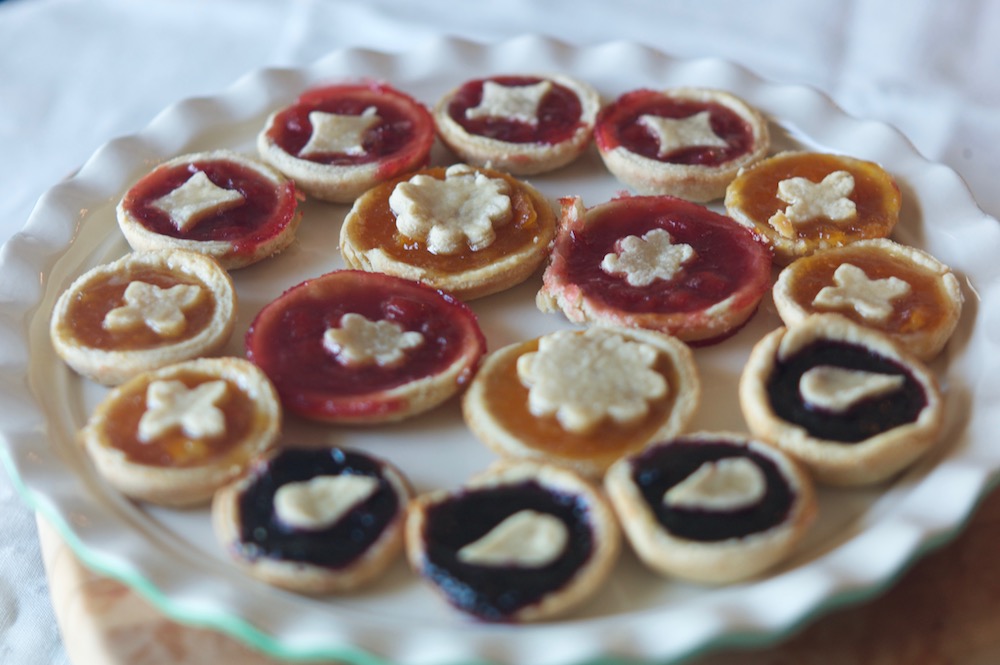 Jam Tarts
(Short-crust pastry adapted from The Great Dixter Cookbook. I used ordinary muffin tins; a tartlet pan would be nice, too, of course. The flavor of the jam is important; I tried several and preferred Sarabeth's. I used sour-cherry, apricot, and black-currant jams.)
2 1/2 cups flour
1 tbs sugar, plus more for dusting
1 tsp salt
2 sticks unsalted butter, diced and rechilled
1 egg, beaten (plus another egg, beaten with a few tsp warm water, for brushing)
3–4 tbs water, cold (plus more if necessary)
24 heaping tsp good-tasting jam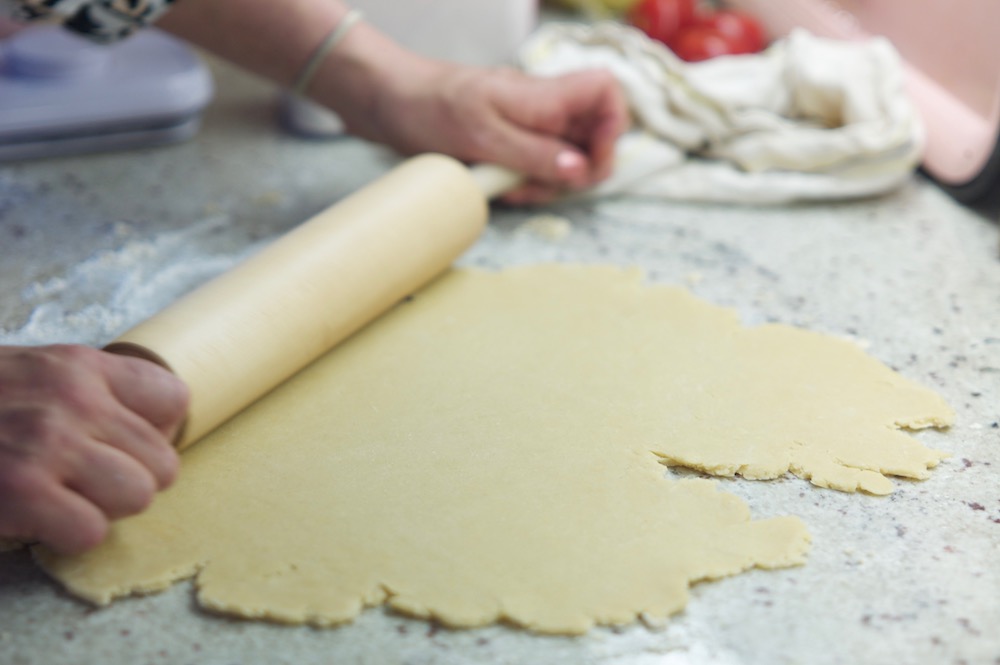 To make the pastry:
Mix together the flour, sugar, and salt in a large bowl.
Add the diced butter. Pinch and rub it into the flour with your fingers until the mixture resembles coarse bread crumbs.
Add the egg and the cold water, and stir.
Crunch the dough together with your hands. If it comes together in a mass, it's done. If not, add a little more water until it easily forms a ball.
Chill for thirty minutes.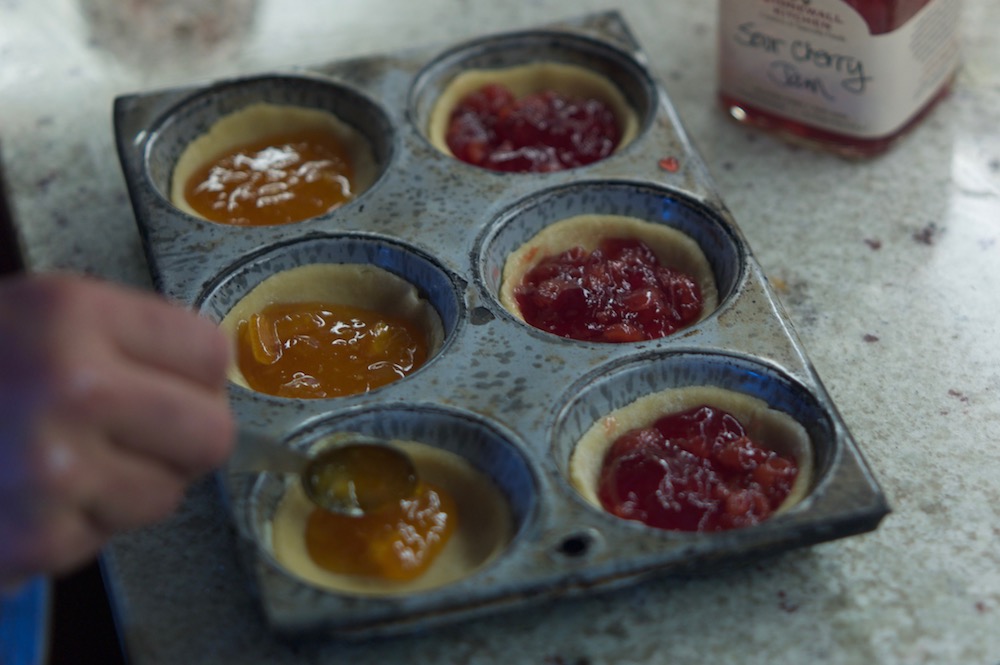 To assemble:
Preheat the oven to 350.
Grease a twelve-cup muffin tin or tartlet pan.
Roll the dough out on a floured surface until it's a quarter of an inch thick or slightly less.
Using a glass or a cookie cutter, cut the dough into three-inch rounds. Press the rounds into the muffin tin or tartlet pan, and chill.
While chilling, use small cookie cutters to cut the dough scraps into lids for the tarts. (This is cute but optional: they'll bake up just fine without lids.)
Add one heaping teaspoon of jam to each shell, and top with a lid (again, optional). Be careful not to overfill, or the jam will bubble over and stick. Brush the lids and rims with the egg mixture, for browning, and sprinkle with sugar.
Bake for twenty minutes or until golden. Allow to cool before serving, and be careful: the jam stays hot for a long time.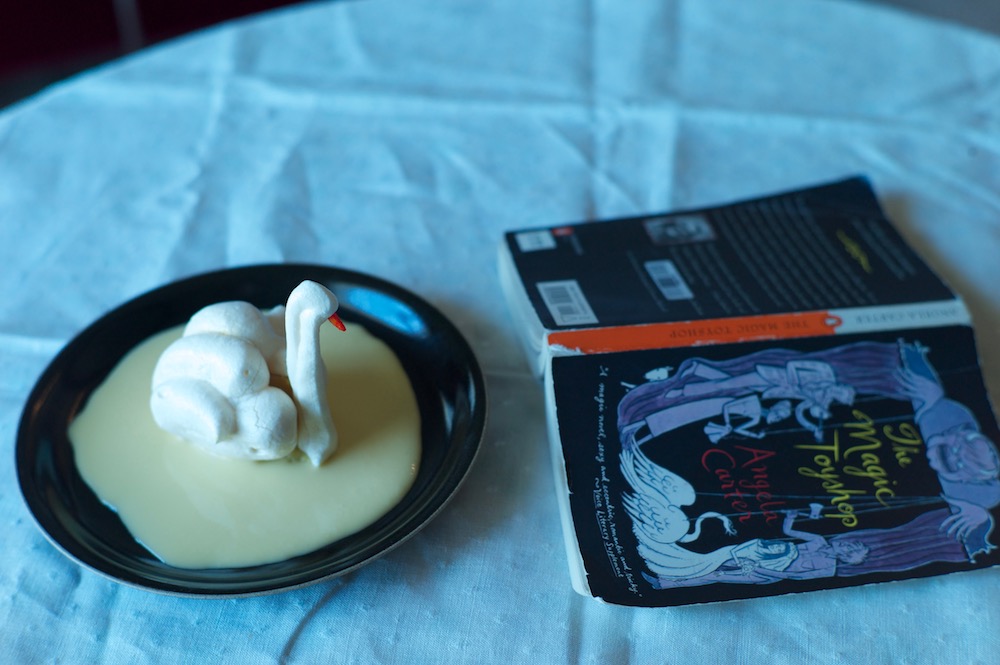 Meringue Swans with Blood-Orange Crème Anglaise
Makes four.
(The meringue and crème anglaise recipes are adapted from Rose Levy Beranbaum's The Cake Bible.)
For the meringue:
4 egg whites, room temperature
1/2 tsp cream of tartar
1/2 cup superfine (caster) sugar
1 cup (lightly spooned into the cup) powdered sugar
For the crème anglaise:
4 egg yolks
1 cup milk or half-and-half
2 tbs sugar
pinch of salt
1/2 vanilla bean, split lengthwise
peeled zest of 1 blood orange
Miscellaneous to assemble:
slivered almonds
orange food coloring
tweezers
1 recipe crème pâtissière or vanilla ice cream, softened
pencil
scissors
paper
some photos of swans
parchment paper
disposable plastic piping bags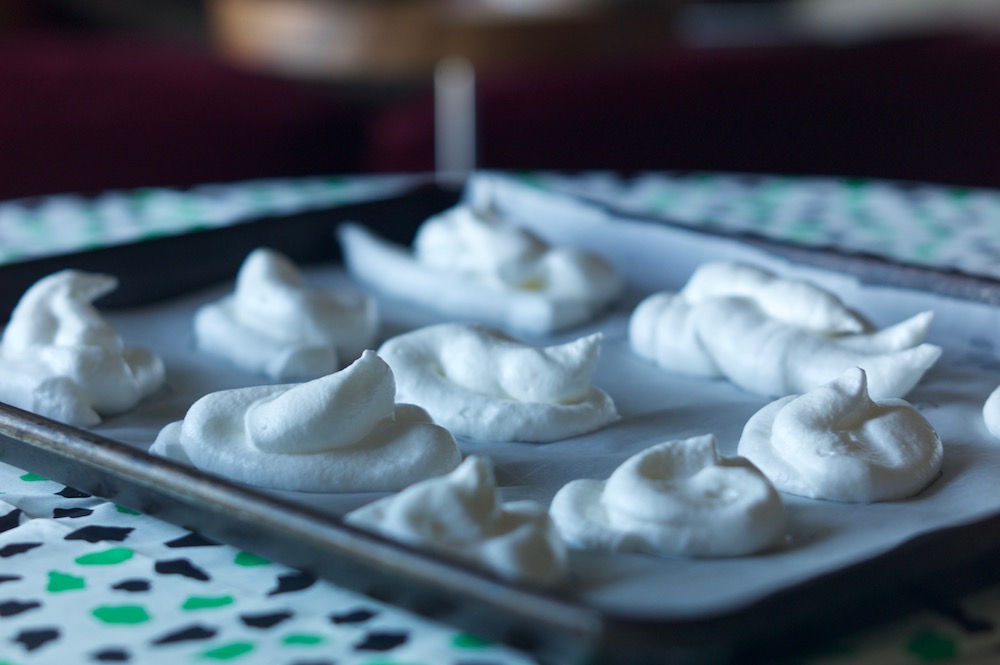 Preparation:
Preheat the oven to 200.
Drop one tablespoon of slivered almonds in a small bowl, add the orange food coloring, and stir. This is for the beaks.
Get out your plastic pastry bags. You'll be piping the meringue to make the swan shapes. My ordinary cake- and cookie-frosting piping heads were too small, so I ended up filling the bag with meringue, then snipping off the end to make a five-eighths-of-an-inch opening to pipe the necks. I then snipped off a bit more, making a one-and-a-quarter-inch opening to pipe the bodies.
Line two baking sheets with parchment paper. I used a larger one for the bodies and a smaller one for the necks.
Each swan will consist of two meringues standing vertically and sandwiched together, plus a neck, an almond for a beak, and either crème pâtissière or ice cream to stick the pieces together. Your first step is to create a swan-shape template. I googled pictures of swans and then drew mine freehand on paper, keeping in mind that the necks were going to be piped separately from the bodies.
Once you have the swan template drawn, cut it out, separating the neck piece from the body.
Trace the body template onto the parchment paper, flipping it over and making pairs so you have two mirror-image sides for each swan. Trace the necks on a different sheet of paper. (You'll use only one per swan, but I made extras in case of breakage.) Flip both sheets of parchment over when you're done tracing so you can see the pencil marks to pipe. This ensures the pencil marks can't transfer to the meringue.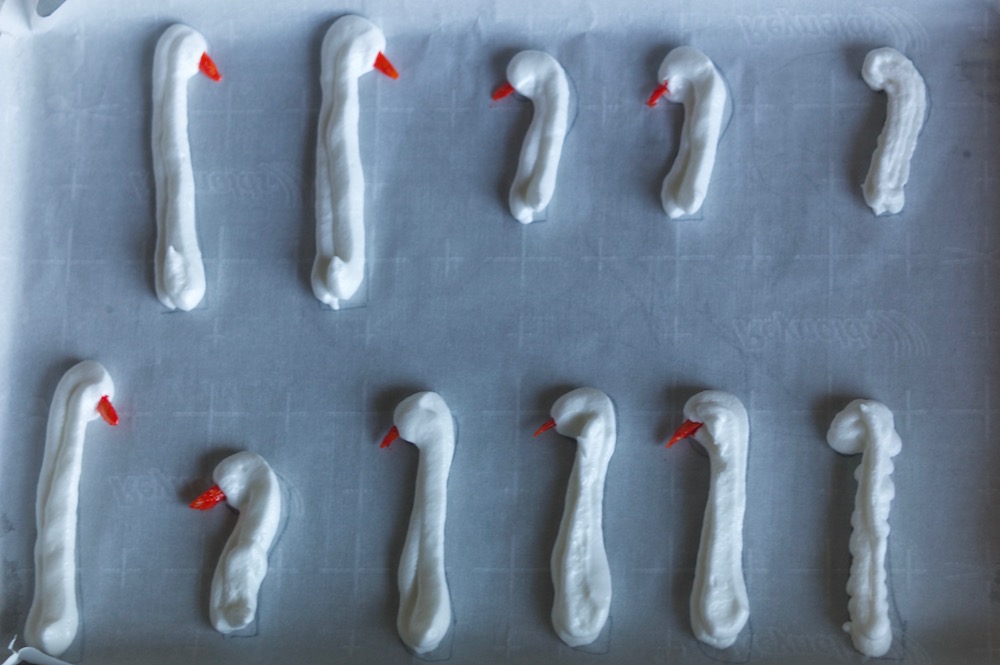 To make the meringue:
Whip the egg whites on medium speed until foamy, then add the cream of tartar.
Continue to beat at medium speed. Gradually add two tablespoons of superfine sugar.
When soft peaks form when the beater is raised, add one tablespoon of superfine sugar, and increase the speed to high.
When stiff peaks form when the beater is raised, gradually beat in the remaining sugar, and continue to beat until very stiff and glossy.
Sift the powdered sugar over the meringue, and fold in.
Fill the piping bag, snip off a three-quarters-of-an-inch opening, and pipe into the prepared neck outlines.
Refill. Snip off a little more, creating a one-and-a-quarter-inch opening. Pipe into the body outlines.
When you're done piping, insert the beaks into the heads, using tweezers and choosing the most beaklike almonds.
Put your swan pieces in the oven. The bodies will take two hours. Start checking the necks at thirty minutes. If they're crisp, light, and hollow and they come off the paper easily, they're done.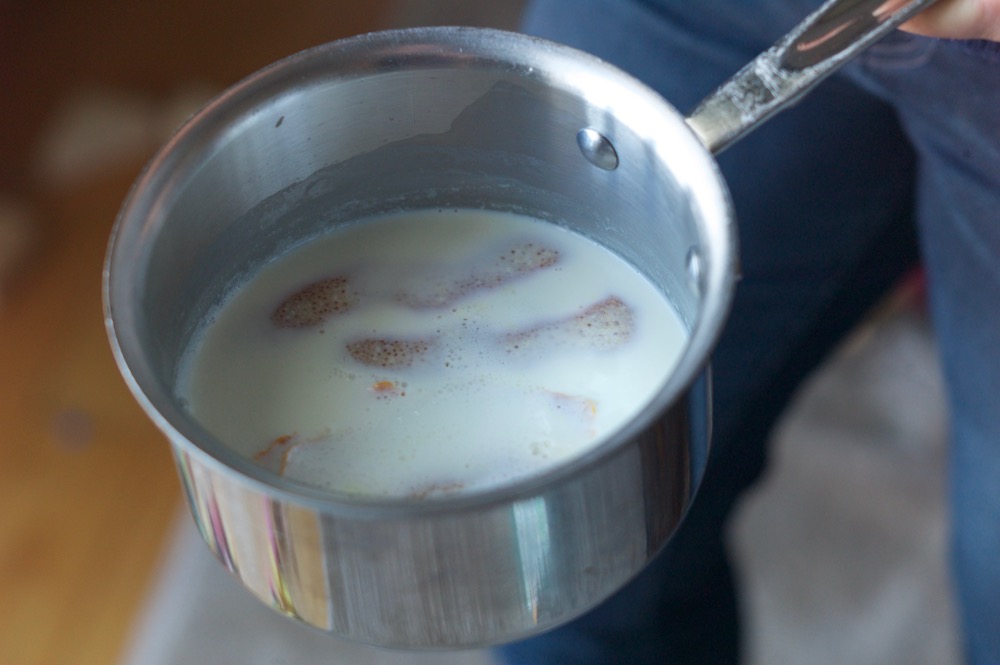 To make the crème anglaise:
Put one cup of milk, the vanilla bean, and the blood-orange peel in a saucepan, and bring to a boil. Set aside.
Strain the milk mixture, discarding the vanilla bean and orange peel.
Put the four egg yolks in a small noncorrodible saucepan, and stir in the sugar and salt, using a wooden spoon.
Add two tablespoons of the strained milk to the egg mixture. Stir thoroughly to combine.
Add the remaining milk in a slow stream, stirring constantly.
Heat the mixture, stirring constantly, till just before the boiling point. Steam will begin to appear, and the mixture will be slightly heavier than heavy cream. When ready, it will leave a well-defined track when a finger is run across the back of the spoon.
Immediately remove from the heat, and pour through a strainer.
Chill before serving.
To assemble the swans:
When the meringues are baked and cooled, assemble the swans using ice cream or crème pâtissière. (You'll want to fill another piping bag with it, then snip a five-eighths-of-an-inch hole off the end.)
Spoon the crème anglaise around the swan on the plate. Serve immediately.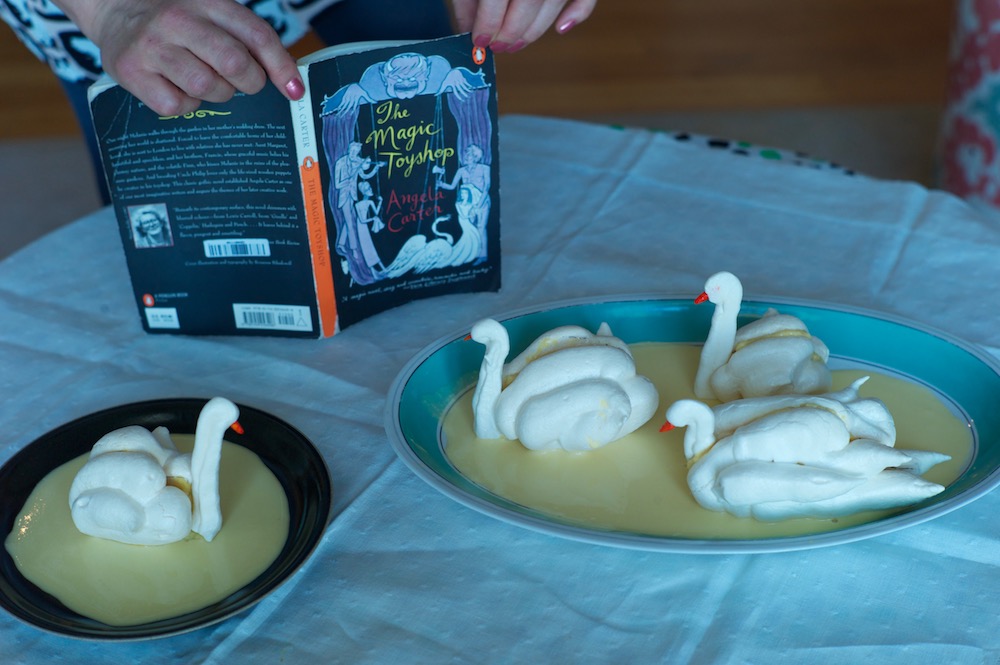 Valerie Stivers is a writer based in New York. Read earlier installments of Eat Your Words here.