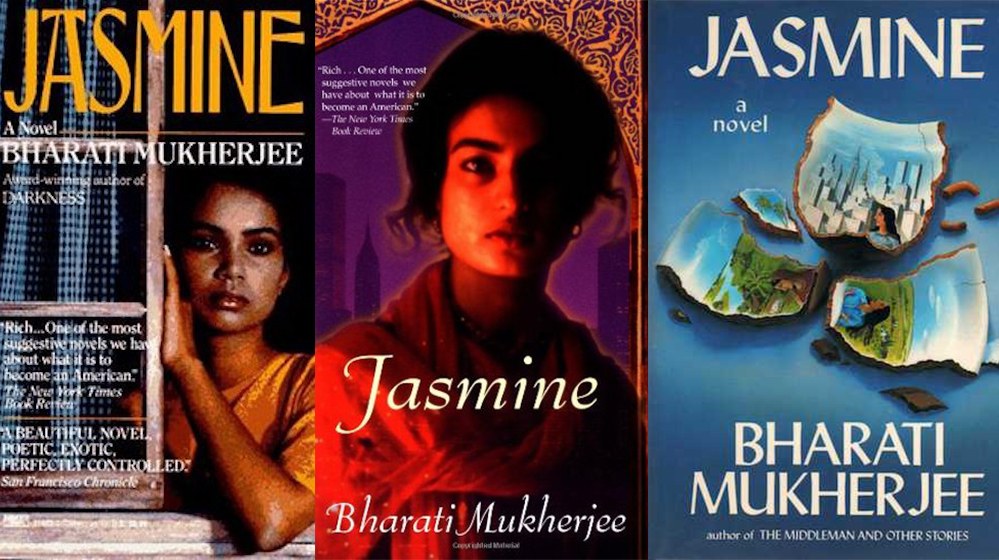 The first time I saw a picture of an Indian on the cover of a novel was in the fall of 1995. I was a twenty-two-year-old law student browsing the literature section at an independent bookstore in Clayton, Missouri. While scanning the shelves, a small photograph of a dark-skinned woman on the spine of a paperback caught my eye. The book was Jasmine, by Bharati Mukherjee, and the same photo was magnified on the cover: a woman stands in the opening of a window; her lips are full, slightly parted. What struck me most was her very brown skin. I took the book to the register and purchased it.
A Bengali Hindu, Mukherjee was born in 1940 in Calcutta (now Kolkata) and was educated in England and Switzerland before emigrating to the U.S. in 1961 to study at the Iowa Writer's Workshop. She was a true pioneer. At the time of her arrival, only some twelve thousand Indian Americans were living in the United States. This was four years before the institution of the Immigration and Naturalization Act of 1965 (also known as the Hart-Celler Act), which abolished discriminatory quotas, thereby eliminating race, ancestry, and national origin as barriers to entry and enabling the resettlement of thousands of immigrants from the subcontinent.
Though I didn't discover Mukherjee's work until I was twenty-two, her prolific career began the year before I was born. Her debut novel, The Tiger's Daughter (1972), tells the story of a woman named Tara who returns to Calcutta after establishing herself in the United States, only to feel unsettled by how much her hometown has changed in her absence. In 1975, Mukherjee published her second novel, Wife, and a decade later the short-story collection Darkness (1985), followed by The Middleman and Other Stories (1988), which won the National Book Critics Circle Award in fiction. Jasmine hit the shelves in 1989, at about the middle of Mukherjee's long literary career. Several novels—including Holder of the World (1993) and the trilogy Desirable Daughters, Tree Bride, and Miss India—followed. 
In a small village called Hasnapur in Punjab, India, Jasmine, born Jyoti, is the fifth daughter of a grain tiller and the seventh of nine children. Her Hindu family had lived for generations in Lahore, but after the partition, when Lahore became part of the new Muslim country Pakistan, they were forced to flee to India. When she is seven years old, an astrologer declares Jyoti's fate—she will be widowed very young and exiled. She marries Prakash Vijh, who renames her Jasmine, when she's still a young teenager. When Prakash is killed, Jasmine is shunned by a community that believes her misfortune to be contagious. She escapes to the U.S., where she sets up life first in New York City. She's called Jazzy by friends, Jase by employers, and eventually she lands in Iowa, where her new husband calls her Jane.
Each new identity presents Jasmine the opportunity of an anonymous fresh start (or so she believes) and the possibility of a better, more fruitful, more authentic life. And yet she still wants more. At the end of the novel, Jasmine is faced with the opportunity of a new life on the West Coast, a relocation that will not only upend her life but the lives of those she loves. This thirst to escape, to chart her own path, to take control of her own destiny overcomes her. "Adventure, risk transformation: the frontier is pushing indoors through uncaulked windows," she says. "Watch me reposition the stars, I whisper to the astrologer who floats cross-legged above my kitchen stove."
In Jasmine, as well as in her other books, Mukherjee avoids rosy or romantic narratives about immigration. The American Dream, she makes painfully clear, is a lie that has inspired disenfranchisement, manipulation, violence, and abuse. In an interview published in The Iowa Review in 1990, Mukherjee discusses her own experience with racism in seventies Toronto. Canada had just permitted the entrance of five thousand Ugandan Asians following their expulsion by Idi Amin, and Mukherjee was often treated as a "smelly, dark, alien other." "You never got the benefit of the doubt," she continues, "if you were a Canadian citizen of Indian or South Asian origin."
When I finished reading Jasmine, I was overcome by an unfamiliar literary fervor born of self-recognition. Jasmine's quest to both seize and reinvent her identity resonated with me. After polishing off the book in a day (it's a short two hundred fourteen pages), I wondered which parts of my identity were a product of how others saw me or what others called me (Angela, Angie). How much had the white gaze and, in particular, whiteness in literature permeated and shaped how I saw myself in the world?
*
Over the years, there have been several different covers for Mukherjee's Jasmine. On the cover of the 1999 edition, Jasmine maintains her dark skin, though half of her face is hidden by a shadow. On the hardback cover, a shattered ceramic pot is centered on a blue background, and within each shard is a painted profile of Jasmine, her skin a red-brown glow. On yet another, Jasmine's skin is more yellow than brown. Only the 1999 edition portrays Jasmine as dark-skinned as she is on the edition I own.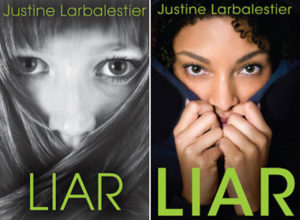 I've owned my copy of Jasmine for more than twenty years, and though I'm an avid reader, I still rarely come across covers featuring dark-skinned characters. When it comes to featuring characters of color on book covers, the publishing industry has a problem. Even before the young-adult author Justine Larbalestier published her novel Liar in 2009, controversy around the book was brewing. Though the protagonist, Micah, was black, the cover on the review copies sent to critics ahead of the publication date included an image of a white girl with long hair. Larbalestier, a white Australian author, made her disappointment about the cover apparent in a blog post that eventually went viral. Young-adult authors and readers, galvanized by the post, protested on social media. Bloomsbury, the publisher, then replaced the old cover with a new one, which features a black girl who stares directly at the reader.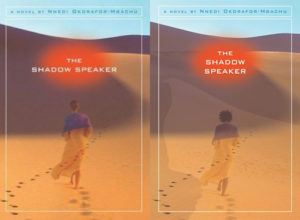 Just last year, the author Dr. Nnedi Okorafor encountered similar issues with her publisher. In a series of tweets, she described the process by which the advance reader copies of her science-fiction novel The Shadow Speaker were packaged with a cover featuring a white woman, despite the fact that its main character was black. Like Larbalestier, Okorafor was able to successfully persuade her publisher to create a cover that more accurately represented the novel.
The history of publishing has always been steeped in whitewashing, and not even bestselling authors like Octavia Butler or Ursula K. Le Guin (who wrote extensively about her experience of whitewashed book covers) could avoid it. The absence of black and brown characters in books and on covers achieves the same end: erasure.
I always wondered whether Mukherjee, who passed away in January 2017 at the age of seventy-six, had any input on the covers of Jasmine. A few months before she died, I contacted her to see if she was interested in being interviewed about her long illustrious literary career and planned to ask her about it. She responded with immediate enthusiasm and told me she'd reach out in a few weeks, after she returned from her travels. Sadly, due to her declining health, I never heard from her again.
Recently, I got in touch with her husband, the writer Clark Blaise, who is working on a memoir about their fifty-three-year-marriage. About the cover of Jasmine, he wrote in an email, "She had no say in it except to approve it." "The cover on her first book, The Tiger's Daughter," he added, "featured all the usual tourist dreck, even had a Taj Mahal. So she was always sensitive to exoticism and fought it whenever given the chance." More than forty years ago, Mukherjee was challenging the stereotypes that Indian Americans authors continue to face today.
My copy of Jasmine is a bit worn and creased, but I preserve it the best I can, wedged between hardback copies of Desirable Daughters and The Tree Bride. Mukherjee's fruitful career as a writer demonstrates how she unapologetically wove Indian American immigrants and their stories into the greater narrative of America, how she demanded that characters who looked like her engage with and take ownership of the U.S., and how a book cover, like the one on my beloved copy of Jasmine, offers Indian readers the ability to reckon with the ways that they are both seen and unseen as they move through the lands they call home.
Anjali Enjeti is an award-winning essayist, a creative writing instructor in the M.F.A. program at Reinhardt University, and the VP of membership for the National Book Critics Circle. Her work has appeared in The Georgia Review, Al Jazeera, The Atlantic, the Atlanta Journal-Constitution, and elsewhere.