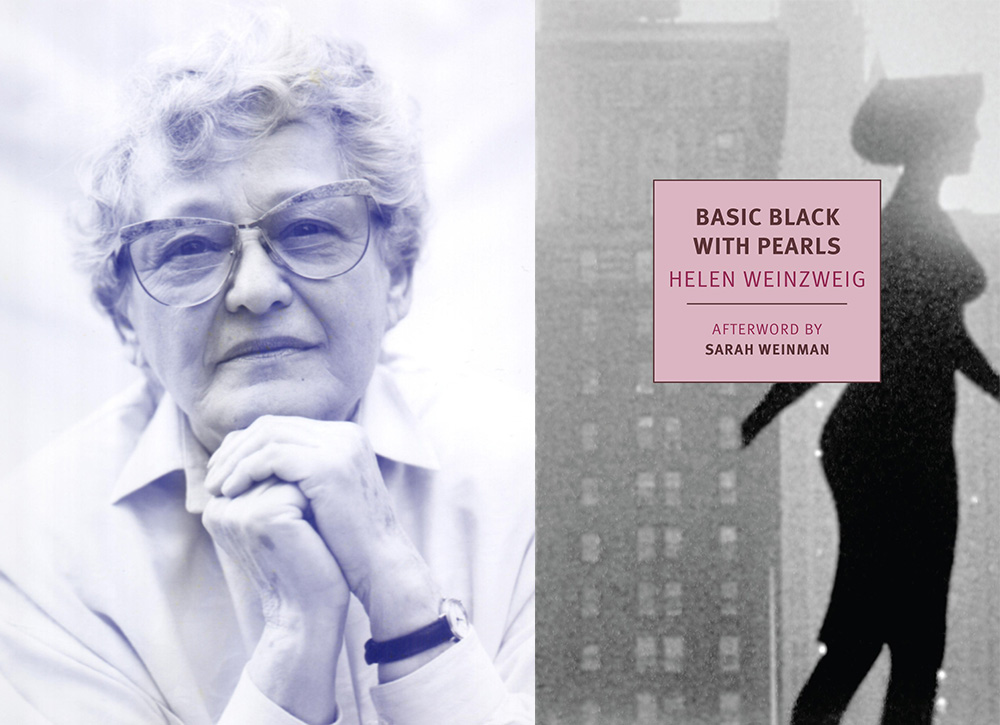 When I first read Helen Weinzweig's Basic Black with Pearls several years ago, I emerged in the sort of daze that happens when a book seems to ferret out your most secret thoughts and hopes. Since then I've described the book to others as an "interior feminist espionage novel." That is, of course, a reductive way to look at this work, which is so much more than that single phrase can express. And yet those four words, taken together, suggest the scope and the breadth, the daring and the audacity, the humor and the pathos contained in a work of less than a hundred fifty pages. It was a novel I did not know I was looking for, but finding it was a revelation.
The interior nature of Basic Black is central to its unfolding. Shirley Kaszenbowski, regarded from the outside, is the embodiment of the invisible woman. She is in her early forties, long married, with two children. She wanders through Toronto in the titular basic black dress, a strand of pearls around her neck, cloaked by a tweed coat from Holt Renfrew—then and now the city's most expensive, most fashionable, and snobbiest department store—designed to last for decades. "I fool no one," Shirley understands. "I am regarded as a woman with no apparent purpose, offering no reason for my presence." Regarded from inside, however, Shirley is anything but invisible. She is aglow. Her appearance, her age, her station are a cloak for a rich life of travel, adventure, and meaning. As the critic Art Seidenbaum notes in his review for the Los Angeles Times, "Her odyssey is erotic, but her appearance is prosaic." 
What seems like aimless shopping and fruitless wandering is cover for Shirley's ongoing search for her lover, Coenraad. He fills her with a sense of longing and purpose that her husband, Zbigniew, cannot: "When I see that stance of Coenraad's all fears disappear: babies don't die, cars don't collide, planes fly on course, muzak is silenced, certitude reigns. That is how I always recognize my love: the way he stands, the way I feel." By contrast, Zbigniew's weekly routine conjures up an opposite image: "I was thinking particularly of Sundays at home when Zbigniew comes back from the stables, hangs up his riding crop beside the mantel-piece and settles in with the week's newspapers." So long have Sundays made Shirley shudder that adultery is refuge.
Then again, we have only Shirley's word for what's happened. That uncertainty will prove critical later. 
*
Masks and costumes suffuse the narrative of Basic Black with Pearls. Shirley's exterior life as a housewife and mother is also a disguise, which is why it's critical to look at the "feminist" and "espionage" parts in tandem.
Basic Black with Pearls contains overt references to Virginia Woolf and covert ones to feminist classics like Kate Chopin's The Awakening and Charlotte Perkins Gilman's "The Yellow Wallpaper." The scholar Ruth Panofsky, who writes extensively about Weinzweig, sees echoes of George Eliot. Others have compared Weinzweig to the Canadian Margarets, Laurence and Atwood. I, however, see resonances and overtones in a novel published eight years after Basic Black: David Markson's Wittgenstein's Mistress. Weinzweig kept a copy of Markson's 1988 novel in her personal library, which makes me think she recognized some kinship with her own work. (Whether Markson read Weinzweig is less clear.)
These novels describe women not only breaking away from conventions but filled with desire and ambition that are almost too much to bear, a secret from themselves. Weinzweig had to search out these books to counteract decades of reading male-dominated narratives, which she needed to reject to construct her own style: "One of the things I had to learn after reading all this male fiction was, what do I as a woman feel like," she said in a 1990 interview. "All the literary forms were men's, all the philosophies were men's philosophies … I had to translate these forms into the female."
Shirley's lover, Coenraad, appears to be some kind of spy with a nebulous organization known as The Agency. Often, Shirley meets him, in Vienna, Paris, or closer to home. "Coenraad and I have a code for our meetings, taking the printed word and interpreting it according to mathematical formulae." A specific volume of National Geographic is equal parts clue and inspiration.
Coenraad, at nearly every turn, wears a disguise, cloaking his face, his manner. "He appears as a downtown wino," "a derelict in prop clothes, in a stained green jacket, too long in the sleeves, loose trousers held up somehow." They don't speak much in public—"he because he must be on the qui vive at all times, and I because his presence renders me speechless."
Shirley, too, adopts disguises. Her married name, Kaszenbowski, supersedes her maiden name, Silverberg. She also takes on the name Lola Montez—the pseudonym for the real-life Victorian-era ballet dancer and actress Maria Dolores Eliza Rosanna Gilbert—when checking into hotels for her latest assignation with Coenraad. Weinzweig uses humor as a cudgel, a tension breaker, a means of complicating the narrative. It serves as Shirley's chosen mode of disguising her true self. Zbigniew's rigid Sunday routine fills her with dread, and yet, moments after identifying her revulsion, Shirley thinks: "I live in a nice house, you know. My house is in a nice part of Toronto. I hate disorder … I miss putting things in order."
The greatest mask Shirley has is that of sanity. Basic Black with Pearls dances on the edge of it, leaving the reader to wonder whether madness, be it schizophrenia or some other disorder, may be the most logical explanation of the story she is trying to tell. (At one point, she discovers Zbigniew reading a newspaper article about her admittance to a hospital: "She claimed to have neither husband, children, or other family; nor did she have a family physician.")
Weinzweig, however, is too astute to slide into platitudes when there are more pressing liminal spaces to mine. "It seems to me that in a confusion of extremes one either lies or tells the truth, whichever works best," Shirley says. "Up until now the risk of deceit has, for me, been greater than the risk of truth."
*
Basic Black with Pearls, upon its publication in 1980, was greeted with a mix of praise and misunderstanding. Critics sensed its daring and applauded its formal inventiveness, but those qualities also kept people at bay. One newspaper review from my hometown of Ottawa, Canada, castigates the novel for being "a writer's book, not a reader's book," the "illegitimate offspring of Franz Kafka," and "too good to accommodate the present level of Canadian culture." In other words, CanLit wasn't supposed to be written this way.
In fact, Weinzweig didn't draw on Canadian literature, largely opting for European writers, often not of prose. She had previously published several short stories and a novel, Passing Ceremony (1973). Ostensibly about a wedding and the guests in attendance, Passing Ceremony is far more about the nature of coupling and decoupling and the madness and anxiety that exists in between those two states. Weinzweig drew from the work of Alain Robbe-Grillet, Samuel Beckett, and Nathalie Sarraute for the short prose sections, some as short as a single line.
New Wave European literature does not provide the entire answer of influence. Weinzweig's Jewish upbringing is part of the equation as well. She told her original book editor to read The Joys of Yiddish; the mourner's Kaddish prayer is directly referenced in Basic Black with Pearls.
The jagged rhythm of Passing Ceremony and Basic Black with Pearls also owes much to the work of Helen's husband, John Weinzweig, arguably Canada's most important native-born composer of classical music. Their marriage was, for decades, not one of equals. At first, Helen stuck to traditional roles of muse, helpmeet, mother of sons, housewife. John was the creative force, the one whose art needed the space for nurturing. ("Both John and I lived his career," she once said.) What free time she had she devoted to volunteering—as chaperone to the country's National Youth Orchestra, overseeing a cooperative nursery school—and to reading widely and obsessively.
These were roles Helen sought out as escape from a childhood of dislocation and trauma, beginning with emigration from Poland at age ten—she would be raised thereafter by a single mother in a poor Jewish neighborhood in Toronto, since heavily gentrified and christened the Annex—and a two-year tuberculosis recovery spent in a sanatorium (where she picked up her voracious reading habit in earnest). A reunion at age seventeen with her estranged father in Milan was so disastrous it might better be described as a kidnapping. He didn't allow her to leave for months. She never saw him again.
Marrying John, whom Helen first knew in high school, hinted at a solution to the problem of her youth, as she explained in a 1985 interview:
I grew up without a sense of family. Other people had families. So when I married and had my own family, I think I tried to create a family life out of my head. I feel I failed. I still don't know, in other than an intellectual way, what makes a family. So the 'sense' of family creeps into my work in a negative way, i.e., what is wrong with this or that family … I chose the traditional route of marriage and motherhood because I wanted to be accepted by the world around me. Why that was so had a lot to do with my mother. She refused to follow the path of other women … I decided I would be respectable, and became more so than Caesar's wife.
The costume of respectability turned out to have an expiry date. At age forty-five—roughly the same age as Shirley—Helen became depressed and had difficulty reading. With a therapist's help, she turned to writing. Weinzweig's success rate at placing short stories with publications was remarkably high, perhaps because her voice, which mixed mirth and myrrh, shone through from the first.
"The Care and Feeding of Canadian Composers," one of Helen's first published works, appears on the surface to be a gentle but affectionate mocking of her life with John. The bird motifs abound. Everyone can sit around and laugh. But the melancholy air lingers around phrases like, "His occupation is a solitary one, but he does not like to live alone," or, "The Canadian composer is usually a mild-mannered duck, but can easily turn into a tight-lipped grouse."
The feeling of pointed melancholy in Weinzweig's work made more sense to me after I spent a recent afternoon sifting through a selection of her voluminous personal journals, part of her archives at the University of Toronto. In typewritten missives spanning from the early sixties to the early aughts, Weinzweig chronicles dreams and desires, frustrations and hopes, affairs of long and fleeting duration—all of the fertile stuff that creates the unconscious mind necessary for creative output. Extended correspondence with one lover—a former board trustee for a university based in Washington, D.C., whom she first met in New York and whom she would see sporadically for decades—strongly hints at Coenraad's inspiration.
Yet Weinzweig's output was sparse: two novels, a short-story collection (A View from the Roof, 1989), several plays, and a few pieces of nonfiction, before dementia took her mind years before she died in 2010 at the age of ninety-four.  She once said that a good writing year produced twenty publishable pages. No wonder Basic Black took six years to complete.
*
A novel needs an ending, but Basic Black with Pearls manages to subvert that requirement too. Shirley, through her interior wanderings and fruitless search for Coenraad, returns to her Toronto home; to her husband, Zbigniew, the type of man who "didn't say he wouldn't help me: he just didn't," who sticks with a regular, rigid routine; to her children, Anton and Dina; and to the recesses of her mind, fractured, perhaps, by schizophrenia and multiple hospitalizations. Upon arrival, Shirley meets Francesca: her double, her twin, her replacement.
There is no jealousy on Shirley's part, only relief. There is a thrilling, disturbing ménage à trois scene that is far more nurturing than erotic. And then Shirley disappears again, toward a new lover, taking flight from the trappings of domesticity as well as the intoxication of pure freedom, toward a place where she "will not miss being a stranger from whom nothing is wanted and from whom nothing is expected."
Weinzweig struggled with the ending of Basic Black with Pearls for more than a year. "I could find no solution for this woman who leaves home—whether she leaves home physically or mentally is not the point," she said in a 1982 interview. "But she does leave her occupation, which is wife and mother, and goes out into the big world. And I couldn't find anything for her to do out in that big world. That question has disturbed me as a person and as a writer."
No doubt Weinzweig's discomfort stemmed as much from what the ending said of women of a certain age as from what it said about her own life. Does Shirley succumb to the same moralistic fate that befell the younger, flightier Marjorie Morningstar, of Herman Wouk's novel published a generation earlier?
I see it a little differently. Liberation is a process, a continuum, in which choices can be permanent but are more often temporary. Wherever Shirley Kaszenbowski goes, whatever decisions she makes, her mind remains alive. The possibilities are without limits because they aren't constrained by reality. She isn't a cautionary tale or a trauma case in that costume of black dress and pearl necklace. She, like her creator and avatar, is a marvel.
Excerpted from Basic Black with Pearls with permission from New York Review Books Classics. 
Helen Weinzweig published her first novel when she was fifty-eight. Basic Black with Pearls, her second, won the Toronto Book Award and has since come to be recognized as a feminist landmark.
Sarah Weinman is a writer and editor. She recently edited Women Crime Writers: Eight Suspense Novels of the 1940s & 50s and Troubled Daughters, Twisted Wives: Stories from the Trailblazers of Domestic Suspense. Weinman has also written articles for several outlets, including The New Republic and The New York Times Magazine.