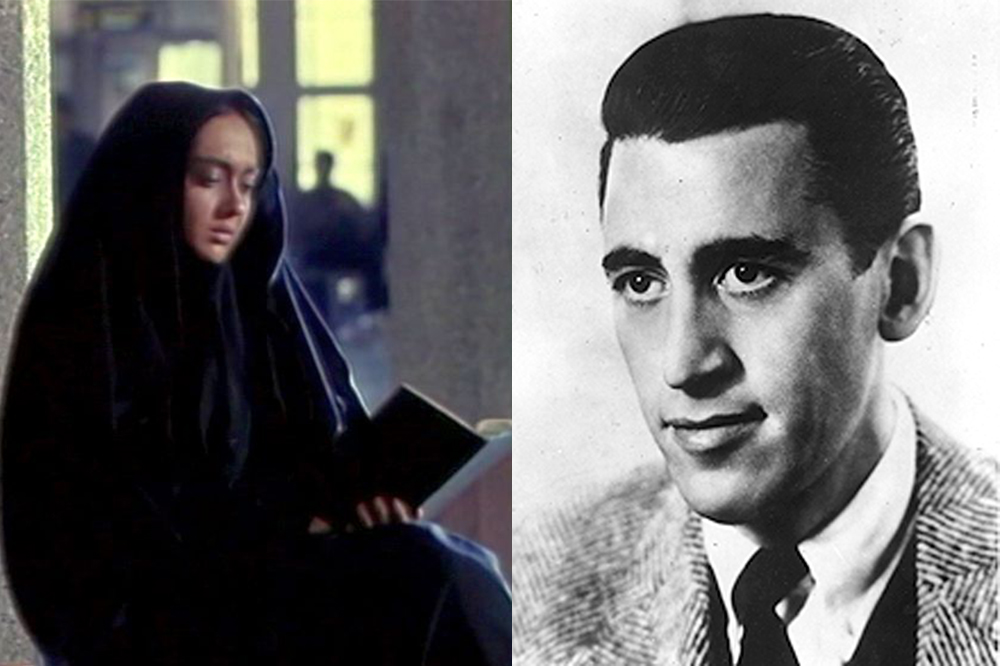 I had a bad experience in Hollywood once. —J. D. Salinger
To understand J. D. Salinger's opinion of Hollywood, one needn't look much further than his stories. Holden Caulfield launches into an invective against the industry on the second page of The Catcher in the Rye. Of his brother D. B., Holden says, "Now he's out in Hollywood, D. B., being a prostitute. If there's one thing I hate, it's the movies. Don't even mention them to me."
Salinger's own profound aversion to the industry began when he sold the film rights to his short story "Uncle Wiggily in Connecticut" to the producer Samuel Goldwyn. The story, first published by The New Yorker in 1948, offers a scathing portrait of upper-middle-class American society. In Salinger's opinion, Goldwyn missed the point entirely in the campy and hyperromanticized 1949 Hollywood feature My Foolish Heart.
From that moment on, Salinger vowed to never have his work adapted to the screen again. He refused to sell any more film rights, and he successfully fought a series of copyright-infringement lawsuits over the unauthorized adaptation of his works in film and in any other medium. The current trustees of the Salinger estate include his widow, Colleen M. Salinger, and his son, Matthew R. Salinger, who have been just as unyielding as the author himself. The infamously litigious estate has fought off the many Western filmmakers who have wanted to adapt Salinger's work and likely will continue to do so for some time: U.S. copyright law ensures that intellectual property is protected for the lifetime of the author plus an additional seventy years. Yet in the nineties, a gap in international copyright laws enabled one unlikely director to slip through the cracks. 
The virtually nonexistent relations between the United States and Iran extend to their copyright relations. While many countries have agreed to international standards such as the Berne Convention, which affords foreign artists the same copyright protections countries offer to their own artists, Iran has not. And this is how the Iranian director Dariush Mehrjui—one of the premier auteurs of Iran's New Wave cinema—seized the opportunity that no Western filmmaker could.
In 1995, Mehrjui released his film Pari, a composite of Franny and Zooey and "A Perfect Day for Bananafish," from Salinger's Nine Stories. Mehrjui, who was educated in the United States and studied at UCLA, no doubt read Salinger throughout his schooling there, if he hadn't already done so in his homeland. In Iran, certain Western artists are exalted to mythic proportions. It's almost impossible to find any one of the small smoke-filled Tehran coffee shops that hasn't played Pink Floyd's Dark Side of the Moon at least once this week. And at any given bookstore, one would be likely to find translations of Salinger, Steinbeck, and Sontag nestled among Iran's own literary giants—Forough Farrokhzad, Sadegh Hedayat, Hafez, Ferdowsi, and Rumi.
In classic Iranian New Wave fashion, Mehrjui's visual retelling of Salinger's stories is allegorical and poetic. He uses symbolism to translate the incisive and dialogue-heavy characterizations for which Salinger is famous. Due to the Islamic regime's rules about the expression of modesty, Mehrjui could not shoot his Zooey character steeped in a bathtub, as he appears in Salinger's work, and so the director explores the symbolic potential of water and submersion elsewhere. The film opens with a waterlogged dream sequence in which Pari, the Iranian Franny, is forced underwater by a band of her classmates. In the book, Franny only mentions the dream in passing. In the film, it sets the tone, and the perpetual symbol of murky water recurs throughout.
Mehrjui's film projects Salinger's original postwar narratives onto an Iran still reeling from the aftermath of the Iran-Iraq War. Mehrjui's version of Zooey, here known as Dadashi, is an aspiring actor who for much of the film is dressed for the part of a soldier wielding a gun—a sober reminder of a not-too-distant past. The film's final scenes culminate in a metanarrative in which Dadashi, acting on set as a fallen soldier who lies dying on a hill, cranes his neck to see women carrying jugs of water up and over the other side.
Yet there are also scenes that seem almost directly lifted from the original stories, with just a touch of Iranian flair. In Salinger's original, Franny sits across from her boyfriend, Lane, at an upscale restaurant in New Haven, where she's barely touched the chicken sandwich she ordered, and tells him about the book she is reading, The Way of a Pilgrim, about a monk in Russia who finds solace in a prayer. In Mehrjui's rendition, Pari does the same opposite her fiancé (lest the Islamic regime come down on the film for its depiction of extramarital relations), telling him about a Sufi book while her chicken kebab grows cold.
Pari struggles with the same critical questions of identity and belief as Franny, only within a much different sociopolitical and cultural milieu. In fact, Salinger's stories provide Mehrjui with a strange but fitting framework through which to depict the condition of the modern Iranian woman, which in the nineties was rapidly changing. By the year 2000, more women in Iran were attending universities than were men. Pari, like Franny, is depicted as educated and outspoken and vehemently challenges the academic patriarchy. Even her fiancé, who speaks highly of his own work, is bent on getting Pari's approval. He is visibly injured when she does not sufficiently stroke his ego, but Pari could not care less.
Conversations about belief and spirituality function as a through line in Franny and Zooey. In Pari, the Iranian city of Esfahān provides an idyllic and sacred backdrop for that negotiation. Pari imbibes the silence and space in Esfahān's most beautiful, iconic mosques.
Child protagonists are as much a key feature of Iranian New Wave cinema as they are of Salinger's stories. In "A Perfect Day for Bananafish" and in Mehrjui's adaptation, Seymour—Assad in the film—has encounters with a little girl, who acts as the dulcet foil for the adult tragedy to come. The narrative builds to Seymour's/Assad's psychological undoing and eventual suicide. In the story, he shoots himself; in the film, he self-immolates.
It's possible that Salinger might actually have liked Pari had he watched it. The Iranian film industry is decidedly not Hollywood, and Mehrjui's sensibilities are subtle and self-aware. But Salinger never did. He was oblivious to the film's existence until 1998, when Lincoln Center planned to screen the film during a three-week festival celebrating Iranian cinema. Publicity around the event brought the film to Salinger's attention. Representatives of Salinger responded immediately with a letter, stating that the screening would constitute a copyright breach. Though Lincoln Center might have contested the warning, they decided instead to cancel the screening, perhaps wary of the legal track record of past Salinger adaptations.
In a New York Times article published in response to the controversy, the Iranian director expressed bewilderment over the decision. "I don't want to distribute the film commercially," Mehrjui said. "It's kind of a cultural exchange. I just want to let the film be seen for the critics and the people that follow my work."
He added, too, that he had written the reclusive author seeking permission to use the material for his movie and, when he hadn't heard back, decided to move forward with the project. "In our country, we don't have copyrights," he said. "We feel free to read and do whatever we want."
This is, of course, not entirely true. Iran does indeed have domestic copyright laws in place, though they are nearly half a century old, and in many ways, they have failed to provide artists and businesses with the protections they require. These laws, however, do not extend to any work produced outside the country, and Iran boasts a bustling market of pirated films. In busy corridors of Tehran, young boys sell stacks of pirated DVDs in plastic sleeves, their cover art badly photocopied, for less than a dollar. Truth be told, I've probably seen more Hollywood blockbusters during my stints in Iran than I have in my lifetime in the United States.
The so-called intellectual freedom Mehrjui described has come at a major cost for Iran in recent years—most especially for Iranian software developers, who, because of the country's abstention from these international copyright standards, have struggled to target an international market. Recently, Iran has been forced to reconsider and reconfigure its laws. In November 2017, the Ministry of Communications and Information Technology announced that it would draft a new copyright bill for submission to Parliament, which could bring the country one step closer to joining the Berne Convention. Even if Iran does enter these agreements, U.S.-based artists will still likely have a hard time reaping their royalties thanks to ironclad economic sanctions that have made financial transactions with the country impossible.
But were it not for the lack of copyright relations between the United States and Iran, this oblique dialogue between two major artists from seemingly disparate cultures would not exist at all. A couple of years ago, the film was available in its entirety on YouTube, though that's since been taken down. At Columbia University's library, an uncirculated copy of Pari has an aggressive-looking FBI sticker slapped across the front that warns of copyright infringement, an offense punishable by up to five years in prison and/or a $250,000 fine.
If you really want to find the film, though, you just have to look. But I won't tell you where. With all due respect to Mr. Salinger, I, for one, would like to live in a world where both the stories and the film they inspired can coexist.
Sasha von Oldershausen is an Iranian American journalist writing about the Texas-Mexico border and Iran. Her work has appeared in the Nation, the Guardian, and Texas Monthly, among others.