In Valerie Stivers's Eat Your Words series, she cooks up recipes drawn from the works of various writers.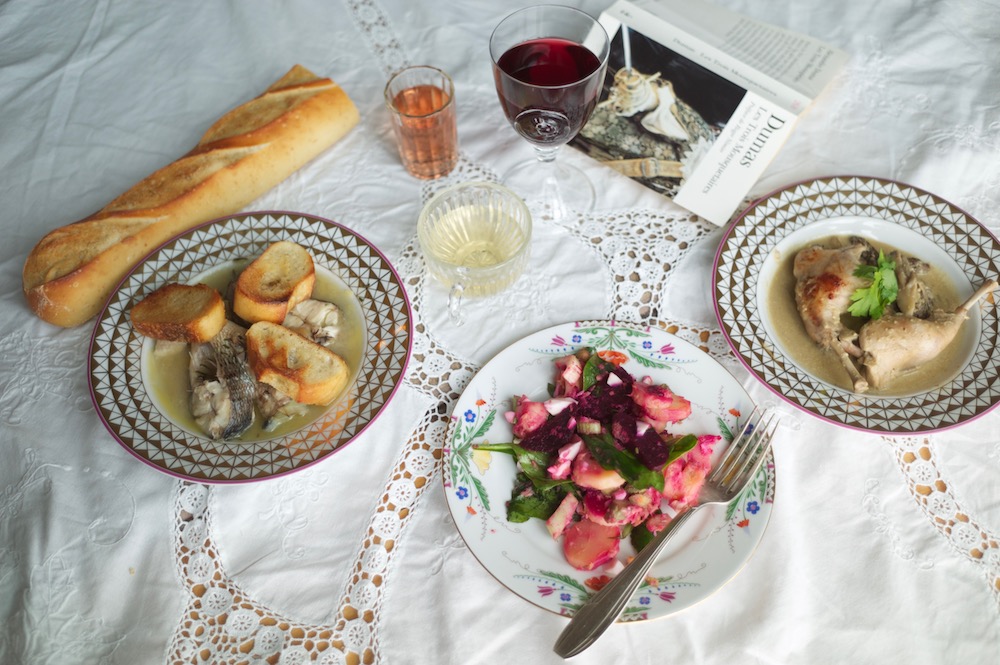 If the lavish feasts and epic drinking sessions of The Three Musketeers, by Alexandre Dumas (1802–1870), are any indication, seventeenth-century France was the era of the gourmand. The musketeers—Athos, Porthos, and Aramis—and their young friend d'Artagnan, the Gascon nobleman who is the book's hero, are frat boys of a different era, men for whom an ordinary evening at home is thus:
Porthos was in bed, and was playing a game of lansquenet with Mousqueton [his servant], to keep his hand in; while a spit loaded with partridges was turning before the fire, and on each side of a large chimney-piece, over two chafing dishes, were boiling two stew-pans, from which exhaled a double odour of rabbit and fish stews, rejoicing to the smell. In addition to this … the top of a wardrobe and the marble of a commode were covered with empty bottles.
The musketeers know no moderation. They order multiple bottles of wine for a quick drink, and at one point, one of them consumes an entire wine cellar. When Aramis plans to eat an omelet with a side of spinach, his friends ultimately convince him to say to the waiter, "Return from whence you came; take back these horrible vegetables … Order a larded hare, a fat capon, mutton leg dressed with garlic, and four bottles of old Burgundy." 
Dumas was a bon vivant and passionate cook who wrote in many genres, and his Grand Dictionnaire de Cuisine, a sprawling volume that traveled the alphabet from absinthe to zest, was the great project he felt he must complete before he died. (It was published posthumously.). According to the introduction to my abridged, translated version of that volume, Dumas "wrote novels and stories because he needed the revenue but produced his masterpiece, the Grand Dictionnaire de Cuisine, because he loved the work." The book includes recipes, society gossip, bits of culinary history, and the writer's meditations on hosting and entertaining. It is not, the introduction says, "a basic cookery book for an untaught bride." I found it fun to read that a recipe for ortolans, a rare songbird, tells us that to kill them, we must "asphyxiate them by plunging their heads into very strong vinegar. It is a violent death that improves their flesh."
I made three dishes mentioned in The Three Musketeers—the rabbit stew and fish stew cooked concomitantly in the passage quoted above (the mingled smells really did cause rejoicing) and a spinach salad to exonerate the spinach forgone in the book. For all three, I worked from Dumas's cookbook, choosing a rabbit-stew option that seemed possible to execute for a person who had never cooked rabbit and, in the spirit of adventure, a fish stew calling for eel. Since drinking was so essential to Dumas and the musketeers, I paired the food with wines, either those mentioned in the book or approximations.
This cooking called for an eel head, rehydrated morels (they were great), and an old-fashioned soup-thickening technique called beurre manié, all well outside my comfort zone. I took as my inspiration these words of the musketeer Athos upon being sent into danger: "So let us go get killed where we are told to go. Is life worth the trouble of so many questions?"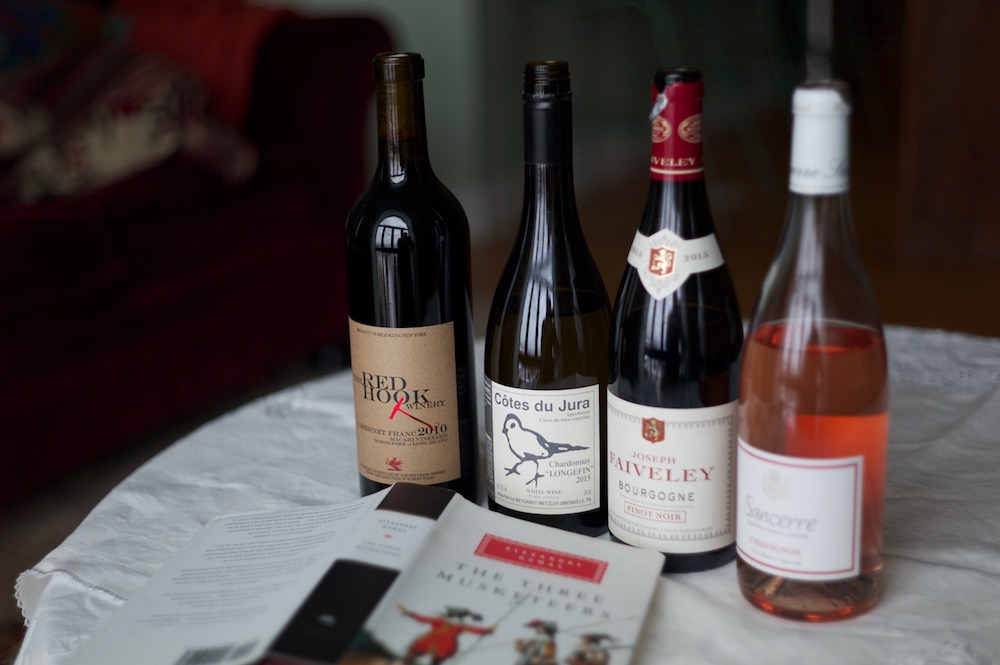 Wines of the Musketeers
Let us drink, my dear d'Artagnan, morbleau! let us drink while the wine is fresh! Let us drink heartily, and while we do so, tell me a little of what is going on in the world yonder.

—The Three Musketeers 
D'Artagnan and his friends mostly drink wine from Burgundy, though the now obscure region of Beaugency is also mentioned, and there's a subplot about a mystery gift of a wine from Anjou. They swill it in such great quantities that the modern reader imagines either the wine was weaker than what we're used to or the bottles were smaller—though in all likelihood, people back then just drank more. With the help of Jeremy Block, the owner of Some Good Wine on Eighth Street in Manhattan, I tried to approximate their experience, choosing French wines (with one exception) from regions the musketeers would have been familiar with that also would pair well with my menu. For the salad, with its acidic, fishy vinaigrette and root vegetables, I served a rosé from crisp northern Sancerre; here, the presence of pinot noir offered an earthiness to match the salad. For the eel dish, I found a "natural" wine from Jura, one of France's most obscure wine regions, where they're known for making wines in the most traditional style,  close to what the musketeers would have imbibed. This Côtes du Jura chardonnay from Didier Grappe (a hip vintner who also makes a cult wine called the Clash, after the band) uses organic grapes and indigenous yeast. It's unfiltered and has no additives, just like in the seventeenth century, and the slight oakiness worked with the buttery finish of the soup. The Burgundy to pair with the rabbit was a difficult score—red Burgundy wines are made from 100 percent pinot noir grapes and considered by some to be the best expression of pinot noir in the world; thus, they're expensive and become more expensive depending on how specific the bottle gets about where within Burgundy the grapes are grown. "Borgogne" on the bottle means "from anywhere in Burgundy," and this $24.99 bottle from Joseph Faiveley was very good. Lastly, the Anjou wine the musketeers received in that mysterious gift (" 'My faith! never mind where it comes from,' said Porthos, 'let us taste it, and if it is good, let us drink it.' ") would have been a cabernet franc, and Long Island, upon whose city-most tip I happen to live, is a good region for growing that grape. The Red Hook Winery next door to me sells a cabernet franc that uses grapes from Macari Vineyards, one of the premiere wineries on the North Fork. It made a pleasing substitute for the Anjou.
Unfortunately, unlike the musketeers, my husband and I did not manage to consume all four bottles with dinner.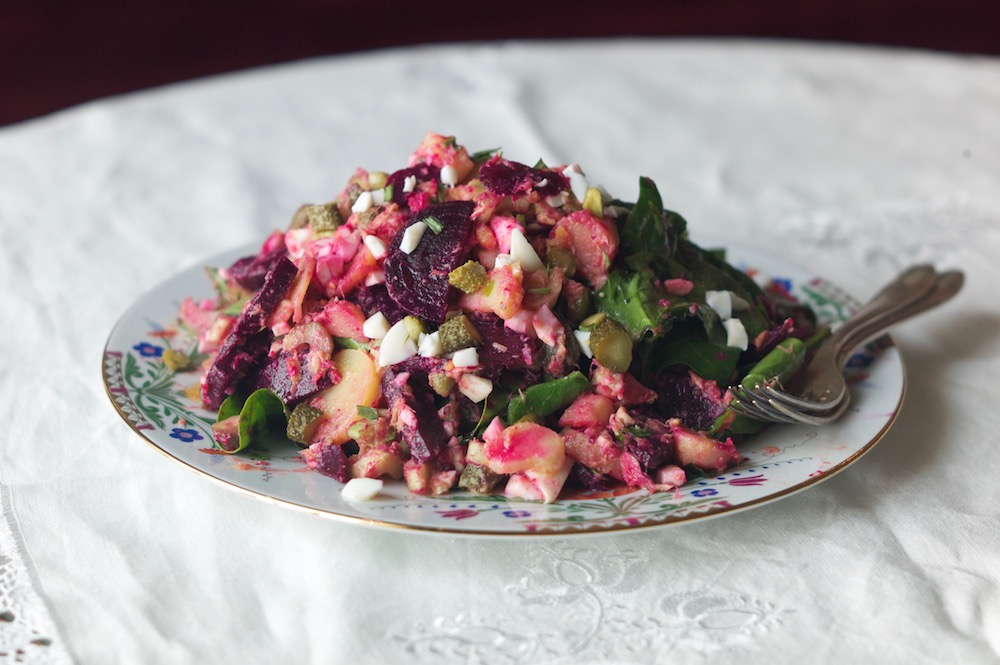 The Salad that So Fascinated Poor Ronconi
Finally, I made a salad that satisfied my guests so well that when Ronconi, one of my most regular guests, could not come he sent for his share of the salad, which was taken to him under a great umbrella when it rained so that no foreign matter might spoil it …

[This salad was] of great imagination, composite order, with five principal ingredients: Slices of beet, half-moons of celery, minced truffles, rampion with its leaves, and boiled potatoes …

First, I put the ingredients into the salad bowl, then overturn them onto a platter. Into the empty bowl I put one hard-boiled egg yolk for each two persons—six for a dozen guests. These I mash with oil to form a paste, to which I add chervil, crushed tuna, macerated anchovies, Maille mustard, a large spoonful of soya, chopped gherkins, and the chopped white of the eggs. I thin this mixture by stirring in the finest vinegar obtainable. Finally, I put the salad back into the bowl, and my servant tosses it. On the tossed salad I sprinkle a pinch of paprika, which is the Hungarian red pepper.

And there you have the salad that so fascinated poor Ronconi.

—Alexandre Dumas' Dictionary of Cuisine, edited, abridged, and translated by Louis Colman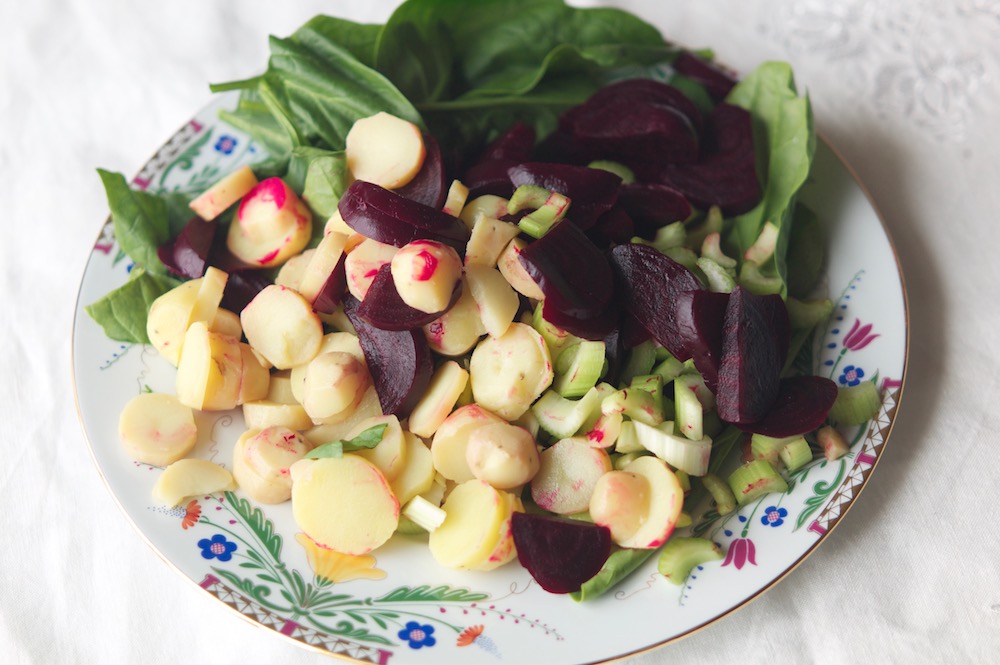 Serves 6–8
For the salad:
1 1/2 cups of beets, boiled until fork-tender and sliced
1 1/2 cups of potatoes, boiled until fork-tender and sliced
1 1/2 cups of celery, sliced
large handful of spinach, chopped
For the dressing:
3 hard-boiled eggs, separated into yolks and whites
1/2 cup olive oil
4 anchovies, mashed
2 tbs fresh tarragon, minced
1/4 cup good-quality canned tuna
1 tbs Maille mustard (from Dijon, available in every supermarket)
1 tbs soy sauce
1/4 cup chopped gherkins
1 tbs vinegar or more, to taste
1 pinch paprika
salt and pepper, to taste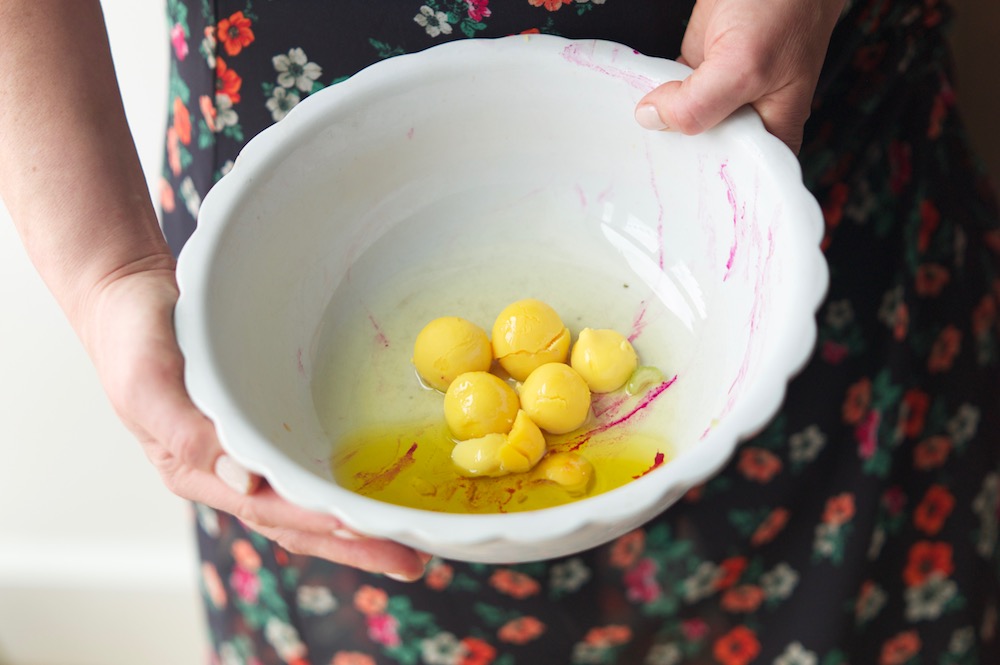 Prepare according to the method outlined above.
Note to readers: Dumas's instructions on dressing salads are very precise: They should be dressed "an hour before the bowl is broached" and tossed three or four times during that period. Moreover, only the "master or the mistress" of the house should season the salad—and only "if they are worthy of such a priestly duty."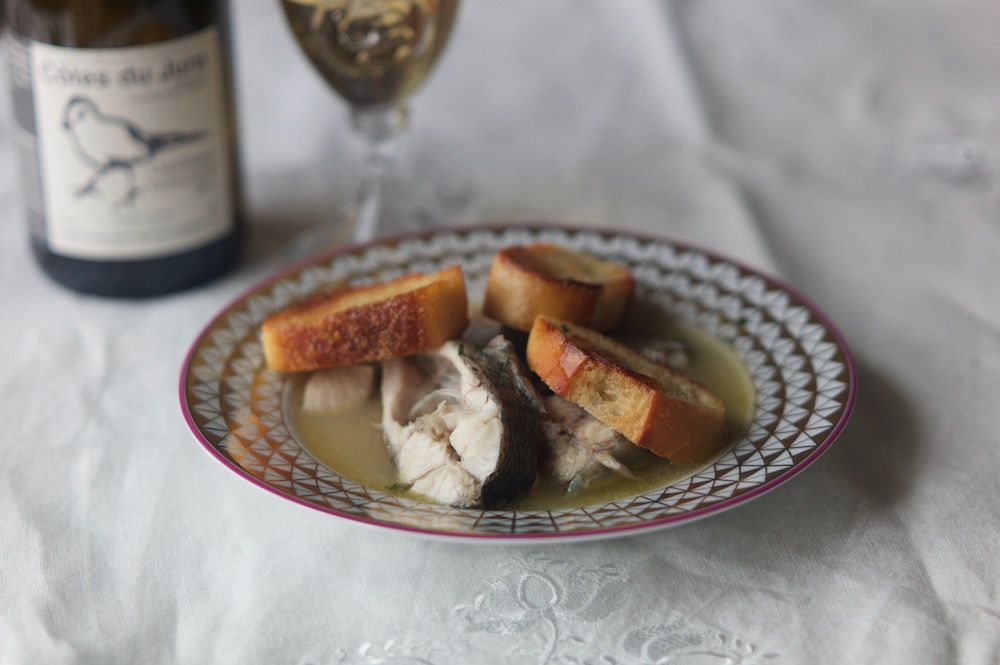 Matelote of Eel Marinière
Take a Seine carp, an eel, a tench, a perch, and cut them in pieces. Slice 2 large onions. Put the onions on the bottom of a copper pot, then all the heads, then the body pieces, so the pieces from nearest the tail are on top. Season with salt, pepper, a bouquet garni, and a few cloves of garlic. Pour over all 2 bottles of white wine. Bring to a quick boil. Add 1 glass of cognac and flame. Add 20 or 30 little onions fried in butter. Make little balls of flour and butter and sprinkle it into your matelote. Shake to mix well. Serve hot, garnished with croutons and crayfish cooked in Rhine wine.

—Alexandre Dumas' Dictionary of Cuisine, edited, abridged, and translated by Louis Colman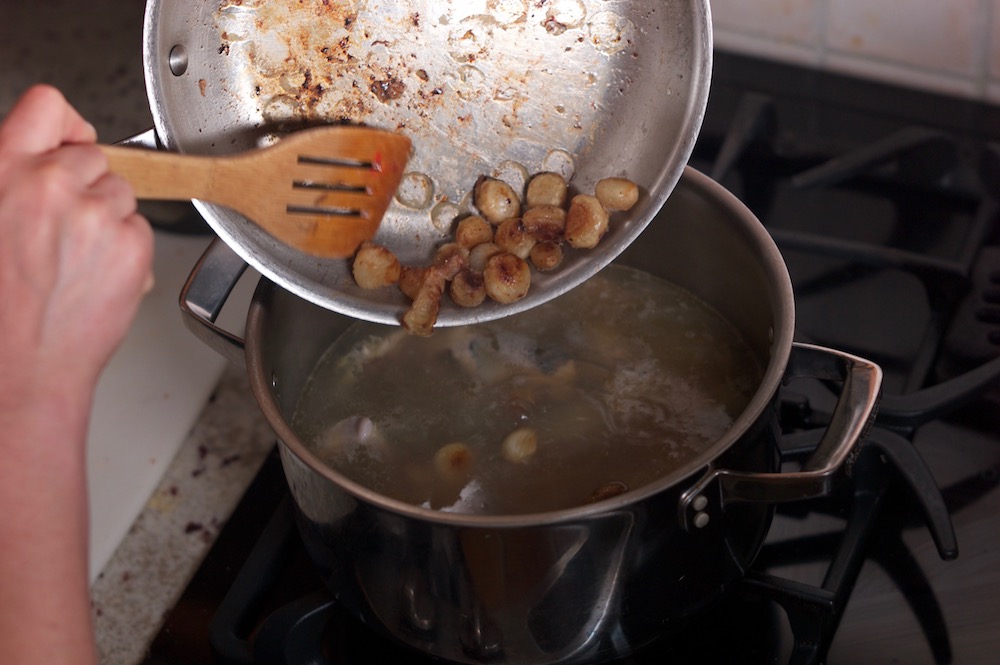 For the bouquet garni:
a few leaves of sage
a few sprigs of thyme
1/2 sprig rosemary
1 bay leaf
Tie all the ingredients together and place them in a piece of cheesecloth.
For the croutons:
1/2 baguette
Slice the baguette and fry the slices in butter till crispy, salting liberally.
For the soup:
1 eel, filleted, head reserved
2 catfish, filleted, head reserved
1 bass, filleted, head reserved
salt
pepper
1 white onion, in segments
4 cloves of garlic
1 bottle white wine, preferably Sancerre
2 1/2 cups water
20 or 30 little cipollini onions
8 tbs butter (2 for frying the fish, 6 for the beurre manié)
1/4 cup flour
Salt and pepper, to taste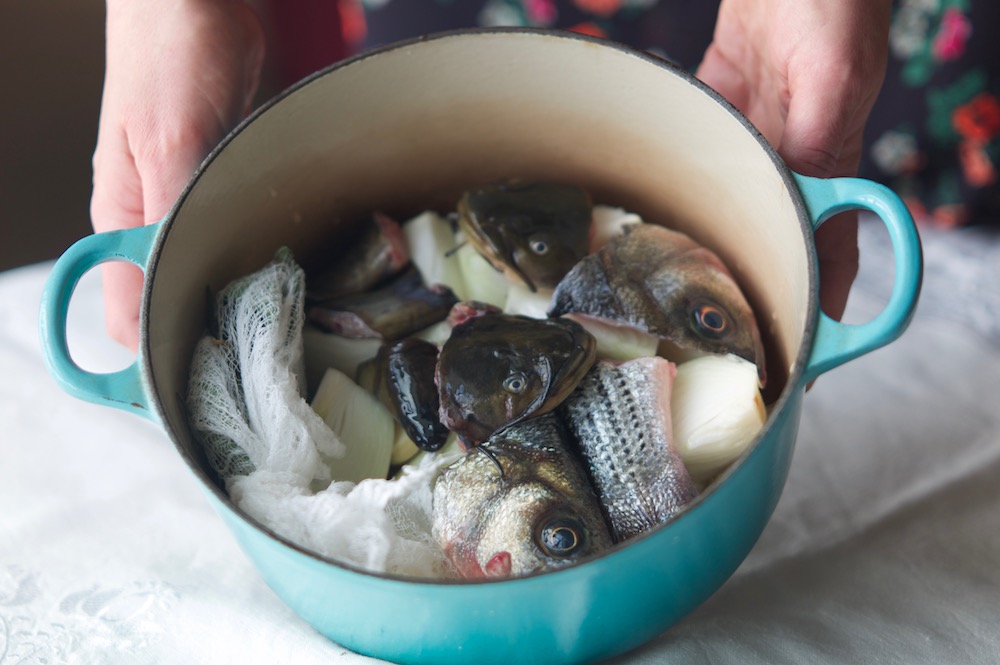 Make a fish stock. Put the fish heads and the head of the eel, the onions, the garlic, the wine, and the water in a large pot. Bring to a boil, then simmer for 20 minutes and strain.
Brown the onions in the butter on medium-low heat until they're very soft, about 30 minutes.
Prepare the fish. I followed Dumas's directions and cut my fish as steaks, but they were bony and difficult to eat. In this recipe, I suggest using fillets.
Dry the fillets and season them thoroughly. Fry skin side down in two tablespoons of the butter until the skin is crisp.
Prepare the beurre manié. Mash the remaining butter with the flour until it forms a smooth paste. Make the paste into teaspoon-size balls. These will be used to thicken the soup.
Reheat the fish stock to a simmer, add the onions and fillets, and simmer until the fish is cooked through.
Add the beurre manié balls and continue to simmer until the balls have dispersed and the sauce has thickened.
Salt and pepper to taste. Serve garnished with croutons.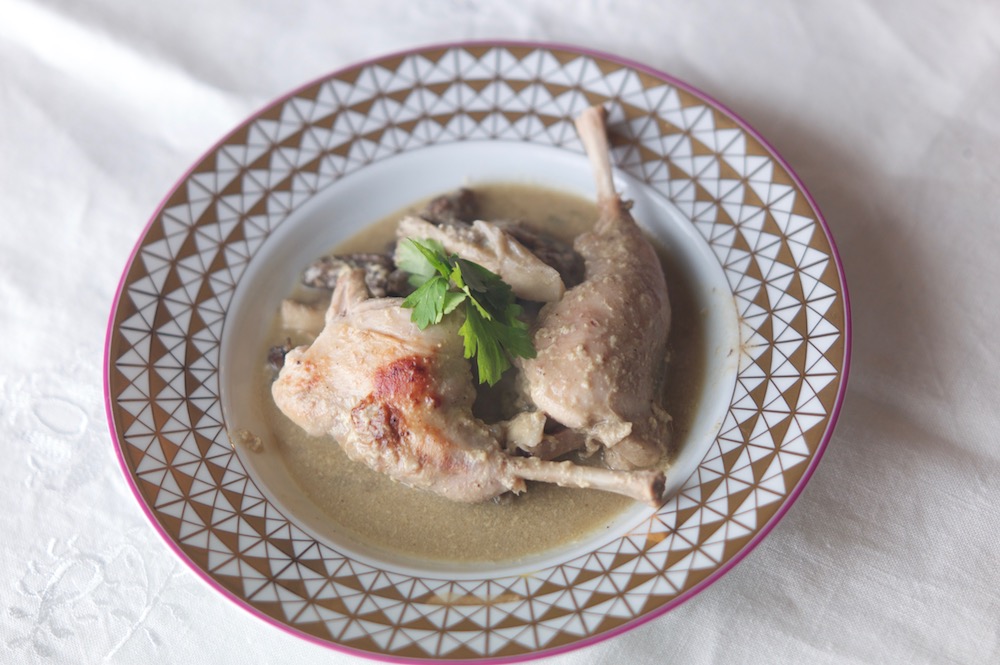 Young Rabbit Fricassee
Cut 2 very young, tender rabbits into pieces, wipe off the blood. Put into a pot with water, a few slices of onion, a bay leaf, a sprig of parsley, a few scallions, and a little salt. Bring to a boil. Drain. Wipe dry. Trim.

In another pot, sauté the pieces in butter, sprinkle lightly with flour, add some of the water in which they were parboiled, being careful to stir so that no lumps are formed. Bring to a boil. Add mushrooms and morels, cook. Reduce the sauce. Thicken it with 4 egg yolks, mixed with butter or cream or with some of the sauce, chilled. Finish with the juice of a lemon, or a dash of verjuice, or a dash of white vinegar, and serve.

—Alexandre Dumas' Dictionary of Cuisine, edited, abridged, and translated by Louis Colman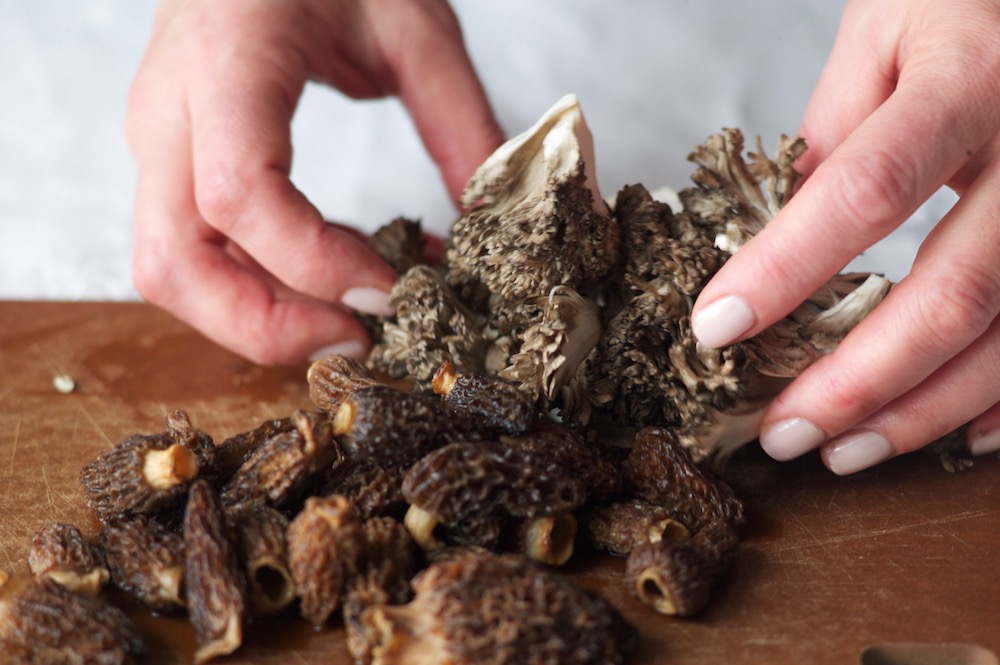 1 rabbit, cut into pieces
1/2 onion, sliced
1 bay leaf
a few sprigs of parsley
a few scallions
2 tbs butter
flour (for dredging)
a large handful of en of the woods (maitake) mushrooms, chopped
a handful of morels
2 egg yolks
1 tbs cream
juice of 1/2 lemon
salt and pepper, to taste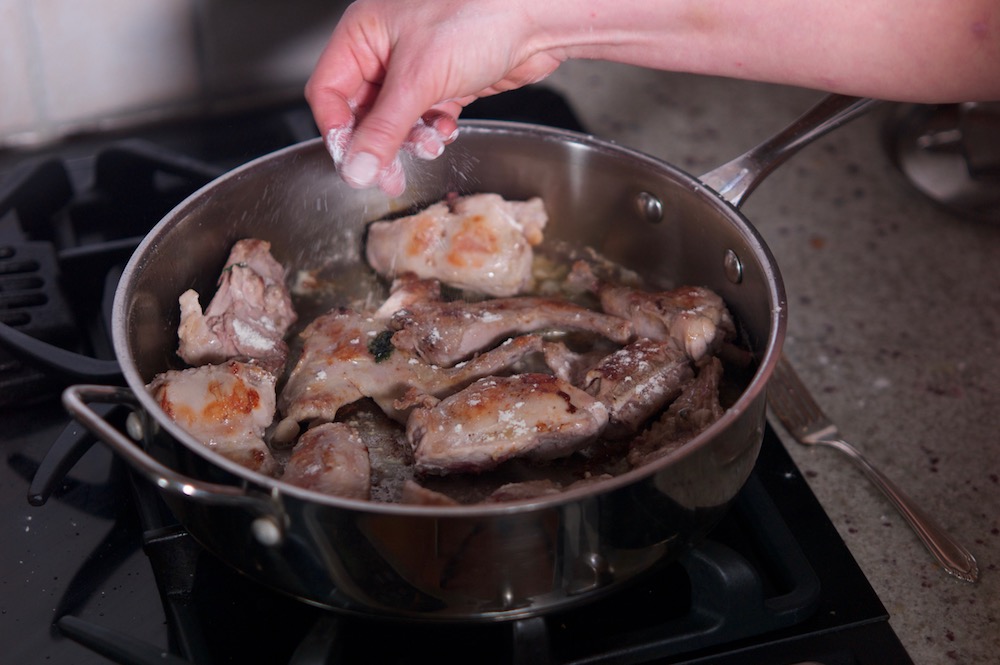 Preheat the oven to 365.
Put the rabbit in a pot with water, onion slices, bay leaf, parsley, and scallions. Bring to a boil. Immediately turn off the heat. (Parboiling the rabbit is said to remove the gamy flavor.)
Drain, straining and reserving the parboiling liquid.
Wipe the rabbit pieces dry. Season them thoroughly with salt and pepper. Dredge in flour.
Add the butter to a large skillet and heat. Add the rabbit pieces and fry them until they're well browned on all sides.
Fill the skillet about two-thirds of the way with the parboiling liquid and put it in the oven, covered, to braise until the rabbit is tender and falling off the bone (about two hours).
When the meat is done to your liking, return the skillet to the stovetop and reduce the braising liquid if necessary until you have three-quarters of an inch of liquid left in the pan.
Add the mushrooms and simmer until cooked.
While the mushrooms are cooking, put the cream and the egg yolks in a small bowl and stir to combine. Take about three-quarters of a cup of the braising liquid and combine it slowly with the egg mixture, stirring constantly so the egg doesn't scramble.
Return the liquid to the skillet and simmer on low heat a few minutes until the sauce has thickened, stirring and being careful not to scramble the egg.
Season with salt and pepper, to taste.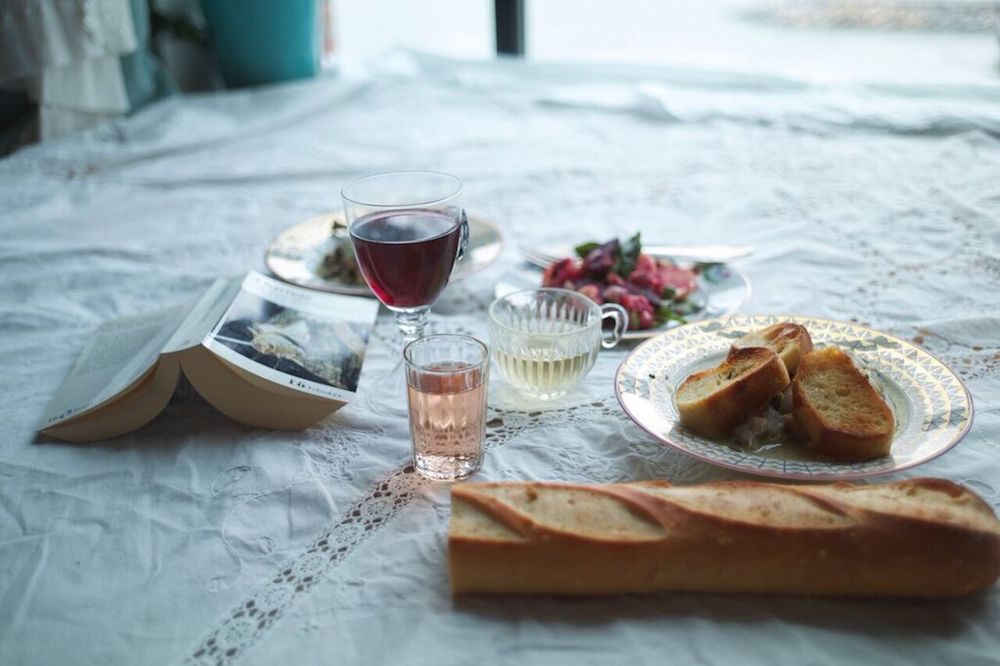 Valerie Stivers is a writer based in New York.
Read earlier installments of Eat Your Words here.