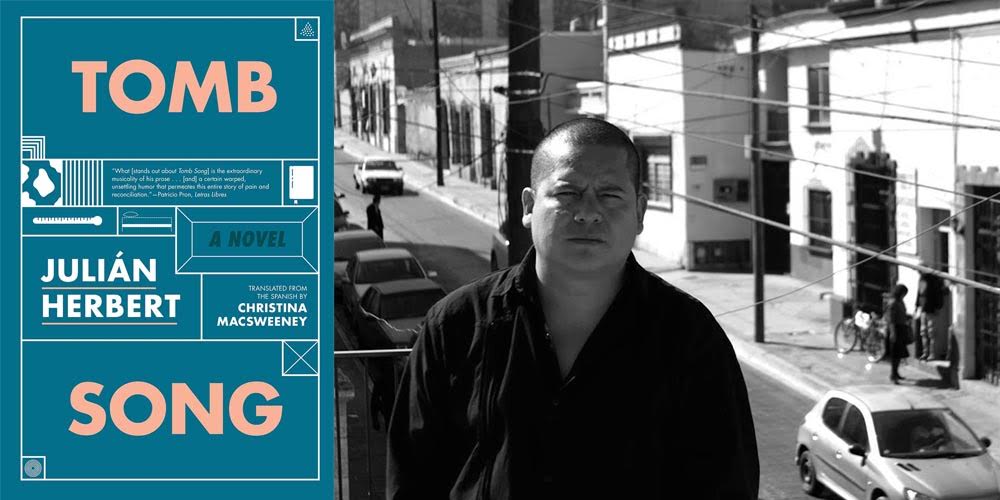 Julián Herbert began the book that made him famous while he was sitting in his mother's hospital room. She was dying of leukemia, and as he cared for her, he wrote what became one of the most heralded literary experiments in the Spanish language in decades, Canción de tumba (2014). An English translation of the book, Tomb Song—an exceptional work of metafiction and autofiction—is out this week from Graywolf Press. There is, certainly, no way for a reader to know how to divide fact from fiction. A tender conversation between the narrator and his pregnant wife could be invented; a wild hallucination in Havana could be the truth. There's no way to know.
Fiction or not, Tomb Song is clearly a work of self-examination. As the narrator describes his itinerant childhood, his mother's work as a prostitute, and the fracturing of his atypical family, he seems to be looking in the mirror. And yet Tomb Song is more like "a hall of mirrors," as Herbert said to me. Once you start seeking facts, you'll be looking forever.
I came to Tomb Song through its translator, Christina MacSweeney, whose work I began seeking out after I read her translations of another great Mexican experimentalist, Valeria Luiselli. Like Herbert, MacSweeney is devoted to voice. When I spoke with them, both told me how vital it is for them to read their work aloud.
I conducted these interviews over email. Julián Herbert's answers to me were in Spanish, which I've translated into English below.

INTERVIEWER
This is in large part a book about literary craft, and yet one of the narrator's first statements is, "My literary technique is lamentable." Why open the book that way?
HERBERT
To set a precedent. I wanted to let the reader know that authorial interventions like this would appear throughout the novel. I wanted to play with point of view—how it works and how you can use it to create fiction with technique, rather than with meaning. Harold Bloom says that in Shakespearean monologues, the character listens to him- or herself by accident. I tried to have my first-person narrator listen to himself by accident. I got to play with layers, too. There's Julián the author, Julián the narrator, and Julián the character. It's a metafictional hall of mirrors. I needed to write it that way. The story was so painful that I was afraid of blackmailing the reader with my pain. I needed distance to avoid that and to give the reader a complete literary experience, which is always my goal. Finally, I think if I criticize my technique within the story, it helps me make the story better. I hope so, anyway.
INTERVIEWER
So this is a novel? Lots of critics seem unsure, and there's no way for a reader to know.
HERBERT
To me, this is a novel. A nonfictional novel, most of the time, though there are some fictional elements. But the protagonist—my mother, Guadalupe—was real. She was a prostitute, and she died of leukemia. Why does it matter if the particular events around her happened in this world or not?
I think novels are novels because of technique, not because the content is made up. I wrote Tomb Song using a novelist's tools—prolepsis and analepsis, digression, a plot twist that lasts three decades, plenty of characters. It's always been strange to me that some Spanish-language critics insist that Tomb Song is a memoir and that my other book, The House of the Pain of Others, is a novel. To me, that book is a mix of reportage and narrative history. But honestly, I don't lose sleep over this. I've always written between genres.
INTERVIEWER
Christina, does it matter to you, as a translator, whether this book is a novel?
MACSWEENEY
I was aware that there are biographical elements in Tomb Song, but also that the veracity of some of those elements is constantly undermined. So for me, that exploration of the boundaries between fiction and nonfiction was more important than trying to categorize the work. Tomb Song is a piece of very creative writing and that was the basis of my approach to the translation.
INTERVIEWER
Julián, how did you develop "Julián the narrator's" voice? How different is it from yours?
HERBERT
I wrote the first thirty or forty pages in less than a week, sitting by my mother's hospital bed, though I didn't know I was writing a novel. It was a long, confessional letter to Mónica, my former wife. Once I saw that it could be the material for a novel, my process changed. To get that transparent effect, you can't just write anymore. I had to work hard on the voice. I had to correct, consider, calculate. Editing each paragraph took me hours.
INTERVIEWER
And Christina, how long did it take you to get the English voice right? How long does it usually take before you hear a Spanish text's voice in English?
MACSWEENEY
I think voices develop as I progress, and if things are going well, I have a kind of yes moment somewhere in the first chapters when I know I'm on the right track. In Tomb Song, I loved the switches in register, and they were very helpful in moving from one narrative voice of the novel to another. But Julián certainly kept me on my toes as a translator in this work.
INTERVIEWER
What is your take on the question of fidelity in translation?
MACSWEENEY
That whole issue of fidelity is a thorny area. Apart from anything else it somehow denies the creativity involved in writing a text in another language. I prefer to think of it in terms of responsibility. I have a responsibility to the author, the text, and to future readers. Meaning is clearly very important, but by that I'm referring to the overall meaning rather than individual words. We translate texts in the same way as we understand language, in chunks of meaning that interact with one another.
For me personally, I'm particularly interested in finding the music and rhythms in a text, capturing the voices of different characters. This means that speaking what I write aloud is an integral part of the process. In general, my translation process starts with a careful reading of the text, to get a feel of the rhythms and tempos. When I start getting words onto paper, then I try to keep my knowledge of the content at the back of my mind and react to the text as I write. I do a lot of research. In Tomb Song, it was very important to be aware of the authors and texts Julián refers to either explicitly or by implication, so it was a pleasure to go back to books like The Magic Mountain and Three Trapped Tigers, both of which I love but haven't read for some years.
INTERVIEWER
Julián, speaking of those authors and texts, who were your major influences?
HERBERT
Plato. Kafka, for the humor. In Mexican schools when I was younger, we read Kafka, but it was all about darkness and suffering. These qualities of his are present, but the teachers never talked about his incredible sense of humor. De Profundis by Oscar Wilde was my first model for Tomb Song. Thomas Mann and Guillermo Cabrera Infante are very obvious influences. Less obvious are Sergio Pitol, Truman Capote, the memoirs of the actress and courtesan Irma Serrano. And when I think about point of view, I'm always thinking about Martin Scorsese and Quentin Tarantino.
But the most important influence on the voice in Tomb Song, I think, comes from a French movie, Betty Blue by Jean-Jacques Beineix. There's a scene in which two couples are getting ready for a picnic when one of the characters—a man in his forties—finds out, over the phone, that his mother has died. He's despondent. He sits on the bed and cries. His friends are trying to console him, and his watch alarm starts ringing. The watch has Mickey Mouse on it, and the alarm is some dumb song. All four of them look at each other and start laughing, and crying, and laughing. That's my novel.
INTERVIEWER
I love the way Tomb Song moves further from the hospital with every chapter. How did you decide that should happen? And why did you choose Berlin and Havana?
HERBERT
First, the book needed to travel. I needed open spaces to balance out the parts where the narrator is trapped in the hospital. Second, my mother was vaguely communist when she was younger, and I wanted to show her political ideals decaying along with her body—so where better than Berlin and Havana? There's a parallel, too. My mother always dreamed about Havana. It was her Xanadu. Berlin is mine. Also, I was stalling. When my mother died in 2009, I was devastated. I wasn't capable of writing her death. I wanted to keep her here. I wanted her ghost to accompany me through my grief, even if she was only in the realm of fiction, and so I spent all of 2010 writing the trips to Berlin and Havana. Those passages have really divided critics. Some think they're indulgent, others think they give the novel the space it needs. What I can say is that it was the only honest way I could find to write the book, and I think that without those digressions, the final goodbye between the mother and the son would have lost some of its power.
INTERVIEWER
What was it like to return to Tomb Song years after you wrote it? What parts of the book have stuck with you most?
HERBERT
A lot of the prose has stuck with me. There are whole passages I still know by heart because I went over them so many times. I edit slowly, and I write out loud. I need to hear the cadence of every phrase. When I read Christina's translation, I discovered that I sometimes can't remember if scenes from my life happened the way I described them in the book. It's hard to tell what I invented and what was real. I like the uncertainty, though. It's proof that I can't write with impunity. When I try to get in the reader's head, I destabilize myself, too.
INTERVIEWER
How did the two of you work together?
HERBERT
When Christina sent me her draft, I was in the middle of a divorce. It was extremely painful to return to the passages in which I declare my love for Mónica and celebrate our life together with our son, Leonardo. She and I were separating, we were selling our house, and she was leaving the city with our son. I was paralyzed. My American editor, Ethan, whom I love, stepped in to help me. He answered some of Christina's questions, but later, when she was almost done with the final draft, I managed to write her a few letters about the doubts she still had. It wasn't the most intentional process, but I don't regret it. Of the four translations of the book, this one is by far my favorite. Still, I don't think our communication should be that inconsistent again. Christina is translating another one of my books now, and my role is to support her, to give her as much information as possible, and then to leave her alone to write. She's a phenomenal translator.
MACSWEENEY
I enjoy collaborating with the authors I translate whenever this is possible. From my point of view, talking over different themes in the work and thinking about voices and register adds depth to the translation. But all this depends on how far the authors want to be or can be involved. It's important to remember that often you are asking authors to return to something they wrote years before, something they may feel is in the past.
I usually produce a first draft of the translation on my own, and then if the author wants to be involved, we open a dialogue. As with any conversation, the way that develops will vary from person to person. Julián was caught up in other things at the early stages of the translation, so I sent him a list of questions, occasionally about language—there are some wonderful norteño expressions in the work—but mostly to do with his sources of inspiration or asking for clarification of particular ideas. Julián was very generous in sharing his thoughts with me, and I treasure the micro-essays he wrote in response to some of my queries.
INTERVIEWER
Julián, what Mexican authors working today are you the most excited about?
HERBERT
If I had to pick one, I'd choose Fernanda Melchor, whose novel, Temporada de huracanes, is amazing—new and brutal, and written in prose any serious writer would envy. Then there are two poet-essayists, Luigi Amara and Luis Felipe Fabre, who are two of the most lucid, most entertaining minds in the country. And then the writers who work between genres—Veronica Gerber Bicecci, Eduardo Padilla, Gabriel Wolfson, and León Plascencia Ñol, who wrote a travel book called Seúl era una esquina blanca that I like a lot.
There's Luis Humberto Crosthwaite, who's from Tijuana and who has been translated, but I don't think he's gotten the attention he deserves. And last but not least, I think the best-kept secret of Mexican literature is a powerful novelist and short-story writer named Héctor Manjarrez. He's seventy-two years old, and his most recent collection, Los niños están locos, is a Chekhovian bomb.
INTERVIEWER
And Christina, what are you translating now, and which Spanish-language authors who you aren't translating would you like somebody else to translate?
MACSWEENEY
At the moment, I'm working on the edit for Julián's next work in translation, The House of the Pain of Others. I'm also working on a very interesting project with Verónica Gerber Bicecci, which will involve photography, original writing, and translation, with both of us involved in all three of those elements. And I've just translated a short extract from the Venezuelan author Victoria de Stefano's novel Lluvia for a dossier in Latin American Literature Today. I'm a great admirer of her work and feel English-language readers deserve a chance to share in that admiration.
Another area that interests me is the essay. This genre is so rarely translated and Latin America has some marvelous essayists. Jazmina Barrera's Cuaderno de faros is a beautiful personal exploration of the symbolic value of lighthouses. Luigi Amara is another of Mexico's great essayists, and his Historia descabellada de la peluca is both fascinating and brilliantly witty. From Columbia, Andrés Felipe Solano's diary of his first year in South Korea, Apuntes desde la cuerda floja, is insightful, thought provoking, and funny.
INTERVIEWER
This seems like an exciting moment to be a translator—I'm thinking, for instance, of the new National Book Award for Translated Literature. Are you excited? What other changes do you hope for?
MACSWEENEY
The National Book Award initiative is wonderful, and I hope other prize-giving bodies follow suit. The situation of texts in translation has been very uncertain in this respect. For example, books I translated by Valeria Luiselli have been awarded or short-listed for prizes as if they were English-language originals written by Valeria. Another positive change, at least in terms of Latin American writing, is an increase in the number of female authors who are translated. If you compare this with the situation only fifteen years ago, the shift in focus is very heartening.
It also seems that the perception of translation and translators is in a process of change. In part, this is due to the fact that independent publishing houses like Graywolf, Coffee House Press, and Two Lines understand the importance of building relationships with their translators, valuing their work and using their experience to help promote the books. In terms of future changes, well, obviously, I'd like to see more translated literature on the shelves and display tables of bookstores. Translated books still make up less than four percent of works published in USA, and this is a shameful figure.
Lily Meyer is a writer and translator living in Washington, D.C. Her work has recently appeared or is forthcoming in NPR, the Los Angeles Review of Books, Make Magazine, and Bogotá 39: New Voices from Latin America.