In Valerie Stivers's Eat Your Words series, she cooks up recipes drawn from the works of various writers.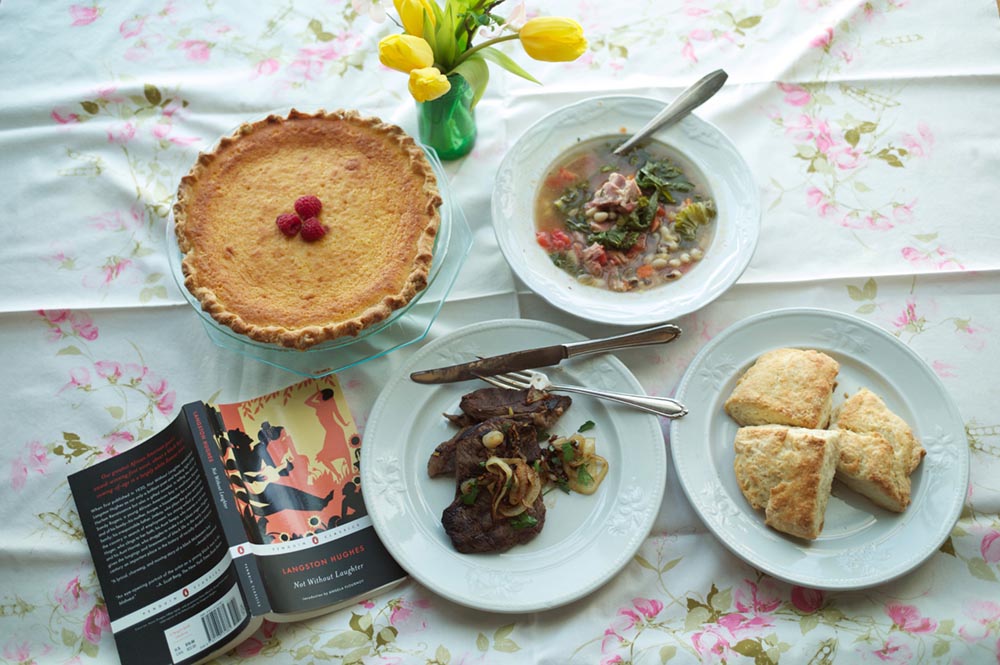 Langston Hughes's 1931 classic Not Without Laughter, recently rereleased as a Penguin Classic, tells the coming-of-age story of Sandy, a light-skinned black youth in a small, mixed-race Kansas town in the 1910s. Sandy wants great things for himself but can't see how to achieve them in a world rife with racism. Late in the novel, he muses that "being colored is like being born in the basement of life, with the door to the light locked and barred—and the white folks live upstairs." Out of context, this may seem simplistic, but it follows Hughes's devastating explication of how the adult black role models in Sandy's life have tried, and failed, to thrive. Sandy's mother is a cook for a white family. She feeds her own family on scraps from her employer's table, bringing home things like "a large piece of fresh lemon pie," "two chocolate eclairs in her pocket, mashed together," or "a small bucket of oyster soup." Sandy's grandmother, Aunt Hagar, cleans laundry for whites. She works herself to the bone for pennies with the belief that a quiet respectability will, in the end, save black people. Sandy's father, Jimboy, and Sandy's aunt embrace the blues and enjoy what they have, though Hughes does not sugarcoat the reality that what they have is too little.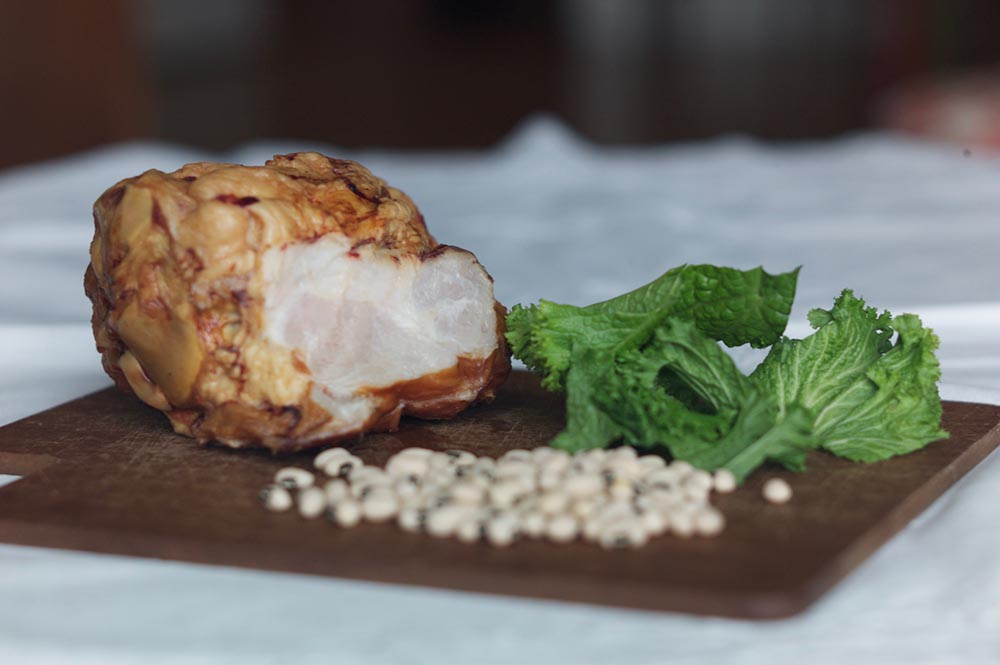 There are well-meaning whites in this book, like the ones who send wreaths to Aunt Hagar's funeral (ouch), but their contribution only underscores their uselessness. I feel fairly useless, too, but I was inspired by the wealth of folk detail on small-town black country food from a hundred years ago. Annjee, Sandy's mother, often cooks for her white employer in the spirit of resistance. At one point, she makes biscuits, remarking, "The white folks ain't asked for 'em, but they like 'em too, so they can serve for both … Jimboy's crazy about biscuits … " She serves them with a fussy steak-and-onion dish. The food the characters consume when they have a choice is different. At Thanksgiving, Annjee makes a bland-sounding "turkey with chestnut dressing" for the whites, but at Aunt Hagar's they have "a nice juicy possum … parboiled and baked sweet and brown with yams in the pan."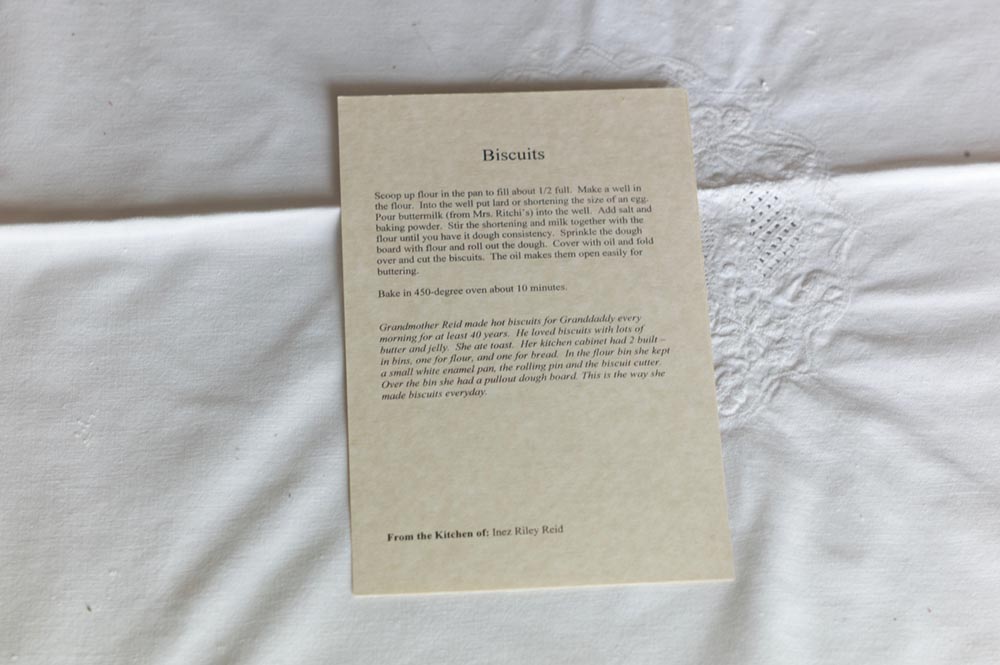 To mirror Annjee's cooking for the white family, I made a biscuit recipe passed down from my own white Southern great-grandmother, Winnie Carrie Inez Riley Reid (what a name!). I've adapted it over the years by substituting butter for some, but not all, of the vegetable shortening. In a family cookbook one of my aunts compiled, there's a notation that Winnie Carrie Inez "made hot biscuits for Granddaddy every morning for at least forty years." I changed Annjee's fussy steak-and-onions dish slightly and made a simple lemon pie, plus I made my best guess at one of Aunt Hagar's standbys, "a great bowlful of black-eyed-peas and salt pork." This was the revelation of the dinner. The giant and meaty lump of smoked pork, purchased at Fairway, did not look pretty at first glance, but it cost less than five dollars and it made a hearty, delicious soup with a wonderful, subtle aroma. The black-eyed peas plumped up nicely and reminded me of my childhood.
I would have tried the possum-and-yam dish, substituting rabbit for possum since research showed that it's another meat that responds well to parboiling, but I'll admit to a slight relief when the butcher shop had neither one.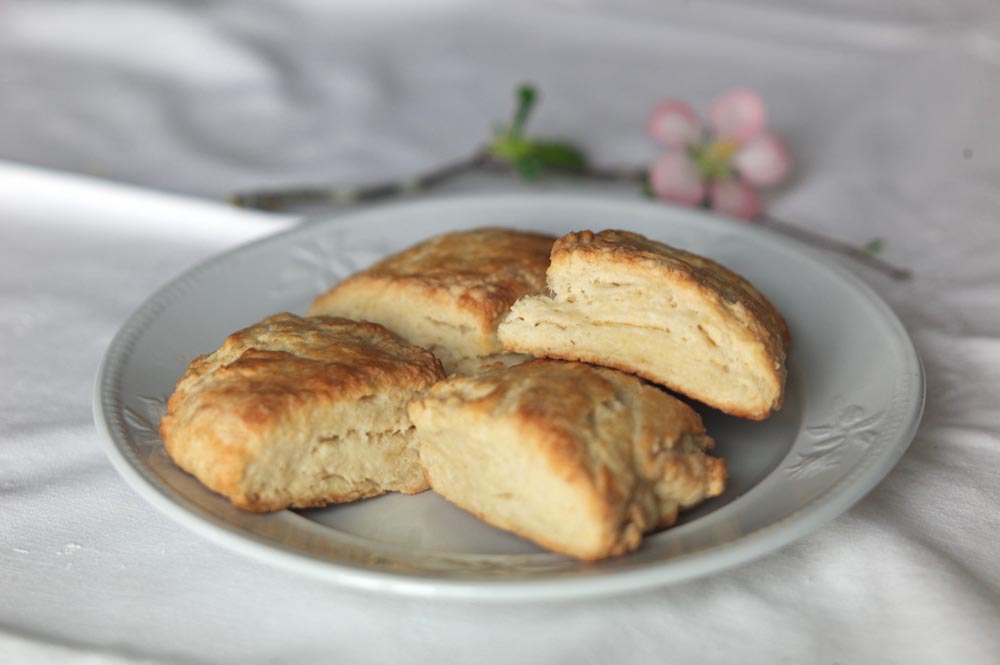 Buttermilk Biscuits from the Kitchen of Winnie Carrie Inez Riley Reid
Makes 4 biscuits.
1 1/2 cups flour
2 tbs vegetable shortening
4 tbs butter, cold
1 tsp salt
1/8 tsp baking soda
1 tsp baking powder
1/2 cup buttermilk
Milk, for brushing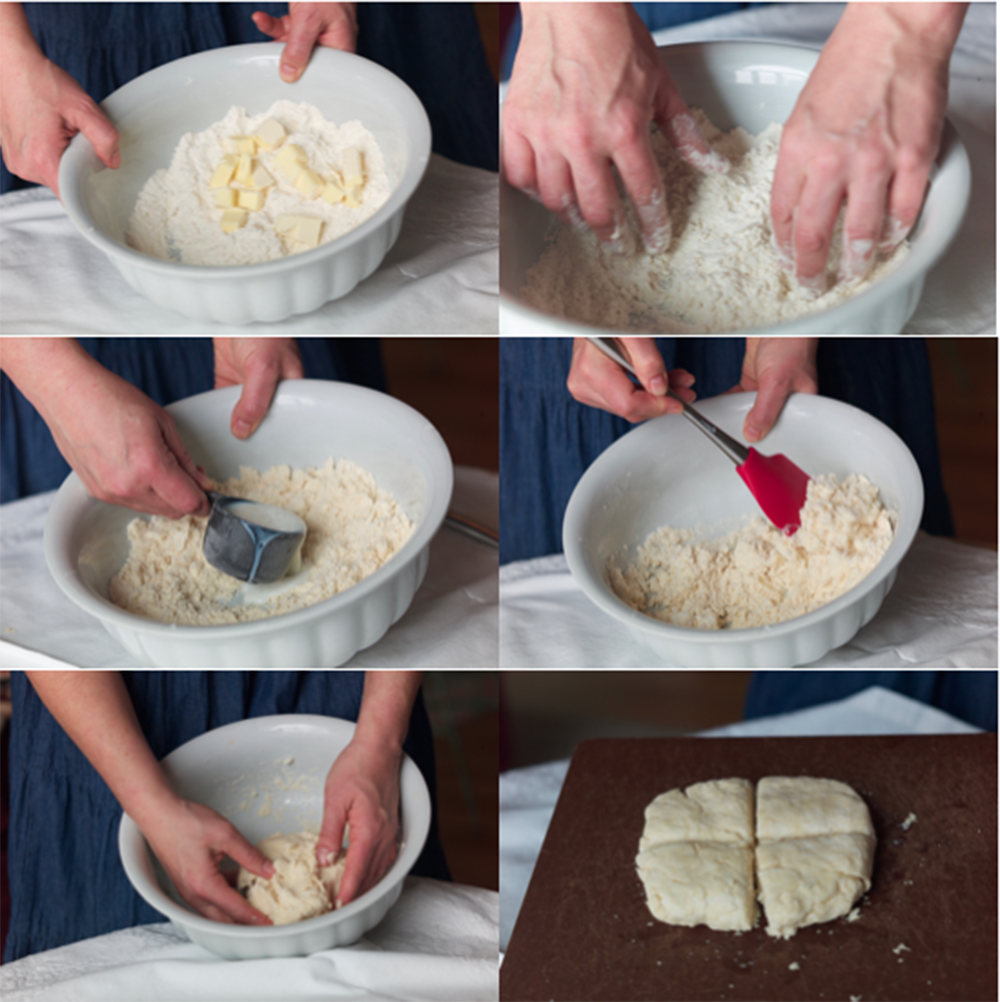 Preheat the oven to 450.
Mix the flour, salt, baking soda, and baking powder in a medium-sized bowl.
Use your fingers to combine the vegetable shortening with the flour mixture. Next, cut the butter into pieces (about 1/2-inch square chunks), then use your fingers to combine until the mixture has the consistency of rough sand.
Add the buttermilk, stir, then knead just until the dough comes together.
You can cut the biscuits with a glass or a cookie cutter, but then the scraps need rerolling, which toughens the dough. I form a squarish mass, about 1-inch thick, give it a single pass with a rolling pin, and then cut the dough in four pieces for a casual family breakfast.
Brush the top with a little milk, to aid in browning, and bake for 20 to 25 minutes, until the biscuits are fluffy, golden on top, and crisp on the bottom.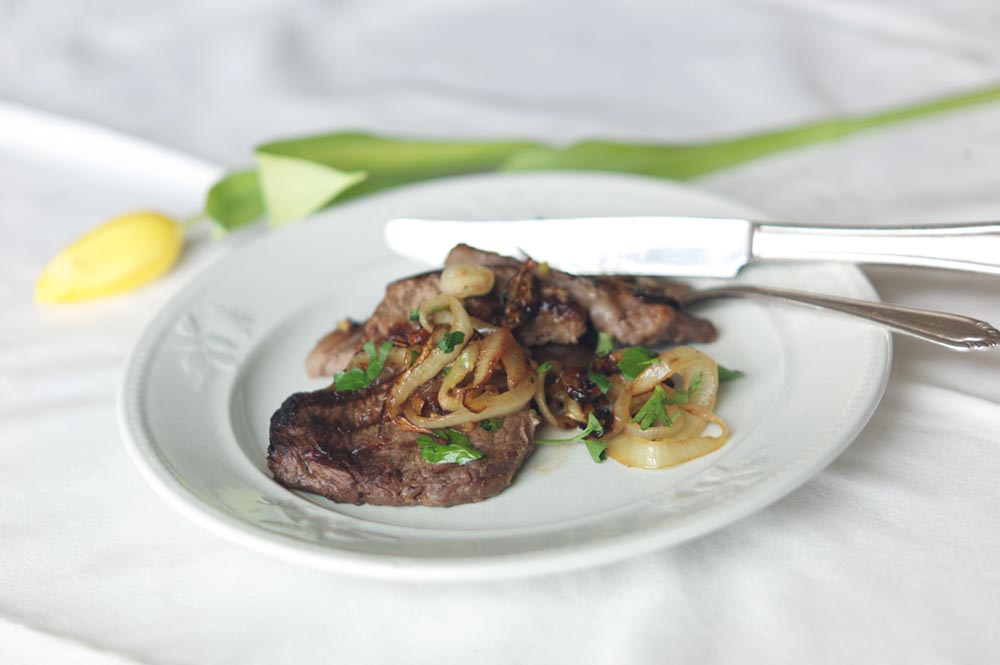 Steak and Caramelized Onions
4 tbs butter
2 medium onions, sliced
2 cloves of garlic, minced
2 tsp white vinegar
1 pound of sirloin steak, slightly pounded to about 3/4 inch thick
salt and pepper
1 tbs fresh parsley, minced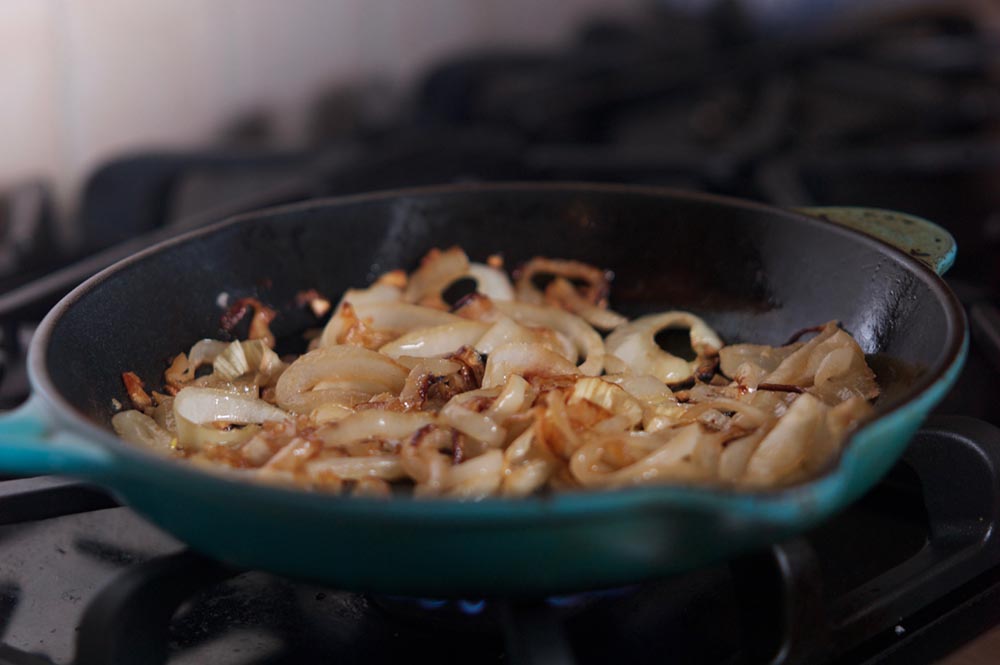 Melt 3 tbs of the butter in a large skillet, then add the onions, turn the heat down to medium low, and cook, stirring occasionally, for 30 minutes, until the onions are limp, brown, and very sweet. Add the garlic about 5 minutes before the end of the cooking time.
Thoroughly salt and pepper the steak. Heat a grill pan till it's very hot, add the butter, and then, when the butter begins to sizzle, add the steak. Cook on high heat to desired doneness, about 5 minutes per side for medium rare.
Serve covered with the onions and sprinkled with parsley.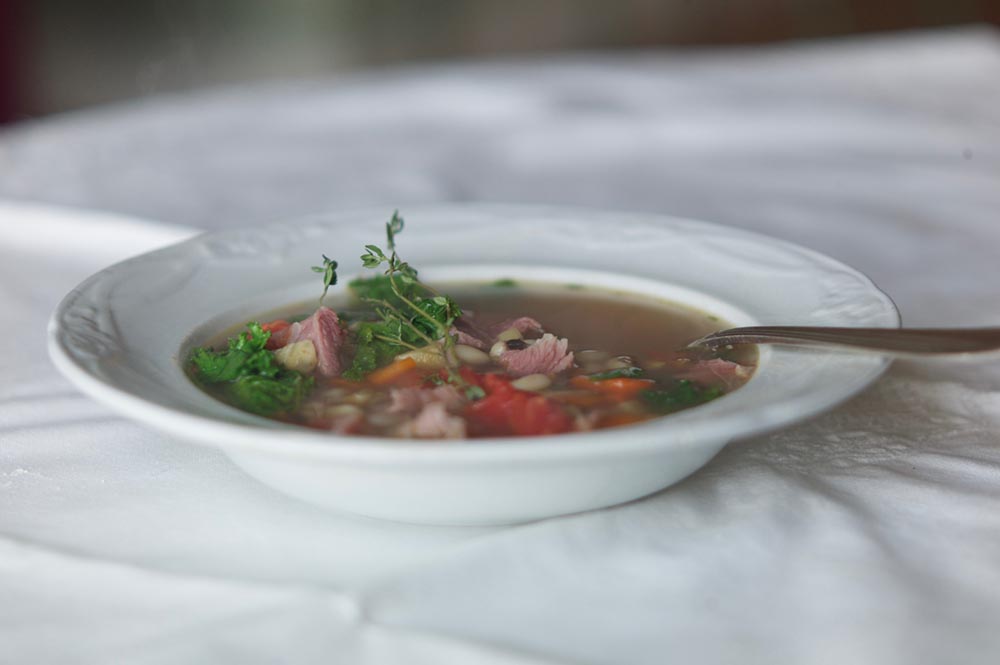 Smoked Pork Soup with Black-Eyed Peas and Mustard Greens
Adapted from A New Turn in the South, by Hugh Acheson.
1 tbs unsalted butter
1 carrot, chopped
1 celery stalk, minced
3 garlic cloves, peeled and crushed
1/2 cup dried black-eyed peas
6 cups chicken stock
1 smoked ham hock, about 1 pound
1 tbs chopped fresh thyme
2 cups chopped mustard greens
1 cup chopped tomato
1 tsp kosher salt
1 tbs cider vinegar
olive oil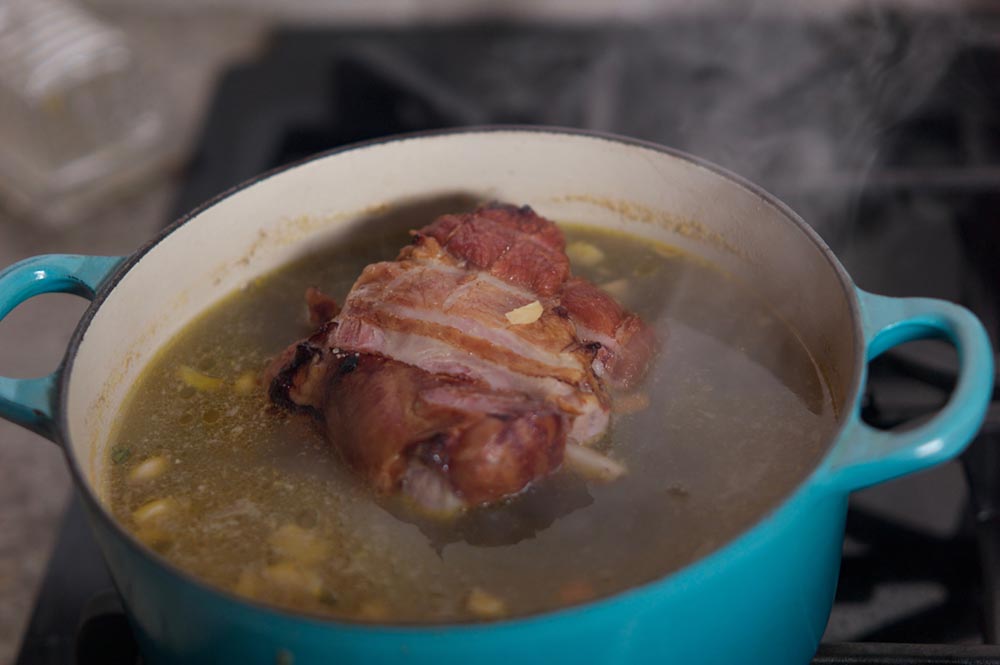 Soak the peas for 8 hours or overnight.
Place a 4- to 6-quart soup pot on the stove over medium heat and add the butter. When the butter has melted, add the carrot and celery and cook, stirring occasionally, for a few minutes, until the vegetables have started to soften.
Add the garlic, black-eyed peas, chicken stock, and ham hock. Partially cover and simmer until the peas are tender, about 1 hour. Skim any foam from the top, if necessary.
Remove the ham hock from the soup pot, cool, and take the meat off the bone. Coarsely chop the meat and return it to the pot. Discard the bone and any connective tissue.
Add the thyme, mustard greens, tomato, and salt to the soup. Cook for 10 minutes.
Serve with a drizzle of olive oil.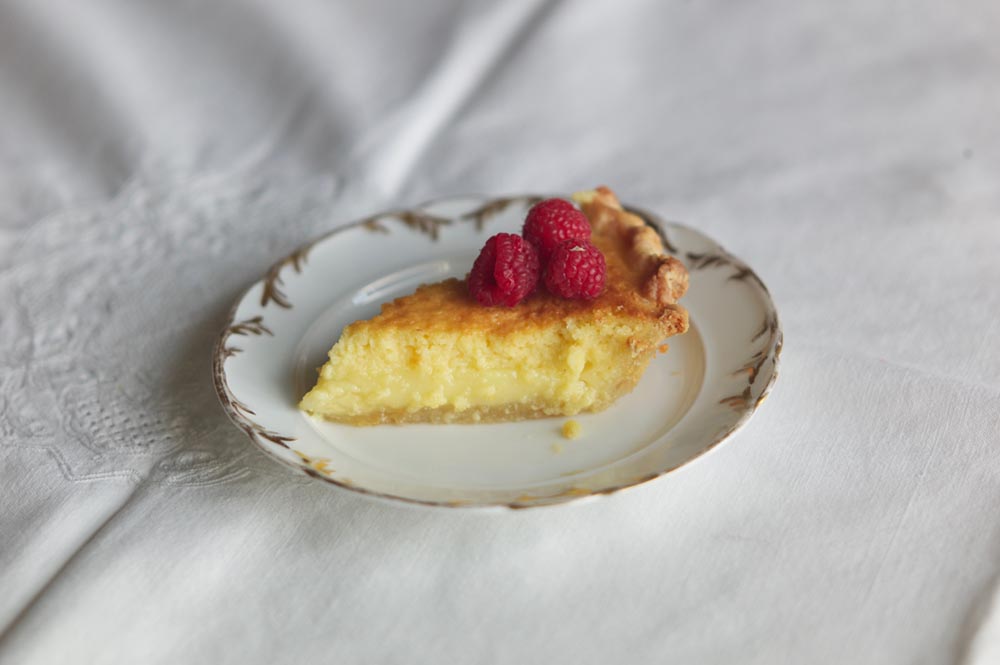 Lemon Chess Pie
 Adapted from A New Turn in the South, by Hugh Acheson.
 1/2 recipe pie dough (I use Deb Perelman's all-butter dough recipe.)
1 3/4 cups sugar
3 tbs grated lemon zest
1 stick unsalted butter, softened
pinch of salt
5 eggs
1/4 cup corn syrup
1 cup whole milk
1 tbs cornmeal
2 tbs flour
1/4 cup freshly squeezed lemon juice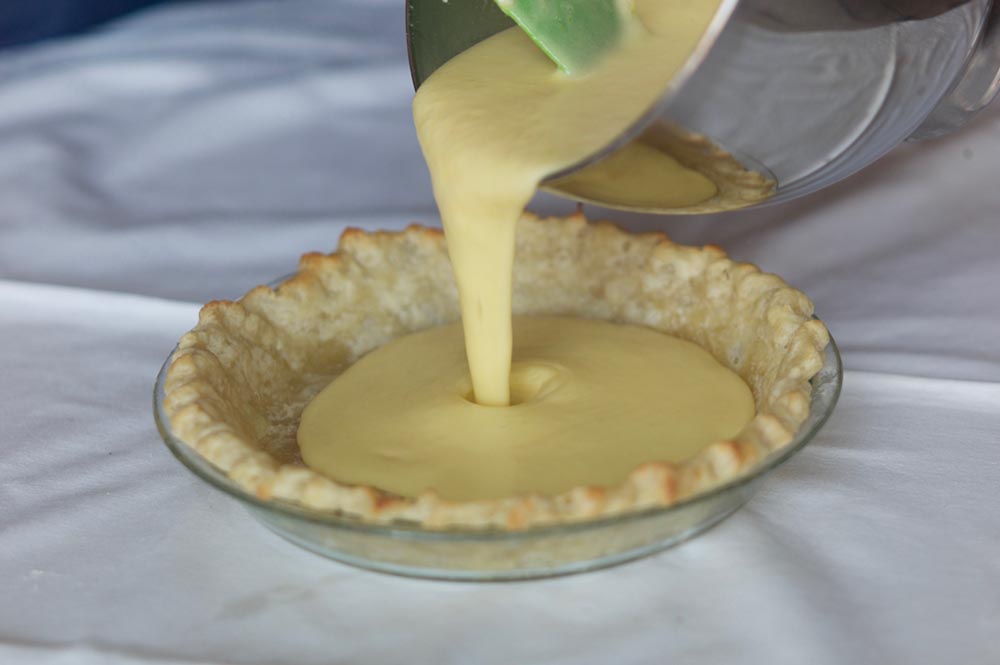 Preheat the oven to 375.
Roll out your pie dough to about 1/4-inch thick.
Lift and place on a 9-inch pie plate. Cut off excess dough, about 1 inch beyond the lip of the pie plate, tuck it under, and decoratively crimp. Pop the dough in the freezer for 10 minutes as you prepare the next step.
Prepare aluminum foil and whatever you plan to use for pie weights (dried beans, rice, actual pie weights). Take the dough out of the fridge, prick the bottom all over with a fork, then cover it snugly with aluminum foil. Fill with the pie weights.
Bake for 20 minutes, then take it out, remove the pie weights and foil and bake for 10 minutes more, until the edges are golden and the bottom of the crust is dry.
Reduce the oven temperature to 330.
Mix together the sugar and lemon zest. (If you have a food processor, you can grind together in this step.)
Add the butter and salt to the sugar and lemon zest mixture and beat until well blended.
Add the eggs and corn syrup, then add the milk.
Add the cornmeal and flour, then add the lemon juice.
Fill the cooled, prebaked shell with the lemon filling. Place the pie back in the oven and bake for 30 minutes, starting to check after about 20 if the filling is set and the top slightly golden.
Continue to bake until the filling is set. Serve warm.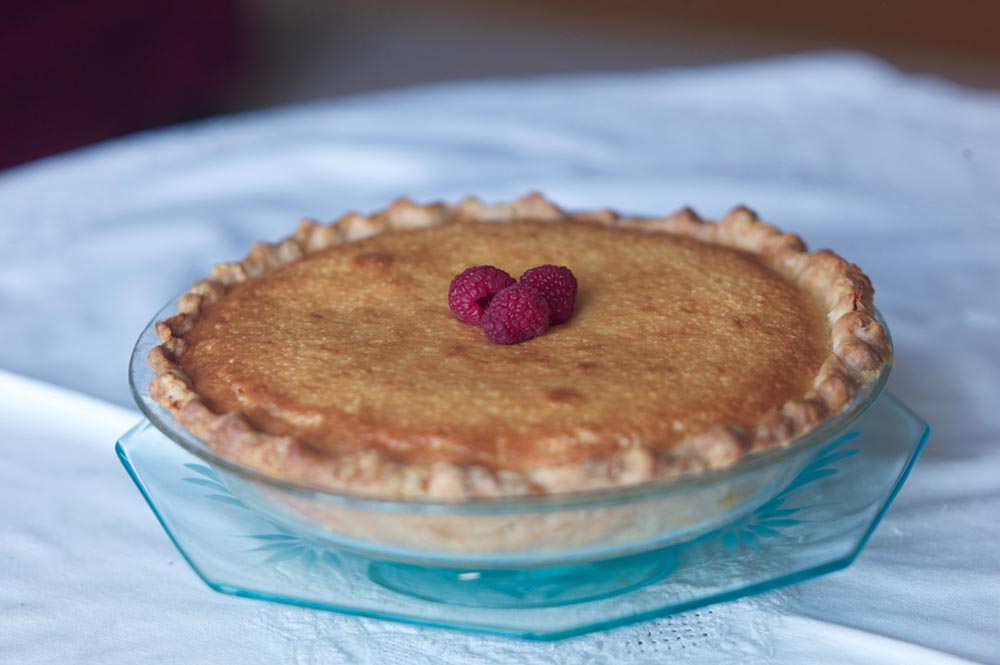 Valerie Stivers is a writer based in New York.
Read earlier installments of Eat Your Words here.