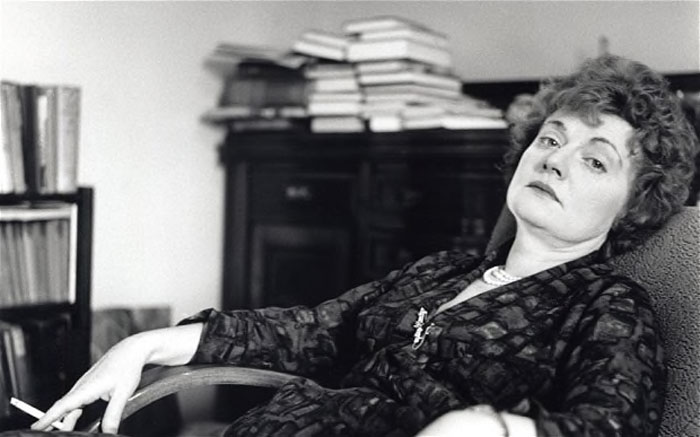 The aphorisms below are plucked from Muriel Spark's fiction. In the words of Penelope Jardine, editor of The Good Comb: The Sayings of Muriel Spark, "That doesn't mean either that Dame Muriel did not actually think what she says here and perhaps means it very much."
A rebellion against a tyrant is only immoral when it hasn't got a chance. 
I think waiter is such a funny word. It is we who wait.
How can she truly love? She's too timid to hate well, let alone love. It takes courage to practice love.
Literary men, if they like women at all, do not want literary women but girls.
How seldom one falls in love with the lovable … how seldom … hardly ever. How do you know when you're in love? The traffic in the city improves, and the cost of living seems to be very low. 
Being over seventy is like being engaged in a war. All our friends are going or gone, and we survive amongst the dead and dying as on a battlefield. 
Ridicule is the only honorable weapon we have left.
It is a common misunderstanding that one who does not know another's mother tongue is assumed to be less intelligent and discerning than he is. 
The eye of the true artist doesn't see life in the way of goods paid for. The world is ours. It is our birthright. We take it without payment. 
I had known for a long time that success could not be my profession in life, nor failure a calling, for that matter. These were by-products. 
All of the young of the human species are born omniscient. Babies, in the waking hours, know everything that is going on in the world; they can tune in to any conversation they choose, switch on any scene. We have all experienced this power.
I do not care to go about with nothing on my face so that everyone can see what is written on it.
The sacrifice of pleasure is of course itself a pleasure.
To teach a cat to play ping-pong, you have to first win the confidence and approval of the cat. 
We all have a fatal flaw. 
Be on the alert to recognize your prime at whatever time of your life it may occur.
Copyright © 2018 by the Estate of Muriel Spark, reprinted by permission of Georges Borchardt Inc.