In Valerie Stivers's Eat Your Words series, she cooks up recipes drawn from the works of various writers.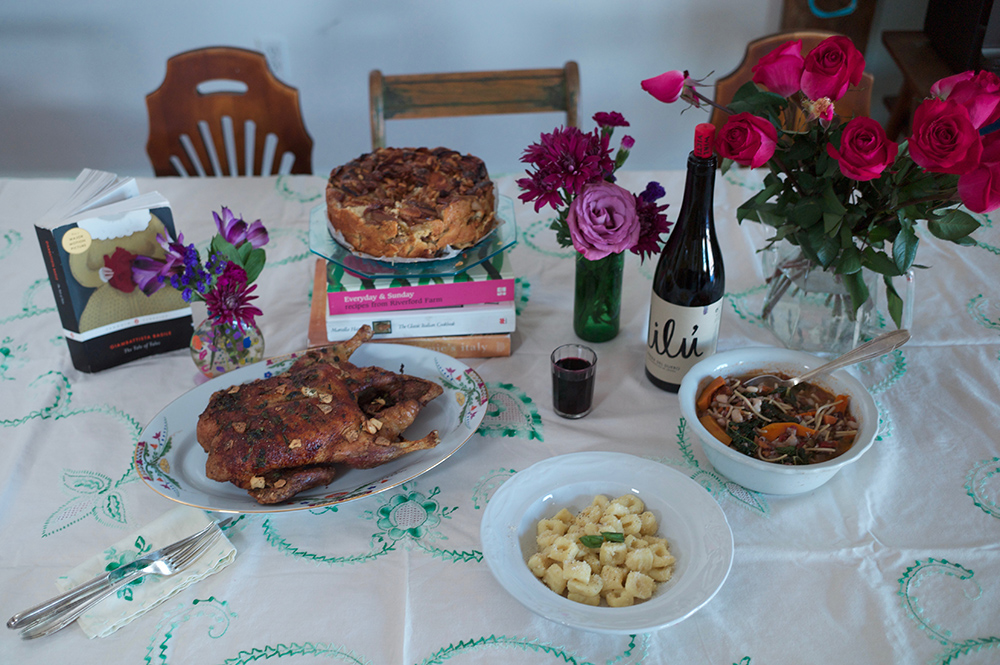 The first and most deliciously weird collection of European fairy tales comes not from the Brothers Grimm but from Giambattista Basile (1575–1632), a poet, courtier, and feudal administrator from Naples. Because Basile wrote in the Neapolitan dialect, The Tale of Tales—in the original, Lo cunto de li cunti—has been obscure for most of its history. The first authoritative English translation, by Basile scholar Nancy Canepa, appeared only in 2007. For those of us who read to enter different skins and live in different worlds, the book is a treasure box of estranging language and metaphor. The tales are fantastical, but the greater thrill is how the writing brings alive the details and sensibilities of daily life in Baroque-period Italy, six hundred years ago. Here is Basile describing a pretty young girl:
She truly was a delectable morsel: she looked like tender curds and whey, like sugar paste; she never turned the little buttons of her eyes without leaving hearts perforated by love; she never opened the basin of her lips without doing a little laundry of souls.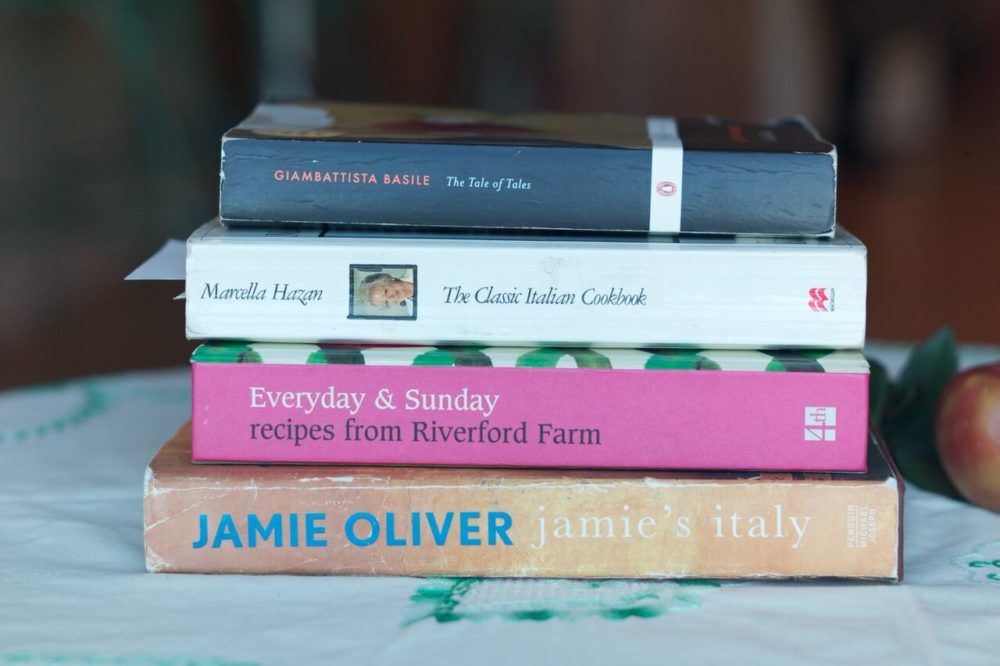 I find it intriguing that the tastiest comparisons Basile had for a pretty girl were "curds and whey" and "sugar paste," and I'm impressed by his subtlety—is our girl, perhaps, a little bland?
Elsewhere, a young man who harms the king's son is forced to flee his village (on an enchanted horse) and utters the following fabulous paean to all the things he'll miss:
Farewell carrots and chard; farewell fritters and cakes; farewell broccoli and pickled tuna; farewell tripe and giblets; farewell stews and casseroles! Farewell flower of cities, glory of Italy, painted egg of Europe, mirror of the world! Farewell, Naples, the non plus ultra where virtue has set her limits and grace her boundaries! I leave you to become a widower of your vegetable soups; driven out of this dear village, O my cabbage stalks, I must leave you behind!
I made a menu from Basile's work, sadly forgoing the curds and whey and another tempting passage where a young woman makes a life-size sugar-paste statue of herself to tease her lover. (Too much work, even for me.) Inspired by the "farewell" passage, I baked my favorite Italian cake, from the cult Riverford Farm Cookbook, written by the owners of an organic farm in Devon, and winterized my favorite minestrone from Jamie's Italy by Jamie Oliver. I also drew on a Basile story where a young woman wins her freedom from an ogress by cooking a superlative meal of "a nice duck" stuffed with lard, garlic and herbs, and gnocchi kneaded "on an upside-down basket." She lays this feast out on a table decorated with roses and branches of bitter orange.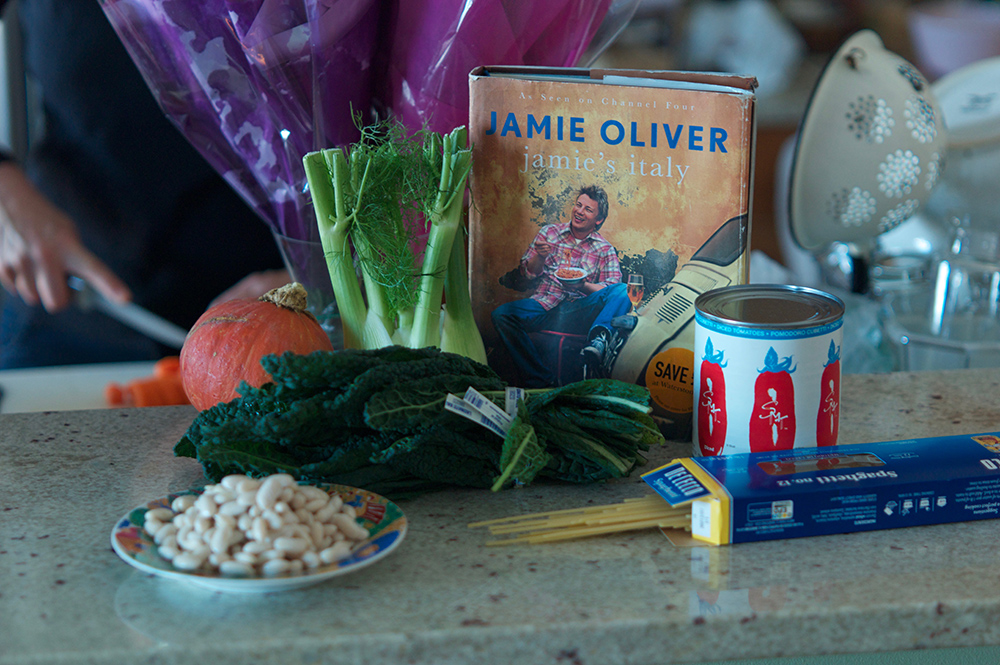 Italian food is the most forgiving of all cuisines and the results, I thought, were fairy tale-like. The duck was particularly intimidating to procure and took over two hours to cook but otherwise was not much more difficult than roasting a chicken. The fat was perfectly rendered and the meat really was as tender as curds and whey, as toothsome as sugar paste …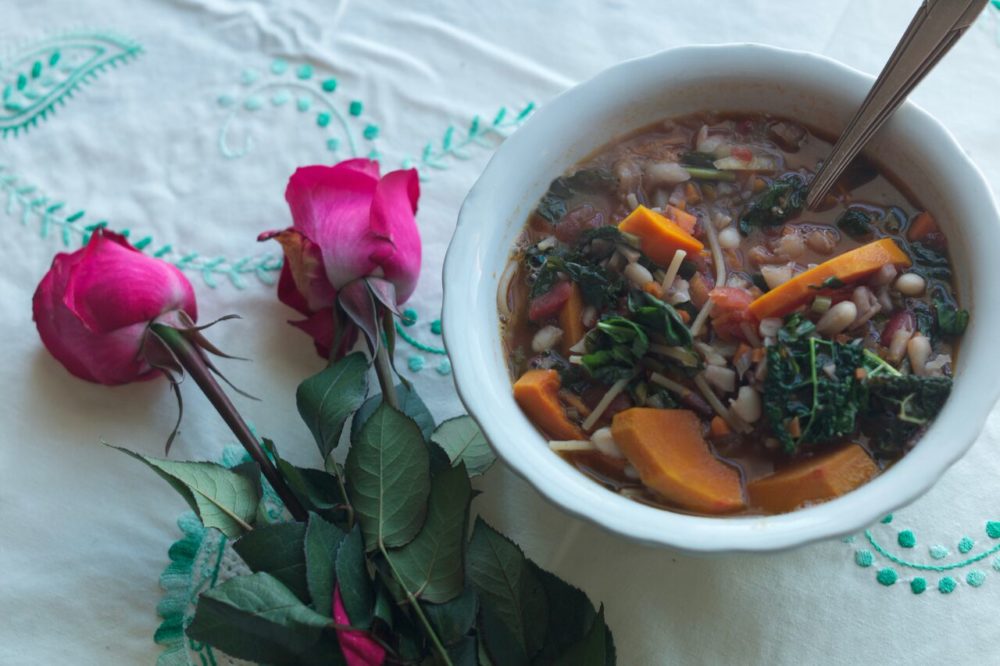 "I Shall Be A Widower of Your Vegetable Soups" Vegetable Soup
Adapted from Early Autumn Minestrone in Jaime's Italy, by Jaime Oliver.
1 cup dried cannellini beans, soaked overnight
1 bay leaf
1 tomato, squashed
1 small potato, peeled
sea salt and freshly ground black pepper
olive oil
4 rashers of bacon
2 small red onions, peeled and finely chopped
2 carrots, peeled and chopped
1 wedge of celery root, peeled and finely chopped, about 1/2 cup in volume
3 cloves of garlic, peeled and finely chopped
1 small bunch of fresh basil, leaves and stems separated, stalks finely sliced
800g tin of diced tomatoes
1 cup red wine
1 wedge of a small pumpkin or squash, cut in large slivers
1 bunch Italian kale, chopped in large pieced including stems
2.5 cups chicken stock
2oz dried pasta
parmesan cheese to serve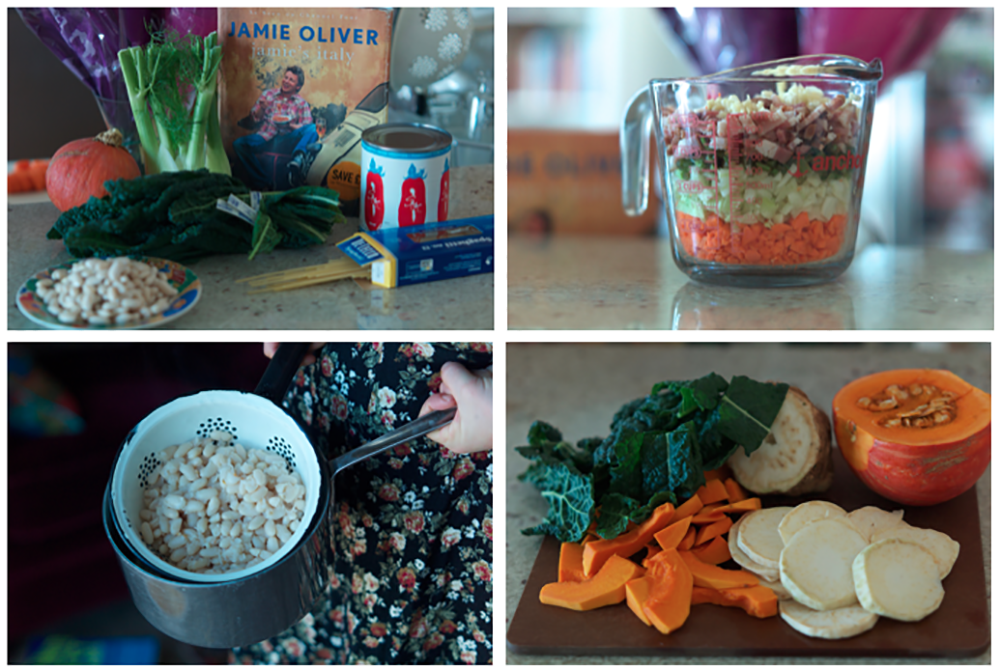 Add your soaked dried beans to a pot and cover with about 2 inches of cold water. Add the bay leaf, potato and squashed tomato—this will help flavor the beans and soften their skins—and bring to a boil. Turn down to a simmer and cook the beans until they've softened, time can vary dramatically. Start checking at 30 minutes.
Drain the beans, reserving the cooking water. Toss with a glug of olive oil, and season with salt and pepper.
While the beans are cooking, make your soffritto. Heat a good splash of olive oil in a large dutch oven or 6 quart pan for soup. Add the chopped bacon, onions, carrots, celery root, fennel, garlic and finely sliced basil stalks. Sweat very slowly on a low heat, with the lid just ajar, for 20 minutes until soft but not brown.
Add the canned tomatoes, pumpkin slivers and red wine and simmer gently for 15 minutes.
Add the kale, stock and cooked beans. Break the dried pasta into pieces and add to the soup. Continue to simmer until the pasta is cooked.
If you think the soup is too thick, add stock or reserved bean water till it reaches the desired consistency. Season with salt and pepper and serve topped with grated parmesan cheese.
Note: The leftover soup will thicken considerably in the fridge. Save the reserved bean-water or keep extra stock on hand and re-do the last step to re-serve.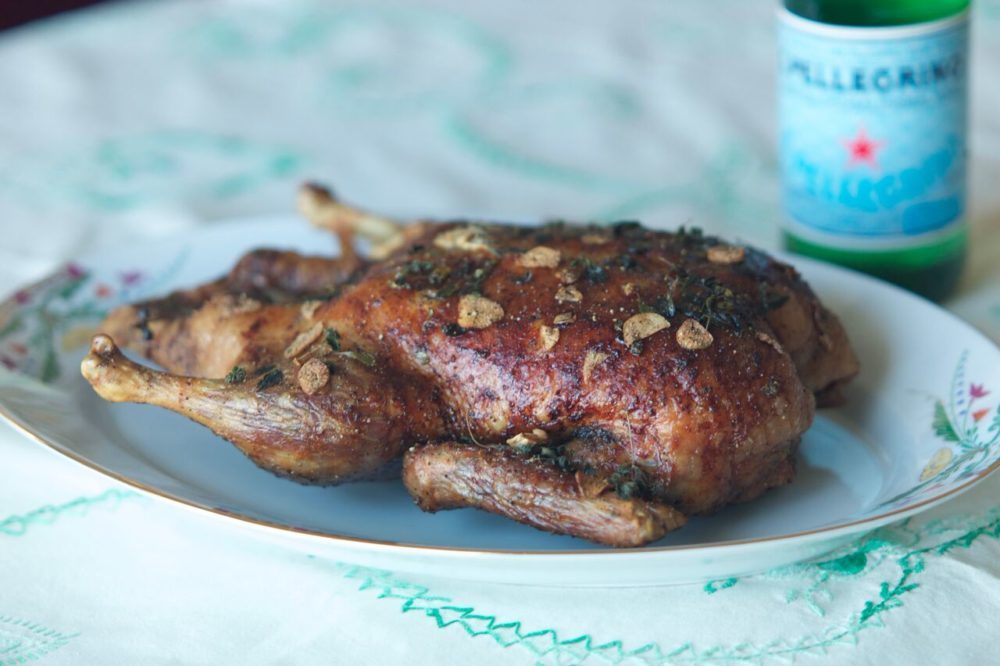 Roasted Duck Stuffed with Lard, Garlic and Marjoram
1 fresh duck; available at better grocery stores or specialty butchers
lard (I used leaf lard from Flying Pigs Farm)
1 bunch marjoram
1 head of garlic
Pre-heat oven to 350 degrees.
Rinse the duck under cold water, and dry with paper towels. Carefully and thoroughly rub with pork lard outside and inside, season thoroughly on all sides with salt and freshly ground pepper, stuff the cavity with a dozen pieces of garlic and a handful of marjoram sprigs.
Puncture the skin with the tip of a sharp knife in a dozen places all over the bird, taking care not to pierce the meat. Let sit uncovered in the fridge for some time.
Roast for 2 hours, pouring out the fat and turning carefully (in order not to break the skin) every 30 minutes. Note on pouring out the fat: Set out a plate large enough to hold the duck and a sturdy wooden spatula. Take the duck in the roasting pan out of the oven and set it next to the plate. Using a pot-holder to hold the roasting pan steady with one hand, insert the spatula into the cavity of the duck. Lift, carefully in order not to break the skin, and transfer to the plate. Now you can pour your fat out from the empty roasting pan, put the duck back in using the same method, and return to the oven.
Sprinkle with 3 to 5 cloves of thinly sliced garlic and a few tbs chopped marjoram leaves, roast another 15 minutes.
Let sit for 15 minutes before carving.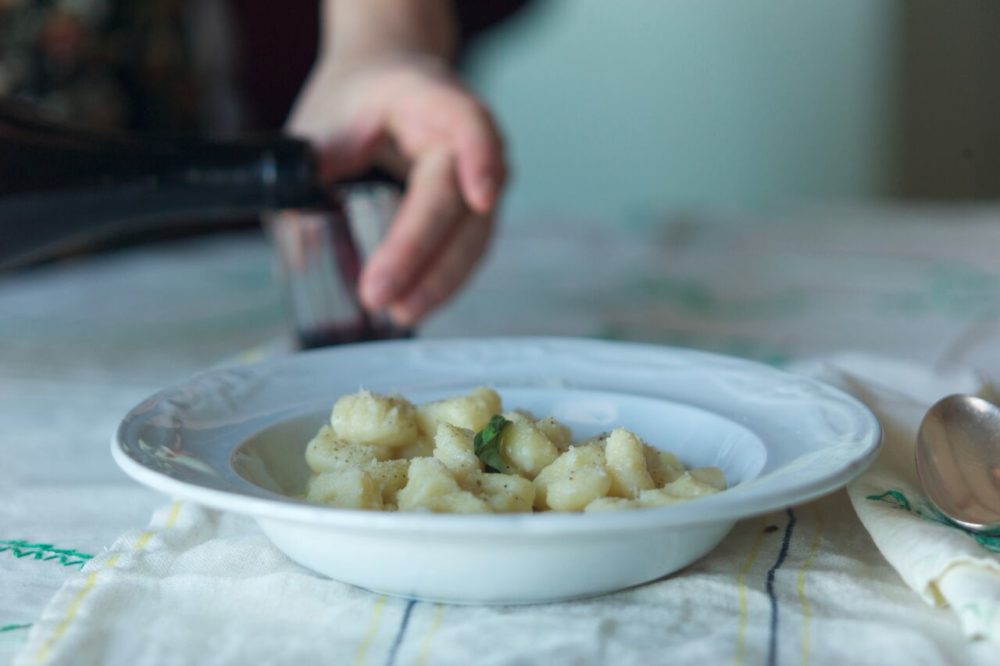 Ogress Gnocchi
From The Classic Italian Cookbook by Marcella Hazan.
Specialty equipment required: food-mill or potato ricer. 
1 1/2 lbs boiling potatoes, preferably yellow-fleshed, with a nice flavor
scant 1 cup flour
salt, pepper, olive oil and parmesan cheese to serve
Boil the potatoes, still in their skins, in abundant salted water until they're soft, around 20 minutes depending on size. (You don't want them to be too al dente or they will be difficult to process.)
When they're cooked, drain them and peel as soon as you can handle them. Chop into large chunks and put through a food mill or potato ricer.
Add most of the flour to the riced potatoes and knead into a smooth mixture. Some potatoes will take more flour than others, so it is best not to add all the flour at once. Stop adding flour when the mixture is soft, smooth and still slightly sticky.
Shape into sausage-like rolls about as thick as your thumb, then cut the rolls into 3/4 inch lengths.
Dust your working surface, your fingers and a fork with rounded, slim tines with flour.
The following process to shape the gnocchi sounds more complicated than it is. Hold a fork in your left hand, horizontal to the counter top, with the concave part facing you. With the other hand, place a dumping just below the tip of the tines and press it with your index finger, which should be perpendicular to the fork. While pressing the dumpling with your finger, flip it away from the tine tips and towards the handle. As it rolls to the base, let it drop to to the countertop. The dumpling will be somewhat crescent-shaped, with ridges on one side and a deep depression formed by your fingertip. This helps it cook more evenly and makes the sauce stick better.
Drop the gnocchi, about 2 dozen at a time, into boiling salted water. In a very short time they will float to the surface. Let them cook about 8 to 10 seconds more, until they puff up, and remove with a slotted spoon.
Serve hot with butter or oil, salt, and grated cheese.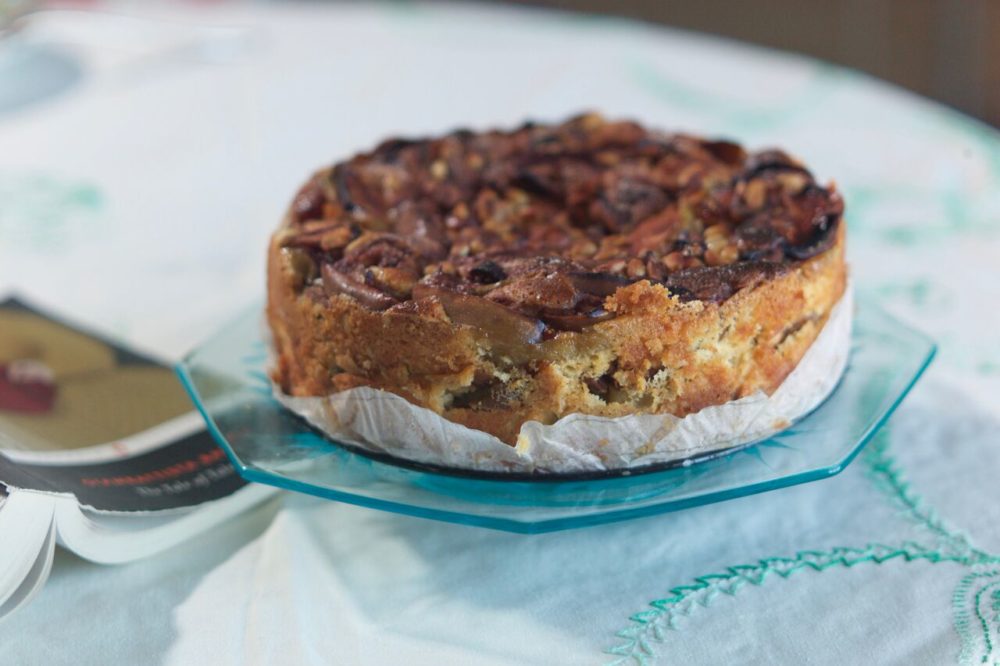 Italian Apple Cake
From Everyday & Sunday: Recipes From Riverford Farm by Guy Watson and Jane Baxter. 
For the cake:
unsalted butter, for the tin
1 tbs almonds, ground
1 cup flour
1 1/2 tsp baking powder
1/4 tsp baking soda
1/2 tsp salt
2.5 lbs good eating apples, cored and thinly sliced, around 8-9 cups
1/2 cup pine nuts, toasted
2/3 cup dried figs, chopped
1/2 cup light brown sugar
1/2 cup white sugar
3 eggs
1/4 cup milk
For the sugar topping:
2 tbs white sugar
1 tbs powdered sugar
1 tsp ground cinnamon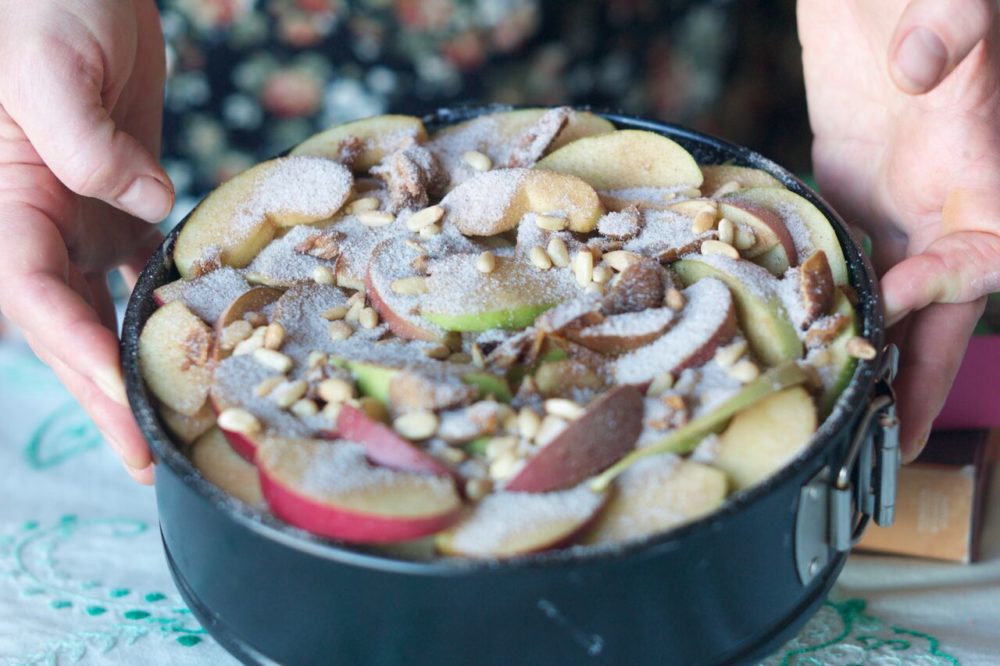 For the honey syrup:
1 tbs honey
juice of one lemon
Preheat the oven to 325.
Line a springform cake tin with baking parchment, taking care that the paper goes a bit up the sides of the tin to prevent batter leakage.
Butter the paper and scatter it with ground almonds, tipping and shaking the tin until the paper is evenly coated.
Mix the flour, baking powder, baking soda and salt together in a small bow. Set aside.
Beat the sugars and eggs until pale and light.
Add the milk, and then fold in the flour mixture; this is your batter.
Layer a third of the apples in the bottom of the tin. Sprinkle a third of the pine nuts and figs on top. Pour on half of the batter.
Layer another third of the apples, figs and pine nuts on top. Pour over the remaining batter, then finally place the remaining apples, figs and pine nuts.
Mix all the ingredients for the sugar topping together and sprinkle over the cake.
Bake for 1 hour and 20 minutes, until firm to the touch and a skewer inserted in the center comes out clean.
While the cake is cooking, bring the lemon juice to a boil, add the honey, and stir. Set aside.
Pour the honey-lemon syrup over the finished cake, while it is still in the tin.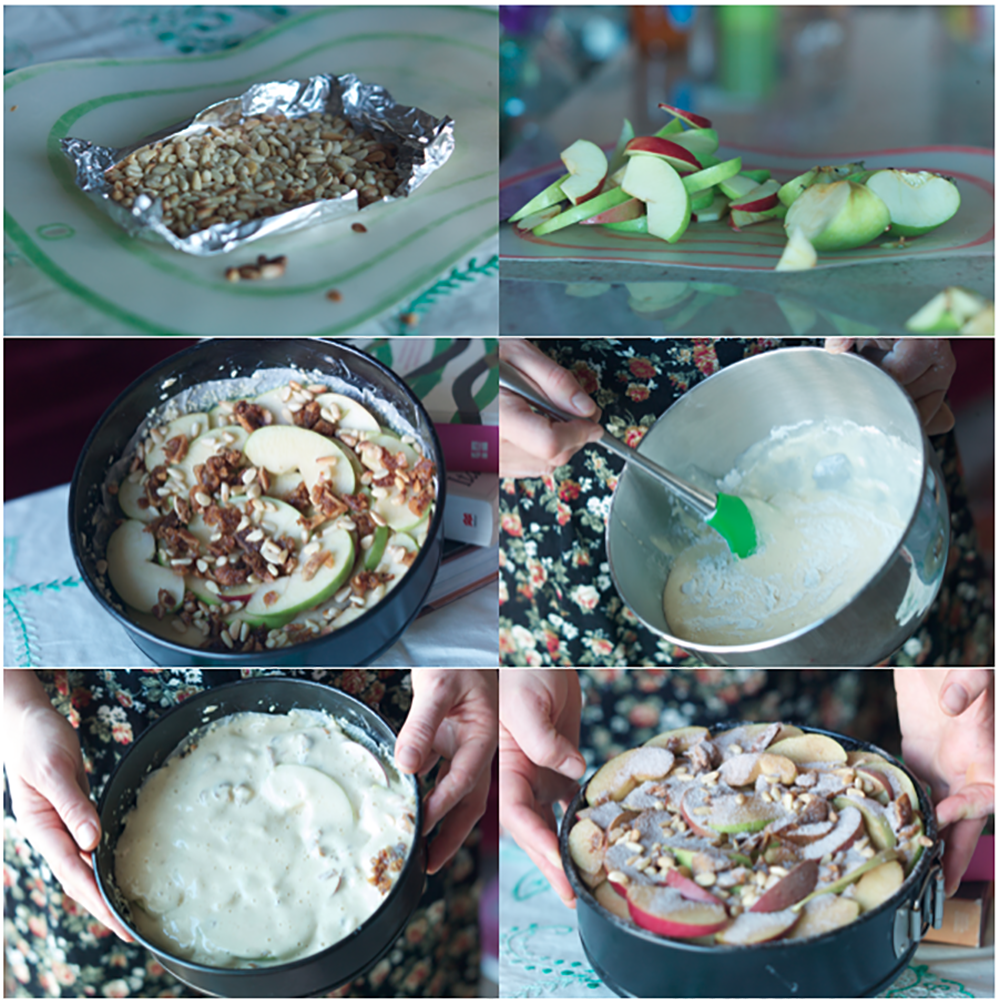 Valerie Stivers is a writer based in New York.
Read other installments of Eat Your Words here.