This is the sixth installment of Valerie Stivers's Eat Your Words column.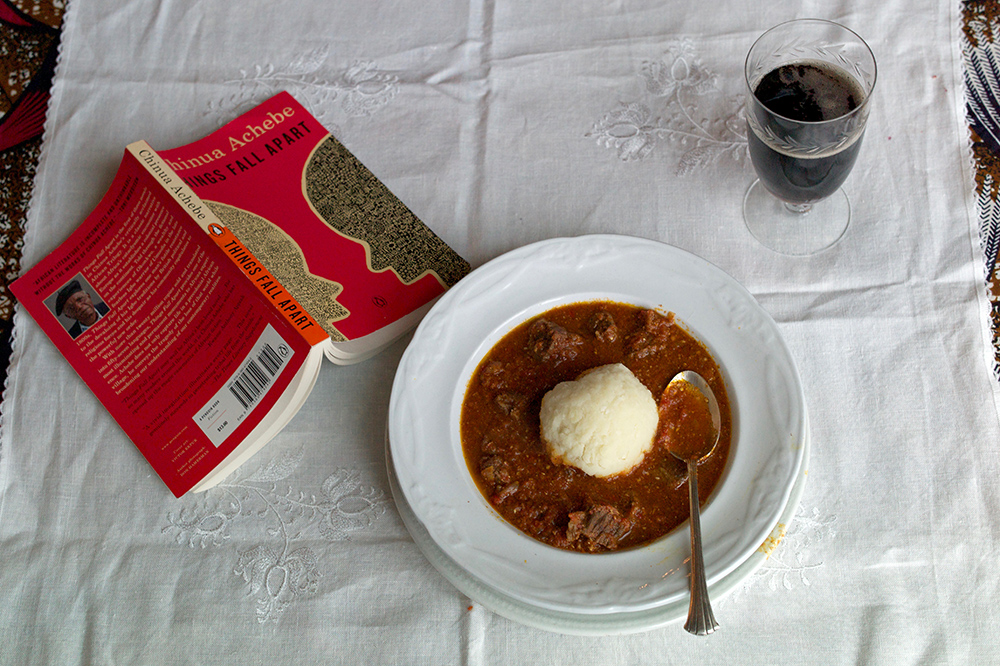 My winding path as a reader has led me to a personal specialty in Nigerian literature. I know about the country's civil war from 1967 to 1970, its languages and ethnic groups, its Harmattan winds and mellifluous names. I can name-drop hipster cafes in Lagos, where I have been only in fiction. My first love was Chimamanda Ngozi Adichie, but my random late-night Internet searches for her biography and interviews turned me on to others, to Chigozie Obioma, to the feminist expatriate Buchi Emecheta, and finally to the éminence grise Chinua Achebe (1930–2013). Achebe was one of the founding fathers of post-colonial African fiction, a writer who worked in opposition to the racist literature of his British-educated youth. Achebe's essay critiquing Heart of Darkness, written in 1975, was a revolutionary event in Conrad studies, and to this day he's one of the most-lionized of all African writers.
Achebe had a keen eye for social organization, which means he writes a lot about food. In his 1956 classic, Things Fall Apart, yam farming is the lifeline of the village, the size of a man's harvest determines his status, and his multiple wives each make him a soup to go with his evening foo-foo, a pounded yam dish. How is foo-foo made? Is it good? If I were the wife of a polygamous yam farmer and competitive about my cooking—which of course I would be—would my soup be the best one on the evening's table? Or would I be like Nwayieke, a woman in the village "notorious for her late cooking," the sound of whose wooden mortar and pestle is "part of the night." Naturally, I want to know.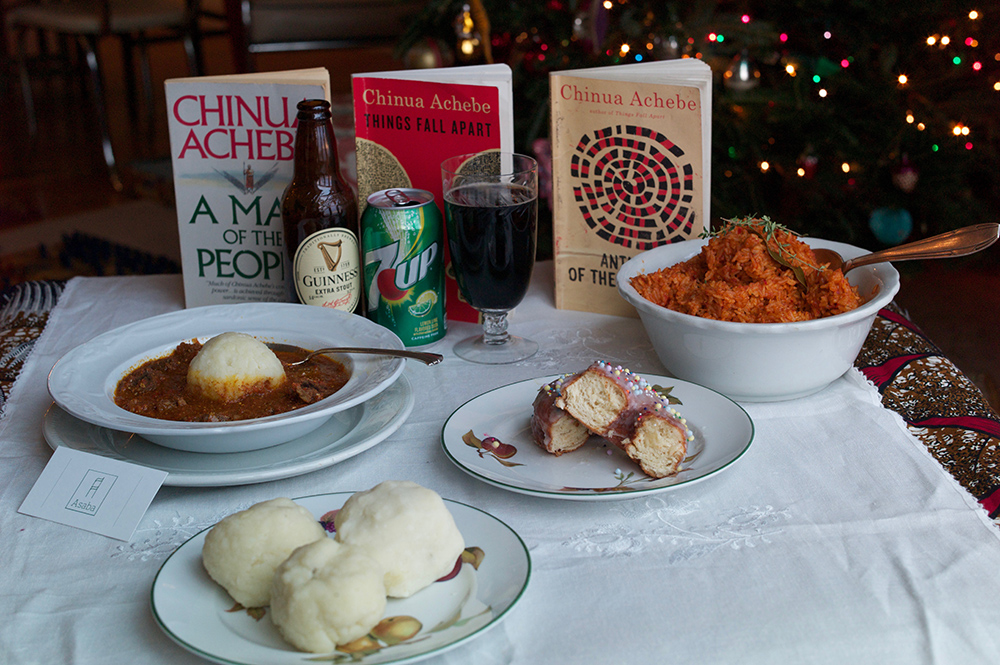 The book, Achebe's first, is the story of a traditional Igbo village's disastrous first contact with whites. In Anthills of the Savannah, published in 1987, his last novel, the dreamers and intellectuals of a fictional African regime watch as a beloved president becomes a dictator. There, at one of his excellency's parties, a lavish retreat funded by public money, the food is inflected with England: "Shrimp cocktail; jollof rice with plantain and fried chicken; and fresh fruit salad or cheese and English crackers for dessert." The characters drink wine or gin and tonic, and two women have "a shandy of Stout and Seven Up which one of them … apostrophized as Black is Beautiful."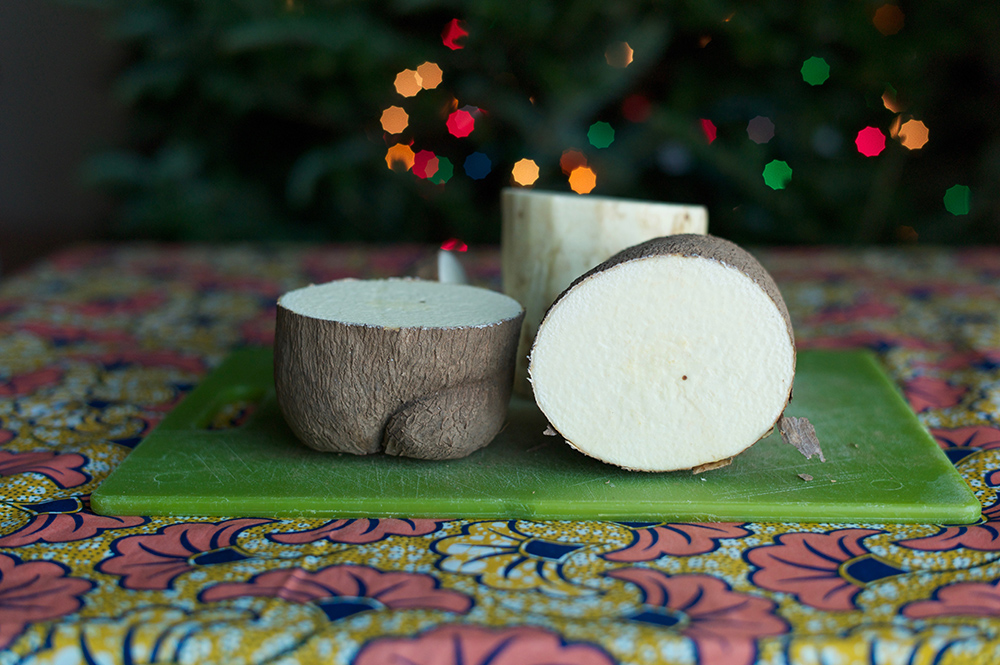 For my maiden foray into any kind of African cooking, I went to Keita West African Market, in Brooklyn, which sells the type of enormous, white-fleshed, dark-skinned yams used for foo-foo, and other specialty ingredients. There, I was lucky to find a card for Precious Olisadum, the twenty-one-year-old founder of an informal Nigerian pop-up restaurant and delivery service called Asaba Kitchen. Olisadum gave me her recipe for jollof rice, Nigeria's signature dish of rice cooked in a tomato-pepper puree, and a recipe for a traditional soup called egusi to serve with my foo-foo. The smiling woman behind the counter at Keita said pounding the foo-foo would be difficult but the results would be much better than buying powdered yam, as modern women now do. I peeled the yam, steamed it, and then pounded the steamed chunks in a large stone mortar and pestle, using only the starchiest center parts, as instructed. The foo-foo achieved what I believe to be the correct fluffy-but-stretchy texture within minutes, and had a wonderful, delicate floral taste and aroma. Olisadum's rice and egusi, which is a beef stew with tomatoes, peppers, and melon seeds as thickener, were powerfully flavorful, and the kind of spicy that gets you high. At Asaba, Olisadum serves "puff puff," a traditional fried-dough ball, for dessert. I made doughnuts instead, starting with a recipe on a Nigerian food blog called Dobby's Signature, and, inspired by a sudden nostalgia for 7 Up, I tried the shandy, too.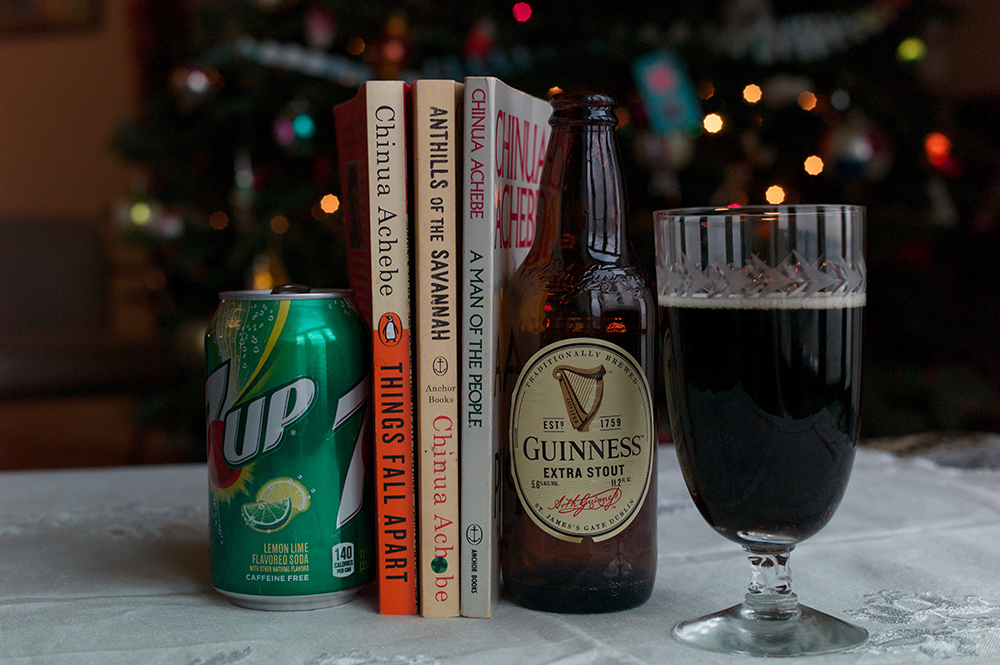 Shandy of Stout and 7 Up
8oz (1 cup) stout beer
2 oz (4 tbs) soda
Mix and drink!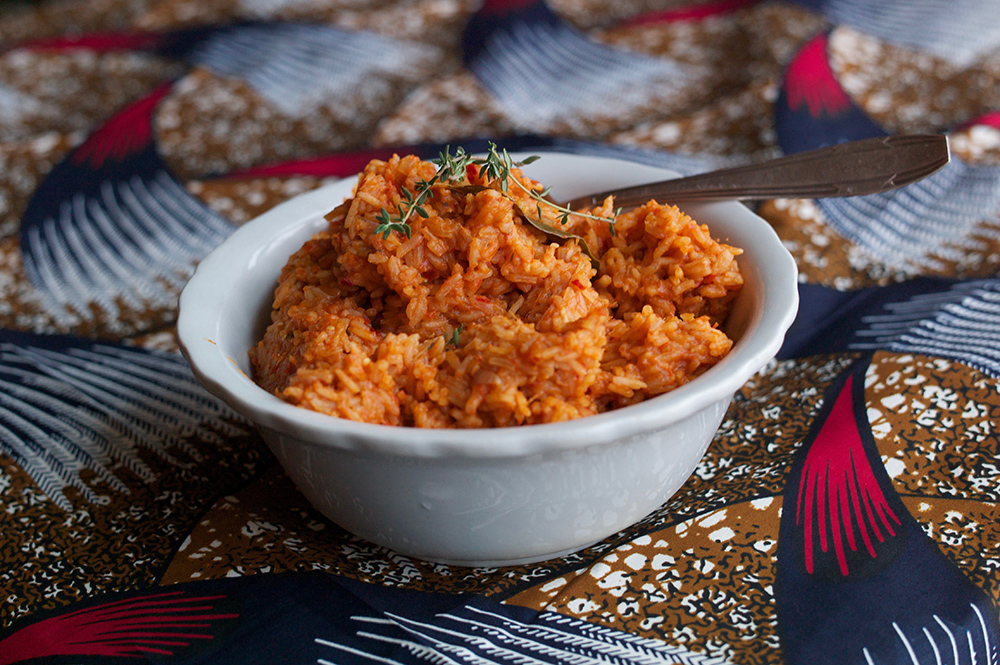 Jollof Rice
Slightly adapted from the rice served at Asaba Kitchen.
3 cups of rice, thoroughly washed to remove the starch
1/8 cup of palm oil
1 red onion, diced, plus 2 red onions, roughly chopped
1/4 tsp thyme, plus 1/4 tsp thyme
1/8 tsp curry powder, plus 1/4 tsp curry powder
1 tsp of tomato paste
4 tomatoes, roughly chopped
2 red bell peppers, roughly chopped
1 scotch bonnet pepper
3 garlic cloves
2 tbs ginger, roughly chopped
2 sprigs of basil
3 California chili pods or juajillo peppers, soaked and reconstituted, but not de-seeded
2 1/2 tbs Maggi powdered chicken bullion
1 tbs onion powder
1 tbs ground ginger
1/2 tbs Cameron or cayenne pepper
3 bay leaves
1 cup of water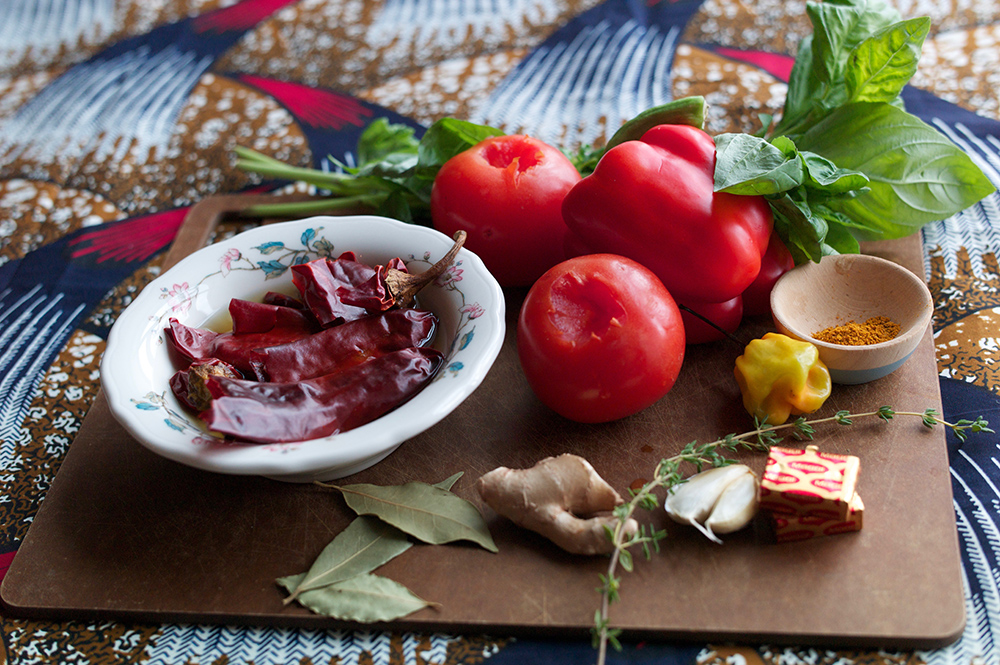 Pour the palm oil in a large pot or Dutch oven on high heat, add 1/4 tsp thyme, 1/8 tsp curry powder and the diced onion, lower the heat to medium and fry until almost translucent.
Add the tomato paste, stir, and let that fry for 10 more minutes.
In the meantime, blend the remaining onion, tomatoes, red peppers, California peppers, whole scotch bonnet pepper, garlic, ginger, basil, and soaked California chili pods.
Add the blended mixture to the pot of frying onions, plus the remaining spices—the powdered bullion, onion powder, ginger, Cameron or cayenne pepper, 1/4 tsp thyme, 1/4 tsp curry powder, and 3 bay leaves. Cook for 20 to 30 minutes, longer if you had to add water to the puree, until the mixture is thickened and slightly reduced.
Add the rice and 1 cup of water, toss, turn the mixture super low and cover. Take the lid off and flip it from the bottom of the pan to the top with a spatula, periodically, to keep it from sticking. It should take 1 hour for the rice to cook to perfection.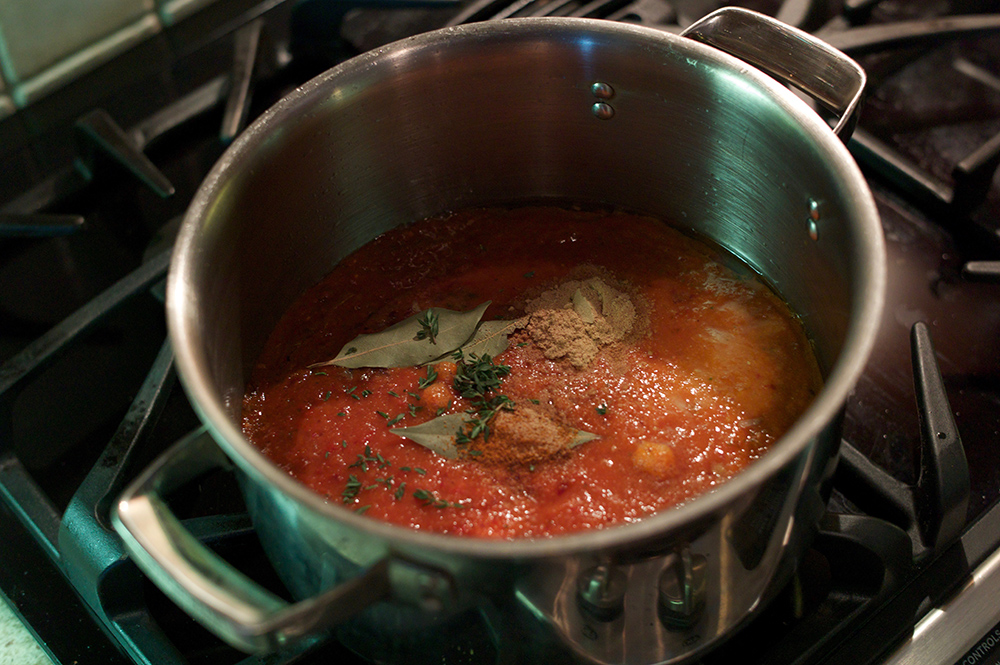 Egusi Soup with Foo-Foo
Slightly adapted from the soup served at Asaba Kitchen.
For the soup:
1 1/2 lbs good stew meat, trimmed of excess fat and cut in small chunks, at room temperature
1/4 cup of palm oil
1 tbs Cameron, cayenne, or other spicy pepper (I used Aleppo)
2 tbs; plus 1 tbs of Maggi powdered chicken bullion
3 red bell peppers
1 medium tomato
2 red onions
2 tbsp of powdered crayfish (optional)
1/2 to 3/4 cup of egusi (ground melon seeds)
Fry the Cameron pepper and the 2 tbs bullion powder in a drizzle of palm oil in a medium saucepan on high heat, just until fragrant.
Add the beef, toss, and brown.
Add just enough water to cover and cook on low heat for 30 minutes, covered.
Dice one of the red onions.
In another pot, heat the remaining palm oil (carefully, it gets hot quickly and can ignite) and sauté the onion along with the powdered crayfish until translucent, about 10 to 15 minutes.
Meanwhile, puree the bell peppers, tomato, and remaining onion.
Add the pepper puree to the cooked onions and cook for 5 minutes.
Add the egusi to the onion-pepper mixture and cook for 5 more minutes, adding 1/2 cup broth from the beef pot if the puree is too thick.
Add the beef, with the rest of its liquid, and simmer for an additional 30 minutes, stirring occasionally.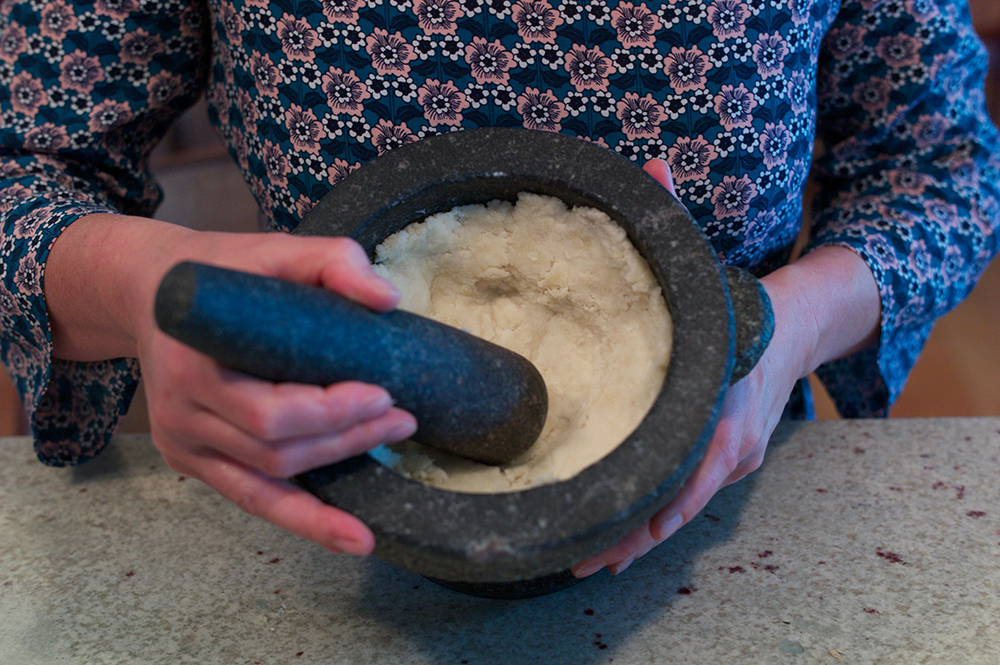 For the foo-foo ball:
1 African yam
Large pot of boiling water
Large mortar and pestle
Peel and chop a segment from the middle of the yam into 2-inch chunks, making about 4 cups.
Boil for 10 to 15 minutes until a knife slips in easily.
Drain the pot, reserving 1 to 2 cups of the water.
Let the yam cool just enough to handle, then pour the wet, steamy chunks into the mortar, just enough that you have room to comfortably pound without things overflowing, and pound until the dough is smooth, stretchy, and comes together. It should be light and flexible.
If the dough seems stiff or dry, add some of the reserved water, but only once it's been pounded to smoothness and the desired consistency.
Work in several batches. Should make about four tennis-size balls of foo-foo.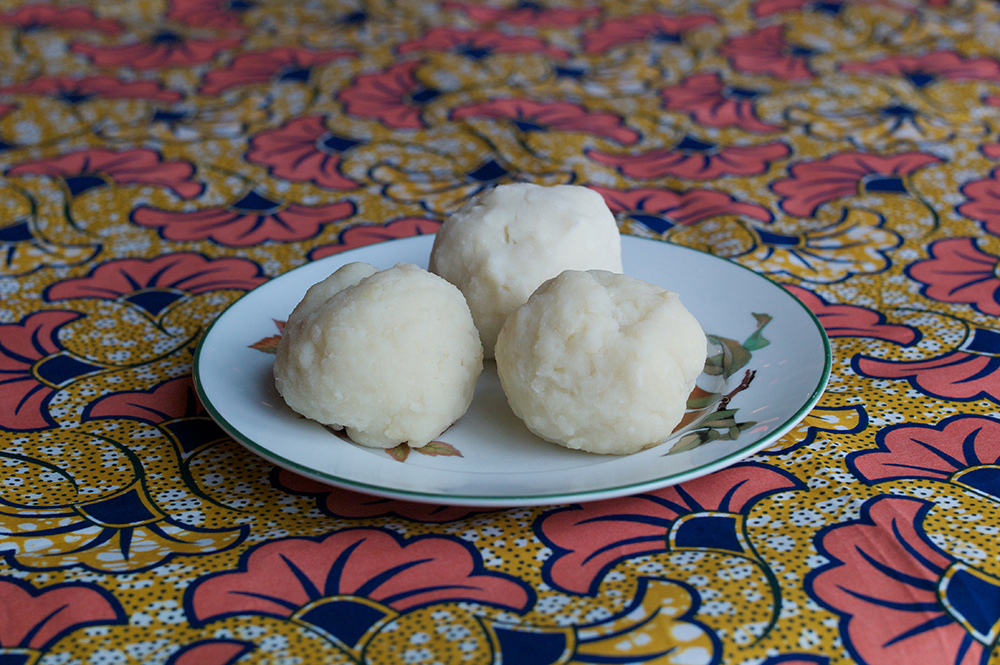 To assemble:
Put the foo-foo ball in the center of a bowl and ladle the soup around it. Alternatively, you can serve the foo-foo on the side and use your fingers to pull off bits, then dip into the soup.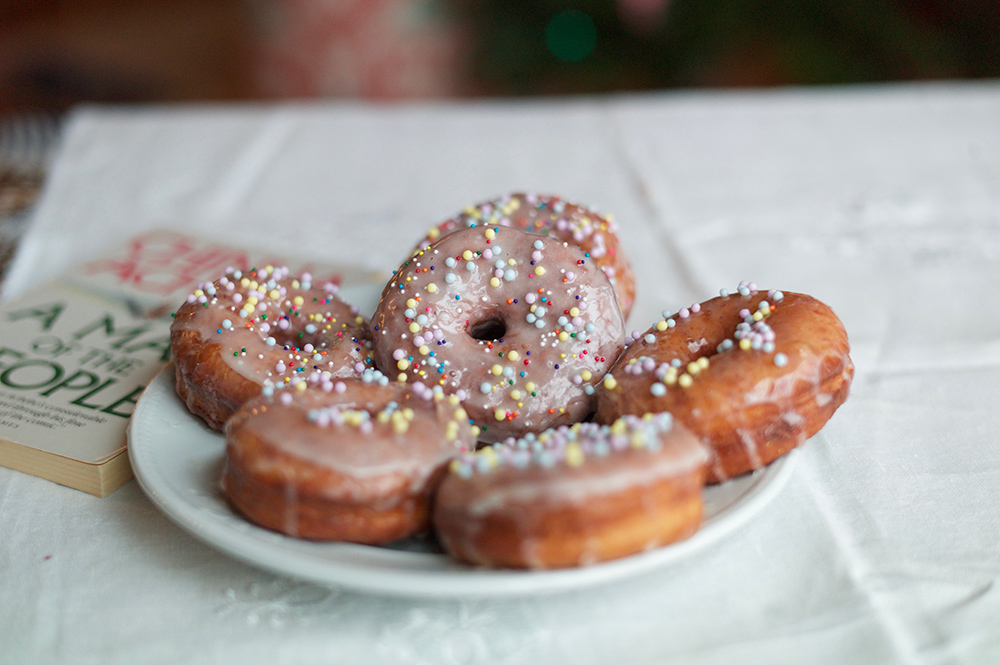 Nigerian-Style Doughnuts
I started with a recipe from a wonderful Nigerian food blog called Dobby's Kitchen but had every difficulty imaginable recreating it. The following is the doughnut recipe from the Pioneer Woman, sweetened up to be more African. The dough needs to rest in the fridge overnight, which is annoying, but this method was more mistake-proof for me than the others.  
For the doughnuts:
1 1/8 cup whole milk, lightly warmed
1/2 cup sugar
2 1/4 tsp (one package) yeast
2 whole large eggs, lightly beaten
1 1/4 stick unsalted butter (10 tbs), melted but not too hot
4 cups flour
1/2 tsp salt
6 cups canola oil for frying
For the glaze:
1 1/2 cups confectioner's sugar
3 tbs milk
Nonpareils for sprinkling
To make the dough:
Add the sugar to the warm milk, stir to dissolve.
Sprinkle the yeast on the milk-sugar mixture, stir, and set aside till it gets frothy.
Whisk the warm butter into the beaten eggs.
Combine the butter mixture with the yeast mixture in the bowl of a stand mixer fitted with a dough hook.
Leaving the mixer running, measure out 4 cups of flour and whisk in 1/2 tsp salt.
Add the flour to the wet ingredients in the mixer in 1/2 cup increments.
Let it mixer run for 8 to 10 minutes until the dough is stretchy and has formed a ball.
Transfer the dough to a lightly oiled bowl, cover with plastic wrap, and put in the fridge overnight.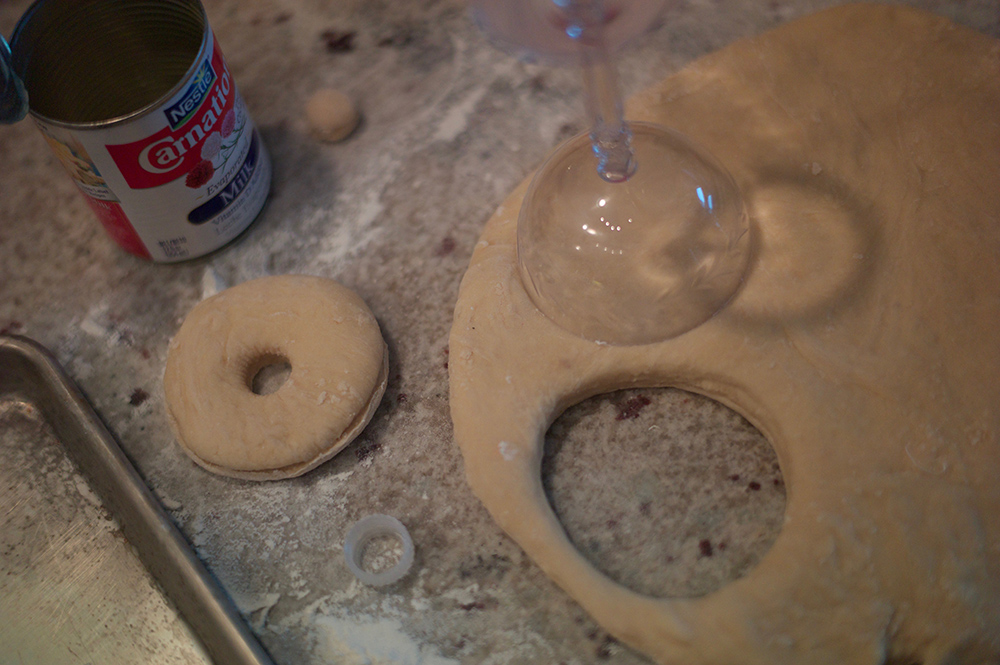 To make the doughnuts:
Take the dough out of the fridge—it should have doubled in volume—punch it down, and roll it out to about 1/2 inch thick on a lightly floured surface.
Lightly flour two baking trays for the doughnuts to rise on.
Cut out doughnut shapes using whatever you have on hand that's close to the right size; I used a Champagne glass and the collar of a pastry bag.
Let the formed doughnuts rise, covered with a cloth, until they look light and puffy; this will take about an hour and will not happen unless they're in a warm, non-drafty place. If it's winter where you are, an oven preheated to 200° then turned off and the door left open works.
Pour the canola oil into a saucepan and heat on medium high to 375°. A deep-fry thermometer is essential. If you don't have one, like I didn't, the doughnuts will get too dark (if the oil is too hot) or too greasy (if it's too cold).
Working in batches, fry the doughnuts for around 45 seconds to a minute per side, until golden in color and cooked through.
Drain on a wire rack covered with paper towels, flipping to soak off the grease.
Let doughnuts rest for three to five minutes, until cool enough to handle, before dipping in glaze and sprinkling on nonpareils. It's easier to dip and sprinkle while doughnuts are still warm.
Read earlier installments of Eat Your Words here. 
Valerie Stivers is a writer based in New York.