This is the fourth installment of Valerie Stivers's Eat Your Words column.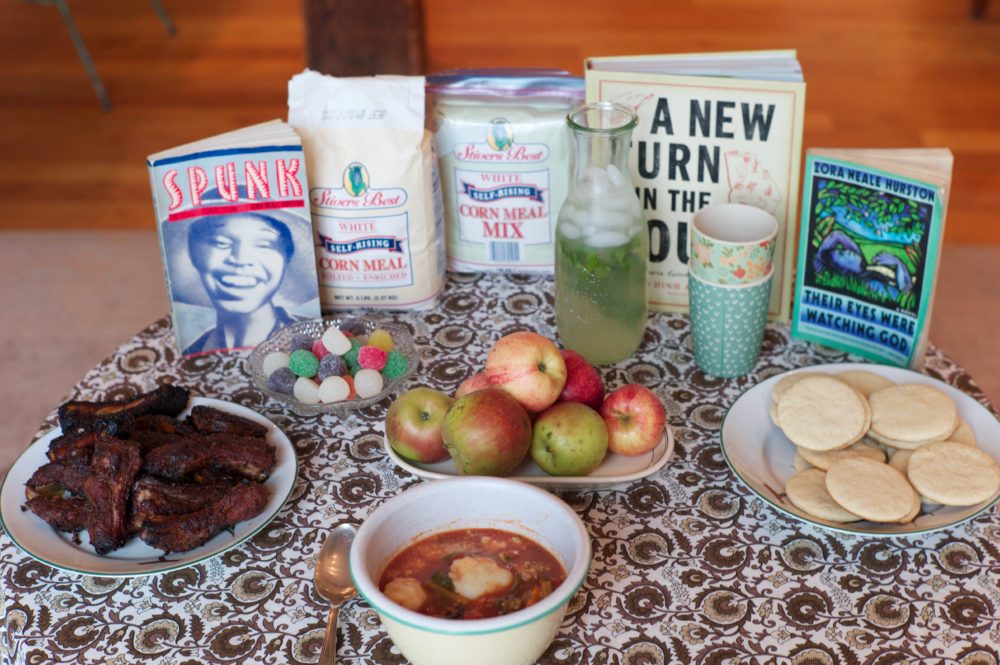 In Their Eyes Were Watching God, the 1937 novel on black Southern womanhood by Zora Neale Hurston (1891–1960), people eat soda crackers with cheese, drink lemonade or sweeten their water with ribbon cane syrup, and serve whole barbecued hogs with sweet-potato pone. A man on a spree offers fried chicken and macaroni for all, and Janie, the heroine, leaves her first husband after frying him a hoe-cake to go with his coffee.
"She dumped the dough on the skillet and smoothed it over with her hand. She wasn't even angry," Hurston writes.
Instead of a loveless marriage, Janie insists on having the sweet things in life. Her second husband buys her "the best things the butcher had, like apples and a glass lantern full of candies." And her great love is a handsome man 15 years her junior whom everyone calls "Tea Cake." (A tea cake is a classic of Southern cooking that's actually a simple round of sugar dough with a crisp bottom and chewy texture, something between biscuit and cookie.) Hurston's belief that the pursuit of happiness and sensuality was a worthy life goal, especially for a black woman, was radical when the book was published. She was criticized for being "pseudo-primitive," too female, too personal, not promoting black causes in the right way. Hurston died in obscurity and was only rediscovered in the 1970s thanks to the efforts of Alice Walker, who was teaching at Wellesley at the time.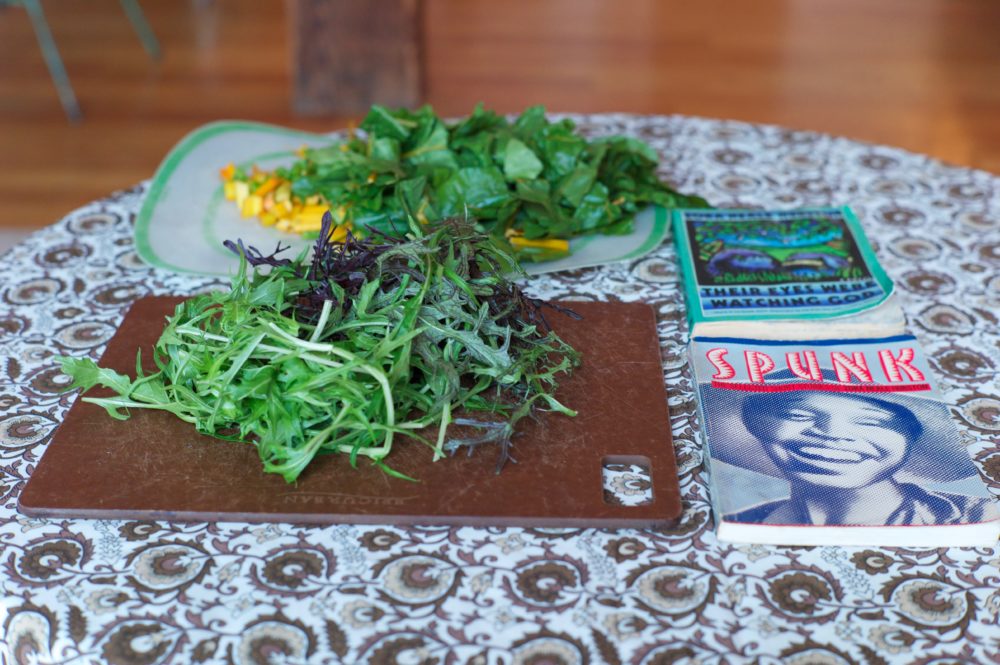 Janie knew she was going to be judged, and her response is thus (Hurston was also an anthropologist and folklorist, and used dialects throughout her work):
"To start off wid, people like dem wastes up too much time puttin they mouf on things they don't know nothin about. Now they got to look in to me loving Tea Cake and see if it was done right or not! They don't know if life is a mess of cornmeal dumplings and if love is a bed quilt!"
In honor of that wonderful image, I made cornmeal dumplings, which turn out not to be a dish on their own, but something you'd add to a soup; a fancy lemonade from the king of new Southern cuisine, Hugh Acheson; southern-style pork ribs with vinegar and molasses; and tea cakes, following a recipe that that the soul food blogger Divas Can Cook says her husband loves. It was homey, comforting and delicious, and my whole family had a post-dinner glow.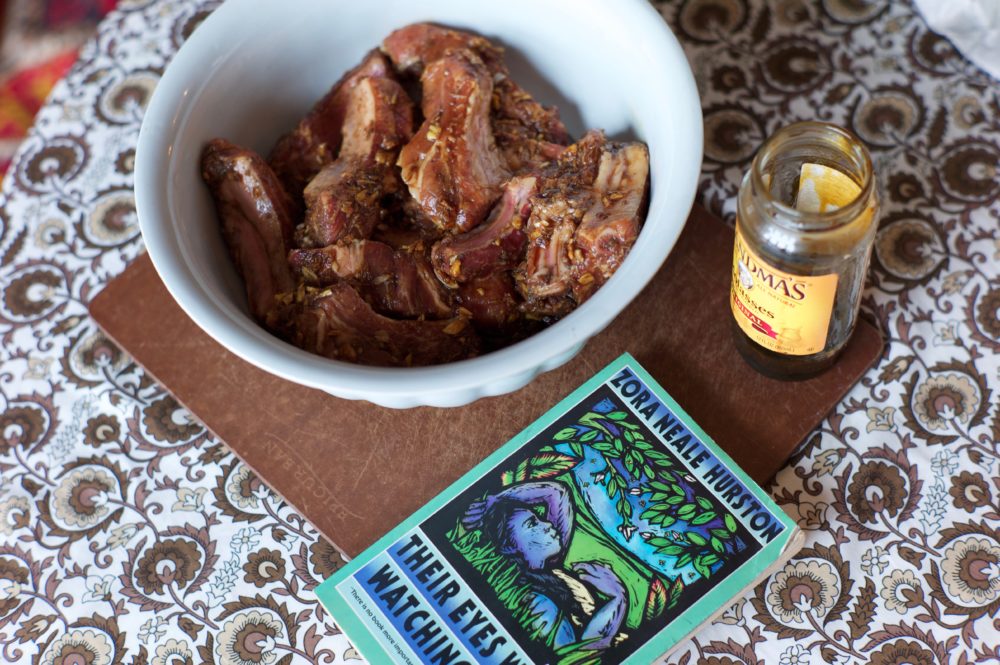 This menu also gave me an opportunity to use a niche pantry item, "self rising cornmeal," which I own only because it's one of the last survivors of a Stivers' Best family brand from the 1930s, and is still sold in Southern grocery stores. Usually I find recipes calling for self-rising ingredients to be frustrating, since if you don't have them they require conversions. But in this case, with both self-rising flour and self-rising cornmeal, the dumpling recipe comes together in a flash and seems legitimately like something a country home cook would make for an average dinner.
See, life is a mess of cornmeal dumpling, or can be if you have the right ingredients.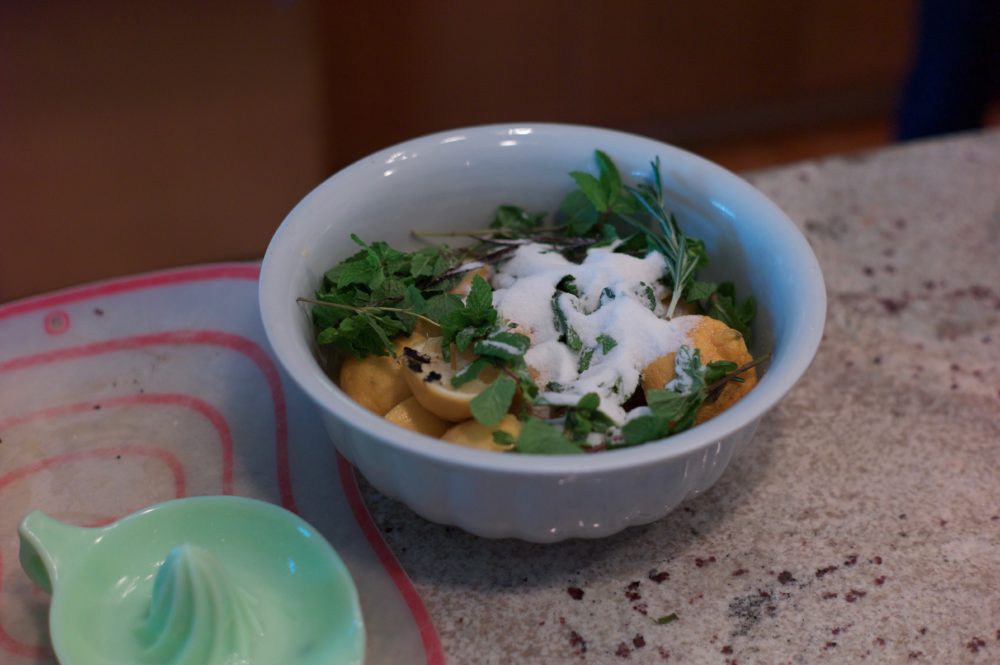 Lemonade with Vanilla, Mint and Rosemary
This recipe is slightly adapted from A New Turn in the South, by Hugh Acheson.
8 cups cold water
8 large lemons
1 1/4 cups granulated sugar
10 sprigs fresh mint
1/2 vanilla bean, scraped seeds and pod
1 sprig fresh rosemary
-Pour the water in a large pot and bring to a boil.
-While the water is coming to a boil halve the lemons, juice them, and put both lemon juice and juiced lemon halves in a very large nonreactive bowl that can take heat and won't be too full to stir.
-Add the sugar, two sprigs of the mint, the rosemary and the vanilla seeds and pod.
-Pour the boiling water over the mixture. Stir until the sugar dissolves, then let sit for 20 minutes.
-Stir again and strain.
-Discard the solids and pour the strained lemonade into mason jars to chill.
-Serve over ice, garnished with the extra sprigs of mint.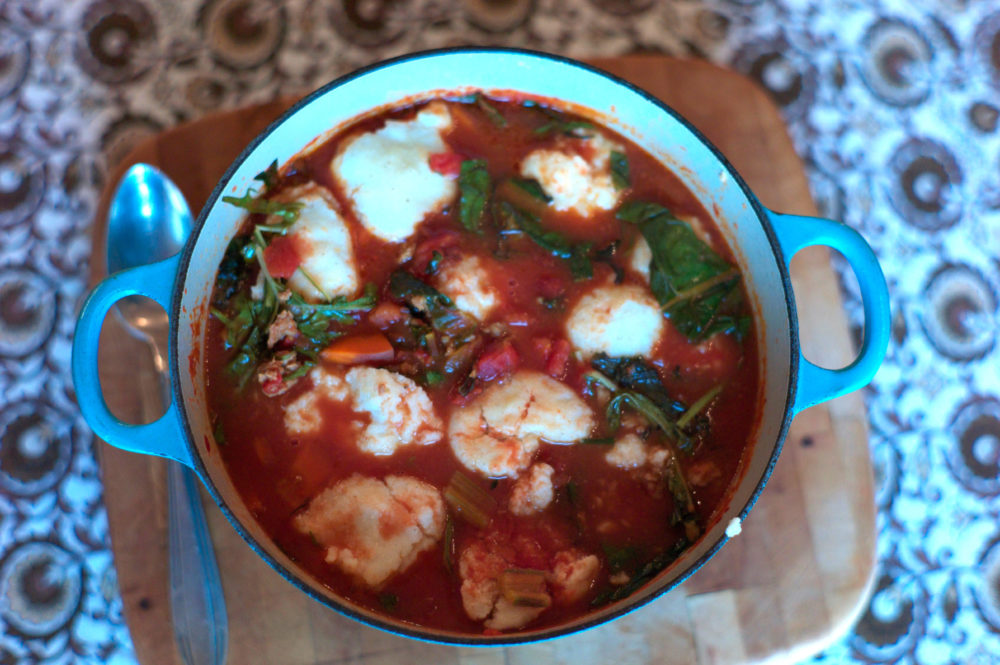 Sausage and Greens Soup with Cornmeal Dumplings
This recipe is mostly my own, but was inspired by a Melissa Clark creation for Bon Appetit and by Martha Stewart's dumpling dough.
For the dumplings:
2/3 cup Stivers' Best self-rising cornmeal
1/3 cup self-rising flour
2 tbs butter, room temperature
1/2 cup buttermilk
1 tsp sugar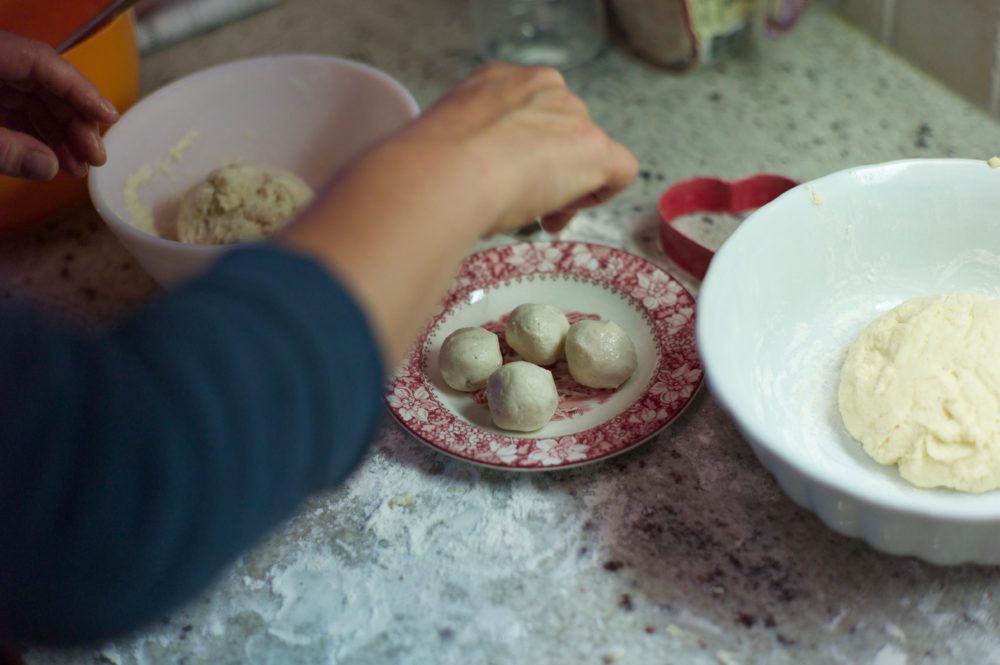 -Put a saucepan of water on to boil, at least 3.5 quarts in size to give dumplings room to puff up.
-Mix the sugar, flour and cornmeal together (if not using self-rising flour, add 1 1/2 tsp baking powder and 1/2 tsp salt).
-Work the butter into the dough with your fingers.
-Add buttermilk, stir to incorporate, and let rest for 5 minutes.
-You'll have a very soft, light dough. Working with wet hands, form it into small balls, around the size of a marble.
-Reduce the water to a gentle boil and add dumplings.
-Cook until they float and are cooked through, around 5 minutes.
-Remove with a slotted spoon and set aside.
-Dumplings are very fragile; treat them gently and expect them to break up some.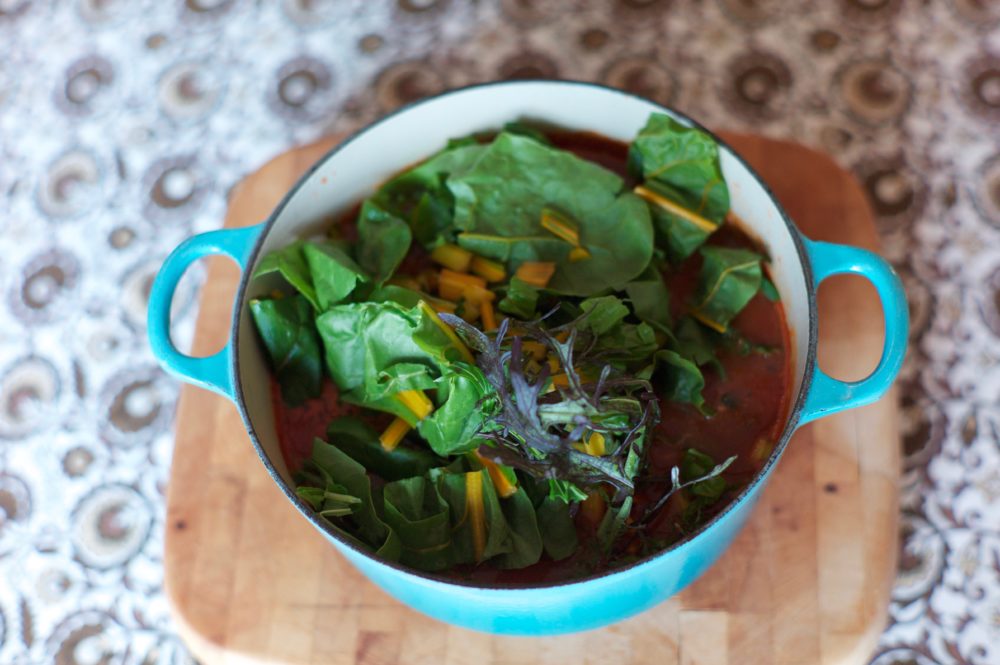 For the soup:
3 tbs bacon grease (or olive oil)
1/2 lb Di Paola's Spicy Turkey Sausage; or other sausage, removed from its casing
4 cloves of garlic, minced
1 bay leaf
1 carrot, chopped
1 14oz can of chopped tomatoes
4 cups of chicken broth (better than bullion)
2 huge handfuls of greens; I used rainbow chard and baby mustard, chard stems chopped and leafy bits chopped in large pieces
-Pour the olive oil or bacon grease on the bottom of your soup pot, and heat to medium high.
-Add the sausage, flattening it with a fork into a rough layer, and salt liberally.
-Fry till brown and crusty, then flip, salt, and fry again.
-When the sausage is cooked, break it into bite-sized chunks with a spatula.
-Turn down the heat, add the garlic and toss, frying until the garlic is softened, and stirring occasionally to make sure it doesn't burn.
-Add the bay leaf, carrot, chopped tomatoes with their liquid, and chicken broth.
-Bring to a boil, then turn down to simmer till the vegetables are soft.
-Add the greens and simmer until just softened but still bright green, 3 to 5 minutes.
-Gently add the dumplings and simmer till heated through.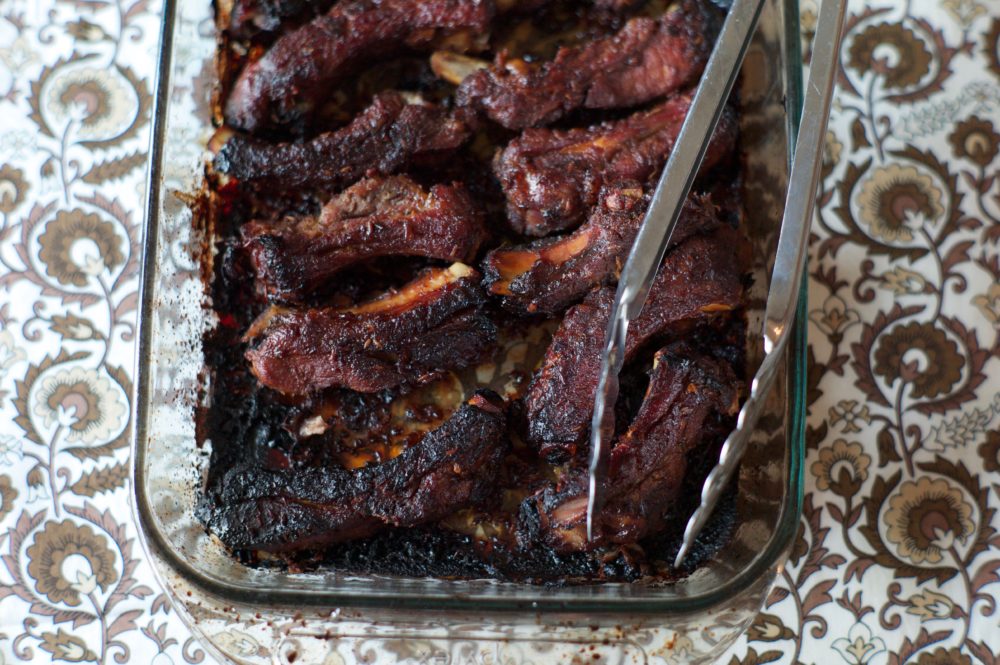 Blackened Sticky Molasses Ribs
Some people like their ribs chewy, others like them fork tender and falling off the bone; I like mine past that point, until the fat is entirely rendered out and the ribs are beginning to caramelize. The sugars in the marinade will turn black, and the bones will char on the ends, but I think the intense flavor and crunchy-chewy texture is worth it.
3 lbs baby back ribs, separated
2 tbs fresh ginger, roughly chopped
4 cloves of garlic, roughly chopped
1/2 cup molasses
1 tsp black pepper
2 tsp kosher salt
1 tbs lightly broken up cumin seeds
1/4 cup white vinegar
-Put the ribs in a large bowl.
-Pound the garlic and ginger in a mortar and pestle to form a paste.
-Add the paste to the ribs, plus all the remaining ingredients for the marinade.
-Toss with your hands to combine.
-Marinade for 1 hour. You don't want it to let it go much longer than that or the vinegar will make the meat go soft.
-Preheat the oven to 400° F.
-Place the ribs in a baking dish, pour the marinade overtop, spritz with some additional salt and cumin seeds, and place in the oven.
-Cook for an hour, turning once.
-Turn the oven down to 350° and cook for another half an hour; keeping an eye on it to make sure it doesn't completely burn.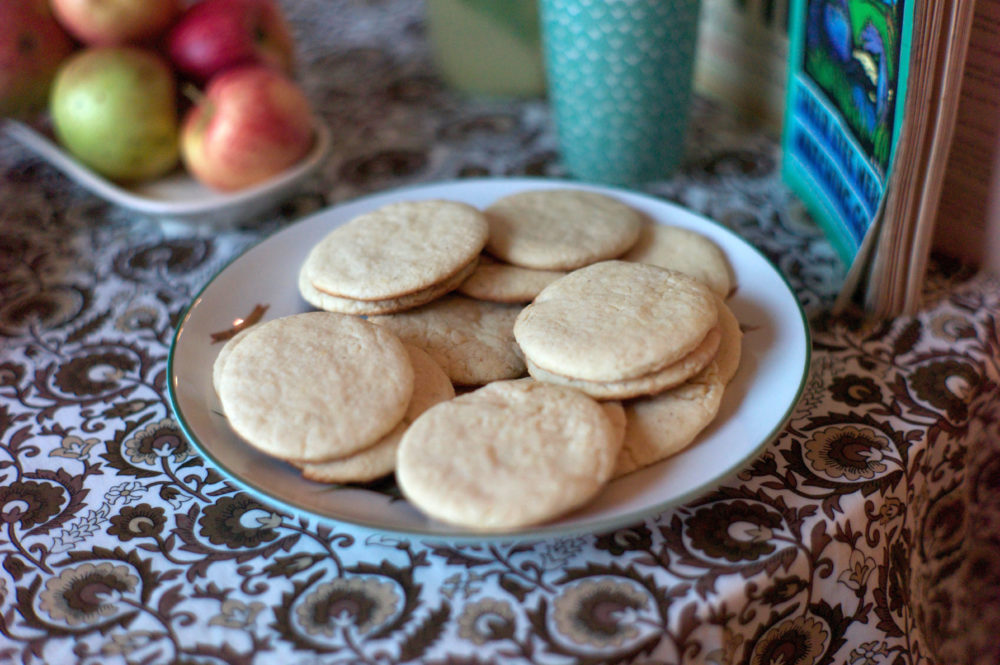 Tea Cakes
Recipe slightly adapted from Divas Can Cook.
¼ cup unsalted butter, room temperature
¼ cup vegetable shortening
1 cup sugar
1 egg, room temperature
zest of 1 small lemon
½ vanilla bean, scraped
2 cups flour
2 tsp baking powder
½ tsp salt
1/8 tsp nutmeg
¼ cup buttermilk
-In an electric mixer, cream together butter and shortening.
-Add sugar and mix until light and fluffy.
-Mix in egg, lemon zest and vanilla bean paste. Set aside.
-In a medium bowl, sift together flour baking powder, salt, and nutmeg.
-Mix the dry ingredients into the wet ingredients, alternating with the buttermilk.
-Turn dough onto a lightly floured surface and knead until smooth.
-Shape into a disk and cover with plastic wrap.
-Chill for 1 hour
-Preheat oven to 350° F.
-Remove dough from fridge and roll out to 1/4 inch thick (can try doing this on parchment but it never works for me; I add more flour)
-Use a round cookie cutter or bottom of a glass to cut out circles.
-Place cookies on a baking sheet, about 1 inch apart.
-Bake for 8-10 minutes until bottoms are medium-golden and be prepared that the top won't brown.
Valerie Stivers is a writer based in New York.
Read earlier installments of Eat Your Words here.