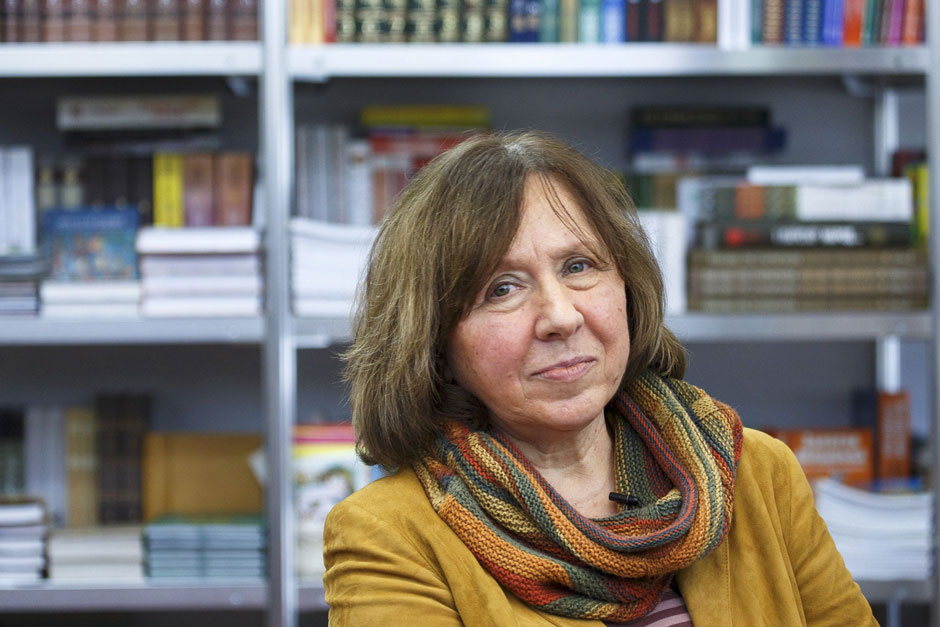 Svetlana Alexievich headlined this year's Louisiana Literature festival, a gathering of writers, readers, and Scandinavian publishers held twenty-five miles north of Copenhagen, at the Louisiana Museum of Modern Art. The event was conducted in Danish and Russian, and the audience peopled a hill overlooking the Baltic Sea, craning their necks to glimpse the 2015 Nobel Prize winner. Alexievich spoke of the "wild, sacred years" of the Soviet Union, the responsibility she felt to free people from time through her books, and the legislation of memory. She was reluctant, when asked, to describe the evolution of her style. ("Must I explain everything?") And she assured listeners that women are just more interesting than men.
I hovered backstage for two days waiting for our interview. Meanwhile, I occasionally saw Alexievich eat, laugh, and chat with a group of friends, all Swedes (she lived in exile in Sweden for years). More recently, and still at risk of persecution, she returned home, to Belarus. "When I walk my dog in Minsk, I go past a church," she told the festival audience, "I see the youth with their new cars. The priest comes out to see them. They want their cars to be blessed." This is how she prefers to answer questions—through details.
When we spoke, Tine Roesen, Alexievich's Danish translator, acted as our interpreter. When the interview ended, after forty minutes, I figured Alexievich had had enough. Outside her hotel, she wrapped a scarf around her head and tied it under her chin; it was starting to rain. She stepped toward me and firmly shook my hand. Back in New York, a few weeks later, I read the transcript: The translator, mindful of Alexievich's schedule, had suggested we end the interview much earlier than we had. Alexievich declined and started to ask me questions.  
INTERVIEWER
In The Unwomanly Face of War, your first book, you say you hear texts everywhere. How did you start interviewing people?
ALEXIEVICH
I was born in a big city—Ivano-Frankivsk in Ukraine—but when I was a child, my father moved us back to his homeland in Minsk. We lived in a Slavic village and in the evening, sitting on benches, people talked, and we, the children, listened, of course—this was after the war, they were all women. This made a big impression on me. A much bigger impression than books, which filled our house. Because in books, the Soviet government made war look like a victory—beautiful, without misery. I don't think one could even have more than two people killed in a book. What the women said was frightening, different. They would talk of death but also of love. And this, of course, affected a child's mind.
INTERVIEWER
And how were you allowed to publish your books, books that changed the past?
ALEXIEVICH
It was a different time. I would not say it was easy, because no one could understand when I showed up, to a factory, or somewhere else. Why women? Why not men? But it was a different time. I couldn't get published for three years. Then the times changed, glasnost, perestroika. So, for three years, I wasn't allowed to publish The Unwomanly Face of War, but then it changed. The manuscript was getting passed around in Moscow, and someone gave it to Gorbachev's aide. And in Gorbachev's report on Victory Day, he said, according to one book, War has an unwomanly face. This was quite a signal. Before that, the censors said: what a frightening book, naturalism, pacifism. Who will go to war after this book?
INTERVIEWER
There's a passage in Unwomanly Face of War that I've thought about every day since I read it. A woman rescues a man from drowning. She drags him to the water's edge only to discover she hasn't saved a soldier but a sturgeon. An enormous sturgeon. The sturgeon dies.
ALEXIEVICH
A fish! Yes, the fish in that area are huge. It was at night. Everyone was naked. And the woman said she swore like never before.
INTERVIEWER
And this was one of the passages removed by the censors?
ALEXIEVICH
Well, yes, it seemed like I should describe an act of bravery, and what was this? The censor kept asking, Where are the brave deeds? You're not asking about the right things. You ask about the hairstyles they wore, about the fear they felt, that they wanted to lie down in the flowers. To die beautifully, so to speak. What are these childish things? One was supposed to write about the war with pathos, patriotically. That was the canon. The state-approved, masculine canon. I just went around asking what I wanted to know. I came to them as a young woman to older women. We talked about life and about death. A woman went to war, and I asked, What did you take with you to the war? Oh, I got my last paycheck and bought a suitcase full of candy. Do you remember? And another one packed her best shoes, high heels, and then the foreman took them away. They weren't given women's clothes, not even panties. Everything was made for men, everything was too big.
INTERVIEWER
I read a detail about World War II, about an accidental shipment of lipstick delivered to people who were just released from camps and hospitals. Even though they desperately needed medical supplies, it was a stroke of genius. The lipstick gave them their humanity back.
ALEXIEVICH
Yes, like the Soviet women—and there's a detail in the book about it—who went into German houses because everything was abandoned and put on a pretty dress, even if they could only wear it for a night. They slept in them. And in the morning, they put back on their pants, coats. The war was long.
INTERVIEWER
You invented your own form, but one of your characters in The Unwomanly Face of War says she wishes there were a thousand people like you. Listening, recording, writing. Do you agree?
ALEXIEVICH
Well, yes. When the subject is a war, or a camp, or the fall of an empire, hundreds of writers can work on it and not interfere with each other. But I can't say that I have invented this form. This sort of literature has existed for a long time in Russia. As far back as World War I, Sofia Fedorchenko gathered stories. She worked as a nurse and wrote down soldiers' conversations. And in the Soviet time, too, Ales Adamovich, the Belorussian writer, my teacher, along with Daniil Granin, the Russian writer, made a book about the Siege of Leningrad. Still, I have a different view. From all these fragments, I want to create a novel out of the voices.  They were writing oral history. They were writing it down randomly. Like Studs Terkel, the American. He wrote things down. There are many oral historians in America, but my books are made using the rules of novel writing. I have a beginning, a plot, characters.
INTERVIEWER
In your earlier works, The Unwomanly Face of War, Zinky Boys, your voice is present. But in Secondhand Time your voice has all but disappeared.
ALEXIEVICH
I think the writer's comment is the most unreliable in such a book, right? I'll give you an example. Adamovich and Granin wrote a book about the siege. In it, there's a fascinating story about a boy living in a communal apartment. Next door to him lives a woman working as a prostitute, and she lives okay, she eats okay. Everyone else in the apartment is dying from hunger. And so the boy's grandmother dies, his mother, his little sister. And at one point, he writes that he's walking through the apartment and can smell normal food. He even sees half a meatball that's been left by this woman. To take it or not to take it? He despises her so strongly, the way she lives, that he fights with himself for a long time, and doesn't take the meatball. Yes, and so he also dies, there's only a notebook left. So, what do the authors do? They muse for a long time about the strength of the Russian soul. This I don't allow because I tell myself, Don't stand next to the meatball. You will not write anything equal to it.
INTERVIEWER
Almost every person in Secondhand Time mentions salami. It seems somehow inextricable from capitalism. The symbol of perestroika.
ALEXIEVICH
[Laughs] And jeans … Yes … Sausage, jeans, Stalin. The three currents running through everything. I have a question for you. I've been told that The Unwomanly Face of War is widely read in America now. Why do you think? Why is there interest in America?
INTERVIEWER
Perhaps because of Trump. Many women protested when he was elected, marched in Washington. Perhaps it feels good to read about these women.
ALEXIEVICH
To see what a woman can do. And why are young people interested?
INTERVIEWER
I think they are afraid Trump will start a war.
ALEXIEVICH
Yes, and the Russians behind him. How did you elect Trump?
INTERVIEWER
It wasn't me. As an Australian, I couldn't vote against him.
ALEXIEVICH
Clinton wasn't loved, was she? And now, would America support Clinton, or him still? Did they not become disillusioned, his voters? Are they sorry?
Mieke Chew has written for the Sydney Review of Books, Australian Review of Books, and Meanjin. 
Tine Roesen acted as interpreter, the audio file was later translated from the Russian by Katya Kazbek.