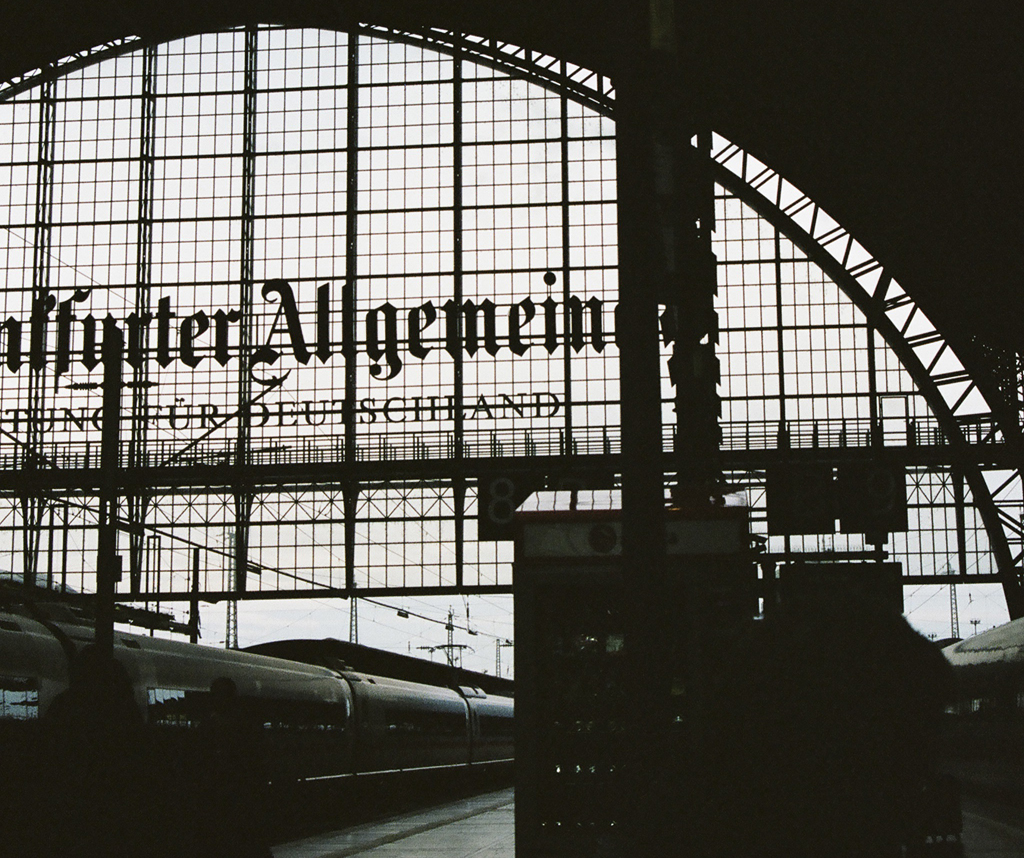 The Google results for "he made the trains run on time" were loading slowly on my phone because the Wi-Fi wasn't really working at the Frankfurt train station. I could glean from the summary text of the first results that the saying is a verified myth; it turns out there are no benefits to fascism. Information about my delayed train was echoing incoherently from the platform loudspeaker. I hadn't slept since I woke up in New York twenty-four hours earlier and knew I would have to stay awake for another full day once I got to Kassel for Documenta 14.
Documenta itself started as a postmortem on fascism, particularly the Nazi's erasure of art history in service of a narrative considered more desirable. On my first afternoon there, a tour guide told me that the exhibition's founder, Arnold Bode, wanted to "use art as a tool to restore the feelings and minds of the people." He may have wanted to restore more than that, because in 1955, when he inaugurated the exhibition in his hometown of Kassel, the city was still being rebuilt. Kassel had been the site of a Nazi tank plant, and the city and its inhabitants were all but completely eviscerated by strategic Allied bombs between 1942 and 1945. Today, the city center is so bland that the most noticeable features are a Pizza Hut and a TJ Maxx. It doesn't strike one immediately, nor after three days, as a site for global art-world tourism, but restoration can be another mode of erasure, and the entire event preserves a kind of normalcy through understatedness, with artwork quietly installed in storefronts and local businesses, hidden in public parks, former train stations, and municipal buildings, and snuck into the galleries of local museum collections, all with casual paper labels.
The show is mounted every five years under the direction of a single curator. This year, the Polish curator Adam Szymczyk chose to speak to this decade's political crisis by having the exhibition straddle Europe, with one foot in Kassel, the other in Athens. The show was joined under the title "Learning from Athens," though I only had time to spend a weekend at the Kassel half.
Friday, August 18, 2017
The receptionist at my hotel regretfully informed me that my room wouldn't be ready until three, so I left my bags and wandered to Friedrichsplatz, where the event's only grand imposition, Marta Minujín's Parthenon of Books, was in the process of being erected. A full-scale replica of the ancient Greek temple, the structure appeared translucent from afar, with the light catching the skeins of clear plastic wrap and metal scaffolding. As I approached it, the project became dense and opaque: roughly a hundred thousand books floated uneasily together, strapped to the round columns and entablature like scales on a snake.
The work is a reprise. Minujín originally built it in 1983, in her native Buenos Aires after the military junta fell; that version was layered with books banned by the regime. In Kassel, it was installed on a site where Nazis had burned thousands of books eighty-four years earlier. The books, which repeat as they ascend, were collected from a list of 170 titles that have been banned in the past or are still forbidden in some countries. By being pinned and mounted salon style, the volumes became untouchable and unreadable symbols, which is precisely what the fascists made of them. I wasn't sure if the piece was supposed to make us long for the books; to me the repetition contradicted their scarcity.
Facing off with Minujín's plastic columns are the neoclassical ones of the Fridericianum, which my map booklet informs me was "the first public museum on mainland Europe," built in 1779. This year, its galleries hosted the collection of Greece's National Museum of Contemporary Art (EMST) in what the booklet called a "double displacement," with the collection's space in Athens hosting Documenta. The aluminum letters that spell out the building's name on the frieze had been "borrowed" (displaced) by the Turkish artist Banu Cennetoğlu to say BEINGSAFEISSCARY. The absence of spaces read as a blurted assertion, too fast for me to understand as a warning until later.
The EMST collection consists mostly of postwar Greek art and turned out to be an overwhelming first stop, giving me my first taste of the disoriented feeling I would have over the course of the three days, as though I had walked into a party where I didn't know anyone and at every introduction immediately forgot each name. 
In my sleep-deprived state I found myself uneasily grasping at themes and making probably oversimplified visual connections on a visceral level. It was easy to guess one theme, democracy, because it littered the titles and wall text of so many works, with one piece outright asking how to define the term today.
Werner Haftmann wrote in his introductory essay for the first Documenta catalogue that he was inspired by the French socialist Jean Jaurès, who fantasized about a world "in which art became reality, in which European nations can become a bouquet, in which each flower preserves its own smell and color yet still fuses into a bigger whole." He couldn't have known that once the bouquet had been gathered, its blooms would rot at different rates but the florist would still advertise its vibrancy, masking the stench. I expected the show's Greek focus to be more about a system broken by superficial equality and unity, about debt and austerity. Instead the organizers used the simple tactic of representation, of bestowing "exposure" on lesser-known artists. Even this year's exhibition title struck me as a bit patronizing, containing an accidental directionality, as if in service of Germany rather than a true partnership benefiting both host countries.
Also on view in the Fridericianum was Hans Haacke's Fotonotizen, black-and-white "photographic notes" of encounters between viewers and works of art taken at the second Documenta, in 1959, where he worked as an assistant while enrolled at Kassel's art school. I like to think Haacke was poking fun at the Nazi "degenerate art" moral argument, which took pseudoscience linking physical deformity to criminality and applied it to the anxious faces of German Expressionism.
The chief aim of the first Documenta was to bring Germany up to speed with modernism, which the Nazis had not only banished but heckled in their "degenerate art" exhibitions, grooming the judgments of an entire generation. But as the Canadian artist Ian Wallace has pointed out, Documenta's urge to restore modernism to its pedestal at that particular historical moment meant kicking aside social-realist works associated with socialism, both because of Kassel's affiliation with the West and in response to a newfound wariness of art in service of politics. The result was a defense of the "inner emigration" of artists who had remained in Nazi Germany by making apolitical work, and thus a championing of the artist as a visionary outside of society.
Strange, then, that this edition of Documenta felt sometimes like an installation of soapboxes. The prime example was Haacke's other, new work: rainbow banners hung from a building facade on Friedrichsplatz and emblazoned with clashing typefaces spelling out the phrase WE (ALL) ARE THE PEOPLE in twelve languages. As an American, I thought of "All Lives Matter" and found the piece an international symbol of didactic art become saccharine and vapid.
I was scheduled for a "Chorus Walk," from two to four. By this point, half of my body weight was espresso, but I downed one more and dragged myself to the meeting point.
The tour guide was a Turkish student of gender studies in Kassel who I would later notice touched the art a lot. After a rather heavy-handed pedagogical explanation of how we were supposed to lead one another through the walk, like a Greek chorus, we began our glorified gallery tour in the Palais Bellevue. We watched Regina José Galindo's video work The Shadow, in which the Guatemalan artist, alone in a field, ran for her life from a German tank. One member of our group said it looked as though she was leading the machine rather than being pursued by it. Another said that in Kassel they sometimes take the tanks "out for a walk" to prevent rust. A third described another Galindo performance she had seen in which blind people touched the artist's naked body until the interaction turned violent. Galindo creates situations that make her vulnerable, but to me the camerawork of The Shadow made apparent the presence of a collaborator, a witness who made her solitude not dire but staged.
Our chorus walked across the street to the Neue Galerie, which, we were told, had been installed with a self-critical view about how art institutions are implicated by totalitarian and colonial powers.
We went upstairs to the German artist Maria Eichhorn's nine-part Rose Valland Institute, which consists of a website, a reading room, a projection of inventories, a replica of a Max Liebermann painting, and photography books—all surrounded by daunting blocks of text printed on planks of wood. In the center of the room, a floor-to-ceiling bookcase was stocked with volumes from Berlin's city libraries, which since 1943 have been circulating forty thousand books looted from German Jews by Nazis. I recently inherited books just like these when my grandfather died. His parents fled Germany in 1936 and brought the books along with an art collection that includes many artists whose names are on Eichhorn's inventories. Tears choked my vision, despite, not because of, the work. Eichhorn's medium is cold facts, her instrument blunt, which, when put to use is direct but awkward, a last resort, unrefined. The Rose Valland Institute is in essence a call to action to the German public to research the provenance of inherited art and books. The overabundant text may be appropriate to the doomed goal, but it was unfair to the viewer. Perhaps this is the artist's intention: a rescue project that employs, and in the process oppresses, the German public, but the overall tone remained decidedly altruistic—a contradiction.
After the tour, I exchanged numbers with María, the only other solo traveler on the tour. She recently moved back to her hometown in Galicia to become a teacher, having grown tired of art-world politics in Barcelona. We quickly discovered that we had a friend in common, which inverted the lonely arbitrariness of world travel into luck. I went back to my hotel, sunk my sore feet in a hot bath, and then ventured out into the drizzling evening for a dinner of sausage, minced pork, and sauerkraut. On my way back, I was surprised to see the Königsplatz lit up and covered with banners and a cheering crowd. A DJ played techno music and shouted German encouragements into a microphone as a nighttime marathon coursed through the square. As I crossed the runners' path the idea occurred to me that this Greek tradition could be part of Documenta.
Saturday, August 19, 2017
I started my morning at Bali-Kino, a two-screen independent movie theater tucked into the lobby of the train station, where I watched two documentaries by the Israeli filmmaker David Perlov. In one, Memories of the Eichmann Trial, from 1979, I was struck by an elderly Polish couple who told of how the husband had risked his life to take photographs of the deportation trains leaving the Lodz Ghetto. He buried the undeveloped film eight inches deep in the frozen winter ground, in a tar-lined box, to be retrieved later if they survived. The camera panned over the photographs, mounted in an album among artful portraits of the couple in their youth. The interviewer remarked that he had a wonderful eye for photography, to which the man replied that he hadn't touched a camera since the war.
I met up with María and we walked to the Neue Neue Galerie, a brutalist former post office whose dark, cavernous interior was undermined by an overcrowded and overwrought installation. Drywall had been built into makeshift, chapel-like white boxes that reminded me of the astringent injustice of New York art fairs, where sound, image, and audience all interfere, forcing viewers to skim the work. A few photographic pieces saved it: Moyra Davey's mailed, piecemeal alphabet (the language of books here borrowed, given, opened as a letter) and Algirdas Šeškus's easily missed interventions—tiny, enigmatic photographs of Soviet Lithuania mounted on the building's concrete columns.
Upstairs we encountered Irena Haiduk's installation, in which two beautiful women sold silk blouses and high-heeled sneakers designed to allow a woman to stand comfortably for nine hours. Haiduk is Serbian, but she incorporated her company-cum-artwork, Yugoexport, in the United States so that it could be born a female person. Her "Army of Beautiful Women" outfitted in the "Yugoform" were easily recognizable. One soldier marched down a catwalk to announce the beginning of a performance. We entered a pitch-black room and settled into lounge chairs, where we listened to two recorded female voices ruminate on the value of Yugoexport. The women led and agreed with one another, like an infomercial on a shopping network about the meaning of art in late capitalism. "Can art fail?" one voice asked the other, as I heard someone snoring nearby.
After visiting a few other venues, we headed to Karlsaue Park. The sun made its first appearance, too late for the grass, which had turned to mud around the Mexican artist Antonio Vega Macotela's Mill of Blood, a functional replica of a coin press. A friendly guide, positioned like a ticket-taker at a carnival, told us that the original press had been operated by Bolivian slaves to make silver currency for Spain. Conditions had been brutal, many slaves had died, and, she said, we were welcome to try it out. The few people I saw partaking skipped gleefully as they pushed, giggling at the embarrassment of public performance while their friends took photographs.
Looking for the small dots indicating art on our map, we wandered through the park and came upon a man standing at a folding table equipped with a hot plate, bowls of cornmeal and beans, and a handwritten sign that read QUESADILLA AUS MEXICO, 3.50 EUROS. Germans were gathering uneasily, suspicious that this was performance art. María asked the cook in Spanish if he was part of Documenta, and he laughed, saying that he was just visiting from Mexico and discovered Germans liked his food. He had been selling out for a few days. After María translated, the Germans posed for photographs with him.
Sunday, August 20, 2017
Regina José Galindo made another appearance with her installation The Objective at the Stadtmuseum. Four rifles, suspended by string from the ceiling, had their barrels pointed into an enclosure. Unattended wall text invited visitors to take up one of the rifles or to stand in the middle of the room as the target. I lifted a gun and, though assisted by the strings, like a bike with training wheels, was surprised at how hollow, light, and fake it felt. Looking through the sight, I angled the crosshairs to meet the forehead of a woman standing inside, smiling. I didn't put my finger close to the trigger. Ten minutes later, I ran into the spared woman, who recognized me and smiled again.
The Ghanaian artist Ibrahim Mahama's jute sacks blanketed the Torwasche, two towers in the middle of the city, an attention-grabbing concealment. Inside one of the towers, I looked at the drawings and architectural model of the late Oskar Hansen's unrealized designs from 1957 for a monument to those murdered in the Auschwitz-Birkenau camps. The sketches look suprematist, with a dark line cutting ruthlessly through the camp, proposing a diagonal path. Someone once told me that the phrase for "skimming a book" in Spanish is to "read diagonally," and I thought of the way this monument would have been a shortcut through the suffering, a way to skim the pain of infrastructure and still understand it.
The Brothers Grimm spent part of their adult lives in Kassel, and the city recently dedicated a museum—Grimmwelt, or Grimm World—to their work. Inside, vitrines were lined with photographs, letters, and other archival material related to Asja Lācis, a Marxist theater director from Latvia who worked with Bertolt Brecht and had an ongoing affair with Walter Benjamin, and Tom Seidmann-Freud, Sigmund's niece and a children's book author and illustrator who wore men's clothes. Both suffered greatly—Lācis was imprisoned by the Soviets for ten years, and Seidmann-Freud committed suicide in 1930—and neither achieved the prominence they deserved. But while recovery may be the Documenta tradition, the curators' rhetoric got confused here: Lācis and Seidmann-Freud are listed as artists in the show, yet their vitrines felt more like coffins, displaying biography as art. Between that and a nearby screening of Susan Hiller's archive of voices speaking endangered and extinct languages, the heart-string-pulling, we-are-the-world agenda had grown overbearing.
I rushed through as many venues as I could before my last day ended. On my way to meet María for dinner, I noticed that a haze had fallen over the street: smoke settling from Daniel Knorr's durational Expiration Movement, in which a stream of thick, white smoke escaped from the tower of the Fridericianum over the five months of the exhibition. The work's label says the smoke can represent a chimney, clouds, a house in flames, or the ghost of book burnings. I watched as the fake mist concealed the letters of Cennetoğlu's BEINGSAFEISSCARY. With its compulsive self-referentiality, its leaping from stocktaking to stocktaking every five years, Documenta had put a great distance between the urgency of its 1955 myth busting and today. It's been ten years already since Germans started waving their flag again at soccer matches. Redemption has made the exhibition safer, its optimism scarier.
In The Emigrants, Max Ferber tells W. G. Sebald about how his uncle had been haunted by a newspaper photograph of a book burning in 1933. Because the burning happened at night, it couldn't be documented, so someone had doctored what was clearly a daytime scene with a painted white plume of smoke. Sebald reproduces the image in his book. Ferber's uncle had claimed that, "just as the document was a fake … so too everything else has been a fake, from the very start."
After dinner I said farewell to María and returned to my room to pack. I turned on the German television news and only looked up when I heard a few words I understood: "Charlottesville," "neo-Nazi," and "Trump."
Sarah Cowan is a freelance writer and a video editor at the Metropolitan Museum of Art. She lives in Brooklyn.