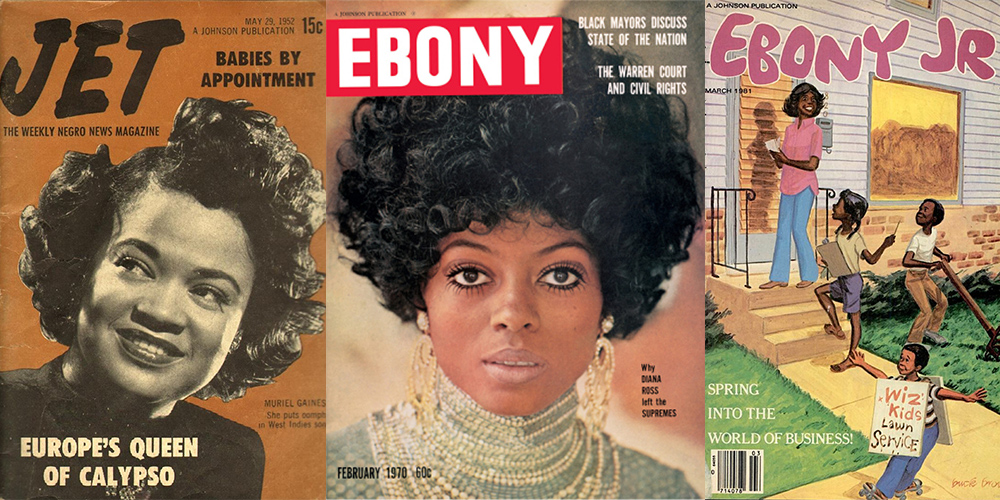 Let me tell you a story about Jet magazine.
In the late 1970s, I went to the African country Uganda, which was falling apart under Idi Amin. His rule was over, and he had left a mess. I wanted to see about helping sick and hungry folks over there. I got on a plane, and then onto a bus. Things were crazy, with people fighting for control of the country. A group of men made everybody get off the bus I was on. And the saddest thing was: suddenly I was looking at a nine-year-old African child with a gun, who walked up to me and said, "Get up on the sidewalk."
A man on a bicycle jumped off and said, "Dick Gregory! Dick Gregory!" He looked at that little punk packing the gun and said, "Get outta here. You know who this man is?"
And how did the man on the bicycle know who I was? Jet magazine.
That man said to me, "I see all your work, brotha. I just … " And he started crying. Because he had read about me in Jet.
Jet and Ebony magazines exposed black people to the world—not just the negativity but the positive things, too. We got to see black folks we had never seen, hear about black folks we had never heard of. Let's say your sister was a judge. How would I know that? Because Jet magazine put it out there. Let's say your daddy was a scientist in California, but I'm in New York. How would I know? The New York Times wouldn't mention it. So we looked at Jet and said, "Wow, this is positive stuff, not just the negative stuff about black folks that the white press was talking about." Ebony and Jet had black photographers taking pictures of people and things that white photographers wouldn't even have thought of.
Now the little black girl in Topeka can aspire to be a judge—not just because your sister's a judge but because the little girl read about her in Jet. She doesn't know your sister, but she doesn't have to. Black folks would frame the covers of Jet and Ebony magazine.
And who started all that? John H. Johnson. He started out poor, grandson of slaves, and before he died, in 2005, he was the first African American to make Forbes's list of the four hundred wealthiest Americans. Because he had a vision.
He was born in 1918 in Arkansas. Where he grew up, the schools were segregated and the town didn't even have a high school for blacks. How do you like that? They'd rather he didn't go to school at all than go to school with white folks. Instead of just dropping out, though, Johnson repeated the eighth grade. That's how much he wanted an education.
When he was a teenager, he and his mother went to Chicago, to the World's Fair—his father had died in a mill accident—and they liked it so much that they decided to stay. Then Johnson's stepfather moved there, too. Johnson could attend high school there, and not only was he a good student but he was the editor of the student newspaper.
The year Johnson graduated from high school, 1936, the Urban League had a dinner, and Johnson was one of the speakers. One of the people listening was Harry Pace, the president of the Supreme Liberty Life Insurance Company. Johnson impressed Pace so much that Pace gave him a job: editor of the company's magazine. Black folks were the ones who had insurance policies with the company. When Johnson was putting the magazine together, he made sure to include stories he had found in other publications, stories about blacks. Then, after a while, he got an idea. What if he started his own magazine for black people? Like every other business idea, this one called for some money. He asked his mother for help, and she made him get a five hundred dollar loan, with her furniture as security. So now Johnson had to succeed—or else his mama wouldn't have anything to sit on!
Johnson didn't even have a magazine yet when he asked twenty thousand of the insurance company's policyholders to pay two dollars each to subscribe to it. Around three thousand of them did. That's how he started Negro Digest, in 1942—it was inspired by Reader's Digest. He took the best of what was happening with black folks around the country and put it in the magazine. Inside of a year, the magazine had a circulation of fifty thousand. Johnson's two biggest ideas were still to come, though. He decided he wanted to have a magazine to show black and white folks that blacks did all the things everybody else did, from running businesses to having beauty contests. (That shouldn't have been news, but it was.) That magazine was Ebony, which he launched in 1945. At its height, it had a circulation of over two million. Today, it's got a circulation of 1.27 million.
Then came Jet, which Johnson started in 1951. That was for high-profile black people—politicians, athletes, socialites, entertainers. Black people could read that and have something to be proud of—not just from history but from what was going on right then.
That was Johnson's fantastic contribution. All of it came through his vision.
But he didn't stop there, either. He started a magazine for kids called Ebony Jr! and another one called African American Stars. And if that wasn't enough, his company published books, and he bought two radio stations—he was the first black person in Chicago to own any kind of broadcasting company. Plus, in 1958, he started the Ebony Fashion Fair. His wife, Eunice, ran it. Even today, most fashion and makeup companies don't put their products out there with black folks in mind, and in 1958, most folks weren't even thinking about it. But Johnson was. The Ebony Fashion Fair turned into the biggest traveling fashion show on the planet, and since then, it has raised over fifty million dollars for the United Negro College Fund and other charities.
In 1957, Johnson went on a goodwill tour of nine countries in Africa with Richard Nixon, who was vice president of the United States at the time. In 1961, President Kennedy made Johnson a special U.S. ambassador to Côte d'Ivoire after it became independent. In 1995, Bill Clinton gave him the Presidential Medal of Freedom. He got the Spingarn Medal from the NAACP in 1966.
Not bad for a boy growing up with no access to high school.
Dick Gregory was a comedian, civil-rights activist, occasional actor, social critic, entrepreneur, and writer.
Excerpted from Defining Moments in Black History: Reading Between the Lies. Copyright 2017 by Dick Gregory. Published with permission from Amistad Press and HarperCollins Publishers.