Last Saturday, my roommate took us to El Museo del Barrio to see "NKAME," a haunting retrospective of the late Cuban printmaker Belkis Ayón. It is a show of paradoxes, crackling with stillness and intricate in its simplicity. Ayón's work merges elements of Christian narrative with that of the founding mythology of the Afro-Cuban fraternal society Abakuá to establish an independent and forceful iconography of her own. Her prints are populated by androgynous, ghostly figures, featureless save for the almond-shaped eyes that peer out from their canvases in a resolute, subtly confrontational stare. One piece reimagines Da Vinci's The Last Supper, but many of the scenes are more deliberately abstract, and those are the ones that are the most viscerally evocative. The show includes one of her color prints, but the rest are the result of her midcareer decision to work only in grayscale. Ayón's true virtuosity is in her command of this palette, and the nuance of patterns she weaves into her prints is captivating. These patterns imbue the stillness of her scenes with a buzzing energy just below the surface, underscoring the archetypal uncanniness of her hybrid mythology. It was my roommate's third time seeing the exhibition, and it is certainly one to pull you back again and again. Spend time with each print; the experience of each is a slow, mysterious revelation of masterful detail. —Lauren Kane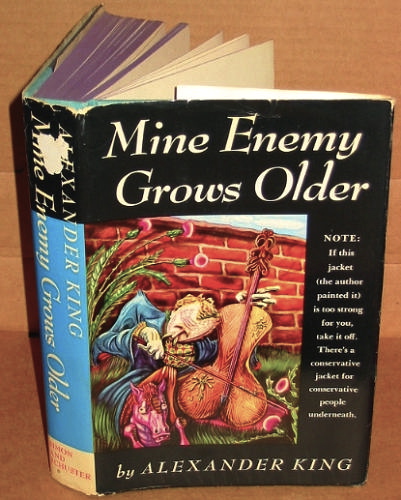 At the Symphony Space book sale a couple weeks ago, a peculiar dust jacket caught my eye. It was a portrait of a man bent soulfully over an anthropomorphic cello—the tuning pegs made a scowling face—while a small pink horse peeked out from under his coat, wincing. There was a note: "If this jacket (the author painted it himself) is too strong for you, take it off. There's a conservative jacket for conservative people underneath." I looked underneath. It was true, there was a gray one underneath with an all-type design. "Wow, what an asshole," I remarked to Sadie, showing her the two dust jackets, and I bought the book. It was Mine Enemy Grows Older, a 1958 memoir of opioid addiction and recovery by a Life magazine editor named Alexander King, who apparently had a second career as a regular guest on The Jack Paar Show. You can't judge a book by its covers. King may indeed have been an asshole—as a memoirist he's garrulous, preening, and self-absorbed—but he also happens to be very funny, a sort of missing link between S. J. Perelman and William Burroughs: "Most of the hotels in that neighborhood look as if they had come down in the world, and they probably have. Not the Minnetonka. That hostelry was originally conceived as a horror and has so maintained itself through the years. I suspect it has even improved a little, since it has a certain soothing, gray-green, dirt patina that cannot be inaugurated, it has to accrue. In the lobby, which smells like a neglected men's room, there are four ossified palms, whose roots are permanently embedded in cigarette butts." —Lorin Stein
Nathan for You, Comedy Central's show about a traveling business expert who helps mom-and-pop operations keep up in the modern world, returns for a fourth season next week, and it is painfully funny. The premise is this: the comedian Nathan Fielder, playing a caricature of himself, dreams up outlandish ideas to rejuvenate failing small businesses. At his prompting, a realtor enlists priests to perform exorcisms to ensure her properties are verifiably free of ghosts, a gas station offers fuel at the cheapest price in the area (but only after the customer has deposited a rebate slip in a hidden mailbox at the top of a mountain), and a coffee shop rebrands itself as Dumb Starbucks. Fielder's absurd conceptions are a perfect send-up of capitalism. It's a reality show in the sense that the business owners are real-life people who own real-life businesses and Nathan is the only one in on the joke, but calling it such feels reductive. What elevates Nathan for You above the average prank show is the through line of the main character, a careful study that Fielder has built over the past three seasons. The character Nathan projects confidence, but he is perpetually lonely, constantly seeking ways to befriend his clients—to transcend the professional realm and enter the personal—and repeatedly faces rejection. Nathan's tender, misunderstood, tragic figure makes this the best show on television. —Brian Ransom
There's a scene in Guillermo Cabrera Infante's posthumously published memoir, Map Drawn by a Spy, that might have something to do with midcentury Cuban citizenship. The protagonist leaves his daughters in front of the television and runs to the bathroom because "he felt a torrid burning in his loins." There, he pulls down his pants to find that "his groin and penis were covered in fungus." But fear not, dear reader, "he had had this sort of fungus before." Ten pages later, he tears off his clothes to sleep with his parents' neighbor Leonora Soler. (Again, don't worry! When he checks later, the fungus is gone, and what a relief—he would have "been very unhappy had he given it to [her]"). This book, found in an envelope after his death in 2005, is an autobiographical account of Infante's return from his diplomatic post in Brussels to his dying mother's house in Castro's Cuba. Once on Cuban soil, he's told he's not allowed to leave—cue a shrouded, Kafkaesque bureaucracy and inevitable paranoia. Infante was no super fan of the revolution, and three years abroad confirm his suspicions: Havana is crumbling, food is scarce, Cubans walk about like zombies. Map Drawn by a Spy is about patriotic delusion. Infante's Cuba, the one he would leave shortly after the events recounted in Maps, is soaked with nostalgic sadness and wary citizenry—everyone misses the old days but can't say it; they hope the future will be better but won't bet on it. Paired with Infante's best known novel, Three Trapped Tigers, often celebrated as the Cuban Ulysses, Maps shows a portrait of the artist as a future dissenter, a writer in exile before he's ready to admit it. —Jeffery Gleaves
After enjoying a slow and savory read through our Fall issue, you'd do well to pick up the latest copy of Tin House, themed "True Crime." The editorial staff of Tin House sees it as a form of resistance. As the editor Rob Spillman writes, "Where there is friction, there is fire. We hope that this incendiary issue burns clear and bright." In the takes on true crime from its writers, the issue is a big success. There is real reckoning done in these pages: with histories personal and national, with hurts internal and systemic. Stories from Tayari Jones and Karen Shepard and essays from Héctor Tobar and Justin St. Germain deserve mention, but the highlight of the issue is its poetry. Matthew Zapruder, Terrance Hayes, and Claire McQuerry, among others, contribute poignant and timely work. I found Hafizah Geter's "Testimony" series particularly moving: four poems, one each for Tamir Rice, Eric Garner, Michael Brown, and Sandra Bland. The last lines for Tamir Rice are some of the most affecting I've read in a long time:
Mr. President, it took one whole day
for me to die and even though I'm twelve and not afraid of the dark
I didn't know there could be so much of it
or that there would be so many other boys here
and so many names to remember.
—Joel Pinckney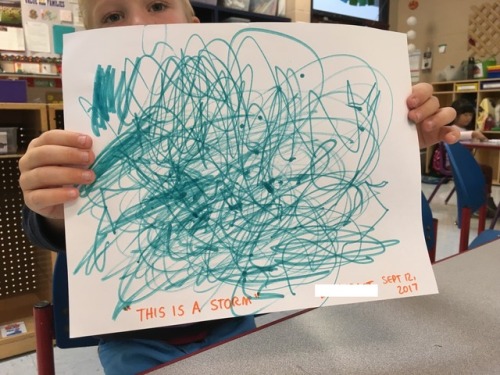 Lynda Barry has, as she says, "worked as a painter, cartoonist, writer, illustrator, playwright, editor, commentator, and teacher and found they are much the same." This week, she can add advice columnist to that list. I once had the privilege of taking an hour-long class with Ms. Barry. As a teacher, she is unparalleled. Under her direction, students complete creative assignments designed to get pen moving across paper. In the brief sanctity of her classroom, adults set aside anxiety and self-doubt in order to rediscover the childlike magic of watching marks appear on paper. As each student shares their work, Barry places her hand on their shoulder, looks deep in their eyes, and says, always, to each one, Good. Barry expends so much warmth and energy in her teaching that I have long wondered where she replenishes herself. This week, I found a clue in her blog post about her work with four-year-olds. She goes straight back to the source. In her post, she shares in her "four-year-old co-researcher's" wonder at the discovery that letters make sounds and sounds make words. Barry finds herself reading the word B-B-T-S-A-A-A-B-B-B aloud. It's a word because they've all decided it's one. There is also a squiggle that becomes a storm, a jumble of nonsense that becomes a joke. I loved this reminder that everything can be anything, as long as we name it, and that that absurdity is not meaningless—it's the most meaningful thing there is. —Nadja Spiegelman
When Andrew O'Hagan's name appears on any new issue of the London Review of Books, I ready the reading chair. So when I came upon The Secret Life: Three True Stories (out next month), I could already imagine the nights ahead. I had already read two out of the three long-form pieces that comprise the collection, all investigations of the self in the Internet age, in the LRB, but the introduction alone is worth the price of admission. In half a page, O'Hagan conveys what I have been striving to articulate about the Internet in more prickly, cantankerous rants for the past four years. Everyone is a fiction writer, O'Hagan explains, now that we have the Internet: "In a sense it gave the tools of fiction-making to everybody equally." He is claiming something more bitter and more sad than Donna Haraway does in A Cyborg Manifesto about the Internet allowing for the uncoupling of the mind from the body others see. In the collection, O'Hagan deep dives into an almost autobiography of Julian Assange (he was hired to be the ghostwriter for the book that never was), into the dark web, and into the smoke screens of Bitcoin origins. He follows men and women who have, in various ways, nearly disappeared into the Internet. You'll catch yourself trying to recount the twists and turns like it's a slick new miniseries, but hold on to your blue pill, friends, this collection is nonfiction. —Julia Berick