Revisited is a series in which writers look back on a work of art they first encountered long ago. Here, Catherine Lacey remembers her first visit to Houston's Cy Twombly Gallery.
If one accepts that love is at least one part disaster—if one accepts that love cannot be effectively diagnosed or measured—if one accepts that a person cannot predict or control when such a feeling might take root—if one accepts that a person in love frequently behaves in a manner that others see as irrational—and if one accepts that it is difficult, if not altogether impossible, to explain those feelings—then it may be possible for a woman of twenty-two to be in love, however briefly, with an entire building and all of its contents.
Once, I was an art student living in post-Katrina New Orleans—lonely, malnourished, diligent, and not such a nice person to be around. Approximately four people could tolerate me, and all four were in love with other people, actual people. They all held hands beneath the table during our elaborate potlucks as I worked on deepening early frown lines. The city was still absent of locals and filled with transients—students, migrant workers, real-estate developers, and demolition teams who'd come to salvage the wreck. Women were in scarce supply, and I was regularly asked out by men twice my age who were passing through town. I must have looked a little like a woman, a little like a flooded house.
When the art department made its annual pilgrimage to Houston, I went gladly. We spent a whole afternoon at the Menil Collection, a small campus flush with museums of modern art, but I was only interested in the Rothko Chapel, a somber building that houses the artist's last works. But even after sitting in the chapel's silent dim for a while, I left feeling like I'd never been there—I could hardly differentiate the minimal, bruise-colored paintings from my own foul mood. Once outside, I noticed the Cy Twombly Gallery across the street. Inside, natural light flooded in from a louvered roof, reflecting off the plaster walls and white oak floors—a sort of hopeful mausoleum.
The first room held Twombly's earliest paintings and sculptures—minimal, abstract, all white or gray, etched with nervous scratches and scribbles. They felt ancient and half tortured and alive. I examined a clump of white paint on one canvas that had hardened and cracked to form a tiny brain-like pattern, an imperfect maze. I inched closer, was asked by a guard to take a step back, stepped back and leaned in again, was asked, again, to chill.
I had only seen Twombly's work in textbooks, and it wasn't until I saw them in person that day that I began to understand what my professors meant when they insisted that you can't really see a work by simply looking at its reproduction. I leaned into a threshold between two rooms and broke into a dizzy sweat, feeling that the visceral reaction I was having to the gallery was inexplicable and undeniable.
In the last and largest room, I stood for a long while before Say Goodbye, Catullus, to the Shores of Asia Minor, a massive series of panels covering one very large wall. The piece begins quietly at the left—graphite gestures over gesso white. Then light pastel globs rise and float before giving way to heavy black and yellow clouds that hover at the edge of the canvas. All the nervous optimism that permeated the rest of the gallery was counterweighted in those final, brooding globs, so heavy they seemed they might fall off the painting and melt onto the floor.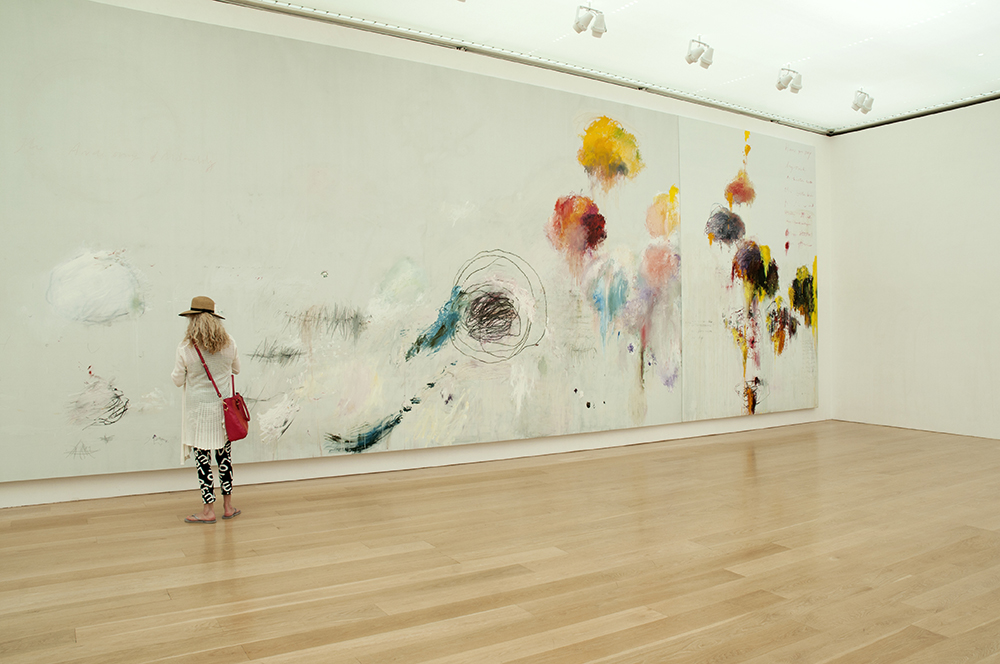 I slumped into an empty corner opposite Say Goodbye, Cattullus and wept into my knees for a half hour. A guard paced nearby, nonplussed, and though I knew my behavior was ridiculous, it also felt like the only rational response. Perhaps it was taxing to take in an entire lifetime of work in a handful of minutes, or perhaps I was just lonely, or tired, or simply moved by all that broken beauty. But even now, just recalling this moment, my tear ducts flare and prickle.
A few years later, I passed through Houston and made sure to visit the Cy Twombly Gallery, partially hopeful and partially afraid that I would be so overwhelmed again. I did not sweat or shake or linger as I made my way through the space, though I still stopped to examine the little brain-like curdle of paint that had interested me so much the first time. I gazed happily at it; it still perplexed me, its messy order as inevitable and perfect as an old-growth tree.
I left the gallery feeling sure I had never been in love with this building and with a critical distance I believed that the young woman I had been was not just behind me, but beneath me. More than a decade has passed since that first experience with Twombly's work. All sorts of love has formed and drifted across those years—friendships lost or deepened, a marriage, a divorce—and I am no longer a student but in the more precarious position of being a teacher. This is the way so many lives pass—perhaps yours, too. Past certainties and identities either slough off slowly or are quickly wrenched from you. And all the while I think, again and again, that love is not quite what I thought it was, and again not what I thought it was, and when I begin to think I am done wondering, then, again, I find it is not quite what I thought it was.
When I was a teenager, I flipped my car off the Natchez Trace, totaling the car but only concussing myself. For days, I experienced fits of euphoria that I later self-diagnosed as a side effect, but now I think it all had much more to do with love than damage—I had been forced to recognize life again, to see the ongoing complexity and simplicity of just living.
I was in a park in Mexico City last winter when my partner turned his monocular away from the far-off birds we'd been watching, changed the lens, and aimed it at my eye, examining the grays and blues crenellating the iris. I took a turn to study his eyes, too, same color and substance as mine but nothing like mine at all, a loving scrutiny that reminded me of that particular clump of paint on the Twombly canvas. It was a study in studying, one that sought no particular answer or knowledge. I was also reminded that he and I, like any pair, have always been approaching the end of us, whether that is circumstance or death, that this space, this series of pale rooms we travel together, no matter how beautiful, no matter how bright, will end.
I put down the monocular feeling woozy. We had been walking through the city all day, breathing the heavy air, gazing up at a hazy, polluted sky. Had Twombly's black and yellow clouds made the trip down from Houston, I thought, they would have seemed at home here. We walked hand in hand through the slightly poisonous heat.
Catherine Lacey is the author of The Answers and Nobody Is Ever Missing. She has won a Whiting Award, was a finalist for the New York Public Library's Young Lions Fiction Award, and named one of Granta magazine's Best Young American Novelists.