Last month, the Quebecois cartoonist Guy Delisle met with Simon Ostrovsky, a journalist for CNN and documentary filmmaker, onstage at Housing Works, in New York, to talk about Delisle's new book, Hostage. The 436-page comic tells the story of the kidnapping of Médecins sans Frontières (MSF) administrator Christophe André in Chechnya in 1997 and his detention, for 111 days, in solitary confinement, chained to a radiator. In his minimal line and with his personable observational style, Delisle, who now lives in the South of France, has also made travelogues of life in Burma, P'yǒngyang, Jerusalem, and Shenzhen. Ostrovsky has reported extensively on North Korea, the West Bank, and Ukraine, where he was captured and imprisoned for three days in 2014. These overlapping experiences in life and work produced a fruitful conversation on storytelling and journalism, the anxiety of living in dangerous places, and André's uniquely psychological ordeal. —Ed.
OSTROVSKY
I had the pleasure of reading both Hostage and your earlier book, Pyongyang, and it turns out we share a lot of interests. I covered Chechnya and the North Caucasus in Russia, and I also covered the issue of North Korean laborers working all around the world and earning money for the North Korean regime—that was an obsession of mine for two years. I was looking at it from the perspective of the North Koreans sending their workers out of the country to earn hard currency for this currency-starved regime, and I never had any idea that, as a Westerner, you could actually come into the country and work there, and that's what Pyongyang, your book, is about. How did you end up working in North Korea?
DELISLE
I was there in May of 2001, before September 11, when North Korea became the rogue state, the axis of evil and all that. Citizens from a lot of countries were going there at that time. Spanish, French, and Italian animators were outsourcing in North Korea, for instance—it was four times cheaper than China. I was there from France on a contract to supervise the quality of the animation and work with the animation team, though the animators were on the upper floor and I could never really see them. I was working on a monitor, looking at the animation, taking notes—This is good, this is not good.
OSTROVSKY
The French company would send you the sketches, and then they would have the North Korean workers in a kind of animation sweatshop to fill out the rest of it? How did it work?
DELISLE
I don't know about a sweatshop. It was just an animation studio, as there used to be in Germany and France, but everything is outsourced now. It's exactly the same kind of studio, with fifty or sixty people who work and lay out all the scenes. So in an episode of twenty-six minutes, you have maybe two hundred layouts, and I supervised the boards so that the quality was equal to what they were asking for in Paris. North Korea has a tradition of animation, just like in the Philippines, just like in China, like in Vietnam. They used to have studios that made short films you could see in festivals. Now they don't do that so much—they do outsourced work, and they make a lot of money. Animation in North Korea was, I think, second in earning money for the country in the year I was there. So I felt that at least they were making money with something other than counterfeiting, drugs, and weapons. 
OSTROVSKY
How long were you there altogether?
DELISLE
Two months, but that actually feels long when you're in a city with no café. I was not able to use a taxi because they are not for foreigners—I tried, didn't work. I had to walk for a long time to go to the other hotel and see a few friends.
OSTROVSKY
What I like about your books is they're not just travelogues, they're also works of journalism. So much of the writing on North Korea is either a discussion of their nuclear-weapons program or a story about someone who goes in on a tourist visa and says, Hey look! I'm not allowed to take pictures of this, or, Look how big these statues are! And you don't really get to the bottom of anything. Pyongyang is a story, with a beginning, a middle, and an end, and you talk about your personal experience there. I don't want to give the plot away too much, but it was much more than just this exotic-country type of tourism.
DELISLE
I don't see myself as a journalist, though. You are, and you do journalist stuff, but I just happened to be there and was taking notes, and of course in North Korea you see quite quickly, after one or two days, enough material for an interesting story. But when I do these types of books, I'm anxious to write a long postcard to my family, so that they know what I've experienced. There's a bit of journalism in that, but I don't see myself as a journalist.
OSTROVSKY
It makes for really good reading, either way. It's factual, right?
DELISLE
I wouldn't put fiction in—that would compromise the rest of the book. It's all taken from my notes, which I still have, and I go through them to find things that are funny, strange, weird. A comic book is a mix of drawing and text, and it's very powerful, it's a concentrate. It's like you have five seconds for one page, and you can switch from drawing to text, text to drawing, and you can find a solution where you can make it come together. I like that, because I'm always afraid of boring people.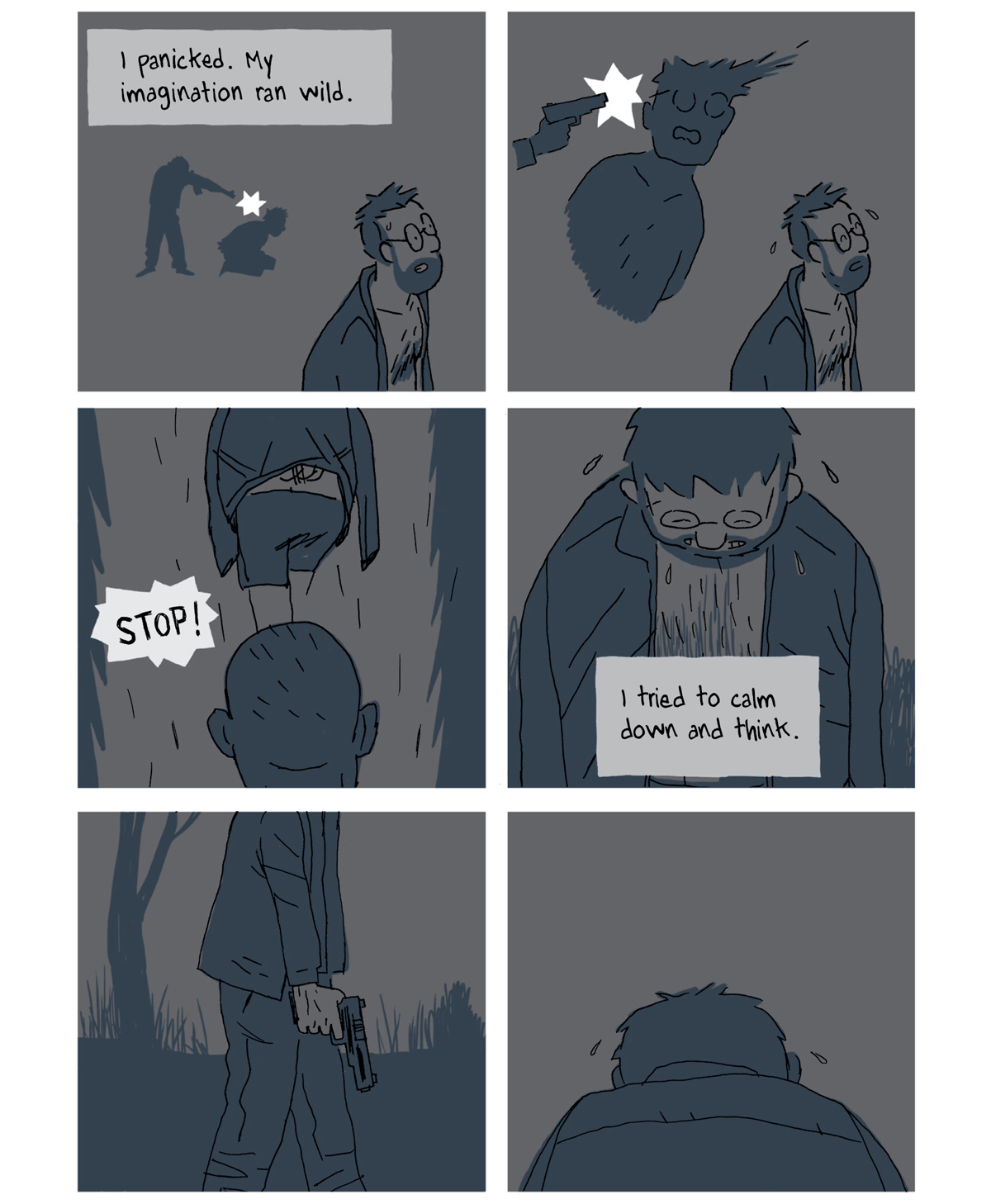 OSTROVSKY
The other place where our interests intersect is in Russia and the North Caucasus, which is where I started out my journalistic career in the early 2000s. Christophe André, the main character in Hostage, was one of a number of people who were kidnapped July of 1997, and that spate of kidnappings—between the two Chechen wars and once the second Chechen war had started—continued on into when I started my career in 2001. Just in the beginning of that July, five or six people were kidnapped. Christophe was one of them, and your book takes us into his story. Do you know why that was going on at the time? Did Christophe ever come to understand why he had been targeted?
DELISLE
They don't know who they were exactly. Christophe was in Ingushetia, in the North Caucasus, for his first mission, and a few months later he was kidnapped, and the only explanation they have is that it was one of the only nights he was sleeping alone in the second barrack. He thinks that probably someone in MSF was giving information to these guys. The Chechen people were starting to go abroad, I guess, to find foreigners, because there was nobody in Grozny at the time. They have a tradition of kidnapping, apparently, among themselves, but when you have a foreigner that can get up to a million dollars—that's a lot of money. The people who kidnapped Christophe were military, he thinks, by the way they dressed and the way they acted. And after they crossed the border, they gave him to three guys who were Russians who wanted to make money. At that time, Maskhadov was in charge of Chechnya, and he was against kidnapping, and he said that any Chechen who was caught kidnapping would be hanged, so they were doing it on the side. Christophe knew when he was kidnapped that it was treaty time and that people had been kidnapped before but not for long—a week, it was very quick.
OSTROVSKY
When I was covering the kidnapping of Arjan Erkel, who was another employee of MSF, he spent more than a year, also in a basement, also chained to a radiator, and the Dutch government ended up paying a million euros for his release.
DELISLE
But Arjan was going out with a Chechen girl, I think, and went outside the house of the barrack, which is something you shouldn't do, and it was after curfew, and he went to see her. Very romantic, but he got caught. Everyone thought he was dead.
OSTROVSKY
Your drawings are very descriptive and detailed. What was your process? How long did it take?
DELISLE
I read Christophe's story in the newspaper, like everybody else, and I thought the story was extraordinary because he escaped. At the time, there were a few French people coming back to France after a long time of being kidnapped. I remember this one guy, Brice Fleutiaux—he came back home and his wife had left him for another reporter, and it was really hard for him, and he committed suicide. Some people come back from a kidnapping, and it's hard to be back home and have a normal life. I thought that escaping would be the best way to come back. There's a recording of Christophe saying, I feel like the football player who scores the last goal and wins the match.
I happened to meet him because he was working at an NGO I was visiting in 2001. It was exciting, because I knew his story. At the same time, I thought that he probably didn't want to talk about it. Most people coming back from kidnappings want to forget the whole thing, but he started to talk and gave us a lot of details, and I asked a lot of questions. I thought we should do a book about it.
It's been a long process. He said yes right away, and in 2003, after I'd come back from Pyongyang and did that book, I recorded him and his story. I did a first version, fifteen pages, that I sent to my publisher, who was very excited. But I realized I didn't like that first version because it was too action oriented. I kind of forgot that it was a real-life story.
OSTROVSKY
You can't say that this version isn't action oriented. That's the amazing thing about it—so much of the plot takes place in one room, but I was on the edge of my seat the entire time. How many hours did you spend interviewing him?
DELISLE
We spent a long afternoon talking. I have about five or six hours of recording.
OSTROVSKY
That's it?
DELISLE
Yeah. It was just a long afternoon. I was still in touch with Christophe when I was doing the book, so once in a while I would phone him or send him a message, to confirm certain details. I also have a document from the NGO that they put together right after. I worked with these two documents, and that was enough. But all the details were in the recording. They were done in 2003, and his memory was still very fresh.
OSTROVSKY
I was surprised by the level of detail. When I was kidnapped in Ukraine in 2014, I spent three days in detention, and every day was a completely different experience for me, very distinct and burned into my memory. But I thought to myself, while reading your book, that if I had been held for months and months like Christophe was, all of the days would have swum together, and you wouldn't have been able to bring out the detail like you did, the little experiences that happened to him.
DELISLE
Christophe was not brutalized—there was no physical violence done to him, it was just a very long wait. He was thinking that, probably, like the Italians, he would be out on Wednesday and would go back and finish his work as an administrator. Three days go by, then four, then a week, then he thinks, Two weeks and it will be over. Then a month goes by and he starts thinking in months—he thinks of Christmas, thinks it's impossible he will be there until Christmas, it's the summer now. And he told me that eventually you go crazy thinking like that. You have to find a length of time you can understand. He would think in weeks—no further than that.
I wanted to show the first day because when I read stories about kidnapped people, I always think, What would I do? Would I survive? One day of nothing, and then you have weeks and months of doing nothing. How do you not go crazy? I wanted to show that in the book, and time was an important factor. Sometimes narratively you can say, Two weeks later, and then it's a bit longer, he's a bit more tired. But that's not enough for me. I want the reader to have the physical sensation of time passing. That's why the book is four hundred pages.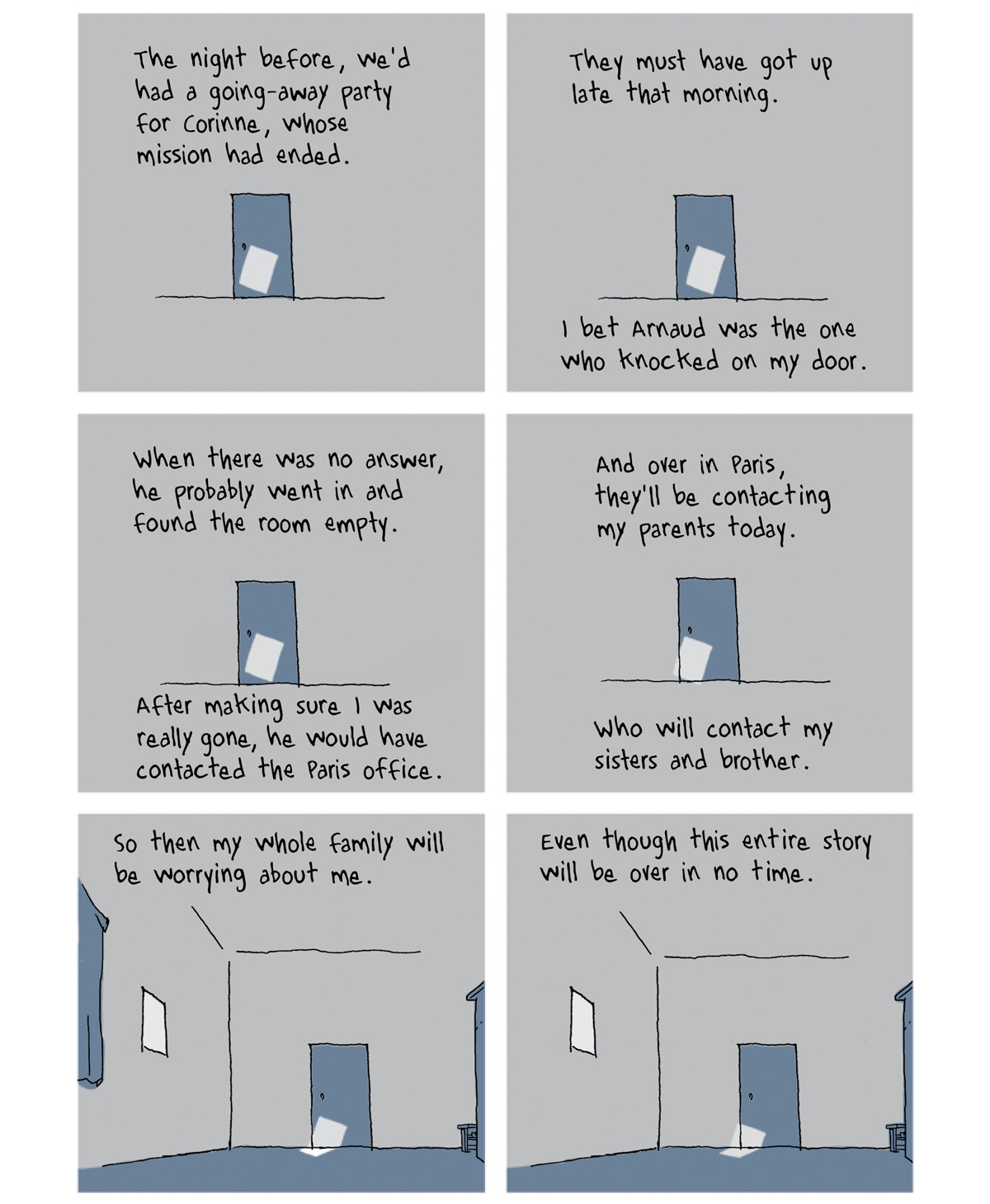 OSTROVSKY
It actually goes amazingly quickly.
DELISLE
It's like a manga. I've been reading lots of different comic books, they all interest me, and that's why I changed my first version—I wanted to have the drawing almost in the background and for the reader to be reminded, because the drawings are simple, that it's a real story. It happened. He was there, in a room, keeping all this noise from people who fed him twice a day. He had the chance to escape, missed it, and then he waited. I recorded everything he told me, all the details, because in that surreal situation everything, for me, was interesting.
OSTROVSKY
There was a particular bit where he's talking about the latch in the door clicking, and that sound becoming torturous.
DELISLE
I was thinking of a prison door that opens and closes every day at the same time. He would wake in the morning and be very depressed that nothing had happened during the night, because he knew that if anything happened in terms of moving him around, it would happen at nighttime. He would think, Ugh, another day here. Then the evening would come, and he would become more optimistic—maybe tonight. That drives you crazy. I wanted to show that, too.
OSTROVSKY
He was very worried that his sister would call off her wedding because he wasn't around.
DELISLE
That's something he was afraid to think about, because in a situation where you have nothing to do—he did have books, but there was no one to talk to, nothing to write with, he was just there for days and days—all you have are your thoughts and your imagination. His thoughts were of the stuff he'd like to do and eat, going out, seeing his family, so he starts to think about his sister, and her marriage was coming in two or three weeks, and he started to get depressed because he probably wouldn't be there, and she might cancel, and it's going to be complicated, and you just wish you were there. He was afraid of collapsing mentally because he knew that, if he did, he might miss a chance to escape. He was always on the alert, didn't want to miss any detail. That was kind of his duty—to be there and to do the maximum he could do to escape. Also, he was a history buff, he really liked military history. He knew the battles of Napoleon and Gettysburg by heart. So he would re-create the Battle of Gettysburg for two hours. Imagination saved him.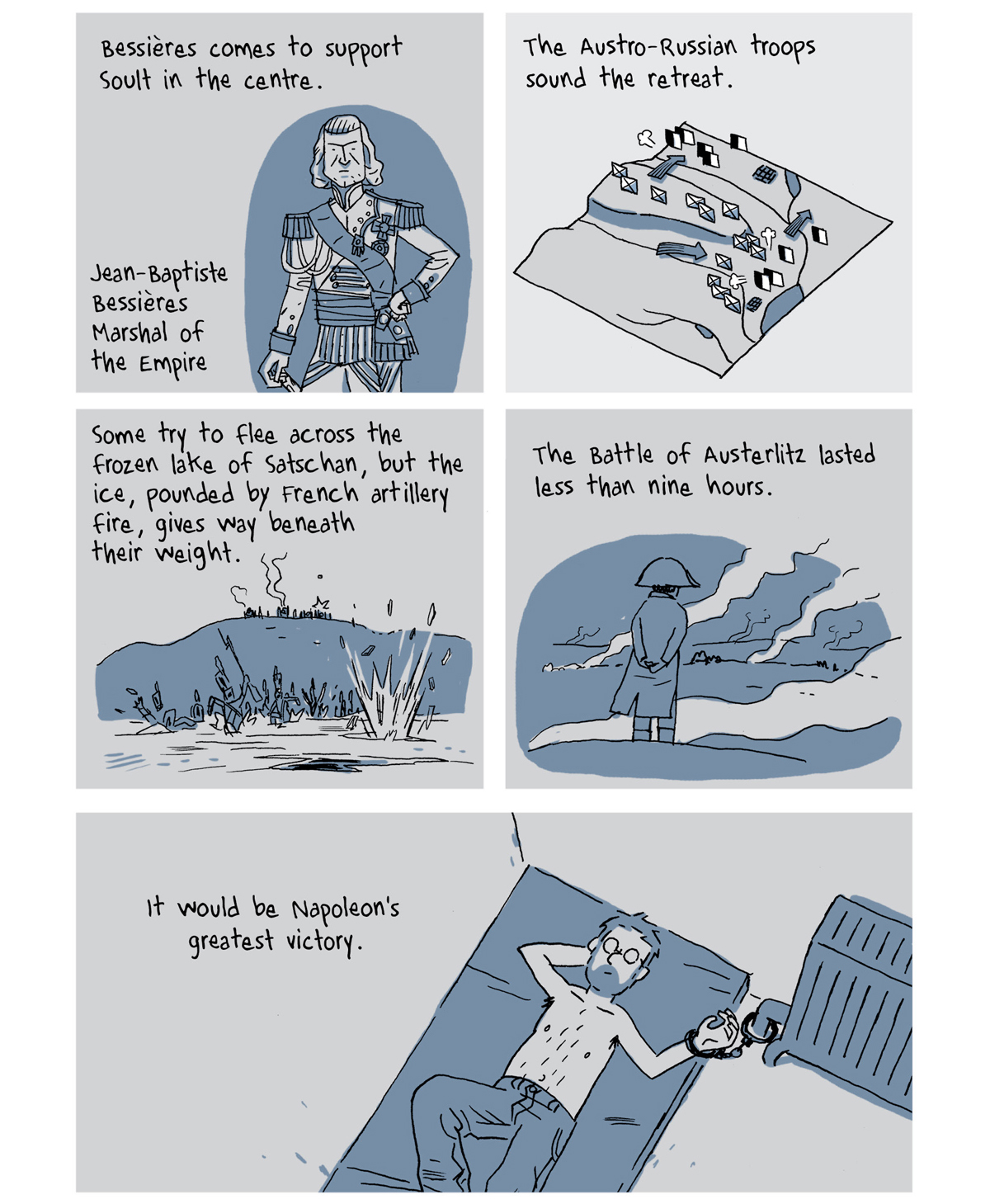 OSTROVSKY
I think we have time for questions. The microphones are over here. Anyone?
AUDIENCE
I'm curious about your color palette. It's this wonderful shade of blue that's very dark and mysterious, and I was wondering how you arrived at the color and what the color represents for the tone of the story.
DELISLE
The whole process of the drawing and the color goes in the same direction. I used a felt-tip pen, and I was drawing in kind of a sketchy way because the drawing is a bit more realistic than I usually do, the story is more serious, so I didn't want a cartoony size to it. It represented the kind of shaky lines that were his in a situation that was very fragile. He was describing his place to me, and most of the time it was in a dark shade of gray, because the window was blocked with wood so that he couldn't see anything. The mornings were gray and the evenings were gray.
I've read comics where you have a very talented artist, and they draw incredibly well, and they do angles and they do shots that you see in movies—close-ups, very cinematographic—but for me, the more you use special effects, the more you move away from a real-life story. That's why the kidnapping is just one shot from above—they come into the room, and then he's out. In the first version I had angles, shadows, everything, but it looked fake somehow.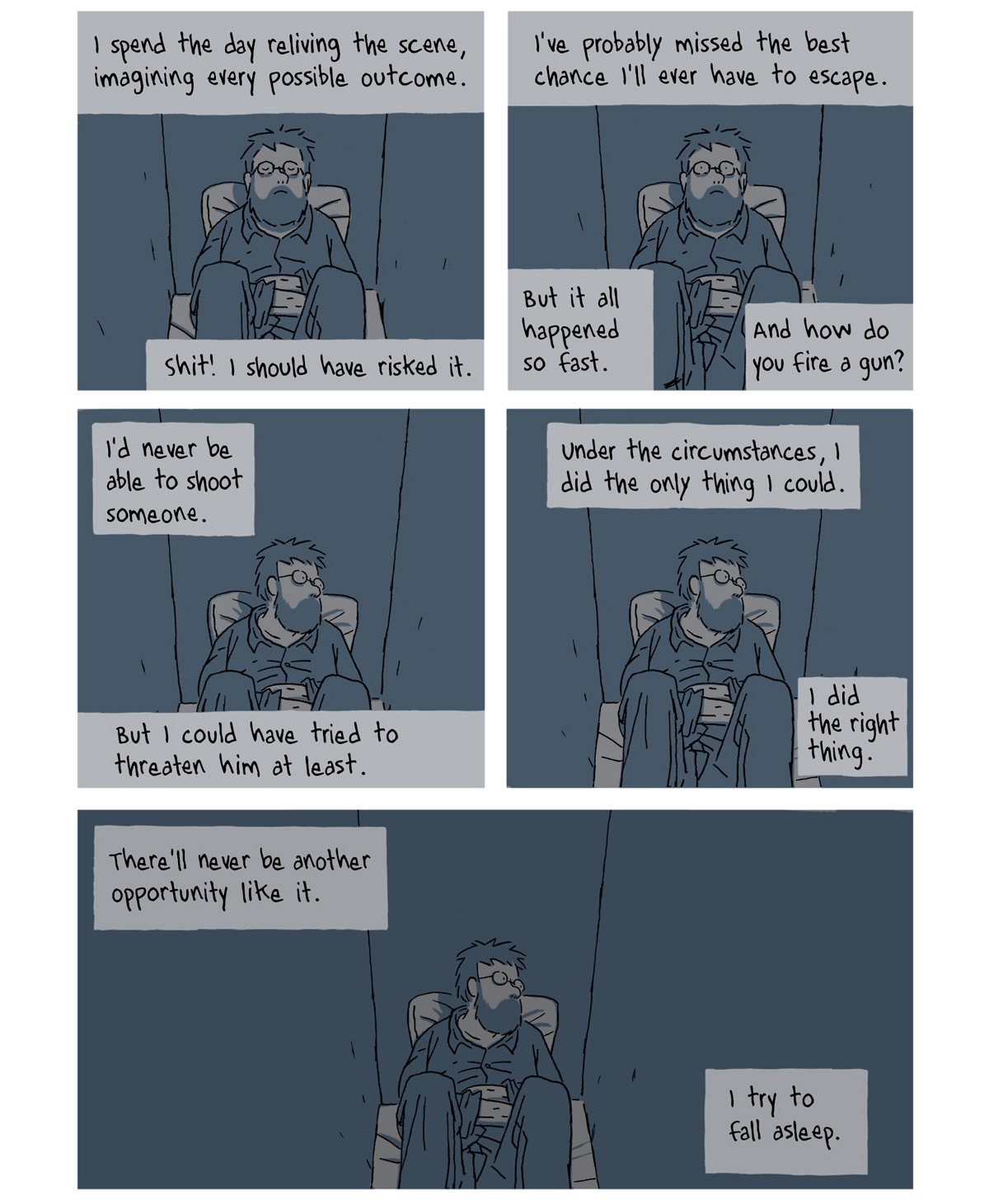 AUDIENCE
I was wondering about the decision to name the book Hostage in English. In French, the title means something closer to "escape."
DELISLE
Yeah, in French it's called S'enfuir, "running away," or something like that. I left it to the translator to find a word in English because that's not my native tongue. My first title actually was Hostage, and then I changed it halfway through to S'enfuir. It's funny, because in the Latin languages, like Italian, they call it Fuggire, and in Spanish—what is it?
AUDIENCE
Escapar.
DELISLE
Ah, yes. And in German it's Geisel, which is "hostage," I've been told.
OSTROVSKY
I know that it's been spoiled that he got away in the end, but I still think it's worth reading to find out how he got away.
DELISLE
Yeah, that was my intent with the title. He gets kidnapped in the first two pages, and the rest is about survival and how you construct yourself. At one point he starts saying "sorry" and "good night" to his kidnappers, and then he thinks, Why am I saying good night to these people when they have locked me in this room for weeks? He was kind of experiencing a Stockholm syndrome. He stopped saying it, and after that he felt much stronger. These steps are very important. Even after he escapes, the question is, What now? It's nine o'clock, you're in a Chechen village—where do you go?
OSTROVSKY
Our time is up. And on that note, if any of you want to escape, here's your chance.