Megan Mayhew Bergman's column is about naturalism. This week, she discusses how women, often excluded from adventure narratives, carve out their own heroic space.
It's February 1959. Marilyn Monroe and Isak Dinesen have joined Carson McCullers for lunch at her home on the Hudson River in Nyack, New York. A photograph from that day shows Marilyn and Carson leaning into each other. Isak, invited to America by the Ford Foundation for what would be her first and last visit, toasts Arthur Miller, who's nearly out of the frame.
Carson wears all black and a depressed demeanor. Marilyn, in fur and a plunging neckline, tells a story about finishing pasta with a blow-dryer. Isak's cheekbones announce themselves underneath the hem of her turban; she recalls the first time she killed a lion and ingests little more that day than oysters, grapes, and amphetamines. In eight years they will all be dead.
For me, the picture is like looking at the fractal nature of womanhood: something carnal, intellectual, and willful existing inside of one body. Internal conflicts shaped Monroe, McCullers, and Dinesen as creators. Marilyn aspired to make her own films and control her image while negotiating a growing dependence on pills and fear of abandonment. McCullers, broken down by seizures, divorce, and addiction, continued to write in the shadow of the masterpiece she wrote at twenty-two. Dinesen, brave enough to face down a lion and manage a coffee farm outside of Nairobi, began to starve and diminish herself. Simone de Beauvoir wrote that "all oppression creates a state of war"—and living in a state of war is depleting, as one tries to negotiate what she owes herself against what the world wants to collect.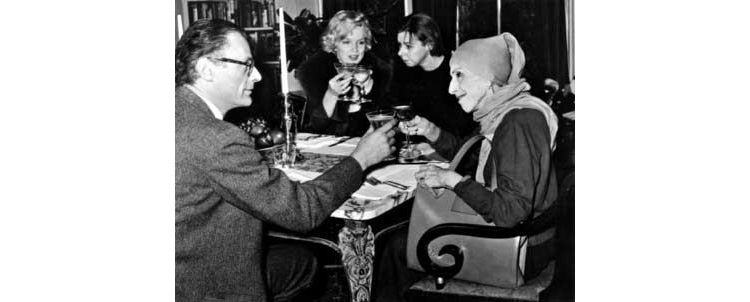 The portrayal of the feminine heroic often juxtaposes suffering and strength. Consider Cleopatra and the asp, the wounded Amazon warrior sculptures of Ancient Greece, or Artemisia Gentileschi's 1620 masterpiece, Judith Slaying Holofernes. The painting shows Judith murdering the lusting Holofornes in his sleep, after luring him with her feminine guile.
Gentileschi was known for the way she "humanized strong women characters," and imbued them with "raw emotional intensity." She allowed Judith startling physicality: a furrowed brow, tense forearms, the lethal wielding of a weapon. The painting is widely accepted as a masterpiece of revenge, inspired by Gentileschi's rape at eighteen by her father's colleague Agostino Tassi, who was convicted at trial but never punished. In the painting, Judith radiates rage, suffering and strength. She's the hero, full of agency, blood on her hands.
*
I was told in grade school that there are three conflicts in narrative: man versus man, man versus himself, and man versus nature. Man versus nature—a traditional adventure narrative with an easily identifiable hero—features a man overcoming nature via dominance or violence (Hemingway) or serious contemplation (Thoreau). Woman versus nature is rarer, and the heroines of familiar narratives—Joan of Arc, Molly Stark, Laura Ingalls Wilder—are often presented as austere, martyred, undersexed, selfless.
Looking at Dineson's cavernous eye sockets in the photograph from '59, it's difficult to imagine the eighty-pound septuagenarian in her wild prime: divorced and syphilitic, working to keep her farm alive, striking off on horseback into the Ngong Hills. She and Beryl Markham, a horse trainer and bush pilot (and Dineson's once-friend and romantic rival), both possessed a drive that created a life outside of their domestic confines. They left compelling accounts of their pursuits. Markham wrote the lyrical West with the Night, detailing her adventures growing up in Kenya and flying planes, from which she scouted game, delivered mail. Dinesen's Out of Africa (which McCullers said had a "luminous, sulphuric glow") recounts her years managing her farm outside of Nairobi. The books are physical, unsentimental, and not organized around the pursuit of love and stability but around risk taking and adventure.
One of the pleasures or necessities of adventure—going deep into the wild—is to flee what has become ordinary or unbearable. Women have not always been entitled to that freedom, however, and even the pursuit of simple solitude has required a dramatic break from convention.
In the Middle Ages, for instance, when it was illegal for women to live alone, reclusive women could be found living in cemeteries, churches, underneath bridges, on mountains, and around city gates. In Italy, women like Chelidonoid and Margherita Colonna lived in caves until becoming "sponsored hermits" under religious institutions.
Christina of Markyate, born in 1097, was a notable recluse and religious figure. Christina's mother claimed to know her daughter would one day become holy—a dove had flown into her sleeve, she said, while she was pregnant, and lived there for seven days. Christina, born Theodora, was a particularly religious child, believing that she talked to Jesus as if "he were a man whom she could see." When she was a teenager, a bishop attempted to force himself on her, but she successfully rebuffed him. Later, Theodora's parents arranged a marriage for her with a nobleman named Beorhtred and offered him access to her bedroom. She escaped when a female hermit named Eadwine, disguised as a man, brought her to an abbess who hid her from her family. She eventually became a prioress of Saint Albans.
Perhaps some early eremitic women, as devout as they might have been, were not running toward Christ but away from life as it had become. If they needed relief, respite, communion with the divine, or a chance to play the protagonist of their own lives, they had to take great risks to claim it.
Times of hardship often demanded women step outside gender roles, such as the expansion of the American frontier, which resulted in heroic, physical pursuits by women. Willa Cather's Alexandra Berson in O Pioneers! is independent and entrepreneurial. The world wars gave women opportunities to serve as nurses, ambulance drivers, and fighter pilots. The painter Romaine Brooks presented her iconic image of the heroic feminine in 1914: La France Croisée depicts her lover, Ida Rubinstein, as an ambulance driver, the city of Ypres burning behind her.
In the midfifties, Emma "Grandma" Gatewood, sixty-seven years old and mother of eleven children, became the first woman to hike the Appalachian Trail. She carried her gear in a homemade knapsack and slept under a shower curtain. She wore Keds. Emma was a survivor of domestic abuse: she had been nearly beaten to death by her husband more than once; when she divorced him, he threatened to commit her to an insane asylum. In 1955, she turned to her kids and told them, I'm going on a walk. She completed the 2,168-mile trail three times, the last when she was seventy-five years old.
In the sixties, Audrey Sutherland, who was raising four children alone on Oahu, would leave for weeks at a time to take solo expeditions. She explored the northern coast of Molokai, swimming in jeans and pulling her camping gear behind her in an army bag. From 1980 to 2003, she explored over eight thousand miles of waterways in Alaska and British Columbia, traveling with an inflatable kayak.
As a woman, it's powerful to see narratives where women are allowed to own heroic space. When I moved to Vermont, I relished Anne LaBastille's four-part memoir Woodswoman, which details her construction of an off-the-grid cabin on a remote Adirondack lake in the sixties. I follow Liz Clark's solo sailing adventures on her sailboat, Swell, and the expeditions of mountaineer-filmmaker Taylor Freesolo Rees. Rees recently spent two months trekking and mountaineering in Myanmar with fellow climber Emily Harrington. "It's a kind of suffering we are privileged to endure," she said. "We are not living within a war zone or forced to be here … Presence like this is a gift, a really uncomfortable one."
Lists detailing the "best of" adventure narratives, like National Geographic's, are still noticeably short on women, particularly women of color or LGBTQ writers. It is already difficult for female adventurers to receive equal sponsorships and book deals from major publishing outlets, but nonwhite and non-Western women are represented even less. Lhakpa Sherpa, a victim of domestic violence working as a housekeeper in Connecticut, has summited Everest seven times—more than any other woman in history—yet remains largely unknown. The much-written-about Afghani women's cycling team lost sponsorship after their coach, Haji Abdul Sediq Seddiqi, was accused of corruption and marrying and divorcing three of the young cyclists. Rahawa Haile wrote recently about what happened when she hiked the Appalachian Trail, claiming space and clarity: "I can confirm that one does not walk 2,000 miles across the face of this country as a black woman without building up an incredible sense of self. I have seen what I can be."
Dinesen said that the "real glory of dreams lies in their atmosphere of unlimited freedom." Imagine what would happen if women could claim more of this unlimited freedom?
*
Reading a book about erotic energy recently, I came across the notion that humans crave both security and novelty, and the two instincts are opposed. For me, this is a constant negotiation: the desire to be safe and the desire to be stimulated. "In order to live a fully human life," Adrienne Rich said, "we require not only control of our bodies (though control is a prerequisite); we must touch the unity and resonance of our physicality, our bond with the natural order, the corporeal grounds of our intelligence."
I think back to the dinner party photograph, to the fractal womanhood of Monroe, McCullers, and Dinesen, the way opposing impulses create chaos in the self: to engage or retreat, to be hungry or feel full. For de Beauvoir, that fractured self resulted in a multitudinous sense of want:
I want everything from life. I want to be a woman and to be a man, to have many friends and to have loneliness, to work much and write good books, to travel and enjoy myself, to be selfish and to be unselfish … You see, it is difficult to get all which I want.
Depicting the feminine heroic has traditionally meant acknowledging the tension between Jungian archetypes—anima (feminine) and animus (masculine)—within a person, and amplifying the masculine traits: leadership, strength, tenacity. Imagine if emotional dexterity and agile compromise were valorized as much as stoicism and physical strength? Nurture over conquest, peace over violence, conservation over exploitation. As women carve more space for themselves in the adventure cannon, perhaps readers will see more of the feminine heroic, allow for its complexity and range, and acknowledge the relationship between representation, power, and possibility.
Megan Mayhew Bergman is the author of Almost Famous Women. She is one of the Daily's correspondents.