The late Yevgeny Yevtushenko had an unlikely affinity for cowboy poetry.
Last Saturday, April 1, outside Mandan, North Dakota, the fifty-year-old Shadd Piehl cooked dinner for his family: lasagna, garlic bread, a simple spinach salad. The wind chimes whispered on his porch, the breeze parting the prairie grass and bare elms beyond the barn. With the table set, Piehl called his wife, Marnie, and their three boys to the kitchen. He raised a toast: "To the great Russian poet and witness to our marriage, Yevgeny Yevtushenko."
As unlikely as it seems, Yevtushenko—the internationally renowned poet, the voice of so many young Soviets crawling out from Stalin's long shadow, the "angry young man" on the cover of Time in April 1962—cinches their memory of an era. Yevtushenko, who died of cancer Saturday, lived in Oklahoma, where he'd been teaching poetry at the University of Tulsa since 1992. His eulogies trumpet his defense of the Jewish people; they quote from "Babi Yar," his most recognized poem, composed after his first visit to the unmarked mass grave near Kiev, Ukraine; they boast of the thousands who once flocked to hear him read. But few have mentioned his impact in the world of cowboy poetry, a genre in which Yevtushenko—unlike so many snickering journalists and dismissive academics—appears to have found common ground with Americans. 
"He said, I consider myself a Siberian cowboy! He actually said very disparaging things about academic poets in the United States, about how precious they were," said Hal Cannon, the founding director of the National Cowboy Poetry Gathering and its host organization, the Western Folklife Center. "So he related to it, and related to the passion of it, the spirit. So I think it was a great experience for him and I think it was also really validating for many cowboy poets."
In 1992, the same year he joined the faculty at the University of Tulsa, Yevtushenko gave a reading at Lewis & Clark College in Portland. He read first in his native tongue, and then stepped aside for the writer Kim Stafford (son of the acclaimed poet William Stafford) to recite the same work in English. Beforehand, Yevtushenko and Stafford—an early volunteer with the Cowboy Poetry Gathering in Elko, Nevada—had rehearsed in the college chapel.
"I started doing the poem in English, and he stopped me immediately. He said, No! No! No! I'm used to speaking to ten thousand people. It's got to be very, very big!" Stafford said, adopting a thick Russian accent. "He really wanted me to punch it out there. So that got me thinking about Elko. You go to an academic poetry reading and the poetry may be fine literature, but the event is pretty tame. Pretty dry … and Yevtushenko—he didn't fit that mold. It was like a bomb went off when he started reciting. This volcano of language was pouring out of his body. So my experience in Elko told me this guy is a gold mine. We've got to get him to an audience that will really appreciate the performative element of his work."
Three years later, thanks to Stafford and Scott Preston, a poet, publisher, and advocate for cowboy poetry, Yevtushenko stole the show at the eleventh annual Cowboy Poetry Gathering, sharing the stage with cowboy and rodeo poets like Paul Zarzyski, Buck Ramsey, Linda Hussa, Vess Quinlan, and a young Shadd Piehl, then just twenty-eight. Today, those who connected with Yevtushenko in Elko cherish different memories, but they all emphasize his flamboyant getup: baggy harem pants tucked into the top of his cowboy boots, bright embroidered jacket, and a chunky silver-and-turquoise necklace.
"He looked really manly and artistic, though. That could have looked kind of … off," Marnie says. "But it just worked for him. He just wore it like a boss."
"He'd dress in these outlandish, ungodly, multicolored things, and he made no bones about it," added Andy Wilkinson, a poet, songwriter, and veteran performer in Elko. "Having been under the Gulag all that time wearing gray, he said, I'm never going to wear anything dull again."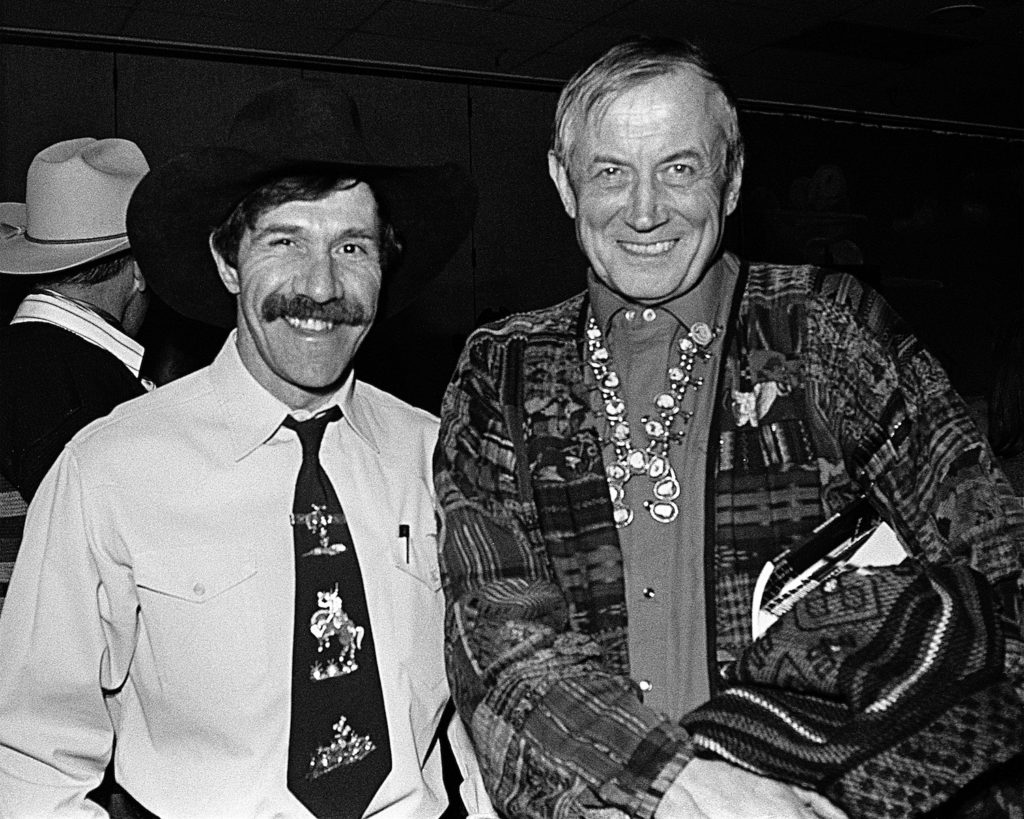 And they all remember the way he performed: animated and loud, arms flailing, spit flying, his new anthology in hand, leaving the stage behind. The one and only Ramblin' Jack Elliott, walking with a group of performers to a restaurant downtown, would later mimic Yevtushenko's delivery, his accent spot on, according to Bette Ramsey, and his limbs going wild.
"Talk about a flashback to Catholicism," Zarzyski said. "Yevtushenko in his Cossack vestments moving up and down the aisle reciting poetry—and the women just swooning."
When Preston first introduced Piehl and Marnie to Yevtushenko, the self-proclaimed Siberian cowboy insisted he could read their fortune. Lifting The Collected Poems: 1952–1990, Yevtushenko asked Piehl to pick a page number and a line at random. "Page seventy-two," Piehl said. "Line five." Yevtushenko split the book and read, "We set off side by side, our path the same." When Preston mentioned the young couple's courthouse marriage coming up the next day, "he really kicked into overdrive," Piehl said. He grabbed them both, smiling wide, eyes big and blue.
"I love weddings! I've been married four times!" He added: "I'd love to be there with you."
"It wasn't really a thing you refuse," Marnie said.
The next day, just before five in the evening, Yevtushenko—alongside Zarzyski, Preston, and the poet Trish O'Malley—stepped through the doors of the Elko County Courthouse, as promised. After he recited a short Russian proverb, and Zarzyski recited "The Bucking Horse Moon," a poem of his own, Piehl and Marnie eloped. As the official witnesses, Yevtushenko and Zarzyski signed the marriage certificate. While the group waited in the hallway for Piehl to pay the fees, Yevtushenko turned to Marnie and asked bluntly, "May I bless your womb?"
"So he put his hands right on my abdomen—it wasn't inappropriate, I gave him permission and it was kind of wonderful—and he said, I have five sons, and I wish sons upon you. And I said, Well terrific, thank you. And you know, we have three sons, which I love."
For a select group at the '95 Cowboy Poetry Gathering, Yevtushenko's death sparks nostalgia for what they suspect may be the best late-night jam session the Gathering has ever known. Spontaneous hoedowns are par for the course in Elko, as much a part of cowboy poetry as the poetry itself. What begins as a small conversation at the hotel bar soon becomes a packed lobby or—more intimate yet—a hotel room chock-full of musicians and poets ready for a little more drink and a little more melody. In 1995, the after-hours caucus convened in the hotel room of the late Buck Ramsey, sometimes referred to as the "spiritual leader of the cowboy poetry movement," and his wife, Bette. In groups of two or three, the performers trickled in. Andy Wilkinson; Ramblin' Jack Elliott; Canadian singer-songwriter Ian Tyson; musician and "Official Cowboy Poet of Texas" Red Steagall. Westerners all—except for Yevtushenko. It didn't matter.
"It makes sense that a person would come from another culture and do their poems, because everybody at Elko thinks they're from another culture. You're from the cow culture. You're from the sheep culture. You're from whatever," Wilkinson said. "So I think they have a warm spot for people who have paid for it, like Yevtushenko."
Of course, not every cowboy poet loved Yevtushenko, Cannon says. The communist jokes were sure to come, ignorant as they were. "There are some people who, whenever anything is experimented with, they're resentful of it. They want just straight down the line sure enough American cowboys."
But many will never forget Yevtushenko or his brush with the underdog of American poetry. After the Gathering, despite a week of long days and longer nights, Zarzyski immediately picked up the pen and went to work.
"You get back from Elko and you're exhausted. You're running on the two brain cells the whiskey failed to pickle. And so it's usually a week of what I call reentry to the real world. But I hit the ground running and wrote that poem the next morning."
He titled it "Yevgeny Alexandrovich Yevtushenko—Cowboy Poet." Its final lines go like this:
Bring it on home,
Yevtushenko—bring us back to the mother world
where your poetry throws open the gates
rolls and buries the barbed wire, bulldozes
the hormonal walls into rubble,
and hoists the white flag that allows us all,
unconditionally, to swoon for you.
Carson Vaughan is a freelance writer from Nebraska whose work has appeared in The New Yorker, the New York Times, Slate, Smithsonian, and Travel + Leisure.