Our Winter issue features a poem by Fanny Howe, whose latest book, The Needle's Eye, came out in October. At seventy-six, Howe has published sixteen books of poetry, fourteen works of fiction, and three collections of essays. On top of that, she's a filmmaker—earlier this year, she debuted two new short films at a lecture called Acts of Mercy at the CUNY Graduate Center. She lives in Cambridge, Massachusetts, in an apartment she's dubbed "the brick womb."  Her longtime friend William Corbett went to Boston to interview her about her life and work; an excerpt of this interview appears below. —The Editors 
INTERVIEWER
Samuel Beckett was your mother's childhood friend. What were your encounters with him like?
HOWE
My senior year in high school, my father sent me to France, my great dream. I was signed up for a French-immersion course just outside of Paris in Sèvres. I felt trapped and so, on the second night, I went out with my bag and the gardener helped me climb over the wall. I got to the train station and in to Paris. I had one name, Mr. Beckett and a phone number. I called him and he came right away and helped me find a cheap hotel. He looked after me and walked me around the city until a friend arrived, as planned, from America. 
At first I thought of him as a nice friend of my mother, but I began to notice that I was in the presence of someone who had the truth, the way you can surmise such things when you are young. I started taking notes on what he said. I remember him saying that Descartes wrote in the fireplace. We went to see the Russian movie The Cranes Are Flying, and we both cried. We went to cafés, in one of which people jumped up and asked if he was Samuel Beckett. He recoiled, then shook their hands. He was very like my father—his face, his grim humor, his chosen isolation, his coloring, his hands and ears. I felt at ease with him.
INTERVIEWER
Had you written anything at that point?
HOWE
I wrote short stories and poems beginning at age fourteen. My love for poetry began with translations and not with English.  I still love the formal voice of the translator and its polite distance from the original. The one thing I was good at in school was languages, so I labored over French and Latin happily, and later Greek.
Already, at quite a young age, poetry was like an invisible figure—the lyric I—walking at my side and holding me lightly by the right arm.  I lived in a secondary world and preferred the visions and invisible beings that lived in poetry, Scripture, Ouija boards, and songs. I believed in things I couldn't see, and I believed in a God that has no name, and preferred the outdoors to the indoors.  Indoors I read nineteenth-century novels and then reread them for decades, instead of progressing into contemporary fiction. That came later.
I went to movies alone, my love for them was so great when I was a teen. In a sense, I believed they were made for me, me alone.
INTERVIEWER
Do you still like to go to the movies alone?
HOWE
Almost always. When I'm at the movies it's complete immersion and happiness. I feel I'm at last safe, a little bit like being at mass. I resee movies, going back to periods. Like everyone else, I love thirties romantic comedies. John Ford, I love his light and shadow. A lot of moviegoing for me is the way the light is used, what the camera is catching. I constantly go back to the Italian neorealists. Rossellini is awfully good at taking what he finds and making something of it. That movie with Ingrid Bergman, Stromboli. I love that movie, the way he uses the villagers, just what they're naturally doing. And Bresson. I see in the rigorous moral theology behind every one of his movies. There's such an ethical mind at work there. His images are still kind of wild, Mouchette in those leaves.
INTERVIEWER
What movies are you repelled by?
HOWE
Ones with enormous technical resources that excite the worst qualities of human nature—violence and predatory success. I can't bear the artificiality of Hollywood movies. The more expensive their equipment, the further they get from what they want to do. The way technology has made filmmaking too slick is summed up in my preference for Henry Hampton's Eyes on the Prize over anything Ken Burns has done. For me, the best films come out of the least-equipped companies, like the neorealists or in recent years like the LA Rebellion group with Charles Burnett at the fore, and movies from Iran, Greece.
INTERVIEWER
Do you think of yourself as a loner?
HOWE
I prefer to be alone. I'm scared of people. I haven't been with anyone at all for ages, years, decades. I think I am a monk in a world without a monastery.
INTERVIEWER
How did your interest in making videos begin?
HOWE
When I was teaching at MIT, I audited a class taught by the filmmakers Ricky Leacock and John Gianvito, who became a dear friend and took me around with a camera, showing me the ropes until we made a film set in the abandoned Mattapan mental hospital before it was torn down.
In the early nineties, in San Diego, I began walking around with a camcorder and worked on editing some little videos with the students, and this became an accompaniment to my days there and through the years since. I'm a happy amateur.
Last summer, the people at the film archive in Dublin got in touch with me about my uncle John Manning's films, short films made in the thirties—very Irish, something Beckett-ish about them. I learned that my mother had made three films. I had no idea she had made them and discovered another art of her world. One was called "Garden Party in the Rain," which is what it was. One of them was about a man who wanted to commit suicide and I can tell you it was Beckett. It was the early thirties when they were such good friends. He wants to kill himself but he falls down on the beach in Sandymount. Then he doesn't want to kill himself and of course he's killed. I can't wait to see them again. I have a little writing about movies in my collections of essays, The Winter Sun, and in my recent book, The Needle's Eye.
INTERVIEWER
During your years in London you began visiting a monastery in Ireland. How did this come about?
HOWE
In 1997, I met the Benedictine monk Mark Patrick Hederman at a theater conference in Cork. Someone said something vicious about movies, and he made a brilliant comment in response. I introduced myself and we became friendly and he said you must come to the monastery. I went and after a few visits I started a writing workshop there to pay my way every summer. The monks and nuns are such great storytellers, they delight each other. It's away from America, a working farm on a hill, walled in, with a school and guest house. Gregorian chants four times a day. Order, flowers.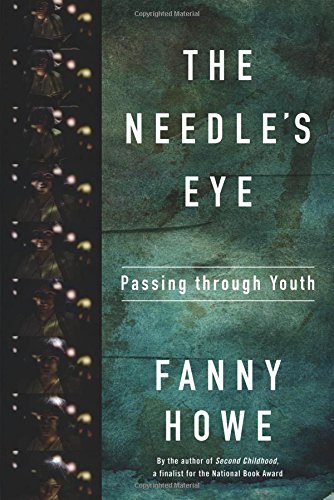 INTERVIEWER
You made a movie while you were there.
HOWE
Yes, with the artist Sheila Gallagher. We met in America—she lives in Jamaica Plain—and we went to the monks with an idea for a film about Saint Bridget. They were interested, so we went to work and wrote endless drafts together. It is called Brigid of Murroe and is really a children's story told in voice-over, my voice. When we got to Ireland, Sheila tore around, doing the video, and I sometimes went with her. She is a magician, and we can show it now. I hope to make more movies with her.
INTERVIEWER
What are your ambitions in film?
HOWE
I love working on short things. For me, the intensity of the work should result in a short movie. I guess to have them to hide behind and speak for me.
INTERVIEWER
Is this related to your statement that you "let the words write the poems?"
HOWE
Or call it improvisation. We each have our rhythm of attention, of how far we can go on our own brainpower. Then something else takes over. The words, the sound, the materials themselves. The struggle that the writer creates for herself is to make a place where she can get lost without fear.
INTERVIEWER
What are the great poems of the impersonal?
HOWE
The Psalms. Very early poetry, from Celtic to Chinese. Syriac to Greek. You would only be able to unearth proper words about God through doing a translation of these. My dream poem is to capture what they do, that incredible impersonal emotion, but there's no one there.
INTERVIEWER
What is the value of poetry in such a brutal world?
HOWE
You'd have to ask that about all the arts. They lift everyone up. If you ask what good is music you'd say it's an absurd question. Poetry is innate. You can't not have poetry if you want to have a whole human being. I heard a Brazilian man at a party say, I hate going to poetry readings but my brain loves hearing it.
INTERVIEWER
A student in the class at City College asked, What do you do if you have no belief?
HOWE
I said that there are always the arts and they are just as good as reading theology with belief. I feel that the person making the art and the person seeing the art are engaged in a transcendent experience.
INTERVIEWER
If you had to do it all over again—
HOWE
I would like to be a wandering monk with some children traveling in my company.
William Corbett is a poet and memoirist who has written books on the painters Philip Guston and Albert York and edited the letters of the poet James Schuyler. He directs the small press Pressed Wafer and lives and works in Brooklyn, New York.