The story behind our Winter cover.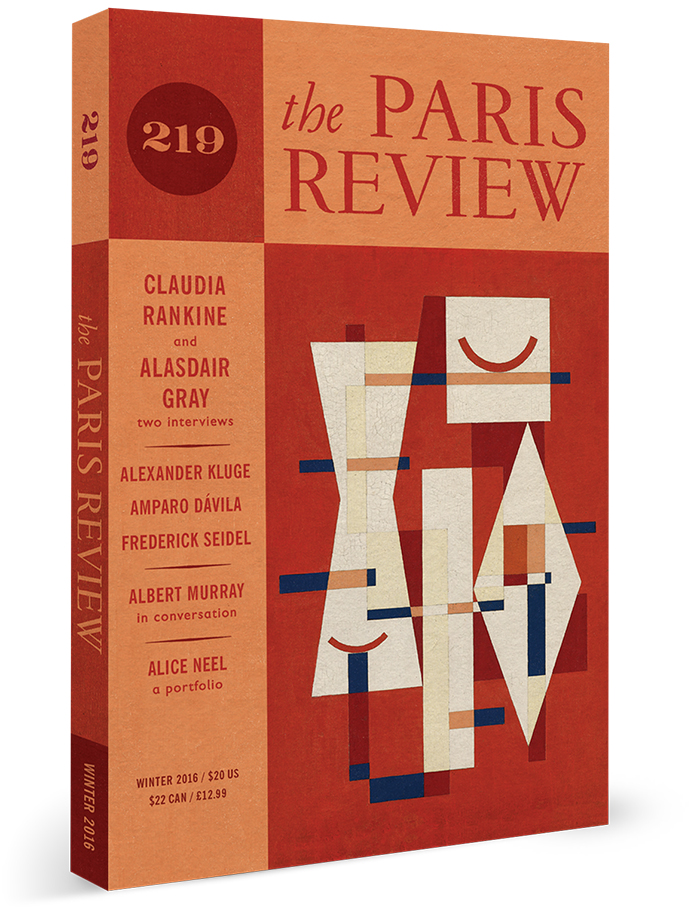 The cover of our Winter 2016 issue features Sin título, composición (Untitled, composition), a muted, geometric painting from 1956 by the Cuban artist Mario Carreño. Its quiet oranges, somber reds, and deep-sea blues are held within measured rectangles, triangles, and squares. In the top right, a red curve rests on an ocher block like an accent. Sin título hearkens back to the abstract covers the Review favored through the sixties and into the seventies, featuring the work of artists such as Günter Fruhtrunk and Geneviève Claisse.
Sin título was on display last February in David Zwirner's exhibition "Concrete Cuba," which showcased eleven artists from 1950s Havana. The artists, formally known as Los Diez Pintores Concretos, converged to articulate historical "concrete art within a Cuban context," as Abigail McEwan writes in the show's catalogue. The form favored "a mathematical, mechanical construction." Some paintings, like Loló Soldevilla's, look like planetary studies, with globular shapes snaking after one another.
Mario Carreño held an outsize position in this community. He positioned himself as an early theorist of the movement by working on the magazine Noticias de arte, writing articles such as "Morality in Abstract Painting," in which he introduced Cuban Concretism as "an aesthetic corollary of the historical and spiritual needs of our time." 
Born in Havana in 1913, Carreño won a drawing competition hosted by the paper El mundo when he was only nine (some commentators wrote that the young artist precociously evoked the French painter Henri de Toulouse-Lautrec). At twelve, he entered Cuba's prestigious San Alejandro Academy of Fine Arts, becoming something of a prodigy. Carreño traveled all over the world in his early adulthood, presenting his first solo exhibition in New York when he was twenty-seven.
Like many of his era, his various emigrations were stimulated by regime change or unrest. In 1932, Gerardo Machado's "secret police" raided Carreño's childhood home, and he decamped to Spain until the Spanish Civil War broke out; at that point, he moved back to Cuba before leaving to spend a few months in Mexico. He sprung around like that, always bouncing back to Cuba, until 1944, when he moved to New York. He stayed there for nearly a decade. His work during these years flattened gradually from vibrant Expressionist pieces to the more abstract. The best example, I suppose, is the difference between two paintings titled Sugar Cane Cutter—this one, from 1943, and this one, from 1948. Most of the human form has been wiped away, leaving—literally—just skin and bone. By the 1950s, he finally landed on the mathematical precision of pieces like Sin título.
McEwan notes that Carreño's concrete paintings have a strong linear sensibility, meaning the line is dominant. Sin título, one of Carreño's early concrete works, "conveys a new structural clarity, as seen in the muted palette and crisp delineations … in which a textured, rectilinear ground of ochres, oranges, and browns is overlaid with a pattern of syncopated shapes." Compare these to a couple dizzying works by Luis Martínez Pedro—Territorial Waters—in which bold curves revolve a central point, looking rather like the ellipses, the invisible lines, on which planets move around the sun.
The concretos, and this painting in particular, are the artifacts of a utopian ideal. One of Los Diez, Pedro de Oraá, once wrote in a history of the group that they felt an intense romanticism in the project: the spirit of the concretos simmered in hope and imagination. The Cuba of the 1950s was full of prerevolutionary tumult and vigor—Batista was still in power and upheaval was a growing presence in the national conversation. Instead of merely decrying the regime, Carreño and his contemporaries wanted to offer "a new form of political and social engagement" through their work; but rather than create visions for a new system, their paintings abstracted the very idea of utopia itself, through color and line. They framed their art more as a question—a prompt—for the Cuban people. What could our country be? What should it be? Their art urged for care and precision in answering those questions—a potent idea for anyone living through a political sea change.
Caitlin Love is an associate editor of The Paris Review.