Elena Passarello's column is about famous animals from history.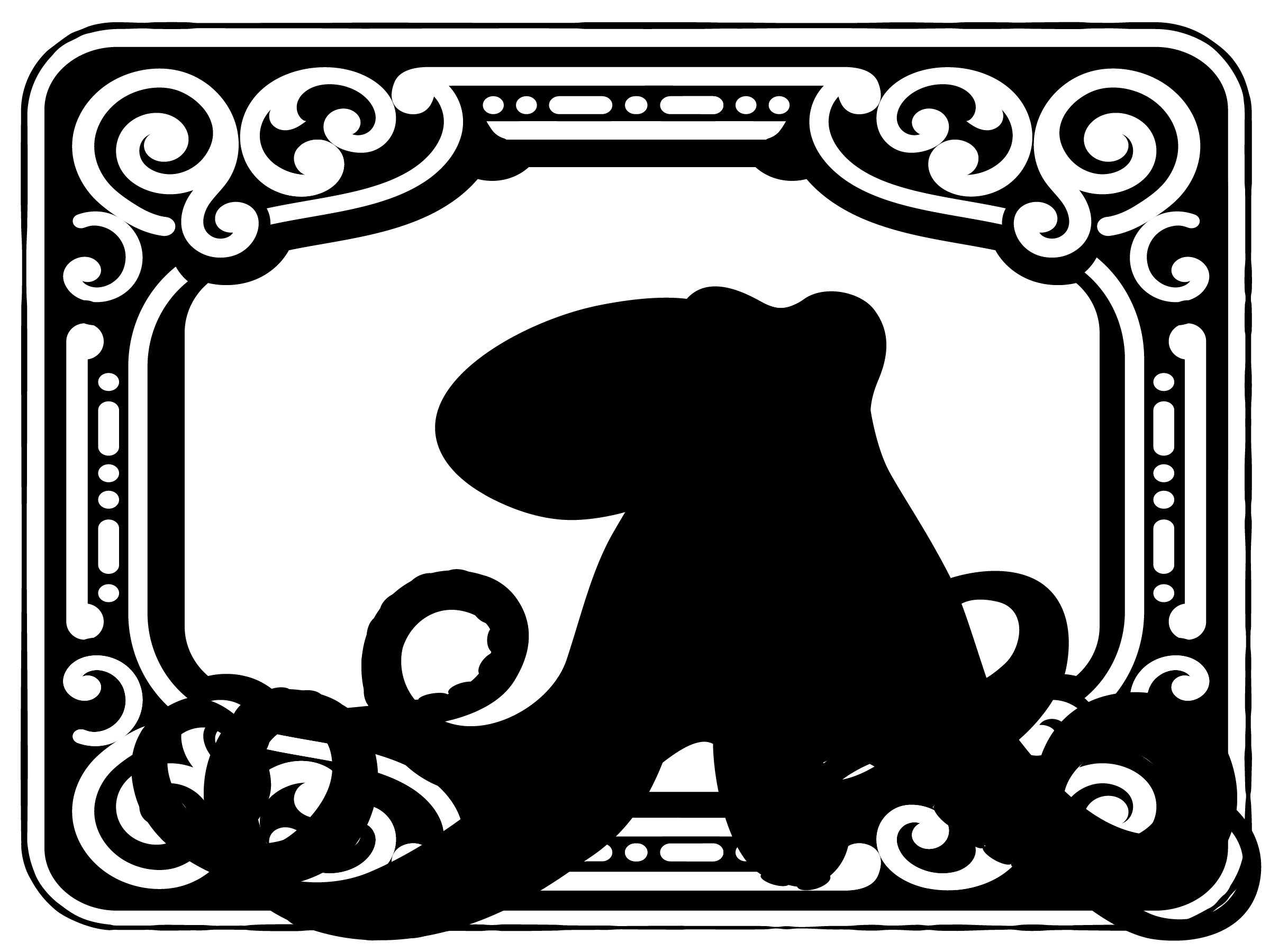 Design by Kristen Radtke.
Your tentacles are magical
They pick the winning team! …
You pick the winner
When you eat your dinner!
Paul the Octopus, we love you!

—From "Paul the Octopus" by Parry Gripp 

Those who believe in this type of thing cannot be the leaders of the global nations that aspire, like Iran, to human perfection.

–Mahmoud Ahmadinejad

"It's only an octopus."

—Carlos Marchena, central defender for Spain
Name: Paul the Octopus
Species: Octopus vulgaris
Years Active: 2008–2010
Distinguishing Features: Chromataphoric skin, chunky central "head" with eight muscular hydrostats, colorblindness
Skills: Opening latched containers, aquatic camouflage, human-face recognition, divination
Habitat: A deep tank with two brick walls and a glass front, decorated with rocks, rusty ship parts, soccer balls, and a mini World Cup trophy.
Additional Notes: By many estimations, 2010 was a lackluster World Cup. Soccer's stars of the moment underperformed, hundreds of seats in the Cup's South African stadiums went unfilled, and the traditional cheers and chants of the tournament were drowned out by both Shakira's awful "Waka Waka" song and those droning vuvuzelas. The most memorable aspect of the World Cup happened, perhaps, not at the nasty Spain-Netherlands final, but eight thousand miles from Johannesburg, at a public aquarium in northwest Germany. There, a two-year-old octopus successfully predicted eight of the match results—one fulfilled prophesy for each of his curlicued arms.
Named after the children's poem Der Tintenfisch Paul Oktopus, Paul the Octopus gained local notoriety shortly after arriving at Oberhausen's Sea Life aquarium in 2008. He was an engaged and curious resident, often swimming to the front of his tank to peer back at the visitors who ogled him. Paul amused himself by juggling tank decor and even unscrewing lids from jars. This is a thing with octopuses; like many predators in captivity, they seek ways to challenge themselves: hunting, collecting, squeezing into tiny spaces, sometimes even escaping their tanks. It's believed that these mensa members of the sea are the only invertebrates in the kingdom that engage—like birds and mammals do—in sport.
This cocktail of playfulness, guile, and curiosity led Paul's keepers to test his psychic powers. It was the year of the European Championships, the second most-watched soccer event in the world. In what began as an interoffice joke, aquarium employees used a pole to lower two acrylic containers, each bearing a shellfish treat, into Paul's tank at dinnertime before the first Group Stage matchup. One box bore Germany's flag on its front; the other was decorated with that of their opponent, Poland. Whichever treat Paul picked first would serve as his prophecy for the match win. Paul unlocked the snack in Germany's box, successfully predicting the team's first victory. In the coming weeks, Paul correctly foresaw the results of three of Germany's next five games.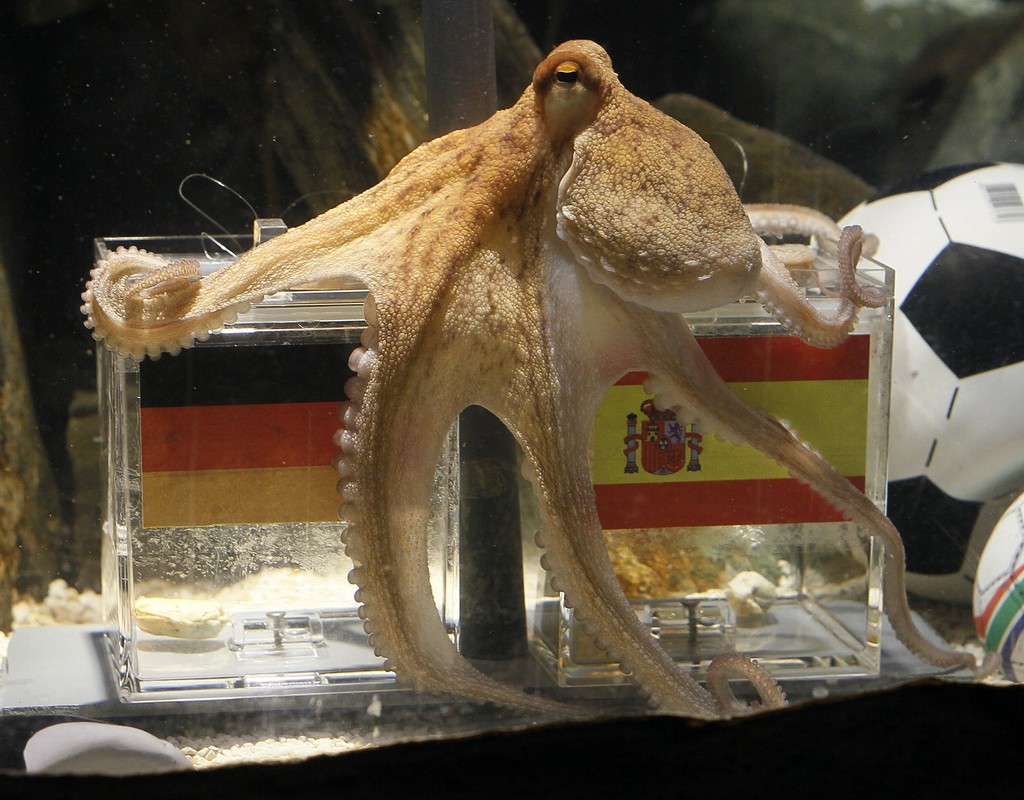 Paul was a national celebrity by the 2010 World Cup, with thousands looking to his tank when he foretold Germany's first-round win over Australia. For the next round of play, Paul shockingly selected a mussel from a foreign-flagged box, correctly divining Serbia's 1–0 win—the first time he ever went against his home team. After that, Paul predicted that Die Mannschaft would trounce all opponents for the rest of the group trials, beating Ghana, England, and Argentina—which they then did.
By the quarterfinals, Paul's aquarium was packed with fans draped in German flags and correspondents crouching at the glass of his tank with little notebooks and cameras. "Paul is such a professional oracle," Sea Life's manager boasted. "He doesn't even care that hundreds of journalists are watching and commenting on every move he makes." There were talks of agents and endorsement deals. Hashtags ran rampant and puns—"Octo-damus!" "Clairbuoyant!" "He has an inkling!"—abounded. Cynics gave sober reasons for Paul's perfect World Cup record: tastier-smelling mollusks were probably being placed into the German box, or maybe Paul had developed a penchant for striped flags. Others said basic probability theory explained away Paul's magic, but there's little room for logic amid World Cup fever.
There is one detail the coverage neglects: how lovely Paul looked while divining. In videos of his predictions, the octopus is sunbeam-colored and resplendent. When the platform holding the two treat boxes sinks to the floor of his tank, Paul skates over to it, his eight arms moving in separate curling rhythms like the braceo of four flamenco dancers. In one prescient session, he lifts the lid to Germany's box and pours himself in, eating his prize mussel while winking out at the bipeds who clock him. For the Argentina matchup, he leaps (yes, leaps!) onto the top of the box and wraps his golden arms around it, as if to hug the German flag.
Trouble came on the eve of the semifinals. By this point in the Cup, two national news networks were running live feeds of Paul's auguries. English bookmakers William Hill estimated Paul's predictions had already won humans at least a half-million pounds. The football-loving world watched as Paul slid down the pole to the German box with more grace than Elizabeth Berkley as Nomi Malone. He then wrapped a few more arms around the pole to launch himself away over to the neighboring box—the one bearing Spain's flag.
After Paul foretold the German loss, fans worried. Was this just a prediction, or was it also a jinx? An aquarium representative said the similar patterns on the two flags had probably confused Paul, so maybe Germany still had a chance. There were death threats ("All you need is four normal potatoes, olive oil for taste and a little pepper!") and angry puns ("This is absolute pulpo fiction!"). Spain's prime minister offered to send a security team to guard the Sea Life Center, and a Galician seafood festival (perhaps suspiciously) offered to buy Paul a ticket out of town. In the end, Paul maintained his perfect World Cup record; Spain trounced Germany one–nil.
Teutonic goodwill was restored three days later, however, when Paul foretold Germany's win in the third-place play-off. Video from that prediction begins with Paul almost hidden among the decor in his tank. Once the two treat boxes are close to him, Paul inflates from over in the corner, luminous as ever, several arms reaching long toward the two flags. He then climbs up to sit on the boxes' lids, arranging himself so that his body sits half atop one box and half on the other—which will he pick? Ever the showman, Paul makes them wait for it. He slowly unfurls an upstage arm, reaches behind him, and coyly opens the very back corner of the German box's lid. On the other side of the tank wall, the clicking sound of dozens of camera shutters rises to a fever pitch. The very next day, Paul made his final prophecy—Spain would win it all.
It's rare for a common octopus to live long enough to see two World Cups, and Paul died by the time Germany did manage a victory in 2014, beating Argentina in extra time. On the day of the win, Google's front page doodle image was of a golden octopus floating on a cloud, cheering Germany from heaven.
A zoo's worth of fauna (among them a parakeet, goat, elephant, sea turtle, and a very cranky kangaroo) stood in the wings to take Paul's place as the next great animal oracle. Shaheen the camel predicted two-thirds of the 2014 Cup's early matches. This year, a shark and a monkey were among the critters consulted about the presidential election. It's a funny thing about humans—we need creatures with early intel about the high-stakes outcomes of the human world. We're always seeking experts that can look into the hazy future and tell us that which is just out of our reach.
Elena Passarello is a Whiting Award winner and the author of Let Me Clear My Throat and Animals Strike Curious Poses, which will be released by Sarabande Books in February. She is one of the Daily's correspondents