Last month, after her reading at the Golden Notebook bookstore in Woodstock, New York, Irina Reyn sat down for an onstage conversation with the novelist Emily Barton. Reyn had read from her new novel, The Imperial Wife, in which two women—Catherine the Great in eighteenth-century Russia and Tanya in contemporary New York—negotiate marriage and ambition, on two very different registers. Barton's third novel, The Book of Esther, was also published this summer. It imagines a nation of Turkic warrior Jews transposed from the Middle Ages to World War II–era Europe and follows one woman's Joan of Arc–style quest to defend her people. Unsurprisingly, the conversation quickly became a lively discussion about the writing of both novels, gender and work, and the standing of women in the current political climate. —Ed. 
BARTON
I was impressed by how thoroughly you managed the relationship between the two plot lines in The Imperial Wife, which mirror and foil each other in a marvelous way. I also found the subtle differences between the voices of the two characters entrancing. What made you choose to tell the story through these two women?
REYN
One of the pleasures and challenges in writing the book was that the two story lines were linked more by theme than by plot, so I was free to explore both women facing similar situations in their marriages. Reading Catherine the Great's memoirs and biographies highlighted the fact that she was a stranger in a strange land, something I—and my contemporary character, Tanya—could identify with. These are two women who faced the trial of moving to another country by pushing themselves toward greatness.
BARTON
The research you did for this book is wide-ranging—Russian history, the mechanics of an art auction house, Tanya's experience as a child immigrant, the slightly farcical world of the oligarchs and their art buying. What drew your attention first?
REYN
I love that you're pointing this out. Your book The Book of Esther, is one of the most intricate and complicated worlds I've read in some time!
BARTON
Well, your work is intrinsic to your mind and my work is intrinsic to mine. You might think writers are fundamentally the same, that we have more in common than not, and then a question like this arises and you see there can be vast divides. I'm interested in where you felt you were in your element and where you felt at sea.
REYN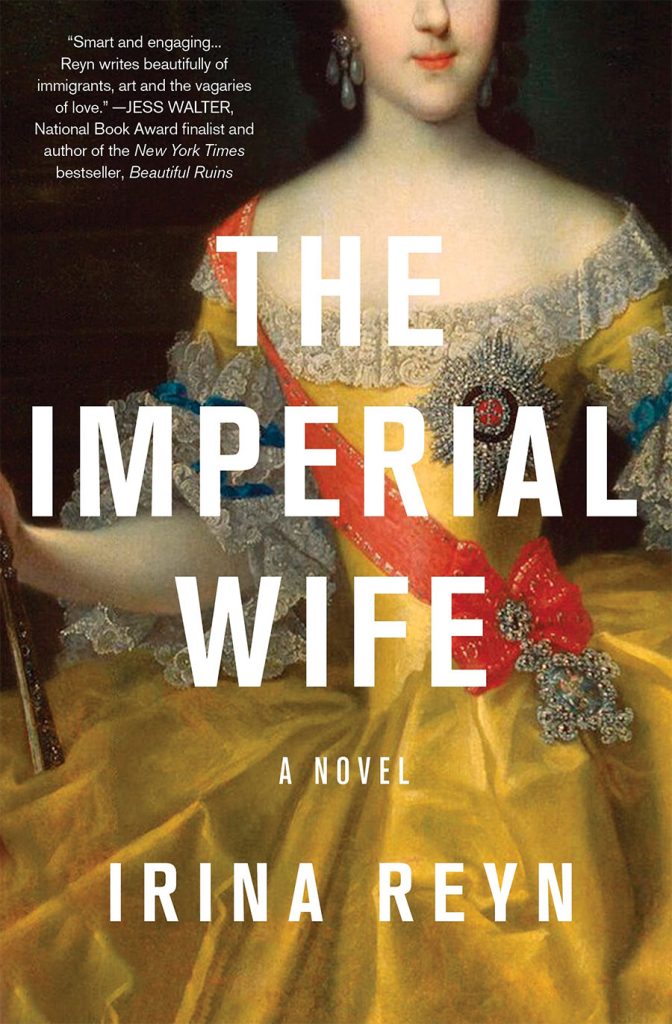 Catherine was where I felt more at sea, because it's hard to put yourself into the mind of an extraordinary person like her, not to mention a princess in eighteenth-century Russia. It's not like I felt, Oh yeah, she's just like me! Tanya was also much easier to write because many of the personal details of her life dovetail with mine, plus I'd done a lot of research tailing a friend of mine who had Tanya's job—head of a Russian art department at a top auction house. She gave me a lot of the details for a job that seemed so fantastic, a job I could not have conjured credibly on my own. I don't know if you begin from this place as a writer, but what a character does for a living really defines them for me. Work has been an important part of my life, and I'm fascinated by women who are good at their jobs, so competent that the people around them pale by comparison. That is certainly part of Catherine's frustration—she knows she would make a better emperor than her future husband, who is the legitimate heir to the throne. Of course, she found a solution for that problem.
BARTON
My writing has also always focused on work, and like you, I'm interested in writing about women working. In some ways, that might be the primary subject of Brookland. I don't completely understand why writers are so obsessed with subjects like love. The bottom line is that love only gets you through so much of the day. There are all these hours you have to fill up with other stuff. I found your Tanya such a sympathetic character and, I have to say, a great wife, though part of what the novel as a whole wants to do is question what that means. She's not merely her husband's wife. What is your sense of her as a working person?
REYN
This book came out of the sense that we're not as far along as we should be in the ways we perceive powerful women in the workplace. All the Hillary Clinton coverage over the course of this long election season has brought this fact to the surface. There is still something so threatening about a woman in a top position, and the conversations about her success often circle around how she got there and what she had to sacrifice to achieve such a lofty goal. That's an accepted part of the narrative where powerful women are concerned. The horse myth—that Catherine the Great died by having sex with a horse—is exactly the same as what we are seeing with Clinton. It is a way to make light of, to besmirch and pull down a powerful woman.
BARTON
A way to call her monstrous.
REYN
Yes. In your book, you have a character who is expected to fall in line and become a rabbi's wife but instead rises to political power. Were you interested in exploring the trajectory of her acquiring this unexpected strength?
BARTON
I was interested in her initial notion that the only way to become powerful was to become male. My character Esther first thinks, If I'm going to do anything in this world, somebody will have to turn me into a boy. She discovers that she can turn herself into a boy but then realizes it's not necessary. In the body she was given and in her female selfhood, she can rise to the occasion of what she needs to do. But I agree with you that we are far from being able to do that fully and equally in this world. The extent of the misogyny directed at Hillary Clinton is shocking, eye-opening, and a call for action on the part of all right-minded people. The standards she's being held to are not the same as those to which other candidates are being held. Can you imagine if a woman candidate pulled the kinds of stunts Trump pulls?
REYN
There are few novels that focus on this specific issue—the cost of female success.
BARTON
One of the things I admire about Tanya is her internal conflict about what her role should be. She has a sense of what her role should be as a Jewish woman, as an immigrant, as a Russian woman, as somebody's wife. She knows what's expected of her at her job. But all of these roles send her conflicting messages. I thought she engaged with that struggle in an active, interesting way. It's not material I often see explored in fiction.
REYN
Part of the question, too, is how much the character is aware of all these conflicts. Esther, for example, is very young and doesn't quite know her own situation until later.
BARTON
Which was part of the fun of writing her. I always enjoy the feeling that the character is doing the best she possibly can and yet not receiving the knowledge she requires until it's too late. That seems to me how life is so much of the time.
You were saying you feel that character comes first, that this novel grew from a sense of the two characters. How does plot fit into how the novel develops as you're writing it? Where does the plot come from?
REYN
With my first book, it came from Tolstoy. I really appreciated how he helped me. But with the second book, I felt I had to learn plot. The books that interested me growing up were the ones with a lot of interiority, so teaching myself plot was not instinctive. It was something I was never taught.
BARTON
No one is. We were literary writers concentrating on language and theme. We were taught to be above plot. If you're only reading Raymond Carver and William Trevor, the story ends by going "and then, after the affair, he looked out the window and the sun was shining through the trees." That's weighted with meaning. He had an epiphany. You're done.
REYN
How did you circumvent that education? You've talked about the process of writing The Book of Esther as wanting to write a rip-roaring adventure story.
BARTON
I love plot. The writers I like best are people like Tolstoy and George Eliot. Writers who are like, You want a plot? Here's a plot! This plot will have fifteen different intersecting story lines and they will all add up in the end. Those are the kinds of stories I like to read, and they're how I formed my thinking on plot.
REYN
Did you feel pressure to do a big reveal at the end of your book? What is the kind of climax worthy of a novel?
BARTON
The end point of a novel is when it turns out that you've boxed yourself into a corner and there's no place left you can go without revealing everything. The last moment at which a reader can make a decision for herself about what's going to happen to these characters—that's where you end. Your book does this very clearly. There's a moment at the end, a totally surprising moment to me—I was not expecting it at all—when anything that was previously possible isn't possible now that this change has happened. The whole register of the novel changes, and it alters all possible outcomes. It's a delightful thing to have happen when you're reading a book. You think you know these characters so well and you realize you don't.
REYN
That ending has been controversial. It made me think I finally did something right with plot!
BARTON
If a character is too well delineated in a novel, there's no joy in interacting with her, because there is nothing left for you to learn, nothing to be revealed. And the fact that something intrinsic to a character can be revealed late in the game satisfies me as a reader and a human being. You don't always know who people are, even your closest friends, until the moment something tests them. Then the wellspring opens up and the truth is revealed. And since we're talking in terms of plot, something happens.
REYN
Did that happen for you?
BARTON
A few things happened in The Book of Esther that seem obvious or foreordained now but surprised me when they unfolded. Those are good moments for a writer because you're trusting a subconscious instinct that says, This image is important, I just can't tell you why yet. Later it blossoms in the narrative. The Book of Esther has a deeply ambivalent ending. Some readers have told me they have an optimistic view of what will happen after the final scene, and others have told me that they were sure every single character was going to die. The ending you believe in may tell the reader more about herself than about the book. To me, my book is walking straight down the middle in a careful, controlled way, and asking, What do you think? Will it go well or badly? And I think readers want to engage with the work in that way, to feel personally and intellectually and morally connected. There's a wonderful moment in Chris Adrian's first novel, Gob's Grief, when a character is taking dictation from the spirits with one hand and writing something else with the other hand. I think this is what people imagine writers do. Except it doesn't feel like that to me. The only times I sense magic are when things fall into place, or suddenly begin to unfold.
REYN
In the shower or at sample sales.
BARTON
I miss sample sales! So do you believe in the muse?
REYN
No.
BARTON
You're muse agnostic.
REYN
I think there is something detrimental about that belief. If you enter into this field believing a muse is a necessary, it could prove debilitating. You might feel that you can't enter into the writing conversation. That's why I didn't start seriously writing until I was thirty. I thought it was only for the anointed.
BARTON
I talk with my students about setting the bar really low. Don't think there's going to be a muse, don't think you have to write x number of pages a day. Just show up and see what happens. I don't always even show up, truthfully. I don't always have time to show up. But if you show up enough of the time, the work slowly, inevitably, gets done.