Hosting a national blurb contest.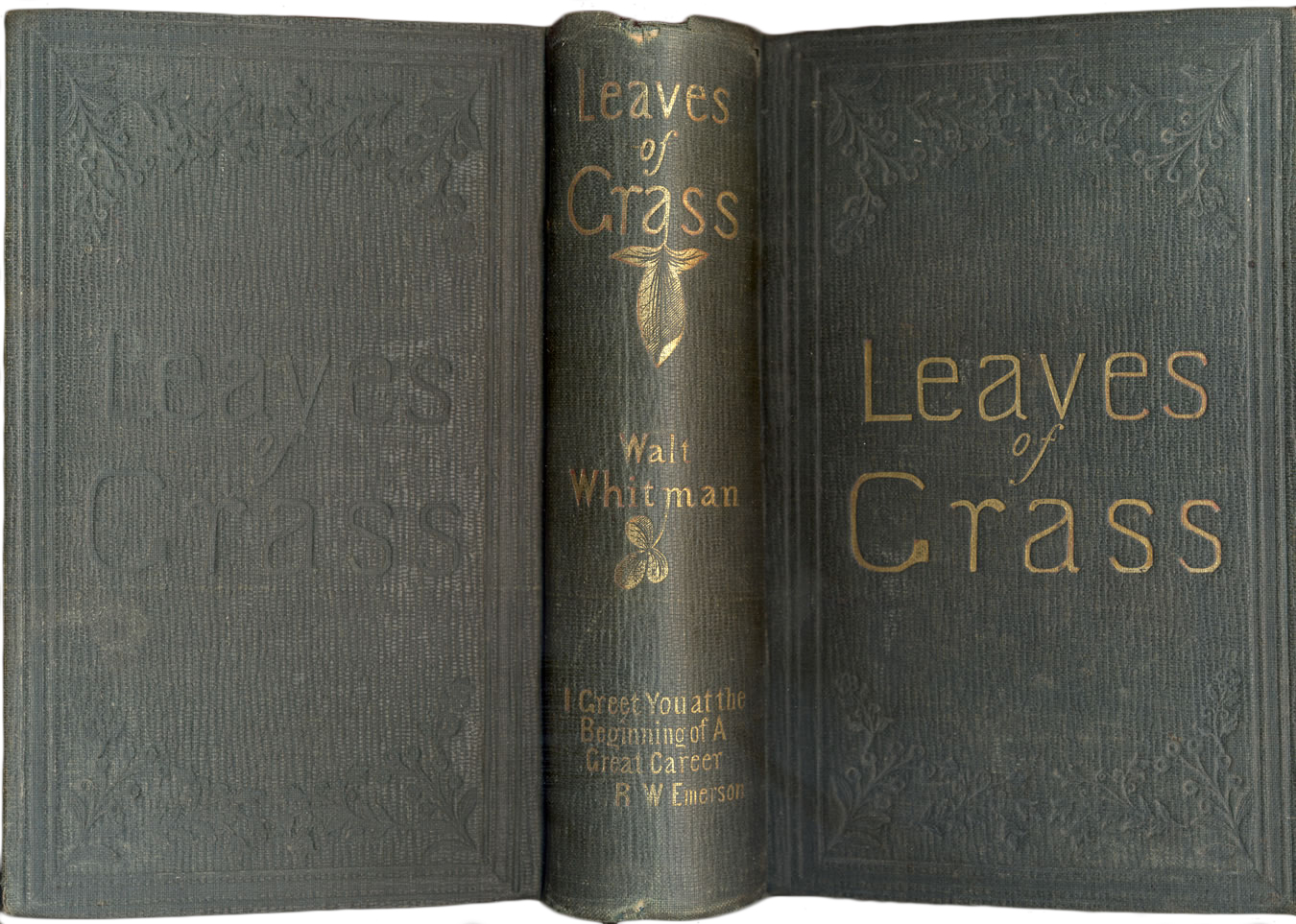 Walt Whitman, the "American bard," who was named after a shopping mall in Huntington, New York, where I grew up, is often credited with having invented the book blurb. On the spine of his debut, Leaves of Grass, he had printed in gold leaf a line teased from a letter he'd gotten from Ralph Waldo Emerson: "I greet you at the beginning of a great career." Emerson was right: Whitman continues to rank among America's finest careerists.
Gertrude Stein, unable to break through to the literary mainstream, wrote herself a novel-length blurb entitled The Autobiography of Alice B. Toklas. Writing as Alice, her live-in companion, she described at length Gertrude's prodigious, if misunderstood, genius. This 252-page press kit was an immediate best seller, prompting Stein to embark on a national tour, which she described in Everybody's Autobiography, a sequel explaining why you should hire her for speaking engagements.
Ernest Hemingway's first short-story collection, In Our Time, was published with no fewer than six blurbs—on the cover. I can't remember if he won the Nobel before or after he finished taping the beer commercials. With Toni Morrison, it was definitely before: Pulitzer, Nobel, Chipotle wrapper, in that order.
Will my novels secure my literary legacy the way Morrison's and Hemingway's did theirs? Will I ever see my name engraved on a line of high-quality toilets, I sometimes wonder, after hours of furious literary labor? Will I be immortal, like Whitman, transcending with my "song" the conventional boundaries of self? Will Kohler, the premier name in luxury flushing, ever ask me to be their spokeswoman?
I questioned my own commitment to literary greatness last January when I balked at my editor's suggestion that we print a blurb from Edmund White on the front cover of my new book of fiction, Dating Tips for the Unemployed. The cover? Isn't it a bit vulgar, all that selling?
It was a blurb written for my previous novel, Iris Has Free Time, which had received a number of fine write-ups, none of them enough to make a difference in my literary fortunes, none of them from the New York Times. "The only press is press lost," I waxed Proustian on a cold January night three years later, still smarting from the major reviews that book hadn't received. It was the night before my new publisher's publicity and marketing meeting. My second book was coming out that June. My second book, my second chance …
And so I consented. "Okay," I typed in reply to my editor, during that long dark night of public-relations brainstorming. To take my place in the literary canon I would have to stoop lower than Whitman and Hemingway both, I realized, as I pressed send. Literary legends, watch out! I will do more than lick the floor. You'll know my genius when I dig a hole and make love to it.
"I'd like to host a contest," I announced the next day in a conference room on Park Avenue. "You ever read the blurbs on the back of a book and wonder, Has this person even read the book? I'd like to host a 'National Blurb Contest' in which we invite everybody and anybody to blurb my book sight unseen, sending up the style of overheated literary praise. 'See your blurb and byline printed on the back of the year's most-buzzed-about book of fiction along with advance praise from these assorted luminaries!' I said, reciting the copy I'd written to advertise the contest, before reading the names of those who'd written me blurbs already. Literary name dropping … bombs away! "Edmund White, Tom McCarthy, Martin Mull, Kurt Andersen, Diane Keaton, Patricia Marx, Jonathan Ames, Andrea Martin, Dave Hill … "
A few weeks later, ads for the contest went live on websites like The Paris Review, Electric Literature, and the Rumpus, and I was sending e-mails and announcements to everyone I know and don't know on Facebook, Instagram, and Twitter and via postcard. A few days after that, I was contacted by Houghton Mifflin Harcourt's legal department: "Because the blurbs were solicited with the promise of a prize—publication on the back of the book—you must disclose in an asterisk next to the winning blurb that its writer received compensation for their endorsement."
By the end of March, I was reviewing submissions. "The winning blurb will be selected by an anonymous panel of judges," I told people when they asked about the selection process. I didn't tell them that the anonymous panel consisted entirely and exclusively of me.
The submissions poured in, nearly two hundred windy endorsements from a fabulous variety of would-be blurbers:
"Fanny Hill without the sex!" —Bruce Sherman

"Superbly evocative of the fraught politics of the Anglo-Portuguese alliance during the Peninsular War." —Ari Samsky, M.A., Ph.D., medical anthropologist and author of The Capricious Critic

"I will always remember the day I first became aware of Iris's luminous prose. It was a Tuesday. I had a lunch date with Simon. He had the Nicoise salad." —Noam Cohen

"Iris owns a baby snow leopard but I can't prove it. Someone should call someone." —Daniel Kibblesmith, writer of The Late Show with Stephen Colbert

"Erudite as Crudites" —Dora McKelvey, Ylvis enthusiast

"With this book, five bucks for tacos at the walk-up window, a condom and a sleeping bag—you've got what we call on the streets 'heaven on the streets.' " —Mark Sutz

"Of all the books I have read in the last 25 years—and there have been many—I can say with some confidence that this is probably one of them." —Emily Epstein, photo editor, The Atlantic

"This book is a triumph in a way that others tried and failed … it's the perfect size and weight for pressing flowers and leaves." —Sean Greeson

"Iris Smyles has cut through all the fear and bellicosity of the election season in order to reveal the true historical origins, and cruel future intentions, of today's jihadist nightmare." —Vince Passaro, author of Violence, Nudity, Adult Content

"If you don't read this, you are failing yourself and the person sitting directly to your left." —Adrian Todd Zuniga, founder and host of Literary Death Match

"Buy this book, then read this book, then tell me how it is, and maybe let me borrow it." —John Stintzi, poet, M.F.A. Stonybrook University

"For a book about tennis there sure isn't much tennis in it." —Sarah Peters

"Book's binding is of decent quality." —Geoff Schwartz, commercial real-estate developer

"If George Orwell's Down and Out in Paris and London and Malcolm Lowry's Under the Volcano mixed their sperm and inseminated Cynthia Heimel's Sex Tips for Girls, and if the resultant child was raised in a communal home with Paula Vogel's And Baby Makes Seven and Zoe Atkins's The Greeks Had a Word for It, that child might be Iris Smyles's Dating Tips for the Unemployed." —Noah Milman, filmmaker

"Provocative and wildly entertaining … Smyles's latest pokes piquant fun at the zeitgeist's journey du jour, from the rags of loneliness to love's embarrassment of itches." —Emily Votruba, rabbit breeder

"Riveting … Written by a veteran British journalist who has an evident passion for Pakistan and can render its complicated history with pristine clarity, this is a book that should be read not only for its vidid drama but for its urgent message about the untapped power of girls." —Sarah Beller, writer

"Iris Smyles's shattering Dating Tips for the Unemployed changed my life. Literally. There's nothing left to say. I'm giving up writing and getting a real-estate license. These are the last words I will ever publish." —William Souder, Pulitzer Prize–winning author of Under a Wild Sky: John James Audubon and the Making of 'The Birds of America'

"Never have I considered rectal bleeding and petit mal seizures so worthwhile—because I didn't know a book could induce so many spontaneous orgasms (33!) in one day. This book should come with an FDA warning. If this book doesn't win the Pulitzer Prize for fiction, then I'm not a Nobel Laureate in economics." —Scott Stossel, editor in chief of The Atlantic
Whitman sang a pretty catchy song of himself, and not just in his poem: he penned his own reviews, writing under a fake name. It was he who, in an essay about Leaves of Grass, christened himself the "American bard." And what do you know? It stuck. Walt Whitman sang his own praises. Isn't it a bit vulgar, all that selling?
Whom should I allow to sing mine?
 Winner of the National Blurb Contest Announced!

"I didn't read this book and I didn't have to. On the cover, it said IRIS SMYLES and that's more than enough for me. Like logos for Coca-Cola, Fritos, and Entenmann's, Iris's name assures me that what's inside … is so yummy." —Alec Baldwin*

*Alec Baldwin was paid for this endorsement.
Iris Smyles has published two books of fiction: Iris Has Free Time and Dating Tips for the Unemployed, which is out today from Houghton Mifflin Harcourt. She is the literary editor of East, the East Hampton Star's new magazine, and splits her time between New York and Greece.