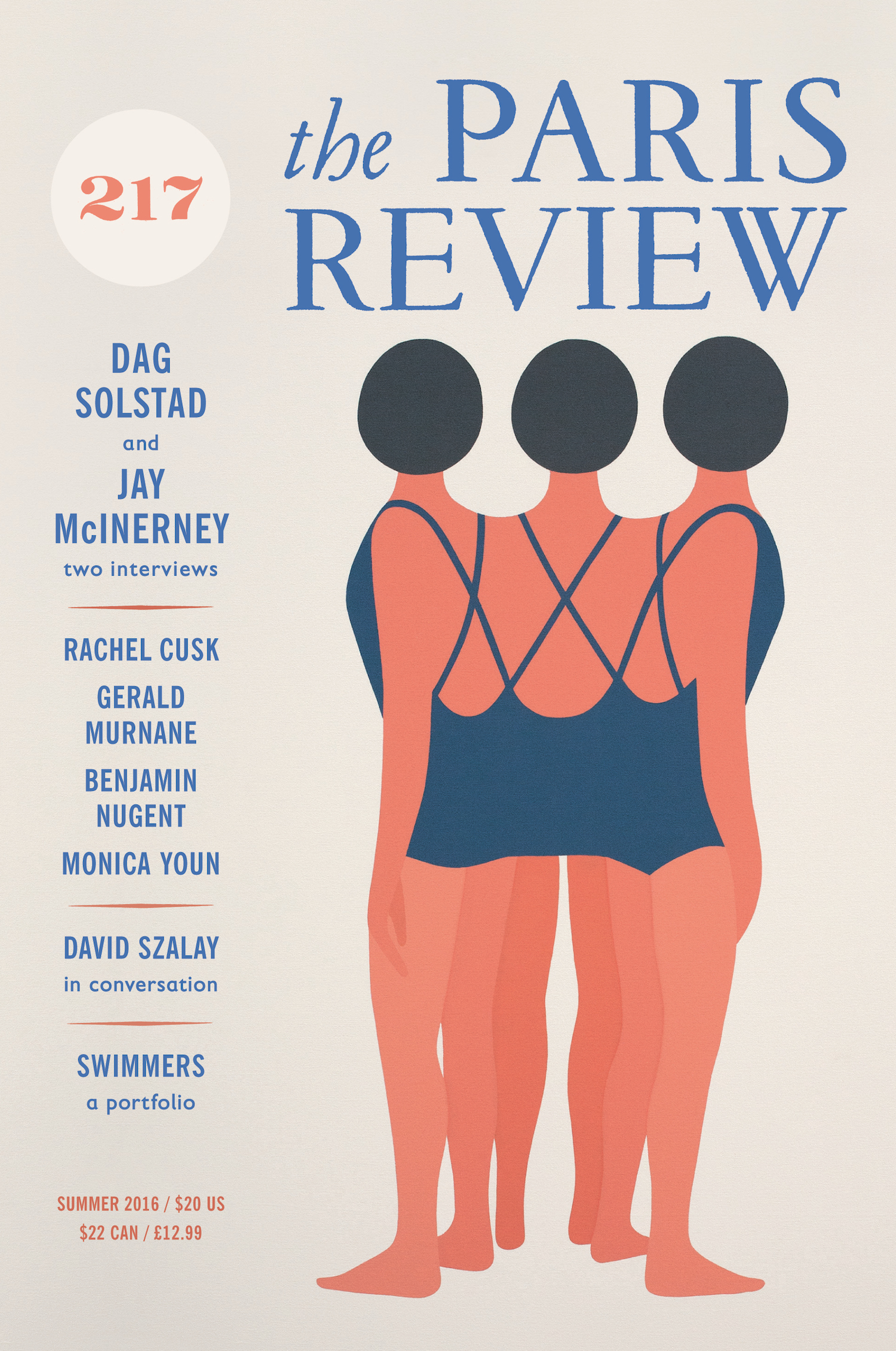 We're not big on themes here at the Review, but our new Summer issue was designed with the poolside in mind—we did everything short of printing it on sunscreen-proof paper. At its center you'll find a portfolio curated by Charlotte Strick, an essay by Leanne Shapton, and a short story by Rafil Kroll-Zaidi all on the subject of swimmers, lifeguards, and lane etiquette. 
Once you're settled on the chaise, let us introduce you to Norway's most written-about and influential living novelist. No, not him—it's Dag Solstad. (Knausgaard is a fan.) In the Art of Fiction No. 230, Solstad explains why he won't write about children and why he dislikes his reputation as a master ironist. He also reveals the key to his productivity: 
For a long time I had a system, I call it the 3-1-3 system. Three days of work. On the afternoon of the third day—drinking. Then you can get as drunk as you want. On the fourth day, you rest. Then you're ready for three new days of work … It gives you a lot of work days, only one day off a week.
In the Art of Fiction No. 231, Jay McInerney explains how his first outing in the Review morphed into the best-selling novel Bright Lights, Big City, how Raymond Carver rescued him as a writer, and the upside of losing your job, your mother, and your wife in the space of a several months:
I was despondent. I was an absolute mess. And I think Bright Lights would have been a less interesting and more superficial book if I hadn't had that triple catastrophe to inform me. I feel like I probably owe my ex-wife at least a thank-you note for breaking my heart and seemingly ruining my young life.
There's also new fiction from Alexia Arthurs, Bonnie Jo Campbell, Rachel Cusk, Gerald Murnane, and Benjamin Nugent; poems by Danielle Blau, Eliza Griswold, Golan Haji, Devin Johnston, Jana Prikryl, Frederick Seidel, and Monica Youn; a new translation of Adonis from our poetry editor, Robyn Creswell; essays by Renee Gladman; and an exchange between the novelist David Szalay and our editor, Lorin Stein.