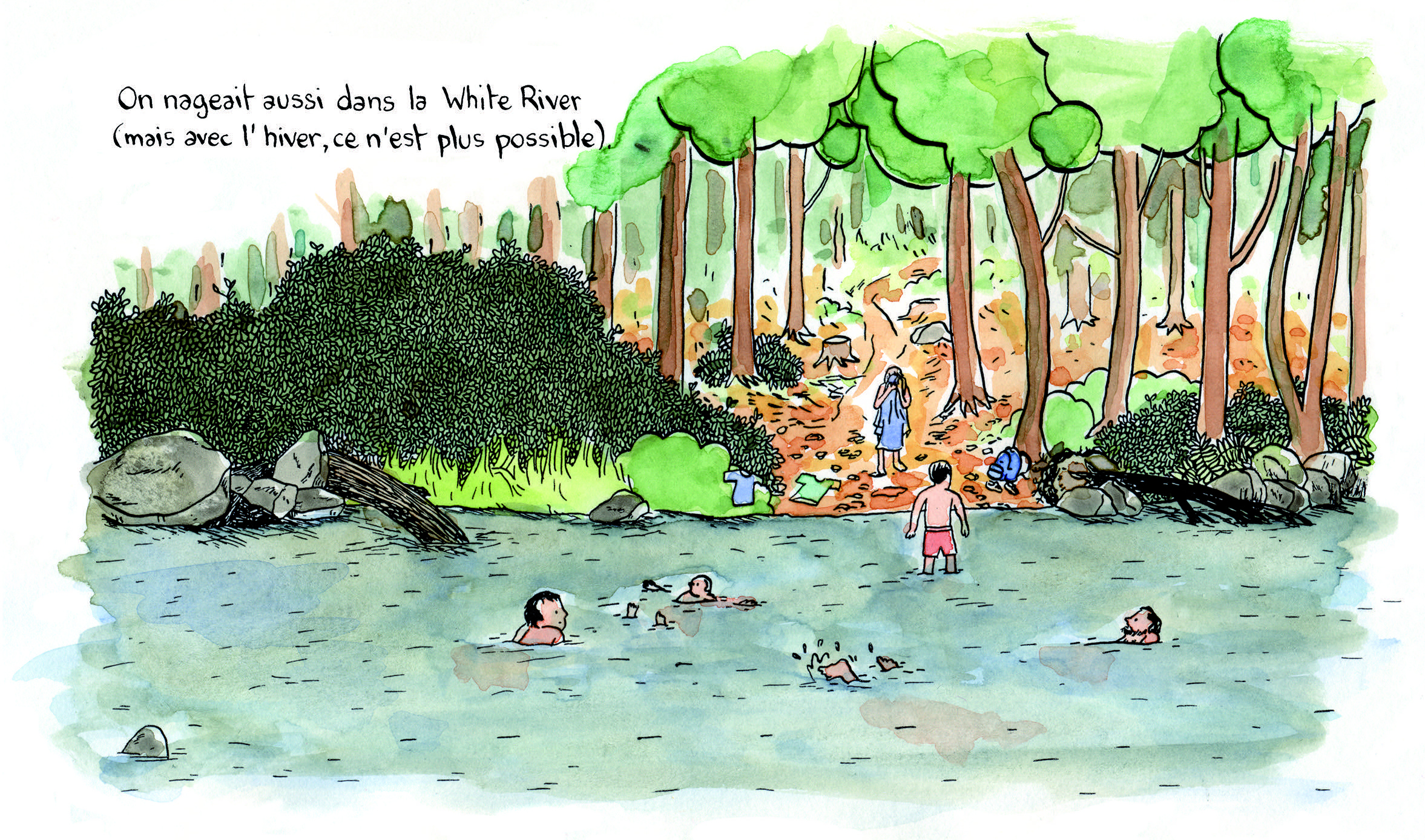 When Max de Radiguès began making comics, he had never taken drawing lessons. "I loved to draw but wasn't especially good at it," he explains. "I quickly stopped trying to draw in a realistic way and went for an efficient one." He wanted the reader to understand instantly what he was trying to convey, and as he pursued this goal, his drawings became simpler and simpler. Now, after more than a decade, and with a rapidly growing list of published works, he has begun, he says, "putting in more details and more backgrounds"—though nothing too elaborate; he still wants readers to be caught up in the stories rather than in intricately rendered, virtuosic panels. Here one begins to see the vital connection between his personal and formal modesty: the absence of ego that, in freeing an artist from the impulse to show off, can lead to subtler choices. In a Radiguès work, an economy of line carries, but never competes with, an abundance of empathy. His stories center on adolescents (often boys, often in balanced or opposing pairs) with a warmth, humor, and humane sensibility that occasionally sets the reader up for an unexpected jolt when harsher aspects of reality creep in.
In his native Brussels—where, for the most part, he has always lived—Radiguès, now thirty-four, grew up steeped in the Franco-Belgian comics tradition of Hergé's Tintin, Morris's Lucky Luke, and Peyo's Smurfs before discovering, in his late teens and in rapid succession, the French, Belgian, and U.S. indie-comics scenes. He became an enthusiastic maker and consumer of zines, a transatlantic passion that still shapes the development of many of his books. For example, Moose—which recounts the struggles of Joe, who is tormented by the bully Jason—began as a monthly zine written in English before being reassembled, with significant revisions, as a book in French, Orignal, which in turn became the basis for the present North American edition, now again in English. Radiguès likes the zine format, especially the brief structure of only six to twelve pages, for its improvisatory nature: when he starts issue 1, he doesn't know what will happen in issue 2. With Moose, he didn't become aware of his true subject until he had published five issues. "I realized even later that issue 1 was in fact happening after issue 11," he says. "It's a great way to work, where you're focusing on a short scene at a time." With its knowing portrayal of the pervasiveness with which a bully can spoil his victim's daily life, Moose makes a fine, toughened-up companion to its predecessor Rough Age, a casual, lightly orchestrated series of slices of adolescent life: frustrations, friendships, crushes, fistfights, angst. Gautier dates Louise but has awkward yet unmistakably sweet feelings for Marc; Nicolas is learning Stairway to Heaven"; and the various girls in the book seem alternately baffled by, and wiser than, the boys. Rough Age, too, began as a zine, as the French L'âge dur. (Ever prolific, Radiguès has recently completed a new series, Bâtard, the sixteen issues of which have begun appearing in English translation as Bastard, and a book in collaboration with fellow cartoonist Charles Forsman, Hobo Mom, set in America, currently published in French and Italian editions, with an English translation to come.)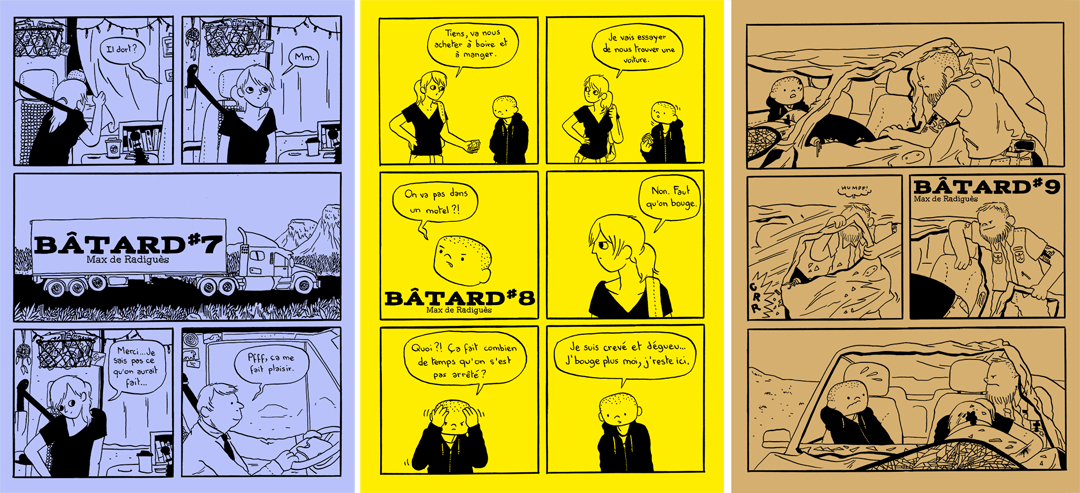 Low-budget, black-and-white indie productions, built on a freewheeling creative process, are, Radiguès says, what he does "naturally." Across an invisible dividing line, however, he has another body of work that is commercial and brightly colored and for which he "storyboards everything" before starting in on the pages. These are his YA graphic novels, published in the hardcover "album" format, with paper-over-board covers and largish pages of about eight and a half by eleven and a half inches: Frangins, in which Hugo and Michel, no fans of each other, must endure a forest adventure together; 520 km, in which love-happy Simon runs off on an ill-considered mission; and Un été en apnée, in which the summer spent holding one's breath (per the title) is the same as that of the preceding volume, but now seen from Louise's point of view instead of Simon's. Each book contains dozens of pages of the author's gorgeous-but-won't-slow-down-the-storytelling artwork, with a level of detail just beyond that of the zines, greatly enhanced by cleanly rendered color that balances between kid-culture brightness and tasteful restraint. He tells me he likes "to be able to change all the colors all the time" and uses "around forty to seventy colors in a book," which helps me understand how the hues of his skies and foliage, and much else on his pages, gain the variance and subtlety that give me such pleasure.
All art forms, I think, involve a perpetual dance between intricacy and simplicity, a pull between elaboration and understatement that each artist must find a way to address. That the cartoonist's pictographic, telegraphic art can thrive amid a paring-down is not news; but when seemingly simple pages teem with bountiful, expansive worlds, and their flowering suffuses the ever more broadly smiling reader with an energy that feels surprisingly, disarmingly, like love—well, that is news, because somebody is onto something.
Still, a first visitor to Radiguès's growing library might ask: Do the two sides of his work ever meet? In a book that uses color but reaches beyond YA fiction into more personal artistic terrain? In fact this has happened, once, a few years ago, in a volume created during a yearlong residency at the Center for Cartoon Studies in White River Junction, Vermont. Pendant ce temps à White River Junction (Meanwhile in White River Junction) began as a kind of transatlantic dispatch, an autobiographical weekly comic strip that the author-artist-protagonist lived and drew in Vermont and sent off to be published in the cultural supplement of a Brussels-based newsweekly, with a lag time of only a few weeks between life and print. In the book version, the vignettes form a seamless, thoroughly winning account of the young Belgian's low-key cultural adventures in a sleepy upper-right-hand patch of America, a chronicle suffused with camaraderie and delicately observed quotidian realities. The book's intimacy is beguiling: whether struggling with American storm windows, drinking and conversing with his American friends, preserving the long-distance tenderness with his girlfriend back home, or losing all awareness of time as he plunges into the solitude of drawing at his desk, the Max encountered here seems to immediately join the reader's own circle of friends. This was the first of his books to make its way into my hands, and it made me a devoted fan. As I've read my way through his others, I've realized that even in a world, and an area of publishing, that can at times feel overstuffed with books, I want shelves full of his.
Robert Pranzatelli is the founding editor of the Folio Club, an independent publishing project, and the author of two short e-books, A Chameleon Poet: Truman Capote and String Quartet: Four Stories. He is also a longtime staff member of Yale University Press.