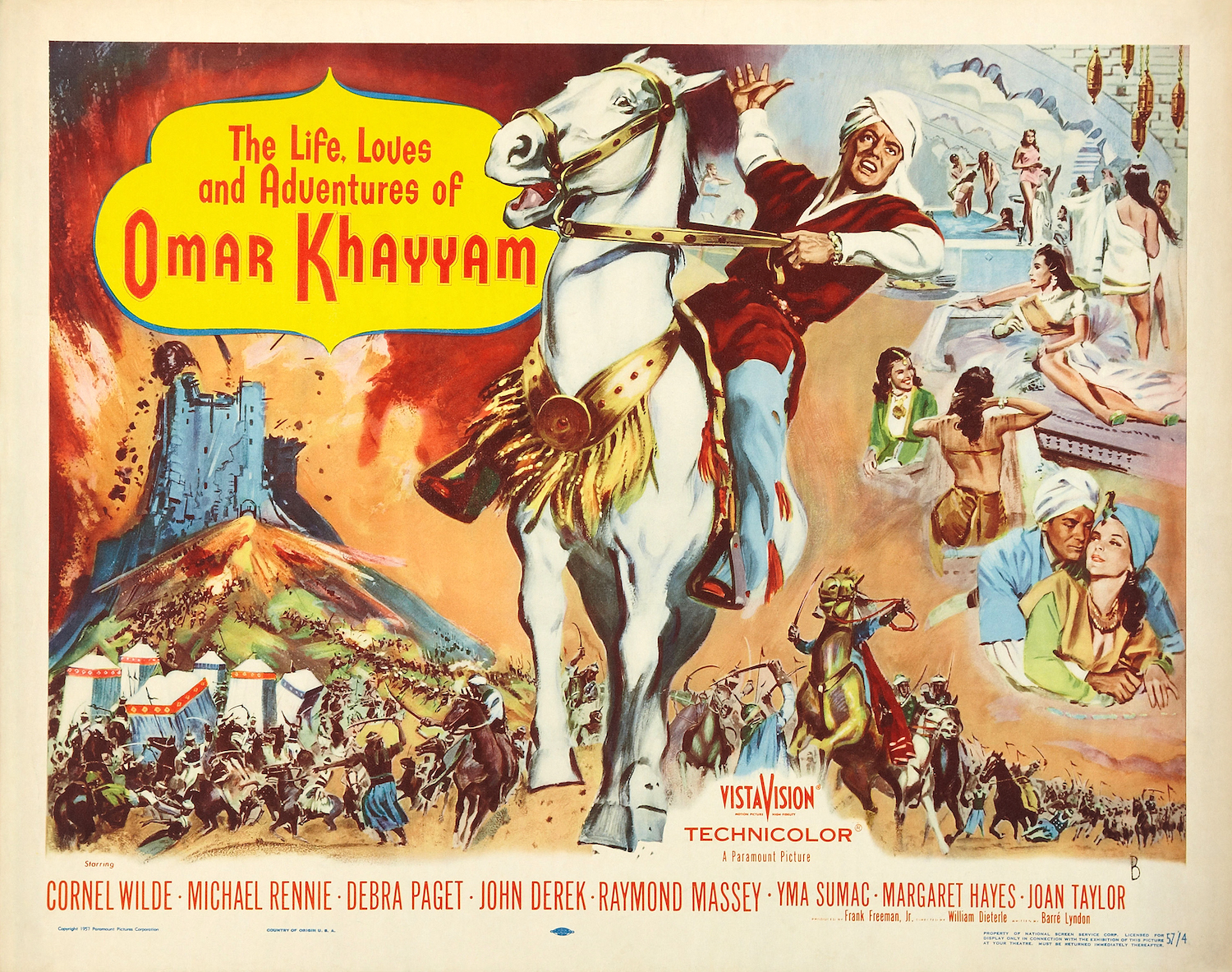 I pity you, because presumably you—unlike me—do not own an apron that features a loaf of bread, a jug of wine, and the word thou. So how could you possibly celebrate the birthday of Omar Khayyám? You could read from the Rubaiyat, of course. If you happen to be in Nishapur, you could visit his stunning mausoleum. Or you could try a little light non-Euclidean geometry or take out your telescope and ponder his many astronomical discoveries …
Even if you do all of those things, though—even if you own the same apron I do—you can still devote an hour or so to 1957's Omar Khayyám. "In this dramatic adventure," Paramount's capsule description says, "a Persian philosopher poet attempts to thwart conspiring assassins." 
Alternately titled The Life, Loves and Adventures of Omar Khayyám and The Loves of Omar Khayyám, the movie was directed by William Dieterle and filmed—visibly—on the Paramount lot. Cornel Wilde makes a singularly unconvincing Omar Khayyám, and it's as goofy and Orientalist and ahistorical as one can possibly imagine. (Although, who knows? Maybe Omar Khayyám was a famous ladies' man of the Persian court pursued by assassins.) But what really catapults it to oddity status is the presence of the novelty singer Yma Sumac, known for her wide and bird-like range and wild peculiarity. 
There are many days when the sheer bulk of information overwhelms with its demands. There's too much to love, to hate, to appreciate ironically. And then you see Yma Sumac shrieking in the face of a hunky Omar Khayyám as he ponders the mysteries of the universe and you're glad of the instant access we have to these things. This belongs to all of us now, for good or ill. It is what we have. As Khayyám said, "Be happy for this moment. This moment is your life."
Sadie Stein is contributing editor of The Paris Review, and the Daily's correspondent.