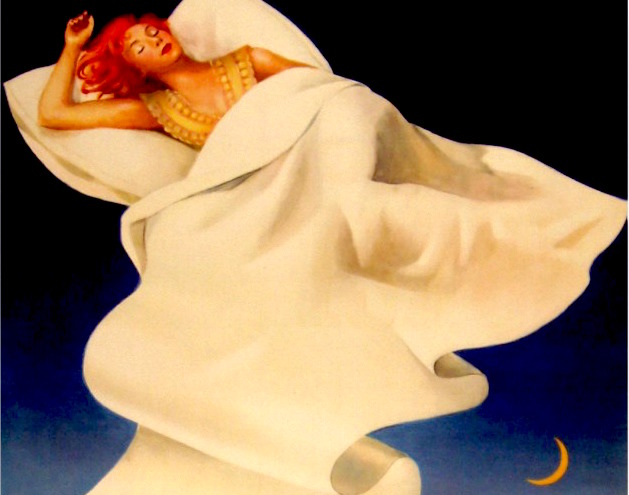 It's not as if I could afford it. I could never have afforded a nightgown that expensive, and in that moment of my life—marginally employed, tenuously housed, financially and otherwise insecure—I could afford it even less than usual. The week before, a piece of my tooth had fallen out, a jagged shard, its edges brown with decay. I kept it in a dish by my bed. It had become an object of some fascination, but I really needed to go to the dentist. 
But I wanted that nightgown so much. I craved it as I hadn't craved a thing since childhood. It was, in fact, the sort of thing I hadn't wanted since childhood—feminine and pretty and frivolous. A whisper-thin slip of cotton so fine, so precious, that it transcended price and moved into the realm of the divine. 
I had saved up all my cash in a paper bag, and one day I took the subway from my sublet to the linen store. I told myself it was a birthday gift. Or a gift for now being single. I was treating myself. Wasn't that a form of self-respect? My tongue found the jagged hole in my mouth and worried at it.
Inside, the shop was heavily scented with freesia. On the walls were pictures of first ladies, socialites, royals. All around me, beds were piled with toning Alps of pillows so high you'd have needed to toss three immaculate boudoirs to the immaculate floor before you could turn back a corner of goose-down comforter. On every flat surface, piles of sheets were stacked, crisp as potato chips. 
I had dressed with care, in what I imagined their customers wore—straight jeans and a trench coat—but I clearly didn't belong. My awe and bravado were palpable. I asked where the nightgowns were; a woman led me to a rack of gossamer-fine cotton toile. 
I reached into one I wanted and gazed at my hand through two layers of gauzy magic, and I smelled freesia. I pulled one off the rack; the padded, printed hanger alone cost forty-three dollars. "I'll take it," I said.
"Well, we'll get you a fresh one," said the woman. And then, discreetly eyeing my body, the belt of my trench pulled tight, fabric taut over my chest, "would you like to try it on?"
"No, this is my size," I said. "It always has been." 
"Well, you can return it if it's too tight," she said. 
As she busied herself in a storeroom, the door opened and a heavily pregnant woman rushed in, highlighted hair flying behind her, Lanvin flats soundless on the carpet. "The meter's running," she said. "But I needed to get bedding for the hospital. I'm due next week."
In a remarkably short time, she and a saleswoman had piled flowered quilts, heart-printed sheets, pillows on the counter. The total was astronomical—she had spent ten thousand dollars in two minutes. "Let's do the boudoir pillows, too," said the customer. "And has Lisa been in touch about crib linens? We're still finalizing the colors." Then, with a swipe of platinum, she was gone. 
Sadie Stein is contributing editor of The Paris Review, and the Daily's correspondent.