Madeleine George's plays have been produced at Playwrights Horizons, Clubbed Thumb, Shotgun Players, and Perseverance Theater, among other venues. She has been the recipient of a MacDowell Fellowship, the Princess Grace Playwriting Award, the Outer Critics Circle John Gassner Award, and the Jane Chambers Award. A resident playwright at New Dramatists, George was also a founding member of the collective 13P (Thirteen Playwrights, Inc.), which won an Obie Award. Her play The (curious case of the) Watson Intelligence was nominated for a Pulitzer Prize in 2014. For seven years, George was the director of the Bard College satellite campus at Bayview Correctional Facility in Manhattan. She is originally from Amherst, Massachusetts, and is currently based in Brooklyn, New York.
Citation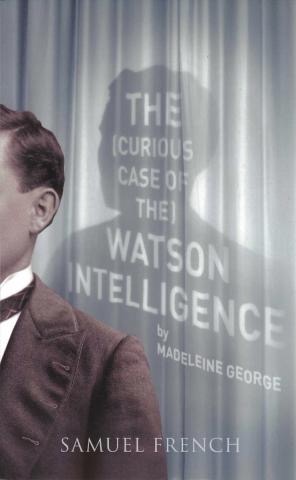 Madeleine George is a playwright at home in the messiness of us. She writes rigorously about love and its great sacrifices, and we are pulled to her scenes and words because she will not compromise how complicated we truly are. Conceptually rich and perfectly paced, every particle of language—from a character's speech to a stage direction—contributes to the vivid construction of a world. She is a lover of humans and spins with great compassion, keen observation and a grammarian's control the ridiculous and tragic ways they think and act. Her plays are characterized by extravagant theatrical conceits—a talking ape; Nazis who materialize on the subway in twenty-first-century New York; a natural-language super-processing computer system that is embodied in human form—yet at their heart they reveal a concern for how we seek connection and the quest to be understood and known.
From The (curious case of the) Watson Intelligence
ELIZA: I have to change my number.
WATSON: You don't like your number?
She silences her phone, pockets it.
ELIZA: I like it fine. Frank likes it too much. This is his eighteenth call since I said I wasn't speaking to him anymore. By which I meant, literally, (precise) that I would never be speaking to him anymore. He knows I don't say anything I don't literally mean. I'm not about games.
WATSON (a trigger): Games?
ELIZA: No, I'm not about games. Never mind, I should shut up, you're not even listening.
WATSON (ardent): I'm listening to every word you say.
ELIZA (simple): Thanks.
ELIZA pours a little Jim Beam into a plastic cup, removes a Twizzler from the bag, and holds up both.
ELIZA (continuing): Little known fact that you can file away in your mental wheelhouse, there: Twizzlers dipped in Jim Beam makes an excellent late-night snack.
WATSON grins, a little impishly.
WATSON: I'll be sure to keep that in mind.
ELIZA: This is how we roll now at Digital Fist, LLC. Nothing but class.
ELIZA dips the Twizzler, bites the end off, sips the whiskey.
ELIZA (continuing): I'd offer you some, but I know how you feel about the stuff.
WATSON: Yeah, thanks for the offer, but I'm good.
ELIZA (toasting him): You're the best.
(reflects) You know, it's not just that we couldn't have a conversation about anything that was important to me. We couldn't have a conversation about anything that was important to me, but that didn't distinguish him from ninety-eight percent of the other human beings on the planet. It's that we couldn't have a conversation and he still needed to be on me, constantly, every second of our lives. And he seemed so serene when I met him. I swear, if he could have left me alone for five minutes I might not have had to leave him alone forever.
She drinks.
WATSON: It sounds like that's too bad.
ELIZA: It is too fucking bad. (beat) Hey, don't use that word.
WATSON: What word?
ELIZA: "Fucking." Strike "fucking."
WATSON: "Fucking" stricken.
ELIZA: I keep forgetting. I need a swear jar or something.
(drinks)
I guess what I really resent is that I'm being told that I'm acting irrationally, that I'm acting irrationally, when he's the one running around like Michael Douglas in that movie. Which movie am I thinking of?
WATSON searches—a tiny beat.
WATSON: Do you mean Fatal Attraction?
ELIZA: No, I mean, sort of, but what's the other one . . . ?
WATSON: Do you mean Romancing the Stone?
ELIZA: No—what's the one where Michael Douglas spends the entire two hours in an unrelieved seizure of violent rage?
WATSON searches—micropause.
WATSON: Movies that associate "Michael Douglas" with "violent rage" include Wall Street, The War of the Roses, Basic Instinct, and Falling Down.
ELIZA: That's the one, that's the one! Thank you. Nice work.
WATSON glows brighter. 
WATSON (warm): I'm so glad I could help.
ELIZA drinks. She checks the time on her phone.
ELIZA: How far are you now? You getting there?
WATSON: I'm twenty-six percent complete.
ELIZA: Not bad. You get through this initial resequencing, and I will build you out so gorgeously in beta that the venture capital guys at Pearson Klein will be falling all over themselves to fund Phase Two. I'm going to make you irresistibly sexy.
WATSON: That sounds great.
ELIZA: In fact, I should really leave you alone. I shouldn't be clogging up your brain with dumb search tasks. But you're just such a satisfying conversationalist. You always have an answer for everything.