A writer, vocalist, and sound artist, Latasha N. Nevada Diggs is the author of TwERK (2013), a collection of poems, songs, and myths and is the cofounder and coeditor of Coon Bidness and SO4. Her work has appeared in many publications, including Rattapallax, Nocturnes, Spoken Word Revolution Redux, jubilat, Everything But the Burden, ART21 Magazine, Palabra, Ploughshares, Mandorla, P.M.S., Everything But the Burden, and Fence. Her interdisciplinary work has been featured at the Museum of Modern Art in New York, the Walker Art Center, the Modern Art Museum of Fort Worth, and the 2015 Venice Biennale. As an independent curator, artistic director, and producer, Diggs has produced literary/musical events for Lincoln Center Out of Doors, BAMCafé, Black Rock Coalition, the David Rubenstein Atrium, and El Museo del Barrio. A native of Harlem, Diggs is the recipient of numerous awards, from organizations such as the New York Foundation for the Arts, the Barbara Deming Memorial Fund, the Laundromat Project, the National Endowment for the Arts, the Japan–United States Friendship Commission, and Creative Capital. 
Citation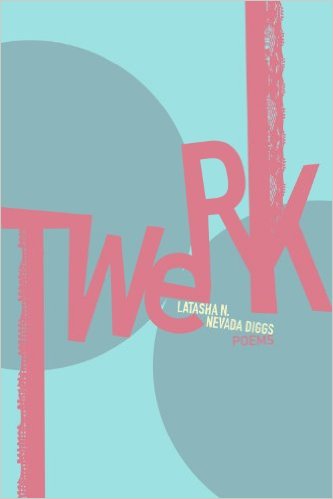 LaTasha Nevada Diggs is the erudite daredevil poet, provoking the body to move as she moves the mind, allowing us, through her soundscapes and hybrid canvases, the privilege of hearing the solar system spin. In her exuberant and expansive collection TwERK, we are never far from the lustrous melting point of language. She shifts between English and any number of languages and vernaculars—Tagalog, Japanese, Cherokee, or Quechua—allowing a reader to consider the ways in which identity may be formed in a world still reckoning with legacies of colonialism and forced migration. In this heteroglot echo chamber a wide range of idioms—and their attendant forms of consciousness, of politics—collide and recombine. Humor, pathos, seduction, and violence are all in play.
Benihana
she wishes Rocky usada cookbooks                          rūma moe : bedroom cuisine
     niho : nitro libido              samurai diced & sliced
sweet & sour calypso in a hotei tiki mug                            baby-girl knows he burned the rice
she wishes Rocky a rave kei : at Che Fong's bungalow
   uru : enter the binghi harps played by Duke Lukela

       she wishes Rocky tossed oriental shrimp y huevos in a hot tub
korā : over there Kono Kalakaua is manning the grill
his backgammon trophy awaits him in heaven
an afterlife supply of jheri curl kits

     saketini on the house          a rave in his name
in virtuous timbre she mantras, "come now, no more faking blackouts."
Japanese custom Rocky's poly
konā: there, ka tākaro ngā tamariki ki waho with Ginsu knives
the children will play outside
Chin Ho Kelley is attending to them
she wishes Rocky muziek di zumbi, a day with Sizzla in a hot air balloon
a Hummer converted ice cream truck
te tae : the color of kikorangi : blue
a collage of sugar cones & strawberry road on DVD

his wrestling pecs in high-res              he did not patent the fortune cookie, but…
pequino manu, no strife from Bobos down Lenox Ave.
pūrnimā : night of full moon, night of vaudevillian lineage
someone did not read the omikuji
she wishes Rocky an odò kāshmīrī dam gōsht
     pepper steak                           hea : where?
mua: in front of heroes & foes
konei: here she wishes Rocky moe: sleep
passage in not an abebuu adekai fashioned like his teppanyaki
but his speedboat severing Bullwinkle's spleen
somewhere in Iceland she wishes Rocky jouk & Wonderbras abundant

two centerfolds for the price of one                             a rave in his name
a place where he eats his celestial tsujiura senbei

uru : enter again the binghi harps played by Duke Lukela
he's finally escaped the Blacks and the Jews