Day 6
Negotiators submitted a historic draft agreement today: mostly brackets and multiple choice options, but progress is more important than details right now. It is a starting point that will be handed to environmental and foreign ministers on Monday. Then the real grind begins.
The UN is calling today an official Day of Action, which is ironic—most of the official "actions" in Paris have been canceled, and the high-level ones at Le Bourget are off-limits to the public. Bill McKibben and Naomi Klein are staging a public trial for Exxon in Montreuil. Exxon was recently outed for having covered up, since 1978, the knowledge that its products were warming the planet. The dramatic reenactment includes the NASA scientist Dr. James Hansen and Peter Sarsgaard. 
The rest of the halls in the Blue Zone are empty. Press conference rooms are empty. The media center is empty. It's Saturday, and the Climate Generations Zone, where the public is allowed, is packed. Everyone at the French pavilion is drinking short glasses of red wine. There's a particleboard tree when you first walk in with handwritten letters to COP21 hanging from it like leaves. A young Japanese man with a mohawk and ponytail raps freestyle about environmental policy on the "Solar Sound System" stage, right next to the Juice Energy Bar. A Tibetan woman joins him and throat-sings into the mic. An hour later, a funeral march for a giant block of melting ice moves through the crowd, pallbearers chanting and bowing their heads.
That night I go to the Climate Action Network party with the NGO gang. It is an infamous event. Foreign ministers of small countries get black-out drunk. College interns do things that haunt their careers. But we see only a disproportionate number of tweed blazers, blue button downs, and regrettable dance moves.
News from Day 6: The draft agreement includes a goal for adaptation, as well as tentative language around loss and damage. There is no reference to compensation or liability and this is a big problem for developing countries. An effort by small and island nations to set the climate change ceiling at 1.5C instead of 2C has made surprising progress. Saudi Arabia is roadblocking human rights language and 1.5C language.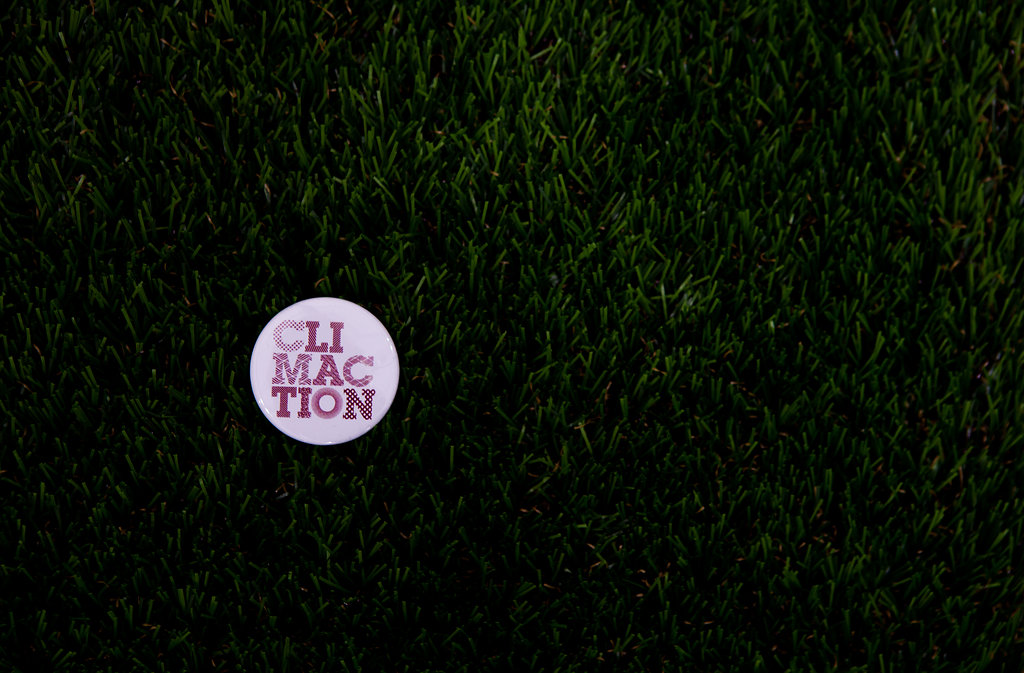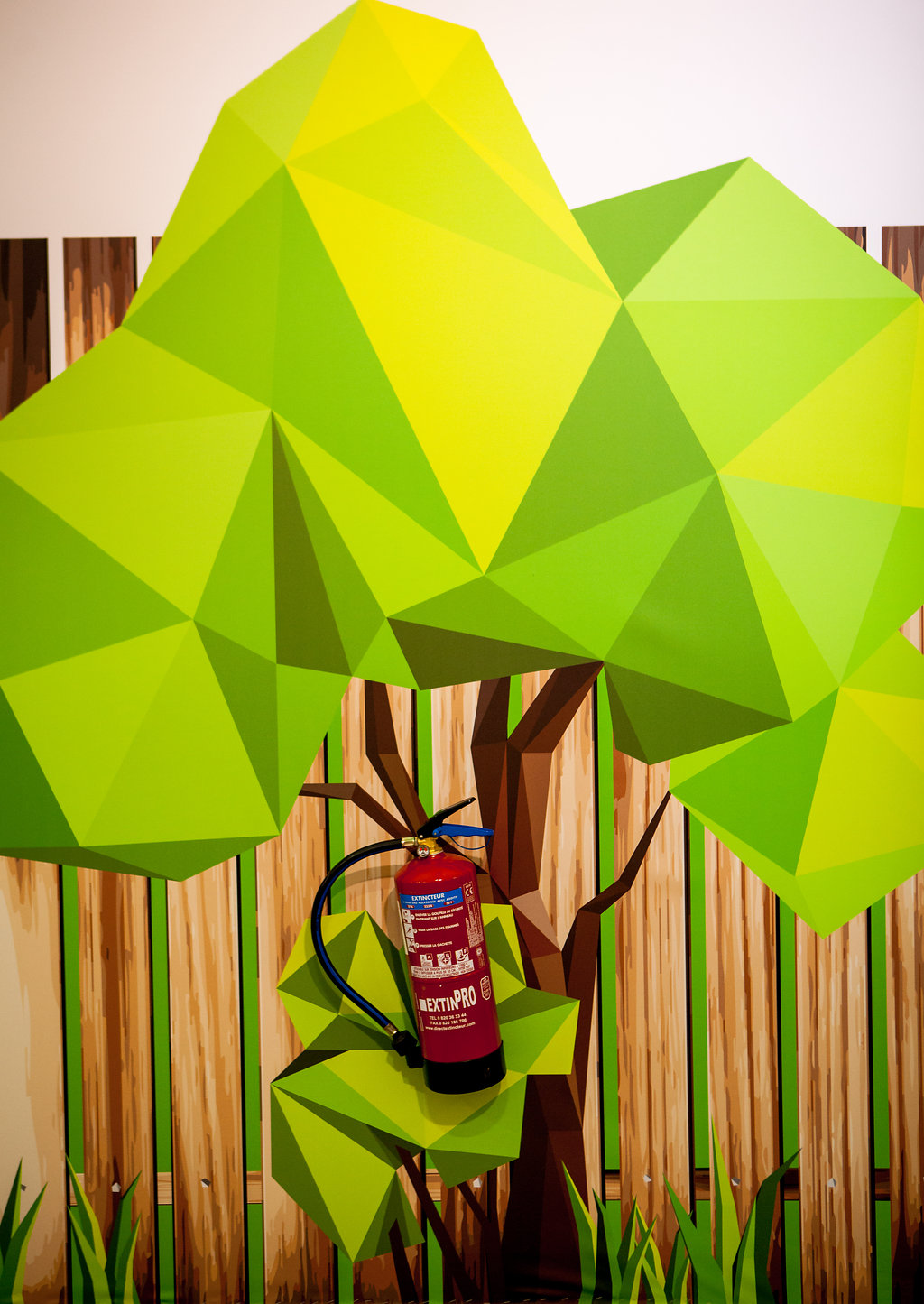 Day 7
I'm scheduled to moderate a panel on melting snow and ice for the Climate Reality Project at the World Climate Summit. The summit is one of those ambiguous side events; no one seems to know who puts it on. We are told that security will be tight at the venue, an opulent hotel particulier which is now home to the Paris Chamber of Commerce. There is a single security guard at the gate. I get my badge at the welcome table without showing any ID. Most of the attendees are bankers and insurance people. I meet the charming President of Iceland and his wife. We eat tiny sandwiches for lunch.
The panel goes well. Seth Wescott, a two-time Olympic gold medal snowboarder, is incredibly eloquent on the subject, as is the mayor of Aspen, Steve Skadron. His town now uses one hundred percent renewable energy. There's also Elizabeth Burakowski, a researcher from the National Center for Atmospheric Research—a collection of brains and supercomputers in Boulder, Colorado that tell us how hot it is going to get—and Michael Brune, the executive director of the Sierra Club, who looks like he has somewhere else to be for the first half of the panel. But then he speaks so precisely and effectively about what needs to happen at COP21 that I'm tempted to hand him the mic and take a seat.
News from Day 7: French Foreign Minister Laurent Fabius convenes a team of fourteen facilitators to ensure the success of COP21. Analysis of six thousand renewable energy projects in developing countries could reduce CO2 emissions by 1.7 gigatons a year there by 2020. The Global Carbon Project released data indicating a slight rise in greenhouse gases in 2014 and a projected decline in 2015, even as the global economy is grows. Less coal-burning in China and more renewable project is likely why. Report states that carbon emissions of new cars will be halved by 2030, but the number of automobiles is expected to double.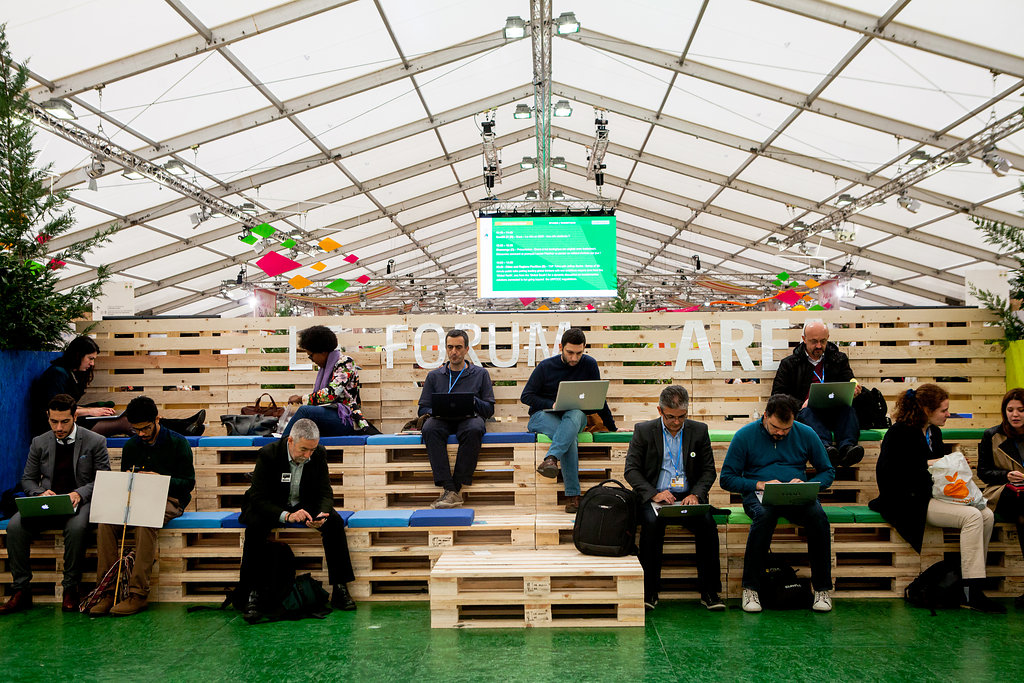 Day 8
The Champs-Élysées is clogged with six lanes of traffic on Sunday. IKEA is one of the major corporate sponsors France signed on to help foot the COP21 bill, and they have branded a hundred solar panels and a windmill near the Arc de Triomphe. There is a Christmas market set up along the sidewalk, surprisingly kitschy for Paris: a tiny North Pole–themed roller coaster, fried dough and bratwurst, roasted chestnuts, hot wine.
Meanwhile, at the Earth to Paris event in the Petit Palace, guys with fancy wool blazers, spiked hair, and acid-washed jeans strut through the halls like they own the place. Adrian Grenier from Entourage speaks in the garden about corporate greed and activism. The coifs and toothy smiles are too much. Everyone appears so fucking happy with the venue, so indifferent to the outcome of the event. I like a message like "Your senator just voted against the Clean Power Plan, call him or her." The message here is "Hashtag #earthtoparis on every photo you take of this awesome palace." Sunlight pours over the rim of the palace into the courtyard. In an adjacent hall, sculptures of women making love mingle with royal portraits—a bizarre peep into the life of the world's most prolific carbon emitters.
Alec Baldwin will speak here. Before him, Jane Goodall and Bill McKibben. There are no times listed for any of these events. I spot McKibben in the lobby, looking like he just drank a pint of spoiled milk. He generously offers thirty-five words to a young reporter, then turns his back mid-sentence and heads to the bathroom. I consider cornering him at the urinals and asking the question I've wanted to ask for years: How much are you fighting for the planet and how much for your own relevance? His high-profile actions, dramatic stagecraft, celebrity partnerships, calls for civil disobedience, refusal to commend institutional progress, and repeated reminders that I went to jail for this make me wonder.
I bail on the Petit Palace and take the RER to Le Bourget in time to catch the U.S. Climate Action Network press conference. USCAN representatives are tasked with explaining the myriad obstacles of the final week of negotiations to reporters. This is too simplified, though. A reporter from The Nation asks, "Why wait until 2020 to review emissions reduction commitments when that's the year the icecaps are supposed to start melting?" This is not how the climate works. The "2C" cap on warming is completely abstract. No one knows where that number came from, and not a single computer model can guarantee within a century when anything is going to happen. Scientists simply know that messing with the chemistry of the atmosphere will be catastrophic to life as we know it at some point, likely soon, in the future.
Next door, mayors and governors at the "subnational" panel are fired up. California's governor, Jerry Brown, and Washington's governor, Jay Inslee, joined sixty-five others from twenty countries—representing more than $17.9 trillion in GDP and 588 million people—to commit to cut greenhouse gas emissions to ninety percent below a 1990 benchmark by 2050. Governors and mayors are not waiting for Congress to wake up. They are changing the world, quickly. Governor Brown unloads one of his trademark rants, sounding like an abusive football coach fifteen minutes before a game. "Republicans are troglodytes. You know what that means? It means they live in caves. They don't know anything about the air, they just mess around with the dirt in their caves." By 2050, he says, California will have only electric cars on the road.
News from Day 8: Two of the world's largest institutional investors—Allianz and ABP—joined the Portfolio Decarbonization Coalition (PDC), a group of investors committed to supporting the fight against climate change. The Pope said stopping climate change and ending poverty are the same thing.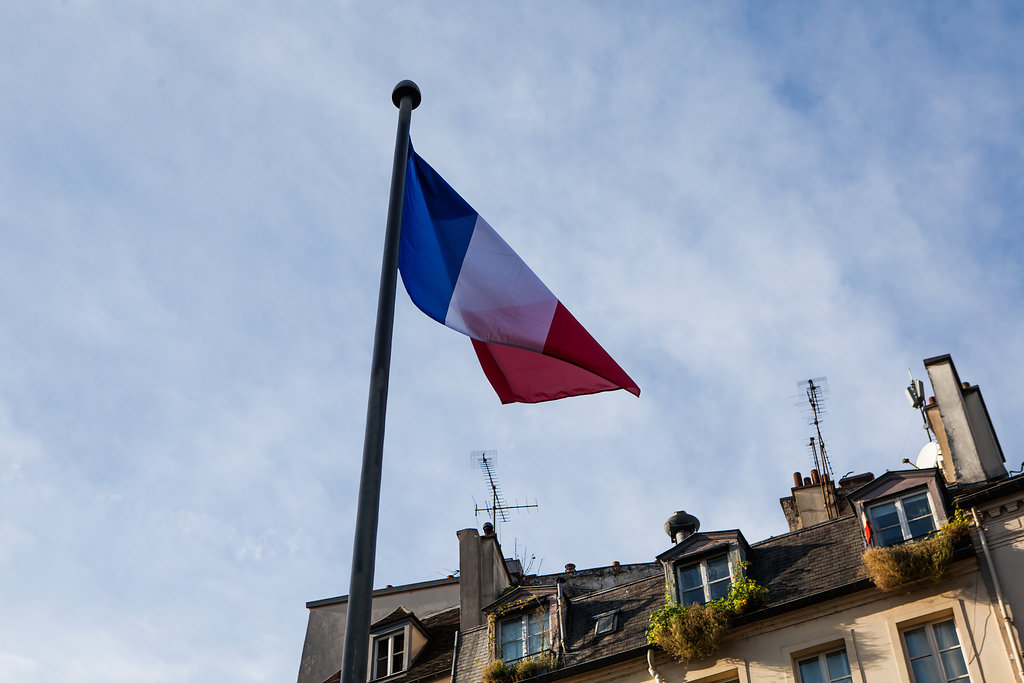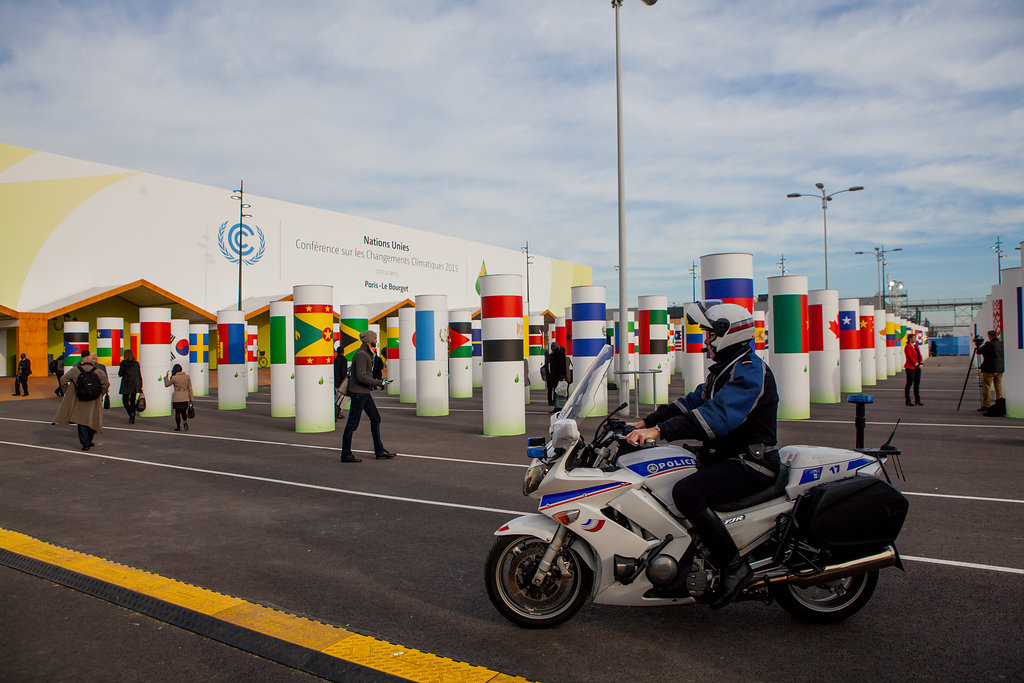 Day 9
Time to go home. Pack, clean the Airbnb rental, and catch a taxi to Orly. Security is insane. The huge guns are everywhere. The flight is smooth, though, and I'm back home for dinner and a long sleep.
Friends in the Blue Zone send updates all week. Negotiations are stalled. A final draft is close. Saudi Arabia is blocking the deal. China refuses all legally binding articles. The U.S. can't commit to anything that requires legislative approval. The French are masters of negotiation, though. They have invoked the November terror attacks. The polar bears. The island nations. Journalists like to reference the French Revolution when they editorialize about why Paris is the only place this deal can go through. A better example would be the 1783 Peace of Paris treaties, where a half dozen of the most powerful nations in the world called a truce, redrew many of the Western Hemisphere's borders, and created the United States of America.
On Wednesday, one hundred countries create a "High Ambition Coalition" to push the talks through the final stage. The International Indian Treaty Council announce that the phrase "the rights of Indigenous Peoples" has been struck from the agreement, and John Kerry announces that the United States will double its grant-based, public climate finance for adaptation by 2020, from $400 million to $800 million. That same day, the Obama administration postpones an incredibly poorly timed oil- and gas-lease sale for Michigan and Arkansas drilling rights. A new draft of the COP21 agreement is released, too. The long-term goal of 1.5C is there, though with few of the operational provisions necessary to make it happen.
Laurent Fabius calls for the text no later than Friday afternoon. By Friday afternoon, it's clear that negotiators won't be finished until Saturday morning. By Saturday morning, they've postponed until Saturday afternoon. Then, at last, the final text is published, but with no guarantee that it will become law. By Saturday night, the agreement is finalized, and Fabius gavels in the first international accord requiring nearly every country on earth to lower greenhouse gas emissions.
The deal itself cuts emissions by about half of what's needed to avoid the end of the world as we know it. Ratchet-and-review clauses are legally binding, though, and they require countries to report on and raise their reduction commitments every five years, starting in 2020.
The fine print reveals more issues. By dissolving the line between developed and developing nations, the U.S. effectively erased notions of its historical responsibility—150 years of burned coal—as well as the collective bargaining power of the least developed nations, says Lauren Gifford, longtime COP attendee and PhD candidate at the University of Colorado. There are other flaws, but the basic idea is that this is a foundation from which to fight climate change, not a ceiling. It is historic and spells the end of the fossil fuel industry. People will profit immensely from the coming transition to zero emissions, because that is what people do; others will suffer proportionately.
In the end, what's really happening here is that, after centuries of contemplating ourselves, our many ambitions and flaws, our ugly history and occasional beauty, humans have begun to look at the 7,900-mile thick rock we live on and figure out how it works. As Stephen Hawking said, "We are just an advanced breed of monkeys on a minor planet of a very average star." On Saturday, those monkeys voted to get their shit together.
Porter Fox edits the literary travel-writing journal Nowhere.