Day 0
There are more police than protestors at Place de République. White vans block the ten streets leading into the square. Officers wearing black shoulder pads, batons, tear gas canisters, machine guns, pistols, pepper spray, walkie talkies, cell phones, earpieces, sound grenades, assault rifles, plastic shields and handcuffs casually chat as the protest grows. On a side street I watch a policeman pass a large Tupperware container filled with salad around to his fellow officers.
The planet has warmed rapidly since the late nineteenth century, and nearly two hundred countries have come to Paris to talk about it. Protestors from half as many nations came, too, and planned the largest climate march in history. It was supposed to start in Place de République this morning. Since the Paris attacks of November 13, the government of France declared a state of emergency and banned the march, along with most other large public gatherings. 
Set in a frame of baroque apartment buildings is the thirty-one-foot goddess of liberty and symbol of the Third and Final Republic of France: Marianne. The bronze is so dark it almost matches the slate pavement. City workers keep the seventy-foot-tall base white and clean. Three figures carved into it personify liberty, equality, and fraternity. In Marianne's right hand are olive branches. At her feet is a lion guarding the ballot box. This morning, gaffing tape makes an x across her lips. Emblazoned on the lion's flank in white spray paint: COP21.
A brief history of the COPs: The United Nations Framework Convention on Climate Change held its first Conference of the Parties (COP) in Berlin in 1995. The idea was to figure out a way to remove fossil fuels from a world economy that depended on them. The Kyoto Protocol was adopted at COP11. COP15, in Copenhagen, was supposed to produce a treaty that would succeed the Kyoto Protocol—that expired in 2012. That didn't happen. Six years later, COP21 is being hailed as humanity's last chance to save itself from the hotbox it created.
The activists will not be stopped. A few hundred march in circles around Marianne. There are drums. There is a twenty-foot-tall papier-mâché puppet with enormous breasts marching around the metro entrance. There is a young kid wearing a beanie high up in a tree screaming "GO VEGAN!" People dressed like penguins tell my wife and I to recycle. Huddled under the skirts of Marianne are hundreds of flowers, candles, photographs, records, musical instruments, drawings, and hand-scribbled messages left for those slain in the November attacks.
Thirty minutes later, the crowd cheers and surges into the street. The white vans block traffic and people trying to enter the square. The protestors roar and dance in a circle. More vans arrive on Rue Château d'Eau, and a column of riot police march double-time into the southern half of the park. The crowd rushes again, and two sound grenades explode. The circle disintegrates and half of the protestors turn and head home.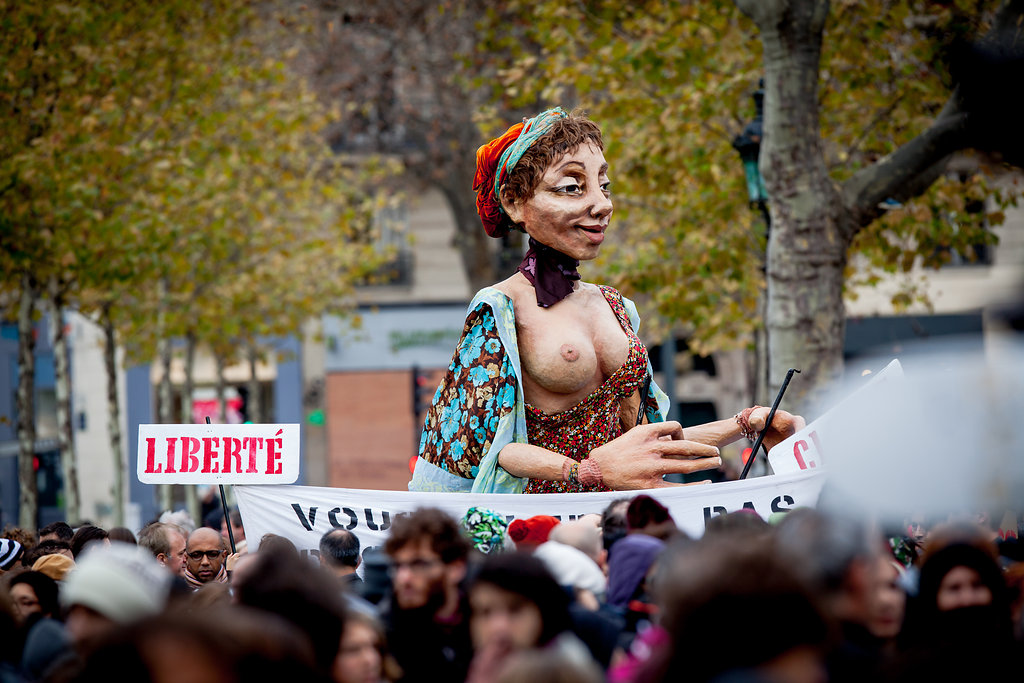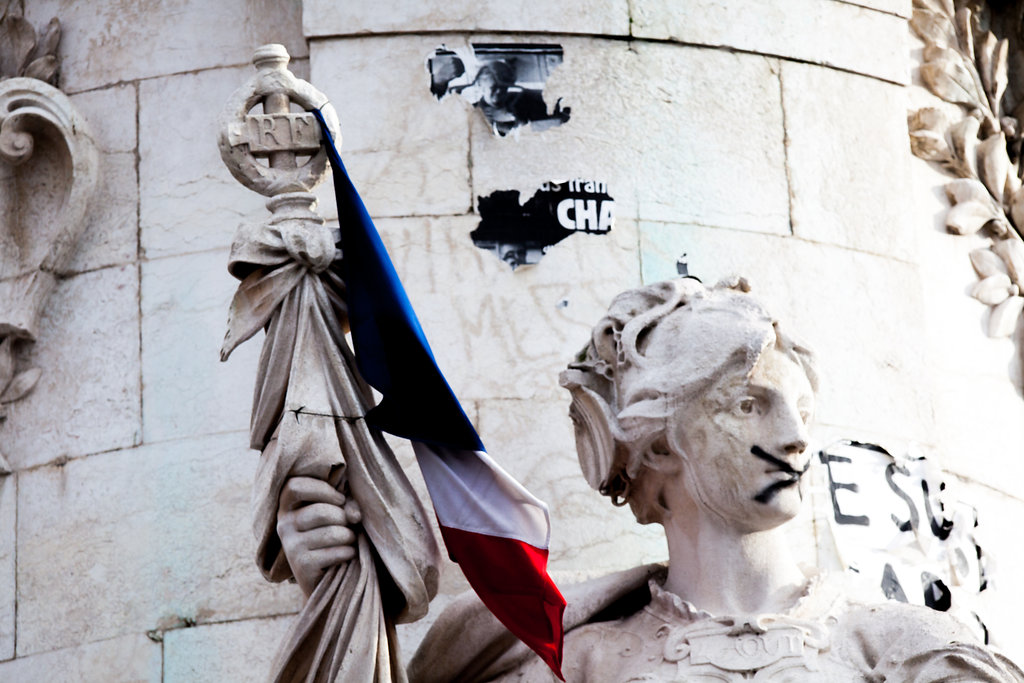 Day 1
Le Bourget is the site of COP21. It is twenty minutes north of town on the RER B. The train is an extension of the 1846 La Ligne de Sceaux and takes commuters past Notre Dame, Châtelet–Les Halles, Gare du Nord, and the northern suburbs of La Plaine and La Courneuve. Just before reaching Le Bourget, it passes through a no man's land of abandoned brick factory buildings with shattered windows and heaps of burned out cars. When it arrives at the COP21 depot, participants are guided to a fleet of hybrid Renault buses that take them to the $200 million site where the climate talks will be held.
The conference center itself is essentially a giant tent complex built on an old runway near Charles de Gaulle airport. It is divided into three sections. The Blue Zone is for accredited negotiators, heads of state, media, observers and NGOs. The main debates take place in two large plenary halls and thirty-two negotiating rooms there. The Climate Generations area is where students, nonprofits and dudes with long beards and hot pink pants hold consensus meetings, impromptu concerts, and progressive conversations while charging their phones at a bicycle-powered station. In the Solutions Gallery, set in the nearby Museum of Air and Space, renewable-energy companies and fossil-fuel interests duke it out selling their wares. "The average shortness of skirts and availability of alcohol at the gallery is shocking," one NGO consultant told me.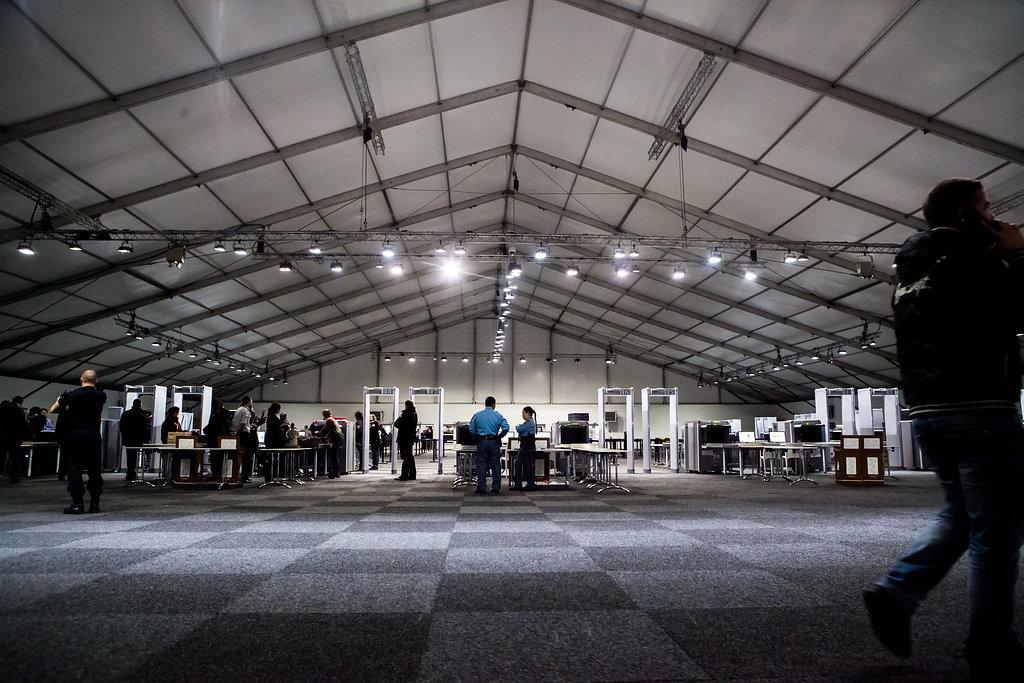 COP negotiations are known to be all-consuming all-nighters. There is a post office in the main hall—called the Champs-Élysées—an office-supply store, information booth, electric-vehicle booking service, and travel agency. Exits are marked on the walls by an oversized silhouette of a man running for his life.
News from Day 1: 182 countries representing 90 percent of global greenhouse-gas emissions delivered national climate action plans to the UN Framework Convention on Climate Change (UNFCCC). The pledges are not enough to keep the world below the internationally agreed maximum global average temperature rise of 2C. Vulnerable countries say 1.5C is all they can handle. A new report says cutting carbon emissions from deforestation in half in the next five years across the tropics would keep 1.135 billion tons of carbon out of the atmosphere. The Prime Minister of New Zealand says that more than a third of global carbon emissions, between 1980 and 2010, were driven by fossil-fuel subsidies. Germany, Norway, Sweden, and Switzerland announce a $500 million initiative to cut emissions in developing countries. Developing countries say that reparations from the developed world for polluting the atmosphere, aid and loans are in the trillions, not millions.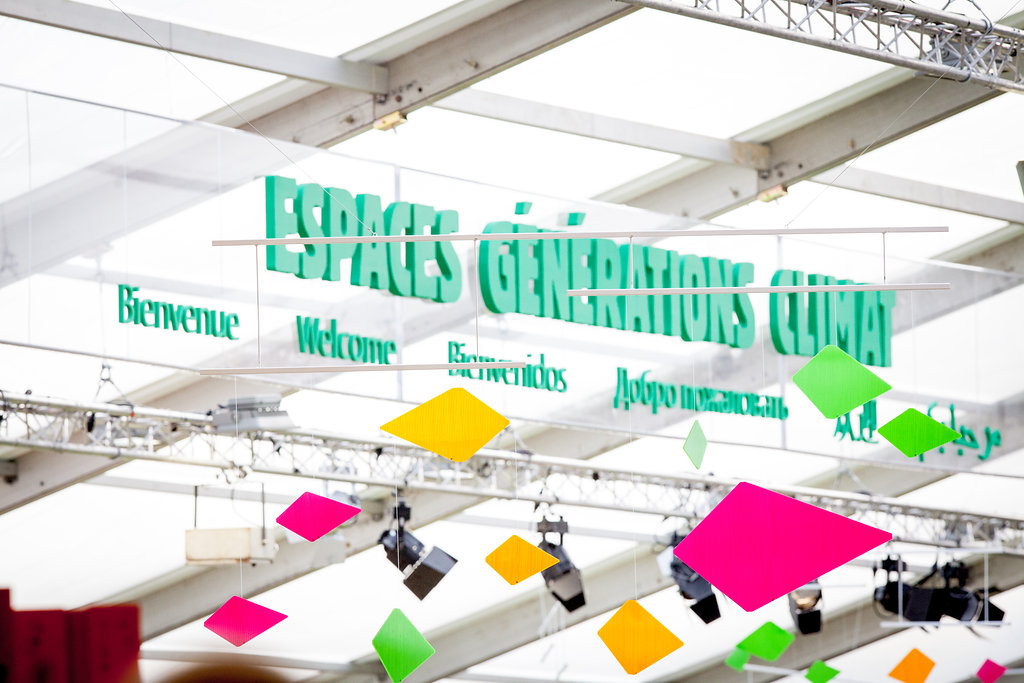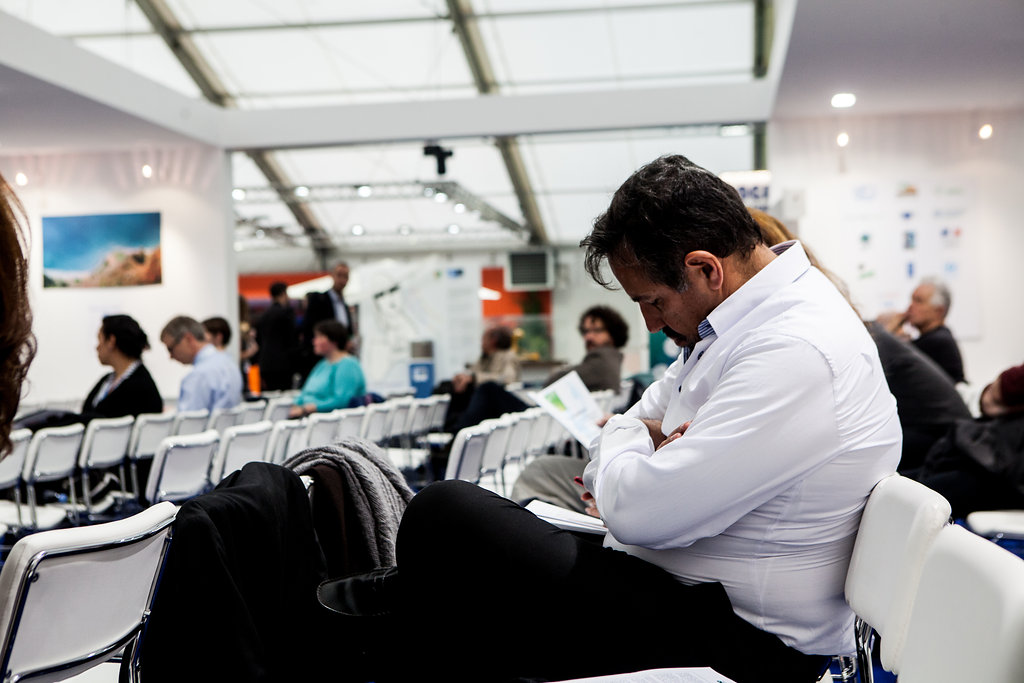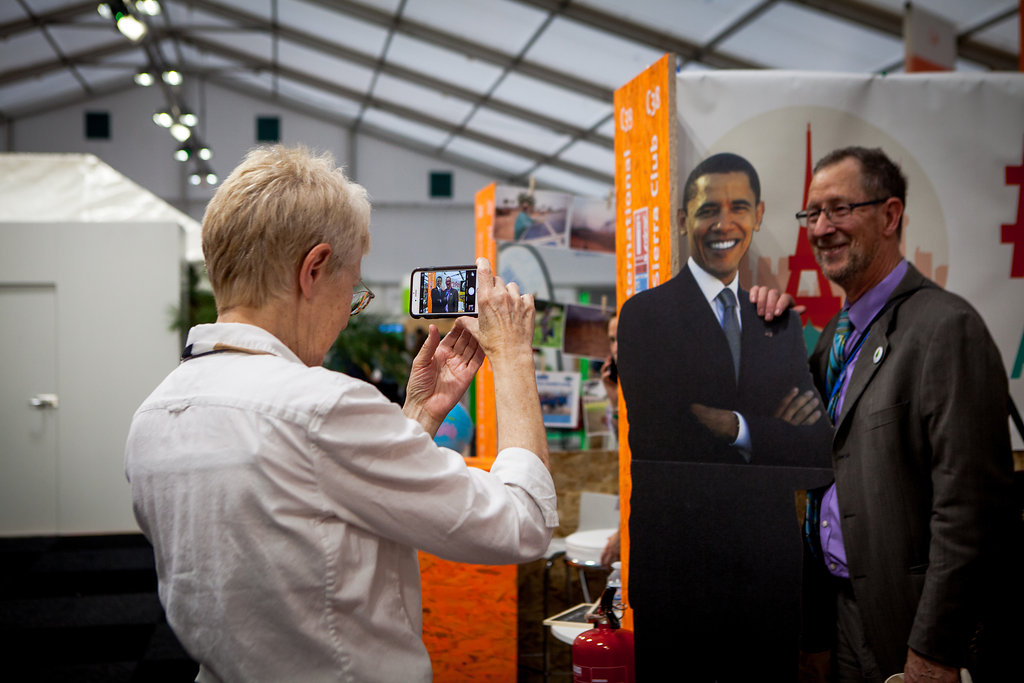 Day 2
Thirty percent of the CO2 we put in the atmosphere will remain there for hundreds of thousands of years. Since the Industrial Revolution, humans have released two billion tons of it by burning fossil fuels. This is why COP21 is a pressure cooker. We have preloaded the system and are not sure what the results will be.
A recent PricewaterhouseCoopers study found that to give ourselves a more than 50 percent chance of avoiding warming more than 2C, we will have to decarbonize six times faster than we are today. If the world decarbonizes too fast, though, economies collapse and chaos ensues. Do it too slow and sea-level rise will make Albany, New York, a beach town in the next century. The main questions at COP21: How do we keep warming below 2C without creating mass poverty and political and economic unrest? Who will keep tabs on emissions? And who is going to pay for all this?
Another problem: there is not a single desk free in the media center. Three thousand reporters are here. There are more heads of state under this roof—one hundred fifty—than any UN meeting in history. Only a few reporters are allowed in the plenary halls to watch them debate. The rest of us watch the action on forty flatscreen monitors.
At the Leaders Event, Obama says that this is our time. Putin says Russia already figured it out. The President of Hungary is the most creative. He is wearing a navy-blue suit, blue tie and a magnificent Tom Selleck mustache. He invokes his future grandchild, who asks him why the world knew what was coming and did not act. It is hard to speculate on this with three thousand reporters staring blankly at their computer screens all around you. Kind of like standing around a dance floor at a wedding waiting for someone to make a move.
Even for a brilliant mind, it is hard to wade through the massive amounts of conflicting data and media at COP21. There are too many moving parts, too many motives, causes and effects. A popular move for corporations, NGOs, and nonprofits at a COP is to trick participants into visiting their event by using the exact same name as a UN event. Thus the corporate convention at Le Grand Palais—for companies like Renault, Suez, and Coca-Cola—is named COP21 Solutions, not to be confused with the Solutions Gallery at Le Bourget.
News from Day 2: Canadian Prime Minister Justin Trudeau pledges to expand carbon pricing throughout Canada after its terrific success in British Columbia; New Zealand is asking leaders to stop handing out $500 billion in oil, gas and coal subsidies; Bill McKibben's fossil-fuel divestment campaign has gotten more than five hundred institutions, representing over $3.4 trillion in assets, to make some form of divestment commitment. (Translation: they're trying.)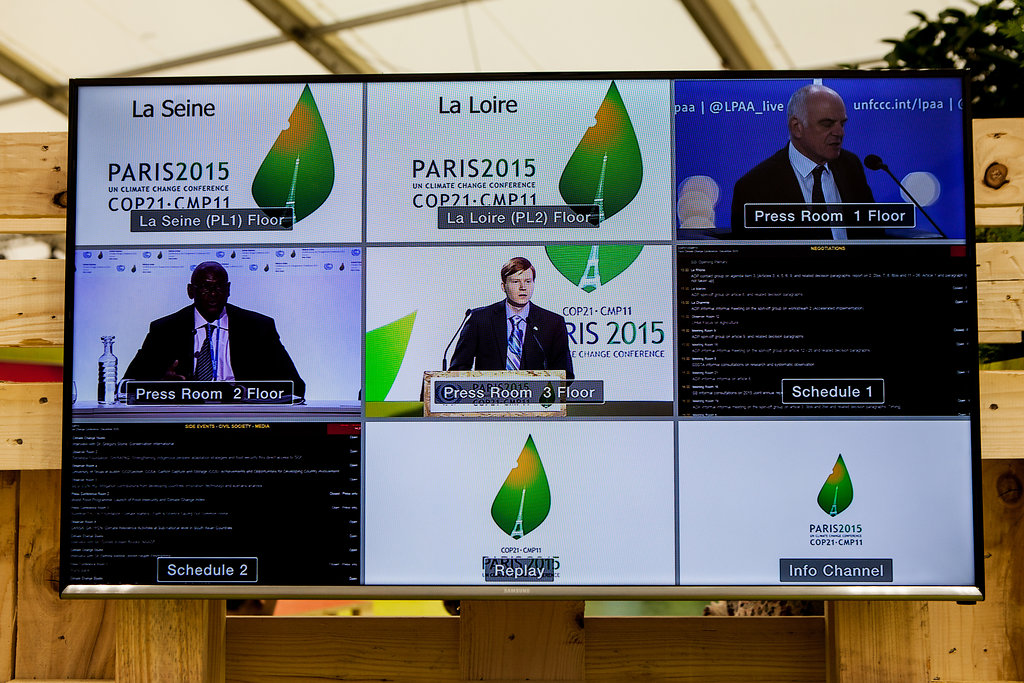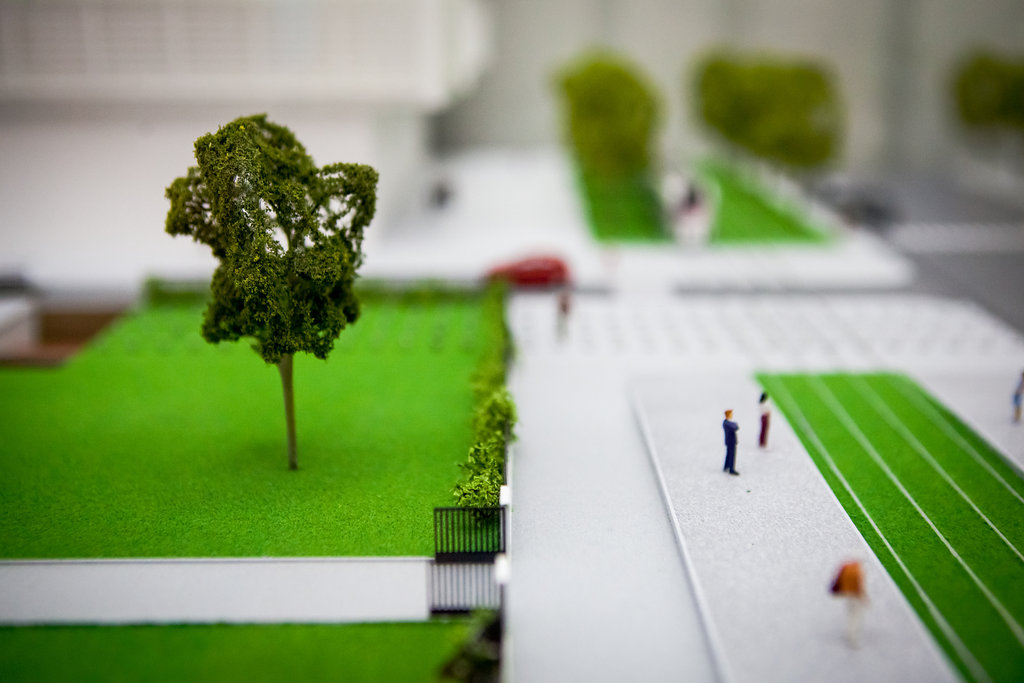 Day 3
Day off. We ride bikes to Montmartre and climb to the Sacré-Cœur. The hill was still a farm in the early years of the Belle Époque, after the city's walls were torn down, and artists slept in the streets. Three soldiers and three police watch the sun rise with us. Monks sing from the bell tower, then crack up laughing and yell at us.
This is one of the few places you can look down at Paris. The rest of the city is flat. Walking through its streets, the City of Light wraps around you like a chrysalis. From here we can see Haussmann's silvery tin roofs twisting in on themselves. The Ferris wheel at the end of the Champs-Élysées is still lit up. The gray mass of Notre Dame sits exactly in the middle of the city.
That night, we ride bikes all over town. There is no one in the streets. The main courtyard in front of the Louvre is empty. The police are preoccupied. We ride up the ramps and around Pei's glass pyramids. A group of high schoolers passes around a bottle of rosé on the main steps, listening to NWA. They are from Paris, Nigeria, Morocco. One says he is a DJ and wants to come to America. Another says he is from Africa, and that he hates the terrorists. None of them know what COP21 is.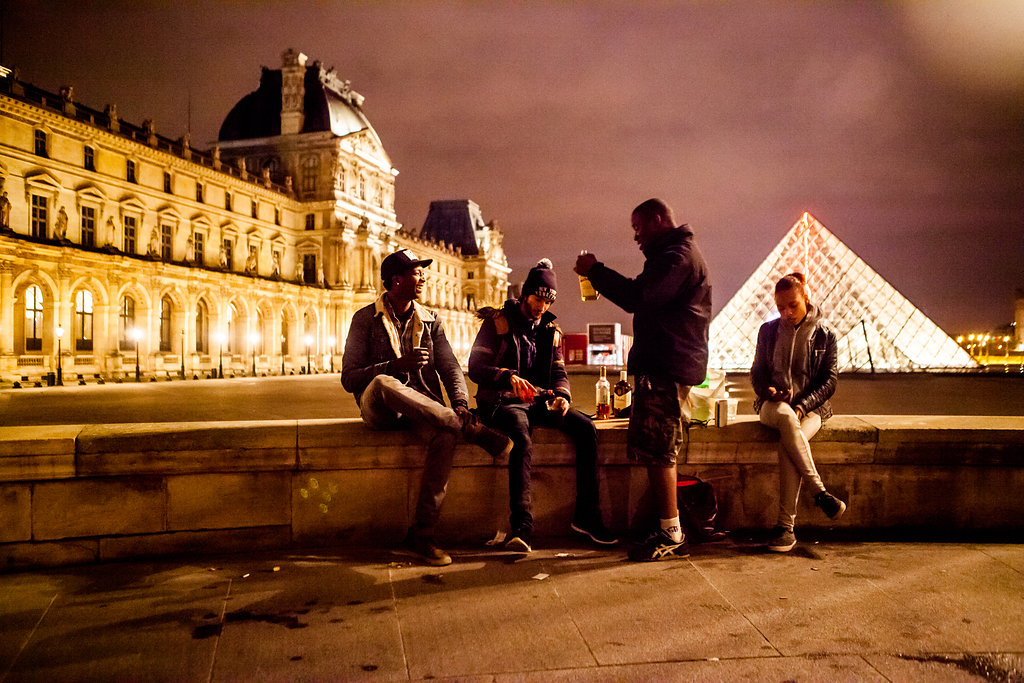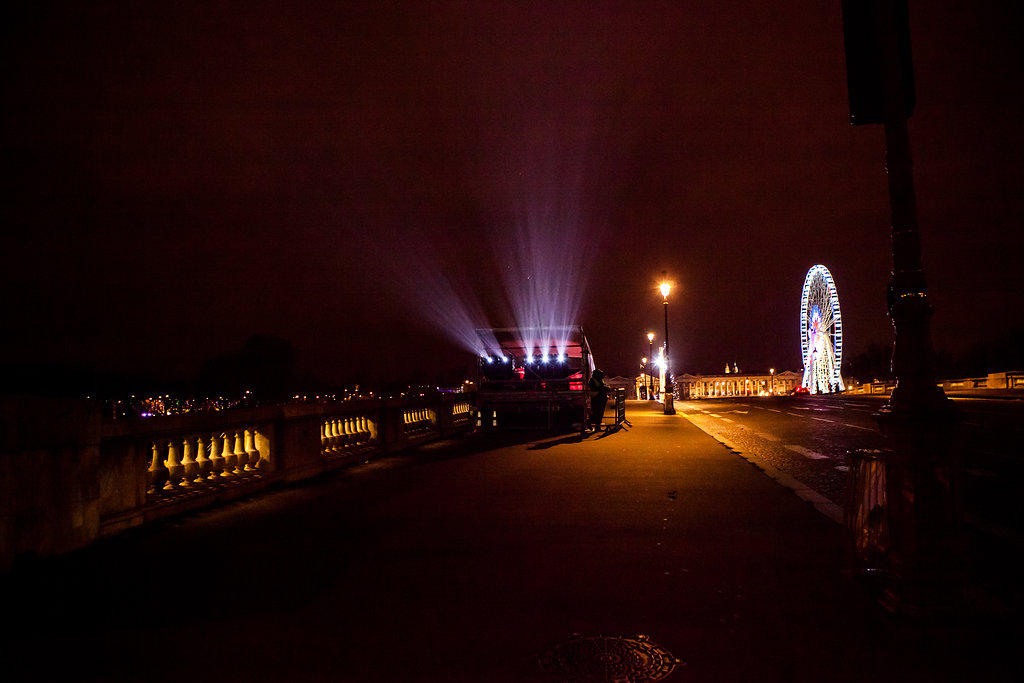 Day 4
The food at Le Bourget is actually quite good and relatively cheap. (There was a protest at a recent COP where developing countries said they couldn't afford to eat on-site.) You can also get wine: a bottle of la Réserve de Mouton Cadet red claret will run you twenty five euros. But I can't see any wine at the tables; visitors are more industrious lunchers than the chefs had hoped. Most line up at Paul or Pont Neuf to get ham-and-cheese sandwiches made with extremely hard-to-chew baguettes. The lines are massive—there are supposed to be fifty thousand people here—and the resulting tension among those waiting borders on dangerous, in direct contrast to the joyful manner in which the servers jostle about their seventy-five-square-foot kiosk. Outside, I walk past a reporter with a five-day shadow and bloodshot eyes vaporizing weed and shooting espresso.
Walking through the pavilions in the Blue Zone, slogans read: KEEP IT IN THE GROUND; TROUBLED WATERS; UP IN THE AIR; YOU AND HABITAT FOR A BETTER URBAN FUTURE; AIR POLLUTION KILLS; TODAY FOR TOMORROW; PLANTS FOR THE PLANET; ONE PLANET TALKING; FORESTS FOR ALL FOREVER; ZERO POVERTY, ZERO EMISSIONS; FOR AFRICA TO THRIVE ITS WILDLIFE MUST SURVIVE!
A junior official from the Green Climate Fund tells me what's actually going on. "The agreement is a fifty-one page document," he says. "After two days of negotiations, they've gotten through page one."
Every article has two or three options to choose from. Most options have one or two sub-options. Much of the text is in brackets. Brackets are at once a way to make progress and a way to never reach a solution, a woman from Climate Action Network (CAN) says. "Like when my fiancé says I did something wrong. I tell him he's right and I'll never do it again—in brackets."
News from Day 3: Developing countries need more money. The U.S. is tapped out. India is shaping up to be the spoiler. A group of protestors in the Blue Zone chant near a mini Eiffel Tower made of red café chairs: "You screwed this up; you need to fix it." They're mostly right. Al Gore reveals a new report warning investors that fossil-fuel companies could waste two trillion dollars on uneconomic projects over the next decade if they pursue business as usual. Another report claims that a forest area larger than Portugal is at risk from coal mining worldwide. Right now, there is no way to keep temperatures from rising above 2C without major carbon sinks—like new and existing forests.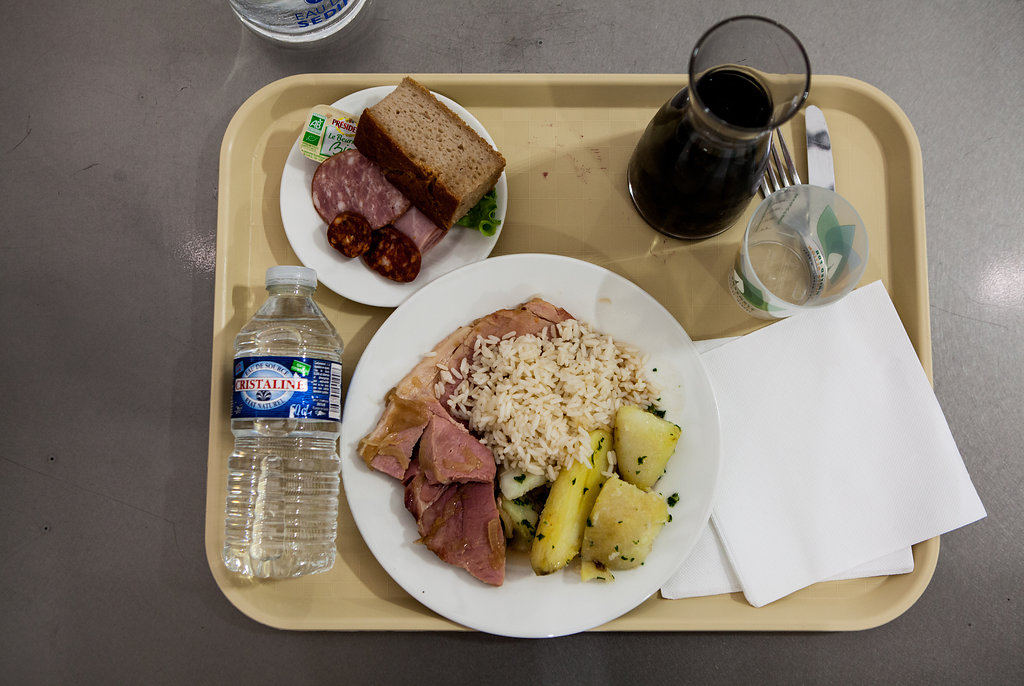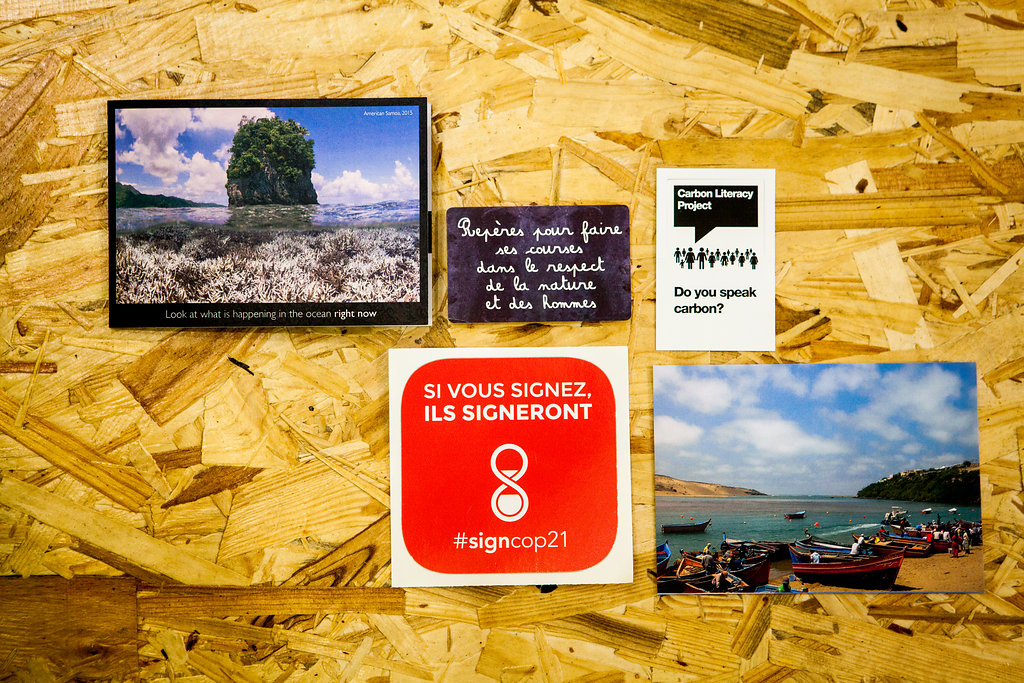 Day 5
Todd Stern is America's lead negotiator. He's been doing this since 1997 when he worked for Bill Clinton. He has short gray hair and a long face. The tenor of his voice never changes. He does not radiate authority, power, or even fairness. He is the most inoffensive human you can imagine—more of an apparition, slipping in and out of rooms, announcing news sedately against the persistent white noise of accusation, and every now and then completely changing the way the world works.
The structure of the climate agreement is still legally binding, he says, just not the emissions-reduction targets themselves. What the U.S. is doing is asking countries committed to reducing emissions what they can handle. No more, no less. He wants it on paper, not as a solution but as a baseline from which to begin aggressive worldwide decarbonization. A "ratchet-and-review" process every five years will hopefully reap more aggressive goals down the line.
That night I go out with a gang of NGO workers for drinks. The text message invite says: "Drinking martinis with supermodels at fancy-ass hotel." It is indeed fancy. La Réserve, on the exclusive Avenue Gabriel, was built in 1854 by the Duke of Morny as a private residence. There are red velvet chairs and gilded molding, mirrors everywhere, bartenders in black vests and white button-down shirts. The models are smart, hilarious, and apparently extremely rich middle-aged women. Someone tells me one of them is the great-granddaughter of the man who invented the incandescent light bulb.
The organizer of the evening is an NGO consultant and longtime COP attendee; I'll call him NGO. He does things like broker major climate deals and hang out with MIA and Sean Combs. We drink martinis in old-fashioned glasses. I order a forty-five-euro cheeseburger. A good portion of the money from our side of the table is coming from research grants.
NGO orders a black SUV. It's the only way to go, he says. It is a beautiful night. No moon, a few stars, spotlights from the Eiffel Tower swinging through the sky. We drive exactly 450 feet to a swanky club where a young woman seats us in bottle service. Liquor is three hundred euros a bottle. NGO orders Grey Goose. We drink and dance. A woman in a birdcage wearing a beak and feathers swings from the ceiling over the stairwell. A man in a top hat with tights, no pants, and high heels dances on a platform above the dance floor. Half of the male guests in the place wear tuxedos. NGO makes me play wingman for him as he picks up two young Parisian girls. When he orders another bottle of Grey Goose, I tell him I have to go. He begs me to stay, but another NGO consultant in our party is blotto and looks like he is about to pee on the floor. Home by midnight. Tomorrow, they say they will have a draft of the deal.
News from Day 4: Yale University Report finds that fifteen of the world's twenty largest banks totaling close to two trillion dollars in market value have made commitments to act, and green bonds worth close to fifty billion dollars are financing climate projects. Another report reveals that air travel and the shipping industry create more greenhouse gases than the UK and Germany combined. So far, the two industries that are not mentioned in the draft agreement.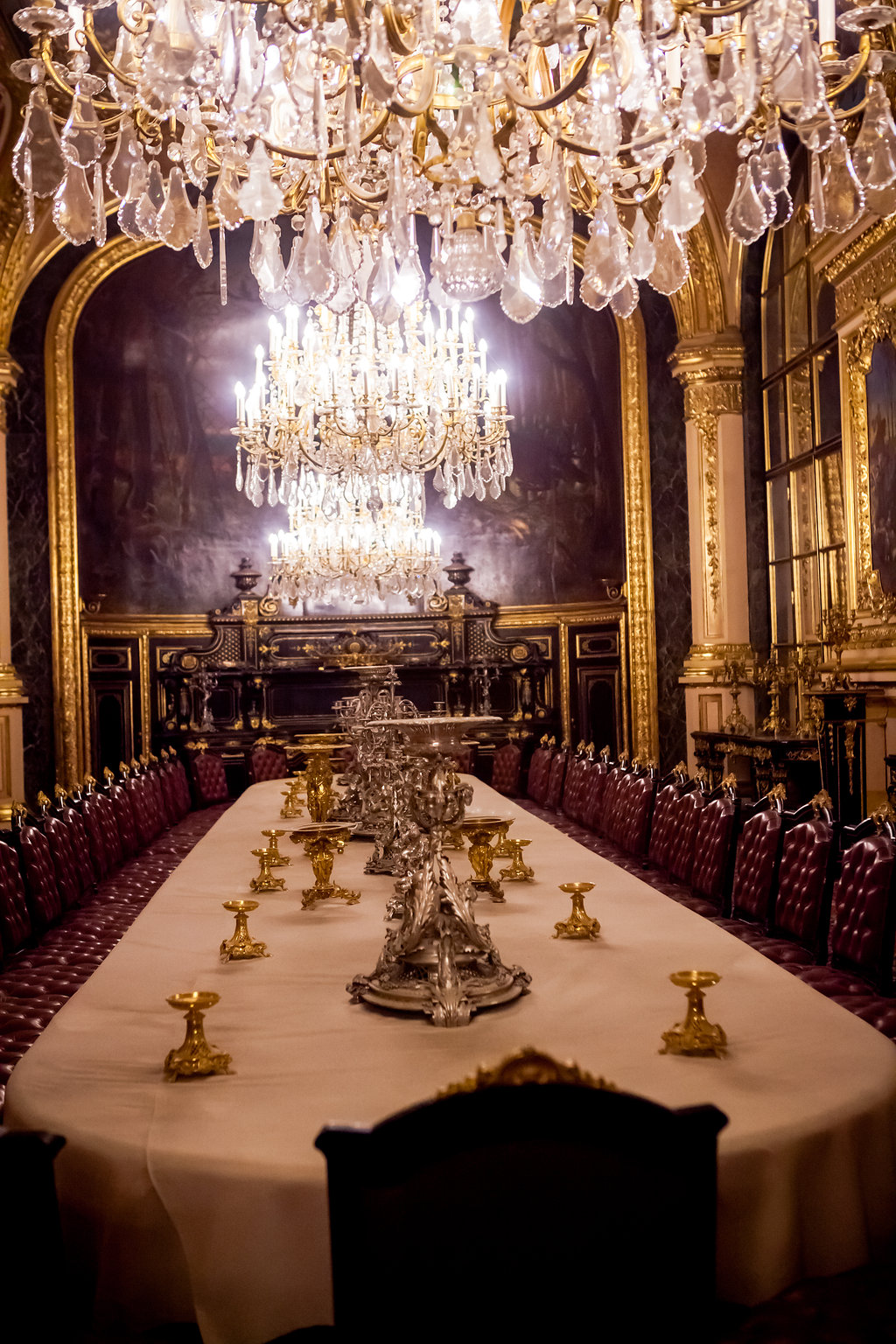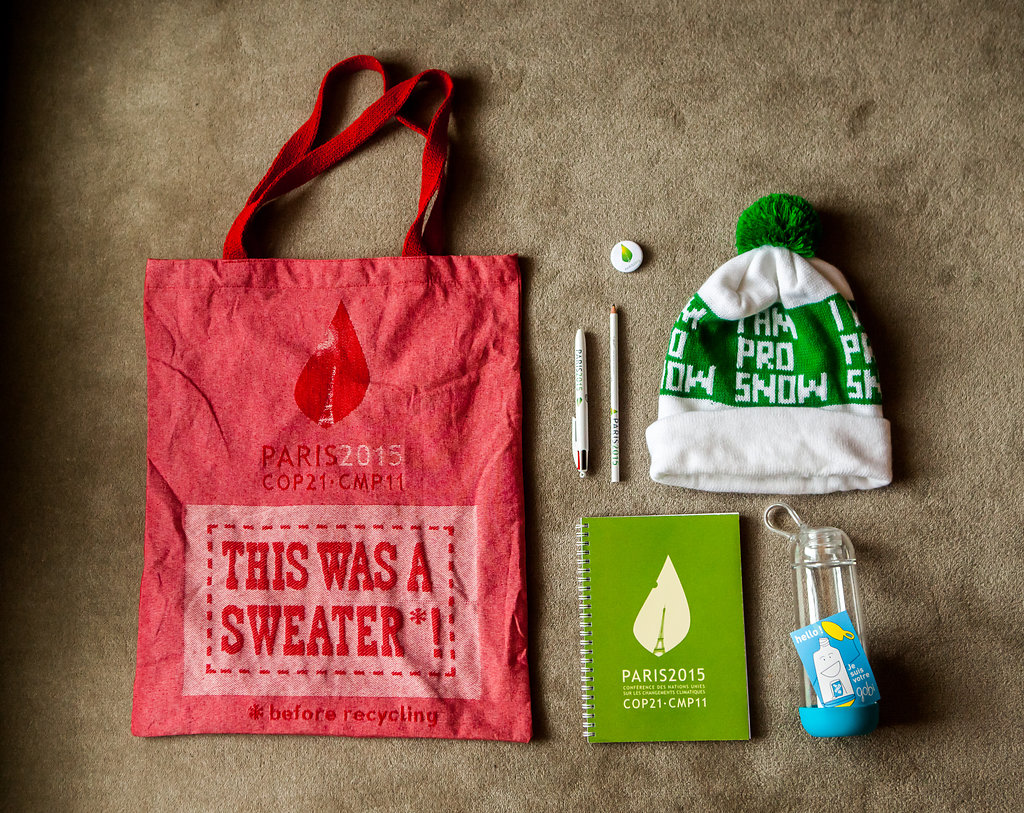 Part 2 of this piece will appear on Monday.
Porter Fox edits the literary travel-writing journal Nowhere.