Our basketball columnist ventures to Portland.
In the beginning, also known as last week, I welcomed you to my ebullient but off-kilter basketball life. We were in Brooklyn, watching a Nets game—an unlikely place to begin, as a Manhattan resident and Knicks fan. Just as unlikely was the cross-country flight I took last week, bound for Portland, Oregon. I flew in on a Thursday morning because I wanted to see, finally, the Portland Trail Blazers play on their home court, known now as the Moda Center. I'm still going to call it by its glorious former moniker, the Rose Garden. It was an inevitable outcome: a beautiful name erased by an insurance company.
Once I knew the Blazers would be in Portland when I was, I didn't hesitate to get tickets. Really good tickets. I yearned for that contact high I'd spent my entire life hearing happens in Portland. I'd tried Barclays Center—that sanitized, bank-named, eminent-domained, half-empty pod of steel Frank Gehry dreamed up for developers to drop in the middle of Brooklyn—but I never liked New Coke. I needed a shot of real basketball excitement. The Rose Garden would have spirit–a kind of saucy, sustained legacy that's difficult to associate with today's style of fandom. A strange potion runs through the basketball blood of Portland. It's stayed hot from the days of games at the Memorial Coliseum, where the Blazers played from their inception in 1970 until 1995. On April 8, 1977, the Blazers beat the Phoenix Suns 122 to 111 in front of a sellout crowd and went on to enjoy another 813 consecutive sellouts, making theirs, until recently, the longest sellout streak ever by a major U.S. sports team. Six and a half years earlier, the Blazers had played their first-ever regular season game, a 115 to 112 win over Cleveland in front of only 4,273 fans. 
Winning puts butts in the seats, no doubt. But not even the Celtics or the Lakers, for all their respective history, for all their endless phalanx of fans, could touch the consistency of the Portland crowd. As I got older and Trail Blazer games found their way onto East-Coast TV, I'd take one in from New York and feel I was watching a relationship in the open: not a business transaction or an athletic distraction but an entire city's complicated, cathartic self-expression. I don't believe in authenticity, but whenever I watch a Blazers game, I come as close as I can.
Going from Brooklyn to Portland made me see how the two cities have cross-pollinated. Before Brooklyn became the place that, for better or worse, you know now­­, there was Portland, the Rose City, doing its thing: the type of town where men grow beards just before they start learning to play the banjo, where boutiques set up floor-to-ceiling cans of Pabst Blue Ribbon as interior design. Portland is a version of Brooklyn blessed by ecology and geographic fortune—no Manhattan to its West, no Long Island to its East. You'll have a hard time finding a place with a better balance of urban ambition and small-town slowness, an equilibrium matched only by its mix of cultural openness and baffling-but-not-really homogeneity.
Portland doesn't read like a basketball town, unless you remember what the NBA was like before it exploded into the mainstream in the eighties: back when cities like Seattle, Baltimore, and Philadelphia moved the needle. Today it's easy for outsiders to buy into the idea that Portland has always been so hip that to say the word basketball would be to draw the same scorn as to say U2. But before Portlandia, before Stumptown Coffee, before fight clubs, before de facto skateboard advocacy became de jure skateboard advocacy, even before Courtney Love met Kurt Cobain, I was a kid on the East Coast in love with Portland's greatest export: Trail Blazers basketball.
There was a time, not as long ago as it may seem, when basketball games were hard to find on television. There was no big network deal to show games; there was no NBA League Pass to let you choose whatever team you wanted to see on your television, tablet, or phone; there was no highlights show. This was a time when the good stuff got to you by word of mouth or via the five-minute sports segment on the evening news where you caught a glimpse of brilliance and made a note to keep an eye out for that player. We forget, the tide of his commercial success so strong that we've long since drowned in it, that this is what happened with Michael Jordan. He wasn't the first pick of the 1984 NBA Draft. He wasn't the second pick. He was picked up by a middling team with no national presence, and he signed a shoe deal with the Snapple of the Coke-Pepsi war, an Oregon-based company named Nike. I'd stay up through the evening news to catch the sports roundup and increasingly, after the recaps of the local teams, there would be a clip of this "Michael Jordan of the Chicago Bulls" doing something improbable, the sportscaster describing it in a rushed voice because he'd edged past his allotted time but the production crew allowing him to go with it. Sometimes there were no words at all with the clip, the glide and swagger of the highlight met with silence and then a simple "Would you look at that … " after we'd already looked at it. Since the mideighties, fans of basketball have been subjected to one supposed superman after another, capable of endorsing countless products in a single bound, lifted into the strata of superstardom by the marginalized element, the team. Where once we looked toward the constellations for our stories, now we look for the star.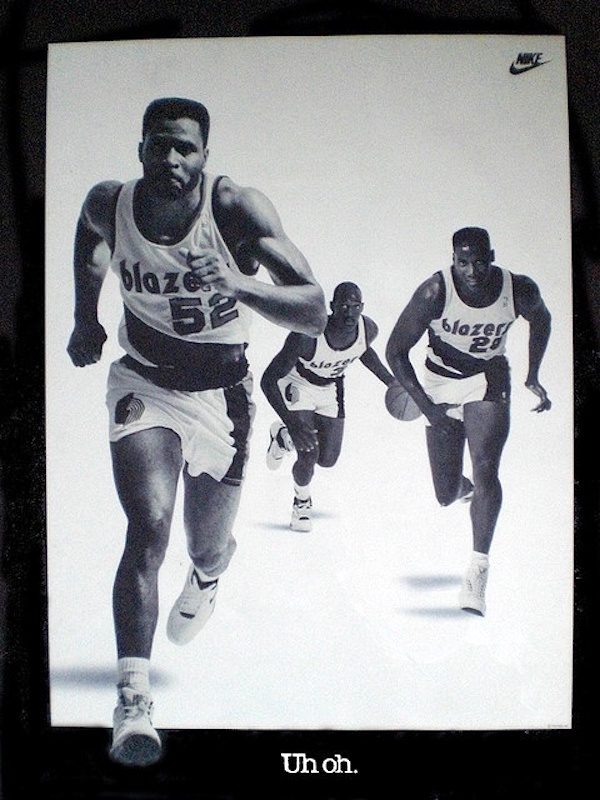 In 1977, the Portland Trail Blazers won their first and only NBA Championship in their first-ever trip to the playoffs, with their coach—Jack Ramsay, aka "Dr. Jack"—in his first year at the helm. Dr. Jack was known for his balding pate, his pants, and his immense basketball acumen. He died last year a living legend, broadcasting nearly until the end of his life. He was by then a national figure, but for me he was always a part of Portland. The number seventy-seven hangs in the rafters of their arena in his honor.
In '78, the Blazers were steamrolling the league until injuries stopped a potential dynasty in its tracks. I don't remember that. In 1979, Magic Johnson and Larry Bird entered the league. I remember that. Soon after this, the story began to be repeated ad nauseam: the NBA, a tottering mess in the seventies, was saved in the eighties by these two. The battles between the Lakers and Celtics throughout the decade became an allegory of two types of American life. You began to know what people were about by their taste in sneakers, their thoughts on who deserved the MVP awards.
During this time, just as I grew old enough to know that I was a self in the world, the Trail Blazers took on a special allure for me. I'd hear about Portland's free-thinking center, Bill Walton, who passed the ball like a point guard; how he initiated the offense as soon as his long arms plucked a defensive rebound from the air; how at six-eleven he moved like he knew what was going to happen before it happened; how he looked like a stretched-out-on-the-rack Shaggy from Scooby-Doo, if Shaggy had hitchhiked back to Portland from Woodstock in a hayride filled with weed. He'd mastered the angles his long body granted him. But by the time I was hearing of him, Walton was constantly injured, and besides, Portland was hardly ever on TV. A Bill Walton play wouldn't make the evening news clips: his game was too subtle, too earthen. Precisely for this reason the Trail Blazers took on a mythic quality to me, like one of the great epic oral poems you keep to heart until you can write it down.
Portland was the team with players I'd never get to see. The first-overall pick, Mychal Thompson; the spry guard, Fat Lever; and then Clyde Drexler and the sharp-shooting, high-scoring forward with the Bond–girl name, Kiki Vandeweghe; and the hard-nosed point guard, Terry Porter. The team inspired some of the best posters in sports history. During Drexel's peak years, Portland enjoyed some vintage seasons, but they lost two NBA Finals over a three-year span. In losing in 1989, they provided a final flourish for the eighties' last dominant team, the "Bad Boys" Detroit Pistons; and their loss in the '91 Finals introduced the world to that foreboding sense of dominance and swagger the Chicago Bulls would wear like a lion's pelt through the decade. The Blazers have never lost enough, fallen hard enough, to become lovable losers; they've won often, but never horrifically often enough to become a team you love to hate. They simply stayed afloat, even through such dubious draft picks as Sam Bowie, who barely played and then retired. They drafted the Lithuanian Arvydas Sabonis, and Dražen Petrović, of the former Yugoslavia, the two most exciting international players of their era, respectively the greatest foreign-born big man and one of the best shooters (and trash talkers) the game has ever seen. Portland waited six years for the seven-two Sabonis to arrive from Spain, during which time his legend only grew. By the time he joined the Trail Blazers he was heavy and hobbled by injuries—his skill set was still pristine, celestial, but watching him play was like watching a great artist paint under the black depths of the sea and hearing, as you watched him paint, the legends of the works he'd made on land with us.
Even so, between 1977 and 2003 the Trail Blazers only missed the playoffs once. Once! Consistently good during the regular season; consistently open, entertaining, fast; consistently coming up short, just short, disappointingly short, tragically short; and consistently backed by a fanbase that to these East Coast eyes made the rare glimpses of their home games look like organized chaos in a sea of red and black: like they weren't in Portland at all but on the surface of Jupiter.
Whenever they lose a key player, Portland reinvents itself on the fly, striking gold after having stepped in shit. Not that things always turn up roses (or Modas) for the Blazers in this respect: the team they cobbled together in the '00s was so replete with off-court issues that they became known as the Jail Blazers. Later, in 2007, Portland drafted the game's next dominant big man, a seven-foot tall, can't-miss prospect named Greg Oden. He underwent microfracture surgery on his knee in September 2007, played a few more than a season's worth of games over a seven-year NBA career, and now plays in China.
A year after Oden, the Blazers drafted a butterscotch-smooth shooting guard from Seattle named Brandon Roy, who rose to stardom and then, after four stellar seasons, the cartilage in his knees all but gone, disappeared as quickly as he had appeared. It would defy belief to be good again so soon after that, and yet the Blazers emerged with one of the most exciting young starting lineups in basketball–Damian Lillard, Wesley Matthews, Nic Batum, LaMarcus Aldridge, and Robin Lopez–a quick, lithe, versatile, boutique-level taste team that hit the elite fifty-win plateau the last two seasons running. Well: Matthews, Batum, Lopez, and the alpha-dog Aldridge all left Portland this summer, leaving the small-college kid Lillard to lead a bunch of kids through the unforgiving grind of the West.
I grew up taking this all in from the other side of the nation, loving the home court, the perpetual diagonal sash on the uniform that brings an air of soccer to their game, the Paul Allen–owned team squeezing out a life for itself between San Francisco and Seattle. I've always watched them, curious and admiring, if not quite a fan and not quite an adversary, wondering how you sell out an arena for twenty-five straight years, how you get over not drafting Michael Jordan because you had to draft Sam Bowie, how your city manages to be the team but not seem like the team. I never quite understood how the blaze in Blazer fans never goes out. I had to go see for myself. And so I did.
And it was good.
To be continued …
Rowan Ricardo Phillips is the Daily's basketball columnist. His second book of poems, Heaven, was published earlier this year. He is the recipient of the 2013 PEN/Joyce Osterweil Award, a 2013 Whiting Writers' Award, and a 2015 Guggenheim Fellowship.