John O'Hara's Pal Joey remains an exemplar of a rare form: the epistolary novella.
Ever see the movie? Well, do yourself a favor and don't. You should pardon me for bringing this up right off the bat, but it's so beyond being a mere stinkeroo that I get ahead of myself and must apologize. But you can trust me; I shall get back to it later.
It's hard not to start sounding like Joey Evans after listening to him come up off the pages of John O'Hara's novella. In fact, even if you're holding paper and ink, Pal Joey is always an "audio book" in some other, fundamental sense of the term. The osmotic nature of Joey's voice affects even the other characters. Vera—the rich older woman whom O'Hara added to the theatrical adaptation—says, in a moment of amazed exasperation: "Good God, I'm getting to talk like you."
Joey's is an American voice from the second act of the American century, a time when the country's wisecracks and slang, thanks to movies and even to books, wrapped themselves around the thoughts and vocal cords of half the world. O'Hara had the upwardly mobile luck to be in possession of the best ear anybody had for catching and transmitting the national lingo.
Frank MacShane, one of the author's biographers, explains that the first Pal Joey story, published in The New Yorker on October 22, 1938, got written after O'Hara went off on "a two‐day bender" instead of the stretch of work he'd pledged to his wife: 
Then the remorse set in: He asked himself, "What kind of god damn heel am I? I must be worse'n anybody in the world." Then he thought a minute: "No, there must be somebody worse than me—but who? Al Capone, maybe. Then I got it—maybe some nightclub masters of ceremony I know."
The New Yorker asked for additional Joey pieces, and these 
hit singles soon became an album, a book of what we'd now 
call "linked stories," published in 1940.
The stories' usual subject is Joey's current scheme—to make 
it with one "mouse" (girl) or another and to get to New York, 
away from these crummy clubs in Chicago where there's "one 
old guy playing cornet that looked as if he was worried for 
fear that the Confederates wd catch him for being a deserter." 
His chief tool, in business and pleasure, is the lie: telling a 
young woman that he went to "Princeton College" and an 
entertainment reporter that it was "Dartmouth University"—before, of course, his family lost its money in the crash. A minute after spotting a girl with a nice figure who's looking into a 
pet-shop window, he's snowing her with the story of a dog 
named Skippy that he never even owned. 

The recipient of Joey's letters is Ted, a bandleader friend whose replies we never see but who, unlike his correspondent, is actually going somewhere. We can feel Joey, amid his protestations of pleasure, choking on the news that Ted has been 
booked at the Paramount in Manhattan and written up in 
Down Beat. Joey himself is no further along at the end of the 
book than he was at the beginning, and O'Hara's small fictional gem would be unbearable if it were twice as long as it is. 
The author knew when to stop—late in his career he wouldn't 
exhibit such restraint—and Pal Joey remains one of the books 
that makes John O'Hara an even greater master of the novella than he was of the short story. 

O'Hara's restraint is writ small on each of the book's hundred or so pages, which contain enough of Joey's misspellings 
and malapropisms to make the reader marvel, but not so many 
as to make the text a chore, a thicket requiring a kind of 
line-by-line translation. The malapropisms, especially—more 
glaring in print than in speech—are rationed and perfect: "an 
establish band"; a "Mexican folks' song." The results had readers of the thirties and forties "beating their paws off" for the author, more loudly than nightclub patrons ever felt inclined to applaud the author's antihero. The last piece ("Reminiss?"), in which O'Hara has Joey sound drunk while writing, is a tour de force that builds and builds within its very short space. Joey becomes more and more direct, more and more angry, until, in his disappointment and failure, he lets Ted have it. If he doesn't tear up the letter, as he says he will, he's going to hate himself in the morning—but we won't see that, because O'Hara knew that this was the place to put the cover back on his typewriter.
The decision by this master of speech to write an epistolary novella may seem peculiar: Why work in a form that contains little or no dialogue? But then one realizes that the epistolary voice is really all speech, albeit as monologue rather than dialogue. One can imagine Pal Joey being staged not only as the musical comedy it became but also as an evenin-length recitation, on the order of a performance by Ruth Draper, the great diseuse who remained at her peak while O'Hara was reaching his.
MacShane acknowledges that Joey "owed something" to the characters and techniques of Ring Lardner and Damon Runyon, and a reader will certainly hear Nathan Detroit's strivings and stumblings toward refinement in some of Joey's more self‐righteous moments ("I do not know if you realize what has happen to me oweing to your lack of consideration"). But O'Hara does all of it, the vocals and emotions, with greater subtlety than Runyon. Joey's third dimension may not go very deep, but it goes far enough that you sometimes wince for him, whereas Nathan never prompts anything but a chuckle. Fancying himself "a great student of human nature," Joey is actually clueless; the truth is he needs more brass, not less, if he's ever going to push ahead like other great literary and movie heels of his day—say, Sammy Glick and Sidney Falco. In Sweet Smell of Success, J. J. Hunsecker, the gossip columnist played by Burt Lancaster, tells Sidney, with momentary admiration, "You're a cookie full of arsenic." Joey is a cookie filled with cookie dough; he's got a lumpy center that'll never be more than half‐baked.
If Joey rarely succeeds at parlaying one thing into another, his creator succeeded in turning Pal Joey into the biggest thing that ever happened to John O'Hara: the musical that opened on 
Broadway on Christmas Day 1940. O'Hara himself approached 
Richard Rodgers about an adaptation; he wrote the show's 
book, and you can hear him even in the bossy opening stage 
direction: "Cheap night club, South Side of Chicago. Not cheap 
in the whorehouse way, but strictly a neighborhood joint." 
O'Hara "opened up" the novella, putting in more patter and 
stage business for the girls in the nightclub chorus, and adding 
the character of Vera—more formally, Mrs. Prentiss Simpson, 
surnamed no doubt for that other Mrs. Simpson, the era's most 
famous adulteress. 

Vera, who sets up Joey in an apartment and a nightclub, 
understands just what she wants from him and just how long 
she's likely to keep getting it. Romance is never going to trump 
realism in her, and when blackmail enters the picture, Vera 
knows it's time to call her friend, the deputy commissioner of 
police, to tell him she's "been a bad girl again" and needs to be 
extracted from a jam. Joey remains oblivious to the impulses 
and feelings she's so carefully been managing. In Sunset Boulevard, when Gloria Swanson buys William Holden a suit, 
Holden feels draped with her shame and his; Joey feels nothing but "the trousers that cling to him," in Lorenz Hart's 
famous line, part of Vera's big number, the sexy and sagacious "Bewitched, Bothered and Bewildered." Dwight Macdonald, 
writing in 1960 about long-term developments in popular 
taste, complimented the lyricist in a devastating comparison: 
"Midcult is the transition from Rodgers and Hart to Rodgers 
and Hammerstein, from the gay tough lyrics of Pal Joey, a 
spontaneous expression of a real place called Broadway, to the 
folk-fakery of Oklahoma! and the orotund sentimentalities of 
South Pacific."
Pal Joey was a success in its original production and an even 
stronger one during a 1951 revival. Then, alas, came that movie (1957), in which Frank Sinatra is too old and always looks too 
smart to be playing the lead. One can imagine Vera addressing 
Gene Kelly, the original Broadway Joey, as "Beauty," back in 1940, but it feels a little late for Rita Hayworth to be doing that with the chairman of the board. Even worse, Columbia Pictures had her sing a version of "Bewitched, Bothered and Bewildered" so bowdlerized it wouldn't have offended Mamie Eisenhower's ears: "Untill I could sleep where I shouldn't sleep" became "What would I do if I shouldn't sleep," and when it came time for "Horizontally speaking / He's at his very best," Hayworth was made to sing la-la syllables. The whole production is so anemic that it had to be supplemented with "My Funny Valentine" and "The Lady Is a Tramp," two hits from an earlier Rodgers-and-Hart show, Babes in Arms (1937).
Worst of all? The picture makes Joey go off, happy‐endingly, with Linda, the girl he tried to seduce with the story of his dog Skippy, here renamed Snuffy, just as pointlessly as the whole story has been moved from Chicago to San Francisco.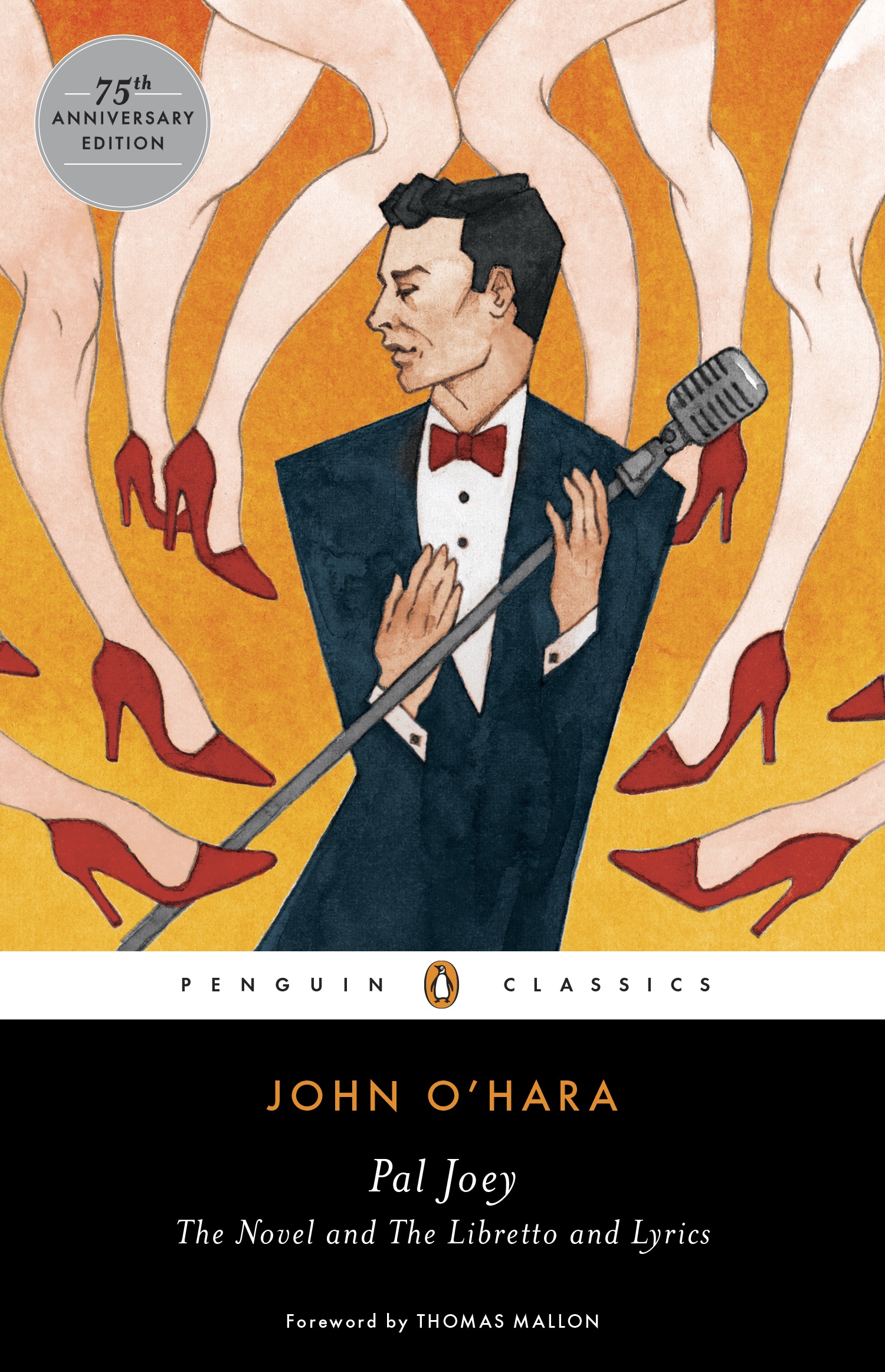 Twenty-five years ago, I freelanced an appreciation of O'Hara to Gentlemen's Quarterly, and in preparing the piece I talked to my friend Frances Kiernan, a fiction editor for many years at The New Yorker. She told me that
she used to read O'Hara thirty years ago [1960], when she was a teenager, in order "to find out how the world worked." But people don't do that anymore … the information is too dated to be useful, not outdated enough to be exotic.
What I didn't know when I proposed the essay was that Art Cooper, GQ's then–editor in chief, had grown up in Berwick, Pennsylvania (a town mentioned in the last pages of Pal Joey), and come to New York in the 1960s clutching O'Hara's books as if they were exactly the how-to manuals Fran Kiernan described. O'Hara was and remained Cooper's favorite writer, a fact that had more than a little to do with my being offered GQ's literary editorship after my O'Hara piece ran. Art, a larger-than-life character (I loved him), made a tremendous success of the magazine during the 1980s and '90s by somehow keeping it both up-to-the-minute and nostalgically devoted to the cocktail culture of his youth. He died in 2003, mid-martini, at his lunchtime banquette at the Four Seasons.
As art recedes from my life, but not from my memory, I sense that 
O'Hara's moment for a really breakout revival—outdated 
enough to be exotic—may at last be upon us. Do the youngest 
readers with this book in their hands know who "Winchell," 
let alone "Downey," is? Did they ever sit at a lunch counter? 
Meet a stenographer? No? Good! The farawayness of all these 
obsolete cultural references may mean we're nearing fulfillment of a prophecy I passed along in my 1990 essay: "It'll be a 
few more decades, says Kiernan, before O'Hara comes back, 
the way Edith Wharton (a writer he admired) eventually did." 

If that moment is here, Pal Joey is no less authentic, and no 
less dexterous, for having grown outré. And if this is your first 
encounter with John O'Hara, I can only say, in the words of 
Joey: "Low and behold."
Thomas Mallon is the author of numerous novels, including Finale: A Novel of the Reagan Years and Watergate, which was a finalist for the PEN/Faulkner Award. He has been published in The New Yorker, The Atlantic, and the New York Times Book Review. He is a professor of English at George Washington University.
This essay appears as the foreword to Pal Joey: The Novel and the Libretto and Lyrics, out next month from Penguin Classics. © Thomas Mallon. Reprinted with permission.
Penguin Classics will host a screening of Pal Joey at Film Forum on December 12. The film will be introduced by Charles McGrath.