The fourth of Karl Ove Knausgaard's six-volume autobiographical mega-novel, My Struggle, releases today. But Knausgaard writes in Norwegian, and most of us are reading My Struggle in English. For this we must thank the translator Don Bartlett, who has spent much of the past four years transposing Knausgaard's Norwegian into an addictive, lively English.
I recently had a chance to discuss My Struggle with Bartlett, who, as the book's translator, is surely one of Knausgaard's closest, most dedicated readers on Earth. He has been over every single word in the first four books of My Struggle several times; he has weighed commas and clauses like gold; he has scoured for the right voice for Knausgaard in English. Bartlett, who lives in England, was able to tell me fascinating things about My Struggle—among them, some of the differences between how Knausgaard sounds in Norwegian and English, why Knausgaard seems to sound a tiny bit British in the U.S. editions of My Struggle, and his own theories about why the novels have proven such a success in English.
When did you first encounter My Struggle?
I went to a panel discussion in London with three Norwegian writers, led by someone I knew was clued up on Norwegian literature. Afterward, I talked to Karl Ove and asked him what he was working on. He said he had just written five—I think it was five—novels. I asked him what about. He said, with a laugh, Myself.
What were your impressions of his work up to that point?
I had read one of his novels, his second—it's called A Time for Everything in English—and had been very impressed. He had made biblical tales a riveting read. The second part of A Time for Everything is interesting even though it is hard to see what the connection is with the first part. Knausgaard can write about anything and keep you interested, even when you think what he is describing is bizarre. I like the fluency of his writing, the shape of the sentences, the intensity. His concentration is such that you don't doubt he knows where he's going.
His prose is extremely fluid. How do you maintain that in English?
I work at it, going through one draft after another, making sure it flows. It is slow, painstaking work. Keeping the voices in your head. Putting in long days, five days a week, more as you get closer to the deadline. There are some consistent features—some "knowns," like style, characters, or scenes—as you move from one novel to the next, but I have found all of the books so far challenging. Book Five will be the same, I know. I generally like to lay down one draft, which I regard as the basis for a multitude of changes. There may be inaccuracies, omissions, repetition. It might still sound Norwegian in parts, there are references I have to check more closely, there are problematic paragraphs that need thinking through more carefully. I might have to review a strategy—such as how to deal with a teacher correcting dialect in a school. There are often difficult puns to deal with and all sorts of internal texts. Samples of writing, songs, poetry, et cetera.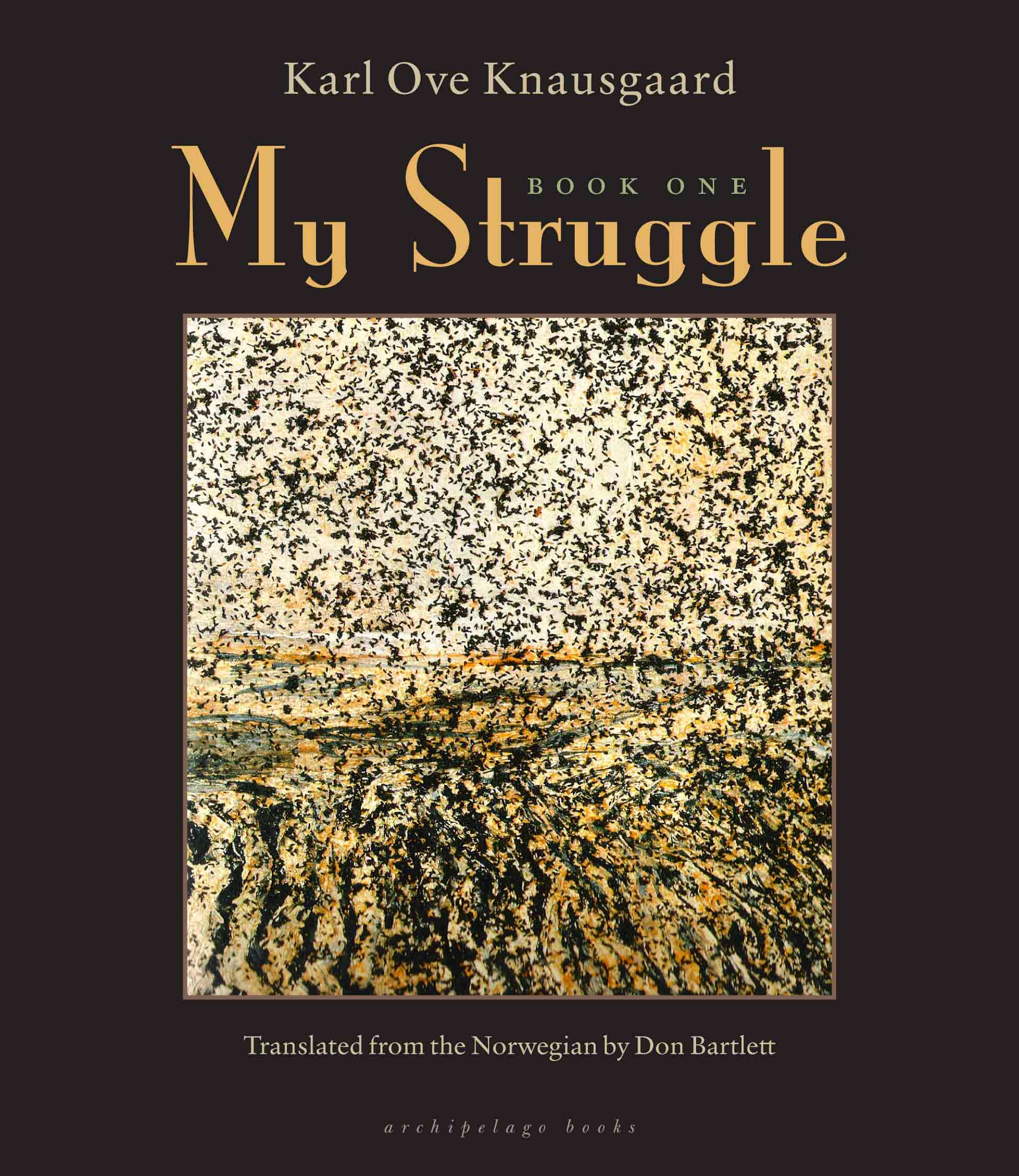 How did you become the translator of these books?
Out of the blue, an editor from Harvill Secker contacted me. I had translated quite a few books by Nesbø for Harvill Secker. He asked me if I would read the first book and consider whether the My Struggle series would be a good move for the company. I did, and I recommended it—I loved the first six pages. Afterward, he asked me if I would be willing to translate the first two novels.
Did you have any clue that you would, essentially, be doing one of these per year for six volumes?
At first we dipped a toe into the waters. Two novels were acquired by the publisher, I agreed to do them, and we waited to see reactions. Then Knausgaard got an American agent and pressure was applied to translate the books one after the other. I had agreements with other authors in place and couldn't drop them to devote myself to the My Struggle series, nor would I have had the stamina to work through all six books without breaks in between. So the project hung in the air for a while. Eventually, Harvill Secker wanted to do one book a year, which suited me better.
How long does it take you to do each book? To what extent has Knausgaard been involved?
It takes me about five to six months, depending on the length. Book Five is longer and will take six months. I try to give myself at least a month off before I start. As far as involvement is concerned, he made it clear he would always be there to answer any questions, but he didn't want to be peering over my shoulder. Accordingly, with the first novel, I sent him the opening fifty or so pages to make sure I had the right tone. From then on, I have tried not to pester him. I suspect there may be a few questions for Book Five, though. Whenever we've met he has made a point of commenting favorably on the translations.
Can you give us an example of something that sounds far too Norwegian to work in English?
A good example would be the sentence "He said that we should not go, that we should sit watching TV at home and that we must not leave the house." Not exactly wrong, but not English enough. Everything can be translated, but sometimes not as neatly, concisely, or fluently as the original. Compressed language is the most difficult to deal with, such as the punch line of a joke, a pun, a poem. They have all caused problems. I judge the sound of Norwegian with Danish ears. Danish is very flat in terms of intonation. What is noticeable about Norwegian is the way it rises and falls. That's what strikes you first when you listen.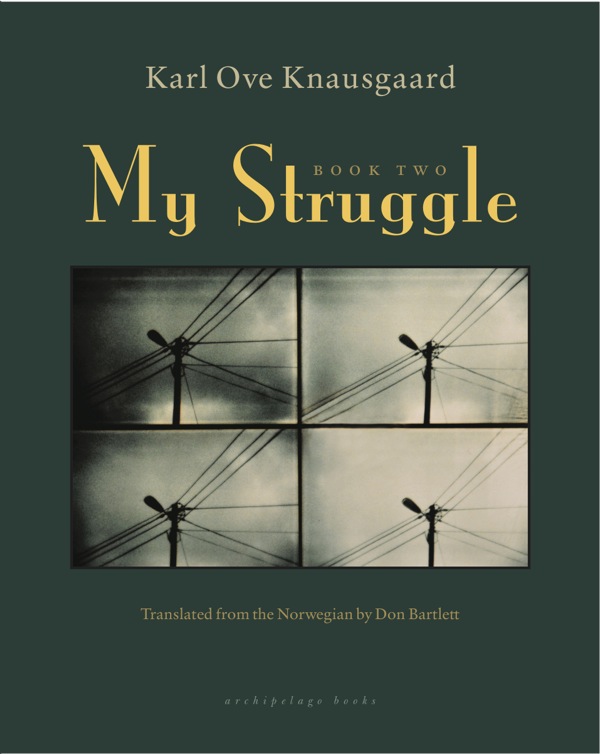 That sentence sounds quite different from how Knausgaard's voice comes across in your translation. How free did you feel to reshape the Norwegian voice into an English one?
I try to make the text flow the best I can, particularly where the sentences are long and involved. I want the feel of English but the intensity of Karl Ove, so I insist on the punctuation of the Norwegian. Too many semicolons and colons—which copy editors would instinctively feel need to be there—interrupt the flow and make the text feel too organized. I don't like to stray too far from the Norwegian, but I want the English to feel natural, particularly the dialogues. Finding that line is what keeps translators awake at night. I'm not sure anyone can give you instructions about what to do. You develop with experience. According to the book you are translating.
The prose seems to hit somewhere between British and American English. It's always leaning a little more toward the British side, although not so much that it feels overly strange to an American reader. There's a sort of shape to the sentences, an overall sensibility, that gives everything a subtly British feel. It sounds just like I would expect Knausgaard to sound—urbane, European, but also a little rough and extremely conversational.
I have British English in my head, and that's what appears on paper. When Archipelago takes over for the American publication, they're faced with certain problems. Mum, football, pavement, motorway, pram, buggy are the sort of words that will crop up again and again and probably rankle with an American reader, so the Archipelago editor, Jill Schoolman, changes those to U.S. English. Otherwise she has a light touch and doesn't change too much, and that explains why you feel some Britishness in the U.S. version. I like what I have read of what she does. Again, it is a fine line she treads, and it may keep her awake at night.

We've talked a bit about the trials of translating My Struggle—what have the pleasures been for you?
Lots. I think Karl Ove is exceptional at evoking phases of our lives—what it felt like to be thirteen or sixteen or twenty-five. I enjoy the atmospheres he creates and, most of all, the dialogues. I really like those—thinking my way into the characters. And I should add that the challenges of the books, while demanding, are also fun. Poems, jokes, puns, songs, schoolchildren's writing, samples of his early writing, Norwegian culture, references to art and literature, the openings and endings of the books. There's no shortage of text types. The intensity of the books, and deadlines, can make you forget that what you do is indeed pleasurable.
It's very striking that My Struggle has caught on so quickly in English. My feeling is that this voice accounts for a good deal of these books' appeal in translation. How do you explain it?
I think Karl Ove has created something exceptional. When reviewers talk about My Struggle being addictive reading, this is indeed what it is. He can make even the most banal incidents interesting. From what I have seen, Knausgaard's appearances also really help to promote the books. However, Nielsen BookScan shows that only thirty-seven thousand of all three books so far have been sold in the U.K. That's good for serious translated literature, but it's probably not cause for wild jubilation among the accountants at Harvill Secker.
I want to ask about the points of Knausgaard's life that he chooses to focus on. Some of them make a lot of intuitive sense—for instance, the death of his father. But then there are other things, like all those pages in Book One about how he manages to get a hold of some illegal beer on New Year's Eve. Or Book Three, where there are so many memories of him just being a kid. How do you feel about the shape of the series?
I suppose a writer has license to roam with memory. What might stick in his or her mind is sometimes arbitrary, sometimes life-shaping. As a reader, you might therefore expect formless novels. However, I am surprised by how well the novels move from elegantly shaped beginnings to natural endings, and how, as a reader, you are only sorry that the narration has come to an end. And there is no overlap, in the sense of redundant repetition, from novel to novel—despite being written with immense intensity and at great speed. The first five novels are very different from each other, the latter three defined by distinct periods in Karl Ove's life. Book Six, which I have just started reading, appears to be a perspective on what has gone before. Does the shape of the series hold up? I won't know until I finish Book Six. I think the individual books stand up for themselves. Book Six also mentions that the six books we know might well have been published as twelve novels. That gives force to the idea that the content of the books is elastic. It could have been presented in many ways. You have to view the books as a whole.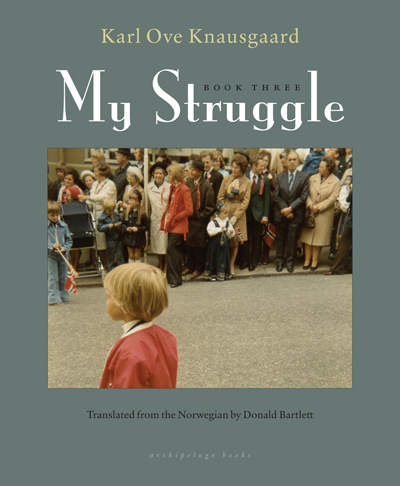 For its original Norwegian release, the publication schedule was much more compressed—something like three years, as opposed to six for the English release. This difference is affecting the way it is viewed—in English it's being reviewed book by book. Anecdotally, people are also always asking which book is the "best," or if they have to start from the beginning.
Personally, I think Book Two is the best. I have suggested to people that they should start at the beginning, but I also know Book One has put some readers off. I think some readers check out very quickly because of the theme of death and the focus on self. By contrast, Book Three, for example, would probably not put people off in the same way. There is a change of style after the first two books, with Three, Four, and Five being more accessible. So now I would recommend readers dip in wherever. As to the critics, it feels right to me to review each book as it comes out. One a year is slow for those addicted to the series, I know— apologies for that. Considering everything, I guess a series retrospective at the end would make a lot of sense.
How would you respond to the argument that the series is too self-involved?
I like pretty well all the digressions, the stories within a story. They flesh out what it is like to be a boy and/or a man of a certain age. Readers who are turned off will target Knausgaard's solipsism, and indeed he does so himself, using that very word in Book Six. He is so honest, so brutal with himself, and it is his project to describe reality as he sees it, so there is no way of avoiding it.
Where did you pick up your Norwegian?
I learned Danish in Denmark, where I lived and studied for five years. I hitchhiked up the western side of Jutland when I was a teenager and decided I would return at some point. Several years later, after studying Germany and working in Germany and Austria, I applied for a teaching job in Denmark and stayed for five years. I also read Norwegian and Swedish magazines and newspapers.
With Book Four now released, how does it feel to you when these translations come out? Is there anything in particular you do to commemorate the release?
When the books come out I am intrigued by the response, fascinated by Karl Ove's interviews. This time a couple of reviews have been positive about the translation, and that has made me feel good. Best of all is that Karl Ove contacts me to thank me. I don't celebrate when the books are published, but I do when I have finished a book and pressed the magic button!
Scott Esposito is the coauthor of The End of Oulipo? He is currently writing a short book on gender to be published next year.