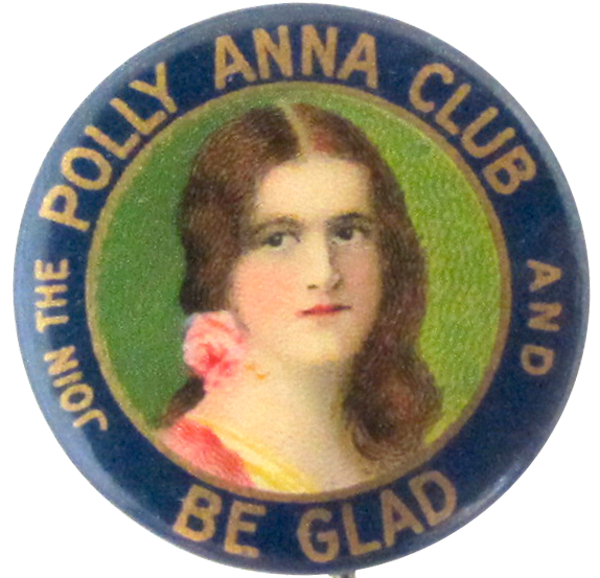 In the immortal words of Winston Churchill, "A pessimist sees the difficulty in every opportunity; an optimist sees the opportunity in every difficulty." 
Pollyanna Whittier would agree. The once popular novelist Eleanor H. Porter wrote the original children's book Pollyanna in war-ravaged 1913. It concerns a destitute, orphaned young girl who's taken in by her grim Aunt Polly. The girl wins Polly over with a good attitude—the Glad Game—all the while touching the lives of those around her. It was a best seller, and over the following decades, various authors went on to write thirteen sequels chronicling Pollyanna's life.
Pollyanna grows up, has a family, moves around the world, but is always encountering lost souls and helping them develop a sunnier outlook. The books, while lurid—you may have heard about Pollyanna's miraculous recovery from paralysis—are less treacly than the 1960 Disney adaptation, and considerably stranger. (Did World War I–era children enjoy seeing characters miraculously rise from their wheelchairs? Hard to know; Downton Abbey fans certainly do.) The books are certainly no more sentimental than most of the escapist titles on current fiction best-seller list, let alone YA.
To the extent modern kids know Pollyanna, it's probably via Hayley Mills in that Disney adaptation, and possibly through the eponymous pejorative. But if by some chance you're a die-hard fan, you should make your way to Littleton, New Hampshire—Porter's birthplace—where there's a bronze Pollyanna statue, erected in 2002, and even an official Glad Day. (Glad Clubs enjoyed a brief popularity all over America.)
The Pollyanna mentality kind of works, too. The other day, having just reread Pollyanna in the stacks of the library, I set myself the experimental challenge of casting a rosy light on everything I saw in a five-block New York City street. No mean feat. People rushed past panhandlers, an elderly woman with dementia punched her nurse (feebly, at least), the front page of the paper's international section recorded nothing but suffering.
But then a motorist leaned on his horn, and a bunch of others followed suit, and it became a cacophony. And suddenly, this thought intruded: How inspiring that, despite a lifetime of evidence to the contrary, these drivers still have the idealism to believe their honking will make a difference! When you thought about it that way, it was sort of a triumph of the human spirit. Sort of. 
I wonder if Churchill—nearly killed by New York City traffic in 1931—would agree.