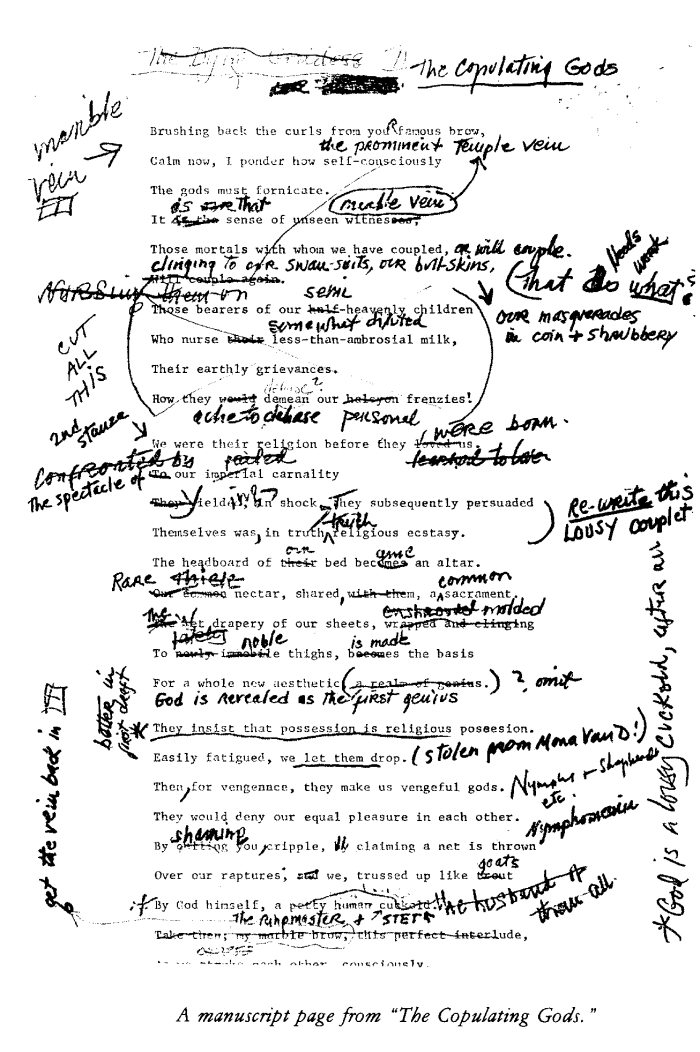 I've been enormously fortunate. People say, How do you feel about your reputation? My real belief is that I have exactly the reputation I deserve … on the whole I feel comfortable with myself. You know I've always always loved that line from Chaucer's Criseyde, "I am meyne own woman wel at ease." That's the way I feel. Of course, there are always disasters looming, both cosmic and domestic. But even if it should all end tomorrow I would just hope I've burned enough bad drafts and old love letters!
—Carolyn Kizer, the Art of Poetry No. 81, Spring 2000
Carolyn Kizer died last Thursday at eighty-nine, the New York Times reports. Her poems are immaculately crafted and very smart, often with a steely feminism; she won the Pulitzer Prize in 1985 for her collection Yin. As the Times says, "She was writing as early as the 1950s about the conflict for women between the creative imperative and social expectations—but it was far different in character from that of her contemporary Adrienne Rich. Where the poems of Ms. Rich, who died in 2012, landed like bombs flung from the barricades, those of Ms. Kizer felt more like a stiletto slipped between the ribs."
Ursula K. Le Guin called Kizer's poetry "intensely, splendidly oral, wanting to be read aloud, best of all to be read or roared by the lion herself." Kizer, born in Washington, was known for her long, careful periods of revision, as evidenced in the manuscript above. (She was an honest self-critic, too; note that "Re-write this LOUSY couplet" scrawled in the margin.) She took more than thirty years to edit the sequence "Pro Femina," which contains one of her most famous lines: "We are the custodians of the world's best-kept secret: Merely the private lives of one-half of humanity."
In addition to her Writers at Work interview, The Paris Review published many of Kizer's poems, including "Twelve O'Clock," in our Winter 1990 issue; and "Gerda," which opens with an old Swedish children's prayer, from Spring 1987. To celebrate her life, we've made them both available online.
From "Twelve O'Clock":
At seventeen I've come to read a poem
At Princeton. Now my young hosts inquire
If I would like to meet Professor Einstein.
But I'm too conscious I have nothing to say
To interest him, the genius fled from Germany just in
     time.
"Just tell me where I can look at him," I reply.     
From "Gerda":
Down the long curving walk you trudge to the street,
Stoop-shouldered in defeat, a cardboard suitcase
In each hand. Gerda, don't leave! the child cries
From the porch, waving and weeping; her stony mother
Speaks again of the raise in salary
Denied. Gerda demands ten dollars more
Than the twenty-five a month she has been paid
To sew, cook, keep house, dress and undress the child,
Bathe the child with the rough scaly hands
she cleans in Clorox; sing to the child
In Swedish, teach her to pray, to count her toes
In Swedish. Forty years on, the child still knows how.