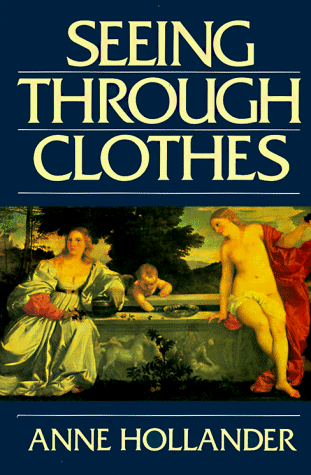 Anne Hollander, whose acute writing on fashion, costume, and style infused those subjects with a new intellectual energy, died on Sunday at eighty-three. As the Times reports, "She argued that clothing revealed far more than it concealed—about art, about perceptions of the body and ourselves—and her interests spanned centuries and mediums."
Hollander conducted—or co-conducted; she shares the credit with John Marquand—The Paris Review's first Art of Theater interview, with Lillian Hellman, published in 1965. Back then, her contributor's note read modestly, "Anne Hollander designs costumes, paints, and translates occasionally."
A little more than a decade later, in 1978, she published her first book, the brilliant (and brilliantly named) Seeing Through Clothes, a history of clothing and a study of representations of the body in Western art. The book was full of offhand wisdom about what you could call our philosophy of dress: "People seem always actually to know," Hollander wrote, "with a degree of pain that has required the comfort of fairy tales, that when you are dressed in any particular way at all, you are revealed rather than hidden." The book took a while to find its audience, but, as one critic noted, it "pushes erudition to the point of originality. The thoroughness with which she examines Western art and clothes has precipitated a new subject: how painting, sculpture and photography mediate between bodily ideals and what we wear."
Over the next decades, her reputation grew and she published a succession of well-received books, including Moving Pictures and Sex in Suits; she wrote essays for a number of magazines, including The London Review of Books. Not much of Hollander's writing is available online, but she was, for a time in the late nineties, the fashion columnist for Slate, which has curiously yet to publish a remembrance. Her pieces there have aged well; a column from February 1997—"A Loss for Words: Why there's no good writing in fashion"—is just as true nearly twenty years later:
Fashion journalists and sensational fictioneers like Danielle Steele have co-opted the field, and other writers are scared off. Fashion now seems like a club with a private jargon that leaves no room for the play of sensitive literary exposition. And good critical writing about clothing hardly exists at all. There is no tradition of clothes criticism that includes serious analysis, or even of costume criticism among theater, ballet, and opera critics, who do have an august writerly heritage. This fact may be what makes the fashion journalist hate her job—the painful sense that real work cannot be done in this genre, that it would be better, more honorable, to be writing about something else.
But Hollander didn't write about something else, thankfully. She expanded the rhetoric and insight of criticism about style, engaging where most writers thought there was nothing to engage with.