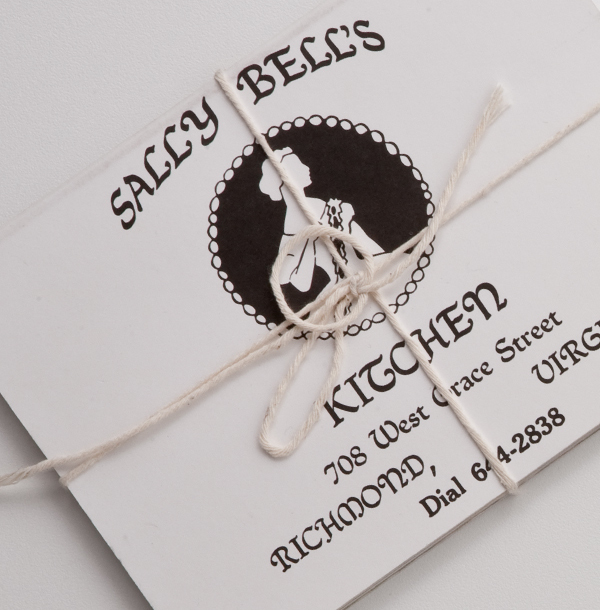 Sally Bell's started making box lunch in the 1950s, but the recipes used to make the salad, sandwich spread, deviled egg, cheese wafer, and cupcake that go into the box date back to the 1920s, when Sarah Cabell Jones opened her bakery in a building across the street. There is nothing singly spectacular about the immemorial meal you get here, except for its immunity to anything modern. Sally Bell serves the exact lunch it served a half-century ago, which is probably much the same as polite Virginians ate a hundred years ago. There are two salads from which to choose: macaroni, which is fine, and spicy-sweet potato salad laced with onions, which is memorable. Of the eleven kinds of sandwiches, we seldom can resist pimiento cheese, but we have not regretted chicken salad (on a roll rather than white bread), cream cheese and olive (talk about a bygone taste!), and thin-cut Smithfield ham. As for cupcakes, there's no beating the orange-and-lemon, its icing sprinkled with little bits of citrus confetti. All the elements are neatly packaged in a cardboard lunchbox lined with wax paper.
—Jane and Michael Stern, Roadfood
Sally Bell's Kitchen is hardly a secret. It is a Richmond institution, beloved by generations of Fan District denizens, and the subject of a lengthy profile, in 2000, in the New York Times. Saveur calls its box lunch "paradise in a box." Its demure, upside-down cupcakes, twenties-vintage Colonial Dame logo, deviled eggs, and old-fashioned, pecan-crowned cheese wafers—described by the Sterns as "heartbreaking"—speak to a sort of timeless gentility most of us can only imagine.
Certainly I can. I have no ties to Richmond, no institutional memory of the place. The three times I've tried to visit Sally Bell's, I've fallen victim to the bakery's conservative hours. And yet my obsession with the place is so well known that friends have more than once taken the time to wait on line and rush me a box lunch up to New York. People have given me aprons emblazoned with the cameo logo and a picture book filled with mouthwatering images of deviled eggs and beaten biscuits. On occasion I have been known to print out a copy of their menu and quixotically check off the options that appeal to me: potato salad, ham roll, lemon cupcake. For a while I had this pinned over my desk at work. I imagine people found this eccentric; in fact, I found it deeply comforting. Sally Bell's—or my dream of it, anyway—has somehow become my happy place: a magical, cozy, well-ordered, old-fashioned realm filled with immutable recipes and homemade mayonnaise. Never mind that these aren't the foods I grew up with; they have somehow become, for me, the definition of comfort. When I'm sad or disoriented, I pull down my book and pore over those pictures. I watch this film again and again, and I cry for reasons I can't even explain to myself.
I am aware I am romanticizing something that requires plenty of hard work and dedication. But it has become more than merely an idea of some kind of gauzy Southern gentility. The other day, a friend of mine had some worries. I didn't know how to help, but as I wandered the aisles of the supermarket, I found myself buying the components for homemade mayonnaise, and a soft roll for sandwiches—something I never normally do—and even keeping my eyes open for a white bakery box in which to pack it. I was trying to make a box lunch, to translate this mysterious totem of comfort to someone else. I am sure my friend was confused, but somehow understood that it was something important—that I was trying hard. At the end of the day, what more can we do?