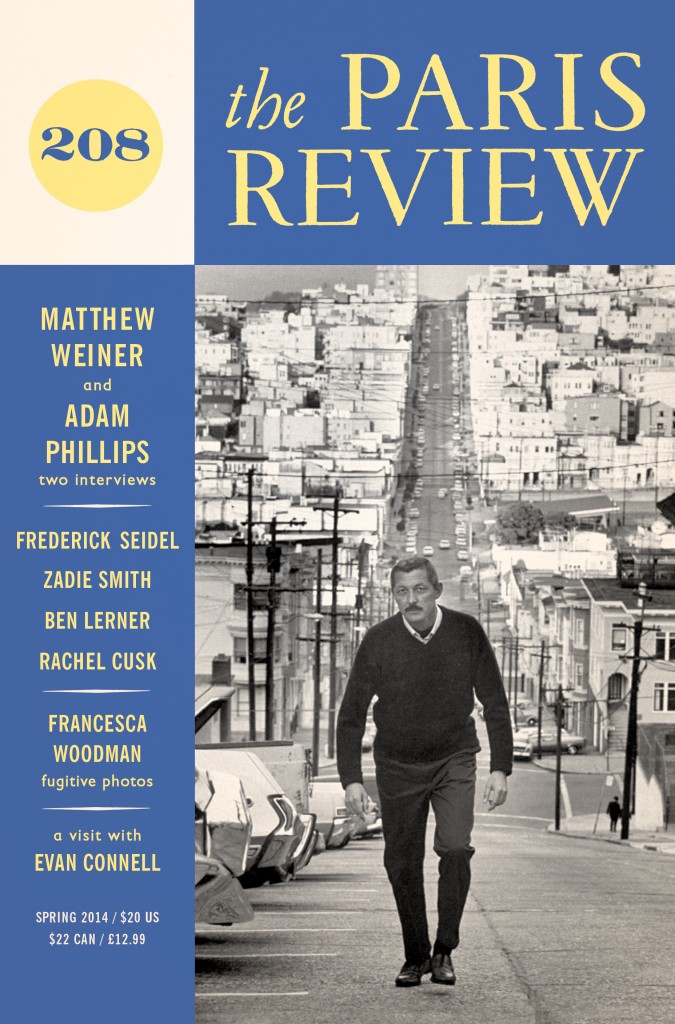 Our new Spring issue is full of firsts. That fellow on the cover is Evan Connell, whose first novel, Mrs. Bridge, originated as a short story in our Fall 1955 issue.
Then there's our interview with Matthew Weiner, the creator of Mad Men—the first Art of Screenwriting interview to feature a television writer. Weiner discusses the influence of T.S. Eliot, John Cheever, Alfred Hitchcock, and The Sopranos on his work:
Mad Men would have been some sort of crisp, soapy version of The West Wing if not for The Sopranos. Peggy would have been a climber. All the things that people thought were going to happen would have happened … The important thing, for me, was hearing the way David Chase indulged the subconscious. I learned not to question its communicative power.
And in the Art of Nonfiction No. 7, Adam Phillips grants us our first-ever interview with a psychoanalyst; he discusses not just his writing but his philosophy, and the importance of psychoanalysis:
When people say, "I'm the kind of person who," my heart always sinks. These are formulas, we've all got about ten formulas about who we are, what we like, the kind of people we like, all that stuff. The disparity between these phrases and how one experiences oneself minute by minute is ludicrous. It's like the caption under a painting. You think, Well, yeah, I can see it's called that. But you need to look at the picture.
There's also our first story from Zadie Smith; fiction from Ben Lerner, Luke Mogelson, and Bill Cotter; and the second installment of Rachel Cusk's novel, Outline, with illustrations by Samantha Hahn. Plus new poems by John Ashbery, Dorothea Lasky, Carol Muske-Dukes, Geoffrey G. O'Brien, Nick Laird, and the inimitable Frederick Seidel, who will be honored with the Hadada Award next month at our Spring Revel.
And a portfolio of previously unpublished photographs by Francesca Woodman.
It all adds up to an issue sure to put a spring in your step.