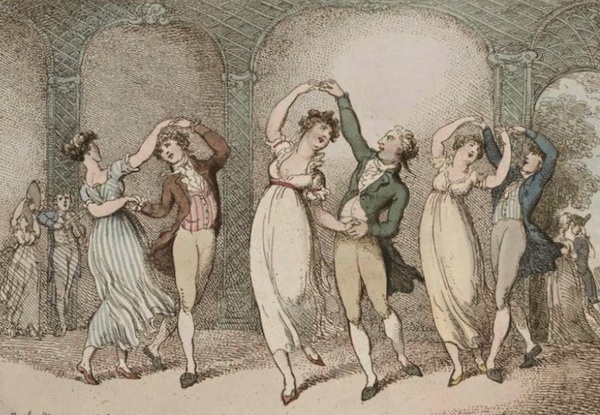 In the summer in 2014, in honor of the Pride and Prejudice bicentennial, the University of North Carolina at Chapel Hill held its first annual Jane Austen Summer Program, described informally as the "Jane Austen summer camp" and inspired in part by the Dickens Project at UC Santa Cruz. Our correspondent kept an illicit diary of his experiences, excerpted below.
Thursday, June 27
4:35 P.M. I have been hoodwinked into wearing many hats at this conference, some of them literal. E-mails from the braintrust inform me that I am to play Mr. Darcy at the Meryton Assembly on Saturday night, to which end I must shave my beard and attend two sessions of Regency dance instruction, all while perfecting my scowl. During convocation, I scan the order of the dance: "Braes of Dornoch"; the "Physical Snob"; "Mr. Beveridge's Maggot." The more boisterous sounding the dance, the more I fear for my newly fitted tights and breeches on generous loan from the Playmakers Repertory.
Professor James Thompson of UNC is our first plenary speaker. Thompson explains the etiology of the program, suggests that next year's gathering will likely focus on Sense and Sensibility, and floats the idea of one day holding a summer conference about "Austen and the Brontës." From the collective intake of breath, he may as well have been talking of 2Pac and Biggie. Thompson also expresses gentle alarm over suspected "crypto-Trollopians" in audience, a joke that lands with shocking force among this mix of academics, various regional representatives of JASNA, garden-variety superfans, Ladies of a Certain Age Wearing Sun Visors, archaic dance enthusiasts, and one very precocious eleven-year-old who takes notes at each of the plenaries. I give thanks that Thompson is a friend and banish anxiety over the tights.
Thompson's talk is very good, positing Austen as a foundational figure in sociology based on her anatomization of "first impressions"—the original title of Pride and Prejudice. Nora Ephron ("the twentieth-century master of first impressions") receives mention alongside Durkheim, Kimmel, and Erving Goffman. Is Lydia, in P&P, an embodiment of Durkheim's anomie? The audience seems to buy it. The word civility, Thompson "reminds" us, appears seventy-nine times in P&P. When Thompson stumbles briefly, excusing his "afternoon ephasia," audience members are more than happy to supply character names alto voce: "Miss Bates!" "In Emma!"
Democratic conferences invite mutiny.
9:30 P.M. The inaugural Austen HQ is Hyde Hall, home to UNC's Institute for the Arts and Humanities and an appropriately elegant building for such a mannerly subject. Hyde Hall houses the four principal conference venues: Rosings (the Fellows Room), Longbourne (the Imaginarium), Netherfield (the grand seminar room), and, most important, Pemberley (the University Room). Dinner is excellent, though during the digestive interval, gentlemen do not stay in the dining room for port and politics. Nancy Armstrong's provocative but highly technical lecture, about epistolary networks and the domestic novel, prompts seditious murmurs among the crowd, who were promised a happy balance between the edifying and the accessible. The restless unfold their fans as they complain quietly. Armstrong leaves the building with no sign of a struggle. And so, as Pepys would say, to bed.
Friday, June 28
11:15 A.M. Following little sleep and generous helpings of fruit, I chair the panel on "Jane Austen and Romance," with excellent papers from Sarah Frantz, Kumaraini Silva, and Emma Calabrese. (At the current rate, Colin Firth will set a record for most appearances in Microsoft PowerPoint before the weekend is up.) My task is to introduce each panelist and then drag her from the lectern as gently as possible once her time is up. Professor Inger Brody has provided me with three large laminated signs: "FIVE MINUTES"; "TIME TO STOP"; and my favorite, "YOU'VE DELIGHTED US LONG ENOUGH," a quotation from that uncomfortable scene in which Mr. Bennet must separate his bespectacled, strident-singing daughter Mary from the piano forte.
For all the genial wit, these signs prove less useful than, say, a shepherd's crook, which would have been more direct.
One of the panelists begins to quote the first line of P&P, and by "acknowledged" the full audience has joined in. One hundred-plus adult humans intoning this sentence is wonderful and creepy in equal measure; think the Nicene Creed, delivered by ebullient zombies.
2:15 P.M. Among various other "oh, by the way" duties, I have been asked to adapt portions of the Juvenilia into a one-act, and to oversee the production with a very talented colleague, Adam McCune. (Adam works in the nineteenth century, a character defect I generously overlook.) We're performing at 7 P.M. and have just finished our first rehearsal with the full cast. The script is bonkers, a mashup of Love & Freindship [sic] and The Beautifull Cassandra [also sic] with various one-liners added for zest; adapting an epistolary comic novel for the stage necessarily involves metatextual fuckery, and I'm banking on the world's easiest audience for Austen jokes. Our players are uniformly delightful. Our fourteen-year-old Jane (in fact a highly accomplished twenty-seven-year-old colleague) sports pigtails and simply owns the stage. Professor Brodey's fifteen-year-old daughter exudes an enviable stage presence. Joe F., our policeman, delivers my Dogberry-style prologue like Terry Jones of the Pythons, while coconuts prove a useful prop during our various hackney-coach and phaeton scenes. For a first full-cast dress rehearsal, people are on point.
4:20 P.M. Mercury broke 100 today, yet no fainting or swooning among the Austenites. Nove I've got all these smelling salts and no one to revive.
5:45 P.M. First session of dance instruction complete. Got the moves down but am newly concerned about the tights situation.
8:45 P.M. SCENE: Two writing tables bookend the room. A divan rests center-stage (if possible, fainting couch). The divan should be large enough that at least two adults can faint on it comfortably at one time.
Note to self: for cheap ego boost, appear in amazing blue waistcoat before a room of Austenites and affect an English accent. The play is a smash, everyone overacting in the proper melodramatic register, the tiniest jokes landing like a Richard Pryor show. It seems clear that certain younger males in the audience are now in love with every woman in the cast. A film of the performance, for good or ill, will soon appear on YouTube, where it can rub shoulders with The Lizzie Bennet Diaries, The Real Housewives of Jane Austen, and The Jane Austen Fight Club—among many other instances of multimedia fan fic. After the Q&A, I unbutton my waistcoat and taste oxygen for the first time in forty-five minutes. A contingent of the Women in Sun Visors approaches me to ask questions, offer thanks, and compare my stage presence to (a) Hugh Grant and (b) David Niven.
My academic career has peaked early.
Saturday, June 29
11:15 A.M. Prof. Brodey chairs the plenary panel on "Austen & Film," where, alongside Suzanne Pucci and Ellen Moody, I appear as "guest film critic." The discussion is boisterous, fun, and hopelessly unfocused. Ellen likes my notion that the modern director must take on the role of Austenian narrator—i.e., the camera shoulders a great deal of the editorial burden—but seems to prefer simple voiceover. None of the films agrees to play on the projector, another argument in favor of the novels. In aftermath, I drop a tweet in honor of Jennifer Ehle, forever the Elizabeth Bennet. Ehle, a North Carolina native, responds with great class: "Thank you, I am endlessly grateful I had the chance to pretend to be her."
We are now enjoying "elevenses," a delightful spread that includes various scones, several buckets' worth of clotted cream, coffee cake, teas and juices, and the occasional piece of fresh fruit. One's impulse is to apply a straw to the clotted cream and never look back.
2:45 P.M. More dance instruction in the ballroom across the street. Jack Maus, a charmingly dry instructor from the NC Assembly Dancers, leads us through "Mr. Beveridge's Maggot," the "Physical Snob" (perhaps my favorite), and the "Duke of Kent's Waltz," which Maus describes as "not a waltz at all because you're not allowed to touch!" The younger generation (I include the graduate students here) seem more comfortable on the twirly, kaleidoscopic dances; the stationary foot-maneuvers required to "set" in most dances prove far more befuddling.
Meanwhile, diehard attendees appear already to know their moves. I am a total poseur. 
4:10 P.M. The silent auction has begun and will finish at the ball tonight. "The winner will be announced after the harpist has finished playing," Brodey says, as though this is a normal thing to say.
7 P.M. Meryton Assembly begins. Tights-wearing status: very much so.
The "Netherfield trio"—Bingley, his sister Caroline, and I—are instructed to enter fifteen minutes late and fifteen miles aloof, in direct imitation of the rendition in Joe Wright's 2005 film. As we appear, the music dies and the muttering begins. I remove my top hat and appraise the company with as much disdain as I can muster in my current high spirits. Caroline Bingley, looking ravishing, leads the following dance with me, one of the twirly variety that always makes me happy.
A professor's youngest daughter, tiny and dressed in lovely Regency white with a pink sash, asks whether she can dance with Mr. Darcy. I take a knee and explain that my second dance is spoken for, and would she do me the honor of saving the third for me? She agrees and keeps me to my word, and we round the hall doing spins like a pair of pros, despite the height differential.
A very convincing Lizzie Bennet presents herself, and, having already broken character by being civil to a child, I see no objection to repairing to the viewing gallery for idle gossip and decorous flirtation. Whist had been on the evening's docket, but dancing has monopolized the collective attention, and bowl after bowl of Shrub, a vinuous punch concocted in the classic style by Gary Crunkleton, a local bar owner and "mixology historian." I abstain, but Lizzie informs me the concoction is divine. So is Lizzie, and most all the women in the room. It becomes curiously clear, in this moment, how very easy it might be to find oneself smitten on such a night, two-hundred-some years ago.
Sunday, June 30
10:00 A.M. Four hours' sleep last night. No A.M. swimming to revive spirits; must settle for pull-ups, crumpets, and coffee.
1:10 P.M. Douglas Murray offers an excellent breakout session on "The Male and Female Gaze in Pride & Prejudice," though a really excellent Gosling/"hey girl" PowerPoint moment doesn't provoke a single audible laugh. The formal leave-taking, held in Pemberley, is warm and wistful. Thompson and Brodey both speak, and there is a strong sense among attendees that returning home—geographically and temporally—will be difficult.
This sentiment is both very silly and very sweet and speaks well for the program, which seeks to occupy a middle spot between literary criticism of the high academy and the untheorized enthusiasm of civilian superfans. As such, it's not only an important gesture of outreach on the part of scholars (that chilly, insular bunch) but also an act of extended sociability very much in line with Goffman's Austenian notion of meaningful "conversation" as the social glue—"the bridge that people build to one another, allowing them to meet for a moment of talk in a communion of reciprocally sustained involvement." Literary academics are not traditionally known for building bridges, or for fraternizing with the great unwashed. But if we've read our Austen, we know that Caroline Bingley is not an object for emulation.
Her brother Charles is a far better model, opening his doors to anyone who delights in a ball.
Ted Scheinman is a doctoral candidate and culture reporter based in Chapel Hill, North Carolina. His essays, reporting, and criticism have appeared in Slate, the Oxford American, the Los Angeles Review of Books, the Village Voice, and elsewhere. Follow him on twitter at @Ted_Scheinman.