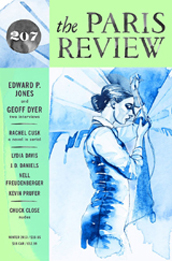 The flight attendant on the cover of 207 does not deceive you: this issue is a ride and a half. For your reading enjoyment we offer:
Geoff Dyer on the art of nonfiction—and why he hates that rubric:
I don't think a reasonable assessment of what I've been up to in the last however many years is possible if one accepts segregation. That refusal is part of what the books are about. I think of all them as, um, what's the word? … Ah, yes, books! I haven't subjected it to scientific analysis, but if you look at the proportion of made-up stuff in the so-called novels versus the proportion of made-up stuff in the others I would expect they're pretty much the same
Edward P. Jones on the art of fiction:
People say, Did you grow up thinking of yourself as this or that, blah blah blah. These middle-class or upper-class kids, maybe three or four times a week they'd have a doctor over, they'd have an engineer over, they'd have a writer over, and they'd get into a conversation with the writer and all of a sudden realize, Oh, I think I want to be a writer. That didn't happen to me. That doesn't happen to the rest of us.
Plus! The first installment of a novel by Rachel Cusk. New fiction from J. D. Daniels, Jenny Offill, Nell Freudenberger, Ottessa Moshfegh, and Lydia Davis, and the winner of the NPR Three-Minute Fiction Contest.
Plus, poems by Kevin Prufer, Susan Stewart, Hilda Hilst, Charlie Smith, Monica Youn, Sylvie Baumgartel, Emily Moore, and Linda Pastan.
And did we mention a portfolio of nudes by Chuck Close?
We realize you have choices when it comes to quarterly reading, and we thank you for choosing The Paris Review.