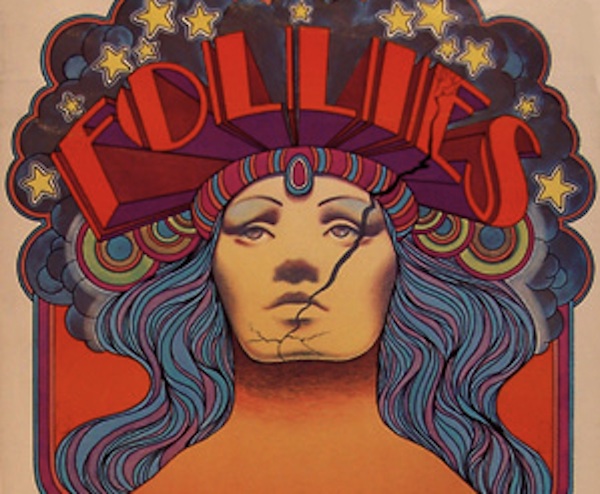 "If I had any visual talent, I would have loved to be a filmmaker," Stephen Sondheim told me in a recent phone interview. "But I didn't. So this is what I became." It's jarring to think that the legendary composer-lyricist of Sweeney Todd and Into the Woods only resorted to musical theater out of an inability to compose a wide shot. In the 1950s Sondheim directed amateur horror movies ("The photography is like a five-year-old's") and he later co-wrote the enjoyably chilly mystery film The Last of Sheila, but he has made a relatively piddling contribution to the art form that is deepest in his bones. As he told Frank Rich in 2000, "Movies were, and still are, my basic language."
It's the language he used to write Follies, the sumptuous 1971 Broadway musical about middle-aged showgirls gathering for a boozy, confrontational reunion on the eve of their old theater's destruction. While critics have treated the show as an elegy to the theater, Hollywood seems to have been the headiest influence on Follies' creative team. Sondheim has said that during the writing process, he "could only imagine the spectacle of a Ziegfeldian 'Loveland' in terms of movie musicals," and co-director Harold Prince's concept for Follies as a story about "rubble in the daylight" grew out of a  Life magazine photo of Gloria Swanson standing in the ruins of the Roxy movie palace. Prince insisted that the libretto be rewritten to include cinematic techniques like dissolves, close-ups, and black-and-white flashbacks, and the orchestrations were deliberately rigged with MGM-isms (like the thrilling piano-to-orchestra swell midway through "Beautiful Girls"). Even the casting of old vaudevillians in many of the roles was inspired by Billy Wilder's casting of silent movie actors in Sunset Boulevard. "We just kept hoovering up people who were close to the story," Prince explained to me in a phone call. "That's what Billy Wilder did: he put Swanson in the part so you thought, 'Hey, she's playing herself.' She wasn't, of course, but you made that connection."
Was the fabled original production of Follies always pining away to be a movie? I called Sondheim and Prince after learning that they actually had cooked up a scheme to make a film version in the early 1970s, featuring dozens of faded stars from Hollywood's Golden Age congregating on a studio backlot about to be torn down. It is intoxicating to imagine such a film, with archival footage of the stars sewn into the plot, and each cut functioning like an electric restoration of youth.
In 1972, Prince proposed the idea to MGM production chief Daniel Melnick, suggesting that they throw a huge party on the MGM lot—"maybe over one night, maybe two nights"—and invite every star who'd ever been under contract, from June Allyson to Lana Turner. "We'd have all these movie stars wandering around at this party," said Prince, "talking about movies and talking to each other and partying in front of a documentary camera." Prince spoke to cinema vérité pioneer D. A. Pennebaker about filming the evening, and planned to lure recalcitrant stars by selling the party "as a charitable thing," with $10,000 appearance fees that would be donated to the Motion Picture Home (a now-shuttered retirement community for actors, directors, and others in the industry). "Then they'll fight to get in the movie," Prince reasoned.
The musical numbers, and scenes of marital squabbling between Follies' main characters, Ben, Buddy, Phyllis, and Sally, were to be shot separately and spliced in later. When I asked Prince which movie stars he'd wanted to play the leads, he immediately said, "We had no such intention. I would have been perfectly happy to have [original Broadway cast member] Gene Nelson play Buddy. And nobody was ever better than Dorothy Collins [as Sally]. Ever." He envisioned a perverse sort of MGM Rosencrantz and Guildenstern, with Fred Astaire and Gene Kelly reduced to walk-ons and relative pee-wees like Collins and Nelson promoted to the leads. (Collins had never even been in a film.)
Prince's press agent John Springer was more hucksterish about casting. In a number of letters (one to Liz Smith, another to The New York Times), Springer recalled doling out Follies songs to Old Hollywood icons with a sort of Easter Bunny benevolence. He played "I'm Still Here" for his client Bette Davis, who went nuts for it ("It could have been written for me!") and asked to sing it in the movie. "All through a trip I made with Bette to Australia and New Zealand," Springer wrote, "she was playing the 1971 Follies cast album and learning the song, and you haven't heard anything until you've heard Bette Davis sing 'I'm Still Here.'" After briefly considering Frank Sinatra and Shirley MacLaine to play the miserably married Buddy and Sally, Springer approached Singin' in the Rain costars Gene Kelly and Debbie Reynolds, both of whom were "enthusiastic" about reteaming. He offered the roles of the bickering upper-crust couple Ben and Phyllis to Henry Fonda and Elizabeth Taylor, but then "Richard Burton insisted he play opposite her. Henry Fonda laughed and said, 'Let him play it!'" Springer further claimed that he'd committed Gloria Swanson to sing the ghoulish aria "One More Kiss," Leslie Caron to do "Ah, Paris!", and Joan Crawford for the Depression era hard-luck song, "Broadway Baby." Prince remembered getting a letter from Crawford "saying how much she'd like to do it," and her Baby Jane nemesis Davis begrudgingly made peace with the matter of their co-starring. "I won't work with that bitch again," she told Springer, "but we wouldn't be in the same scenes."
"That's hilarious," Sondheim said when I repeated Davis's quip. "John Springer made up things. I would say that's apocryphal." Best known for his militant discretion (even with long-dead clients like Marilyn Monroe), Springer spent his spare time collecting thousands of old production stills and writing gushy, insubstantial books of film history. "He was in love with movies, in love with movie stars, and I wouldn't believe one word he said," said Sondheim. Still, Springer's Fantasy Football Follies sounds pretty sublime—with the exception of Taylor and Burton, two non-singers who probably seem so inappropriate for Ben and Phyllis because the mythologically correct casting is obvious: Fred Astaire and Ginger Rogers. Sondheim wrote Ben's top-hat number "Live, Laugh, Love" as an homage to Astaire's clipped, aloof performing style ("Astaire's persona is the way Ben sees himself," he explained), and when asked in 2009 what performer of the past he wished had sung his music, Sondheim replied, "Nobody really. Well, actually, Fred Astaire."
While Sondheim didn't have them in mind, the biographies of Ginger Rogers, Debbie Reynolds, and Gene Kelly seem imbedded in the other three Follies leads. Phyllis' strenuous efforts to transform herself into something more than a gum-chewing showgirl are mirrored in Rogers' ambition to shed movie musicals for the self-important forties weepies in which she was eventually entombed. Even her characters were always struggling for respectability—in immortal Gershwin lyrics that were written for her, Rogers pledged to "take oysters and give up ersters" for Astaire. Near the end of Follies, Phyllis sings of her bifurcated self:
Jessie is racy,
but hard as a rock.
Lucy is lacy,
but dull as a smock.
The lyrics read like a mocking capsule of Rogers' career arc.
Sally is the most dementedly nostalgic of the Follies girls, just as Debbie Reynolds was (according to journalist Aljean Harmetz) "the only movie star who seemed to feel any deep pain" when a cash-strapped MGM auctioned off its props and costumes in 1970. Reynolds is Sally: she only watches old movies, hoarded memorabilia to the point of bankruptcy, and may even have dealt with mental illness. (Her daughter Carrie Fisher explained, "We never called it a nervous breakdown. It was a nervous break through. She just kept going.") Judy Garland had died in 1969, and one might wish that she'd toughed it out a few more years and brought her yearning, drug-ravaged vibrato to "Losing My Mind," Sally's debilitating torch song. But Debbie Reynolds's lunchbox wholesomeness is more appropriate for Sally, the sweet, suicidal homemaker. She would have represented chipper Americana gone mad.
The original Buddy, Gene Nelson, admitted that strangers constantly mistook him for Gene Kelly (Nelson thought "it could have been wishful thinking on their part"), and the character's dance routines seem designed to exploit Kelly's athleticism and manic exuberance. Buddy is a traveling salesman (as Kelly's father had been), and his reference to being "good at selling" perfectly sums up Gene Kelly's gift for simulating joy onscreen even when he was privately miserable. "That's what I get paid for doing," he once said. "For smiling at four o'clock when I'd rather go home."
The mythic presence of these four stars would have papered over all of Follies' dramaturgical cracks. It would not have mattered that, in James Goldman's wooden-boy libretto, the only moment where humans seem to be speaking is when Ben reminds Sally that she used to "eat Baby Ruths for breakfast." Persistent criticism of the stage Follies has centered on the petty, self-involved marital issues of the leads, but what seemed petty when John McMartin and Alexis Smith went through it would have become monumental when enacted by movie gods. Astaire and Rogers mulling divorce would be like watching Rushmore crumble. And Springer's casting would only have intensified the wallop of Sally choosing Fred Astaire over Gene Kelly: it is the ultimate choice of fantasy over flesh.
If Prince had consented to cast Follies this way, he would have been asking these stars to take sledgehammers to themselves—and it's unclear whether they could have been persuaded to appear in a movie about their own deterioration. "Gene I knew very well," said Prince, "and he actually could have played that part. Whether he would have or not is another question. Because he wore a hairpiece. I don't know that he would've." The uber-Christian Ginger Rogers probably wouldn't have played the profane, cuckolding Phyllis. "I got a movie offer recently," she told People in 1980, "But am I going to ruin my image by passing dope on the screen?" In a recent interview, Debbie Reynolds said, "I don't accept any parts that are devastating because I don't want to be unhappy in my life." As for Astaire—whose Follies character sweats, swears, and muffs lyrics—choreographer Hermes Pan noted, "Astaire would never say anything or use any language that he didn't feel was gentlemanly. I remember once there was a line that read, 'my feet hurt.' That's it, just 'my feet hurt.' Astaire looked at that script and said, 'I won't say it! I would never say it!' He was so upset, he even hit the script, 'My feel hurt? Never!' And he never did say it."
So much about MGM has never been said. It's been difficult for film historians to get stars to talk honestly about their experiences, to scrape off the crowd-pleasing shellac. "All my life I've tried to be an eight-by-ten glossy," said Ann Miller, who always maintained that working at MGM "was like going to a party every day." However, several behind-the-scenes stories have a Brothers Grimm gruesomeness to them. Astaire had to shoot his knees full of painkillers to get through the "Triplets" number in The Band Wagon, Miller's false nose sometimes flew off during her dance turns, and Rogers removed her shoes after forty-eight takes of the "Never Gonna Dance" routine only to find that "they were filled with blood." MGM writers in the early 1930s spent their lunches at an opium den on the lot, and the "loud and raucous" musicians and artists in the prestigious Arthur Freed Unit were ostracized by the rest of MGM, possibly due to their unabashed homosexuality. (One screenwriter referred to the Freed unit as "the gay community there. Freed wasn't gay but the rest of them were.")
Dirt of this caliber probably wouldn't have been shared by movie stars on camera—even to D. A. Pennebaker, who'd developed the first handheld sound-synch cameras in the 1960s in order to shoot his subjects unobtrusively, and who sometimes hid his camera on the floor or in his lap. "You know, I've filmed actors," Pennebaker told me, "and they don't have much to talk about. Their business is not being particularly intellectual; they're just waiting for another job. Or maybe another wife." He laughed. "Who knows what drives them? I did [a 1962 documentary] with Jane Fonda, whom I did like, because she was so determined to tip the apple cart, and didn't give a shit about what people said. But very few movie stars would have breached [their personas], their bits of business. That's what their lives depended on."
Prince argued, "Even if they were not honest: if they were hysterical, or dishonest, it would have been interesting. I mean, the idea was not necessarily to bring down an audience. It was to show movie stars at a party." The last time so many stars had mingled on film was at MGM's twenty-fifth anniversary luncheon in 1949; there is remarkable footage of the event in which Lena Horne can be seen glumly chewing stuffed squash as Katharine Hepburn ignores her in the next seat. The lyricist-screenwriter Adolph Green recalled a dessert of ice cream molded in the shape of MGM lions, as well as "an air of impending disaster. We sat through the long speeches, looking at all those lions melting."
Green was referring to the incipient end of the studio system (due to a 1948 Supreme Court antitrust ruling that banned studios from owning their own movie theaters), as well as the death of the movie musical—an art form that Sondheim has never been fond of. "There are no great movie musicals," he told me. "Singin' in the Rain is the one that comes closest. Movies are by their very nature reportorial, so as soon as people start to sing, it's hilarious. Whereas in the theater, the audience signs a fantasy contract when they enter, saying that they will believe in people facing front and singing." This is an old saw of Sondheim's that has never made any sense to me (he himself loves film noir, which is hardly reportorial), but it's true that at MGM's preening height, the American audience had a "fantasy contract" with movie musicals, one that had expired by 1972. Harold Prince's movie of Follies might have been a devastating examination of how that contract was broken—a two-hour close-up of the melting lion.
Pauline Kael once said, "I have learned when talking with movie directors never to ask what happened to the project they were just about to start the last time I spoke with them. In one form or another, everyone connected with movies seems to spend most of his life and almost all of his energy on projects that are never realized." Harold Prince's movie musical of Follies was one such project, though the reasons why are gnarled and contradictory. The director's papers at the New York Public Library contain only two yellowed, typewritten scraps related to the project. The first describes a sequence "In which Mickey Rooney (today) wanders drunkenly into the Judge Hardy house area of the lot and carries on a conversation with [archival footage of] Lewis Stone." The second scrap relates the film's ending: the posing of an MGM group portrait ("while many are smiling, some are distorted or nervous or apprehensive or embarrassed or grim") that is intercut with shots of "hands busily jamming sticks of dynamite into the Hardy house and other recognizable locations. As we settle on the close-up of Alexis [Smith], we hear in the distance a voice cajoling everyone to smile, which she does, as a flashbulb goes off. Simultaneously with the flashbulb is the explosion. It's Hiroshima again."
Was the project sunk by the tedious, deep-dish tone suggested by that Hiroshima line? John Springer claimed that Prince "had a furious quarrel with someone at MGM and withdrew the project," and it's plausible that the director might have felt manipulated by the studio, just as he'd felt in 1967 while preparing a movie of She Loves Me. (When producers pushed him to make the film in Culver City under Gene Kelly's tutelage, he snappishly wrote back, "With all respect for the MGM musical of the forties, I think there's room for improvement today. I cannot honestly accept the posture of a neophyte in the experienced world of MGM production.")
However, Prince simply remembers the MGM Follies dying off due to apathy. "I'm sorry that Danny [Melnick] didn't realize what a good idea it was," he said. "The problem was that everybody thought it was kind of a downer," said Pennebaker. Undeterred, Prince hired transgressive Off-Broadway playwright Jean-Claude van Itallie to write a screenplay. "Hal and I flew out to Hollywood," said van Itallie, "and we went from movie studio to movie studio. At that point the studios were scaling down and selling off their back lots, and Hal was trying to decide which one he wanted to blow up. I enjoyed the glamour of it, but I don't think I did a great job on the screenplay. I felt trapped by the sentimentality of the characters."
In April 1973 The New York Times reported that the film was in development at 20th Century Fox; by November van Itallie had been replaced by Hugh Wheeler, who was fresh off a Tony win for his A Little Night Music libretto. According to Prince's producing partner John P. Flaxman, the Wheeler screenplay "was loaded with potential. I still feel that to this day. But 20th had another musical in development at the same time, and it came down to which one they felt like doing. Unfortunately for us, they picked the other one"—which turned out to be Peter Bogdanovich's critically reviled At Long Last Love. "That happened because I stuck pins in a doll every night before I went to bed," Flaxman said drily.
Prince may have felt the yen for a voodoo doll of his own when That's Entertainment came out in 1974. Executive-produced by Daniel Melnick, the film was an MGM musical omnibus in which old numbers were intercut with newly-shot clips of faded stars roaming the studio lot. "I know that Hal was always bitter, because he felt that Melnick stole our idea and just did it in a different way," said Flaxman. Today, Prince is demurer on the issue. "I always wondered whether it had had any influence," he explained. "But I never knew, and I wouldn't accuse anybody of that. Maybe there were documents way back when contemplating That's Entertainment." Still, the film's one moment of poetry seems lifted directly from Prince's brain. A scene from The Band Wagon of Fred Astaire striding past a gleaming silver train and singing "By Myself" is followed by an identical trucking shot of a doddering Astaire, walking through the rusty, tattered train station set and humming a melancholy reprise. Melnick's movie even nicked a line Prince had used to describe Follies to the press: "It is saying: this is the last you'll ever see of anything like that." Reading off a TelePrompter in That's Entertainment's opening segment, Frank Sinatra intones, "You'll never see the likes of this again."
In its review, The New York Times raved, "This isn't nostalgia, it's history"—but That's Entertainment has no real documentary value; the introductory segments are marvels of charitable soft-focus. Reflecting on the breathtakingly tacky "Hoe Down" number from Babes on Broadway, Mickey Rooney chuckles, "Where we got all that energy I'll never know," having apparently forgotten that he and Garland were regularly prescribed amphetamines by MGM's physician. Prince's movie of Follies would have been an opportunity to expose the fluttering cellophane dishonesty of these musicals, in which, Sondheim explained, "It was joke-song-dance, joke-song-dance. Yes, there was a plot—so-and-so's sister was being passed off as a cadet—but you weren't emotionally involved." That's Entertainment simply carbonated that formula (to song-dance-song-dance) and advocated a retreat to Old Hollywood delusions. "Boy, do we need it now," read the ad campaign, in an attempt to ride the country's Vietnam-induced nostalgia craze.
The gambit worked, and what was essentially a cheap clip show (MGM paid each star $150 for their introductory segments) grossed over fifty million dollars, spawned two sequels, and reignited the dinner-theater careers of scores of dusty B-listers (like Van Johnson and Carleton Carpenter) who were featured in it. The MGM backlot was bulldozed right after the shooting of That's Entertainment and sold to real-estate developers, and the film's premiere even prompted the sort of star-laden party Prince had envisioned for Follies: at the Beverly Wilshire Hotel on May 17, 1974, Johnny Weissmuller did the Tarzan yell, Howard Keel sang, and Astaire and Rogers briefly fox-trotted. Photographers arranged an MGM group portrait that included June Allyson, Cyd Charisse, Jimmy Durante, Ava Gardner, Gene Kelly, Janet Leigh, Shirley MacLaine, Donna Reed, Debbie Reynolds, Alexis Smith, Gloria Swanson, Elizabeth Taylor, and Lassie. George Hamilton interviewed the stars, offering idiotic gung-ho encouragement to Weissmuller (who had broken his hip) and Kelly (who felt himself too old "to do any serious dancing"). "I hope that hip heals and we'll see you swing from another tree pretty soon," Hamilton said to the sixty-nine-year-old Weissmuller, who morosely replied, "I'll be all right." The public's refusal to accept the aging of its stars irritated Astaire. "I don't know why people think you can keep on dancing," he told People in 1976. "It's hard labor. A ballplayer is old at thirty-five. You can't go on."
Movie stars must go on: it is, as Orson Welles observed, the plight of "everybody who lives longer than they should." Welles was like most stars in that he did what he'd be remembered for at twenty-five and then seemed to spend his next forty years on earth dawdling. "I'm Still Here" (which Sondheim intended as "a loose biography of Joan Crawford") is an anthem delivered from the depths of that dawdling period:
First you're another
Sloe-eyed vamp,
Then someone's mother,
Then you're camp.
Then you career
From career to career.
I'm almost through my memoirs,
And I'm here.
Two years before he died, Orson Welles was still careering, and agonizing over the failure of his 1973 film F for Fake. "It just broke my heart that it never caught on," he said. "Because that would have solved my old age. I could have made an essay movie—two of 'em a year, you see?" The Follies movie could have similarly solved the old age of its stars: made them relevant, given them one dissonant, modern swan song. Instead, they were relegated to touring productions, talk shows, and commercials. June Allyson hawked adult diapers and Ann Miller tap-danced on giant soup cans.
Nine MGM women did convene for a "Beautiful Girls"-style reunion sequence at the 1986 Oscars, and a few others (Marge Champion, Betty Garrett, Dolores Gray) even clawed their way into Follies revivals. Ann Miller sang "I'm Still Here" in the 1998 Paper Mill production, and the way the orchestra abruptly cuts out after her "Lord knows, at least I've been there" is ludicrously touching. I may have been the most rinky-dink of MGM stars, Miller seems to be conceding, but I was there.
Her performance offers the only visceral hint of what a Follies movie might have been. But—nonexistent as they are—every number is so vivid to me. In the words of Buddy, "I see it all. It's like a movie in my head that plays and plays." A disenchanted, half-drunk Frank Sinatra could have sung "Beautiful Girls" and then ditched the party. Kelly, Reynolds, and Donald O'Connor could have donned their old slickers for the novelty throwaway "Rain on the Roof," and Lena Horne, whose one-song cameos had often been cut in the South and who'd felt "screwed" by MGM, might have refashioned the mirror number "Who's That Woman?" into a seething condemnation of her deracinated 1940s persona. ("I've been through so many changes and projected so many images," Horne admitted in 1981, "that sometimes I look in the mirror and I don't know who I'm looking at.") No matter who sang what, Judy Garland's death—and the question of whether MGM had encouraged her addictions—would have hovered malevolently over the whole reunion: the ultimate Follies ghost.
When we spoke, Sondheim refused to entertain questions of how Joan Crawford and Bette Davis might have fared with his songs. "You're asking me to speculate," he said irritably. "I can't answer that." He professed disinterest in queeny star worship, and added that "even as a kid, my interest wasn't in the actors so much as the filmmakers." However, Sondheim's lyrics to the 1954 song "A Star is Born" betray a devilish, obsessive command of movie star trivia, and he told me about a gin rummy game he'd once devised with handmade movie star cards, "in which you have Joan Crawford and Greta Garbo together, from Grand Hotel, and then I can steal it from you by either adding somebody from that movie, or from another movie. I used to play it with Tony Perkins." While Perkins became a friend, the character actors of Sondheim's moviegoing youth were still capable of paralyzing him with awe. In his first job, writing the 1950s TV show "Topper," Sondheim worked with Lee Patrick (The Maltese Falcon, Mildred Pierce) and Leo G. Carroll (innumerable Hitchcocks). "I knew all her movies, and I knew all his movies," explained Sondheim, "but I was just too shy [to ask them questions]. I should've, and I wish I had. It's one of the things I regret in my life."
In our conversation, this was the closest Stephen Sondheim got to wishful speculation. The fragrant possibilities of an MGM Follies seem dead to him—as if Sondheim has mastered what Ben pretends to have mastered:
You take your road.
The decades fly.
The yearnings fade, the longings die.
You learn to bid them all goodbye.
To Sondheim, this is Follies. He once said that the show was about "how all your hopes tarnish and how if you live on regret and despair you might as well pack it up, for to live in the past is foolish." After hanging up the phone, I began to feel that I'd inherited the scheme for a Follies movie from its originators. They had moved on, and I was stuck in the past. John Springer died a few months after sending his little Follies fever dream to the Times in 2001, and I wonder if the man Sondheim dismissed as "a fantasist, a romantic" would have been more willing to speculatively riff.
The history of theater is written by romantics who live in the past. When a production closes, we all become God to it; it exists only in communal memory, and is subject to endless sweetening, defacing, spit-shining. As Peter Filichia has pointed out, Follies is "a veritable phantasmagoria," flawless only in the minds of those who saw the original cast. In the 2011 Broadway revival, everything besides the songs seemed clunky and cloddishly realized. Still, walking out of the theater, I remember thinking that a few decades of nostalgia might lug the production all the way to transcendence. The MGM movie of Follies has never been seen; it is total phantasmagoria. Because of that, it may be the show's perfect realization.
Matt Weinstock lives in Brooklyn.